POM POM is a rad brand started by Sarah Cameron a skater, snowboarder, surfer who's on a mission to inspire others to try something new, live for recess and to always #RIDE WITH YOUR FRIENDS!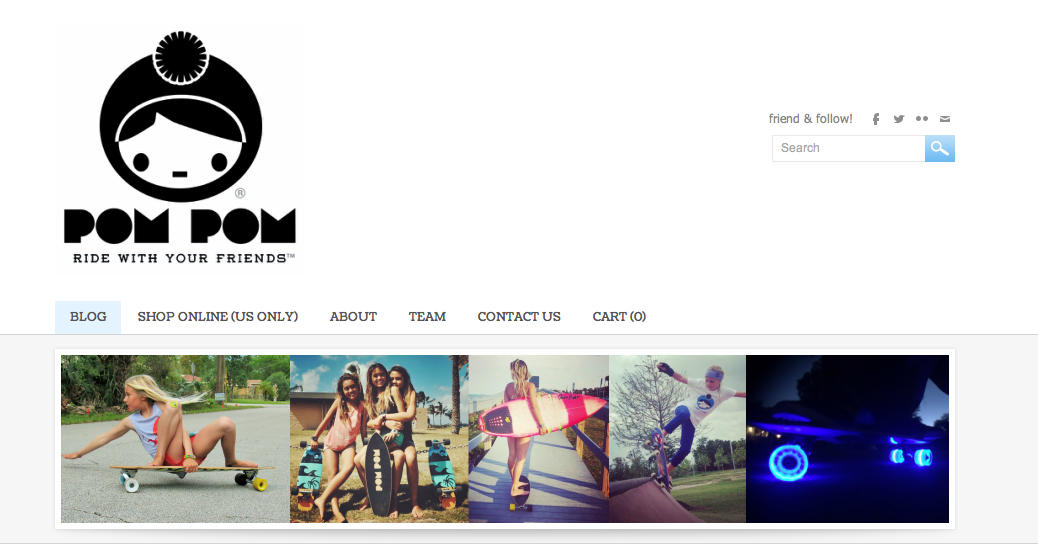 From the beginning POM POM's mission was to encourage equal participation in the male-dominated action-sports industry.  As a result, POM POM was the first snow, surf, and skate wax brand that put special focus on products and marketing for girls athletes.  Because POM POM was the first wax brand focusing on girls, they received a lot of press and attracted some of the best female athlete in the world to the POM POM team.  Let it be known though that Sarah is helped by her partner in skateboarding & life – Roger.  Remember it's about riding with your friends.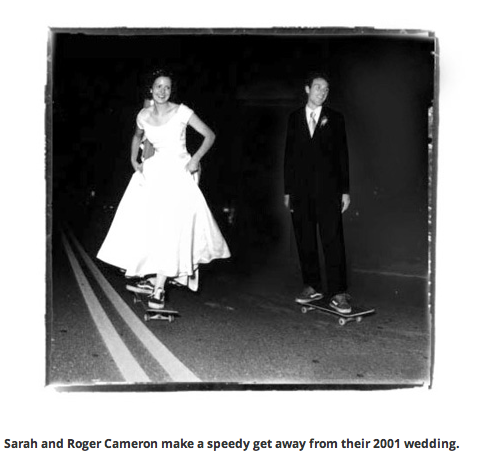 SF:  Was this the original line of products and what year did you start selling?  Can you share details on where the "home office" is and where people can shop for Pom Pom?
Sarah:  POM POM first started making skate wax and we made it right in our kitchen!  We first started selling in 2008.  Our "home office" is literally our home but we have dreams of building an office in an old barn someday.  People can shop for POM POM at our online shop at www.iheartpompom.com and also tell your local shop to carry POM POM!
SF:  When did you expand to longboards?
Sarah:  We just recently launched the longboards this year and are really excited for the upcoming line of POPSTiCKS (mini cruiser boards) as well as the POPSTiCK Plus line coming out in the spring.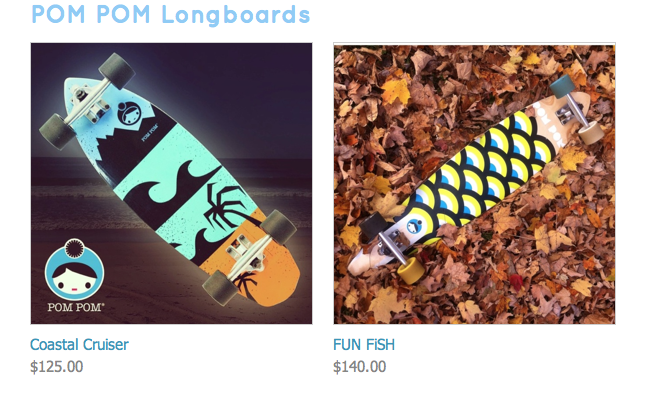 SF:  And the incredible POPSTiCKS– how did that come about? And when are they available?
Sarah:  My husband (Roger) and I developed this line of boards together.  We wanted to create a fun board to cruise on but one that you could also easily ollie on as well.  We went through a lot of R&D on this board to make sure the shape was right.  The POPSTiCKS will be available this November and we have a line of POPSTiCK PLUS boards coming in the spring which are based on the same shape, but 30% bigger.  All the boards come with light up LED wheels which make the experience even that much more FUN!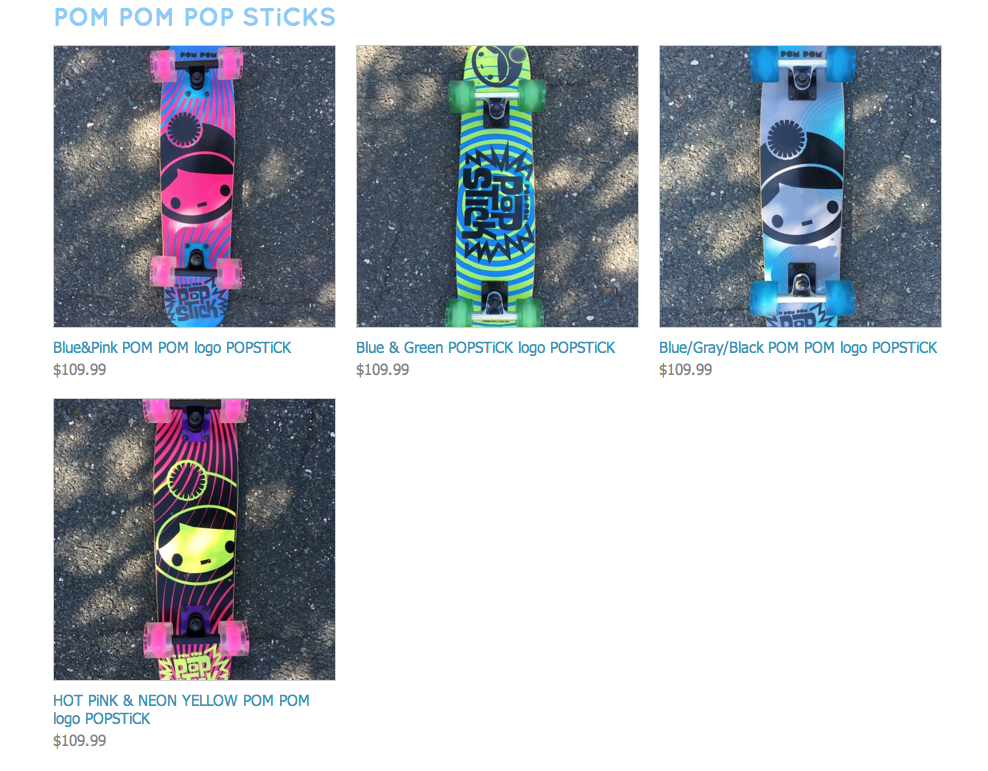 SF:  What can you tell us about the Pom Pom Squad?  What are the common characteristics of Pom Pom Riders?  Can girls & boys apply – if so how?  Should they tag you on IG or email you or ???
Sarah:   We are very fortunate to have an amazing team of riders on the team. To be on the team, it takes more than skill—we look for a great, positive attitude and someone who naturally inspires and motivates others.
Our team right now is comprised mostly of girls, but we are honored to have Scott Stevens and Chris Beresford (founder of DANG Shades) as supporters of POM POM. POM POM isn't about being 'girls only,' it's about promoting equal participation in action sports. Scott and Chris back that mission, which is great for girls. Because we are small, we do need to keep the team small so that we can manage it and give our athletes the attention they deserve.
That being said, the best way to get our attention is to tag @iheartpompom and/or email me directly [email protected]

SF:  I'm going to be participating in the #ridewithyourfriends campaign can you explain that and how others can get involved?
Sarah:  We believe that you always have more fun when you #RideWithYourFriends. Friends are there to support, inspire and motivate you to try things that you might not otherwise try. We are super psyched to partner with you and the POMPOMPOPSTiCKS and follow your journey as you #RideWithYourFriends. Anyone can join the campaign! Just get yourself a POM POM POPSTiCK, share your journey, tag @iheartpompom and #RideWithYourFriends.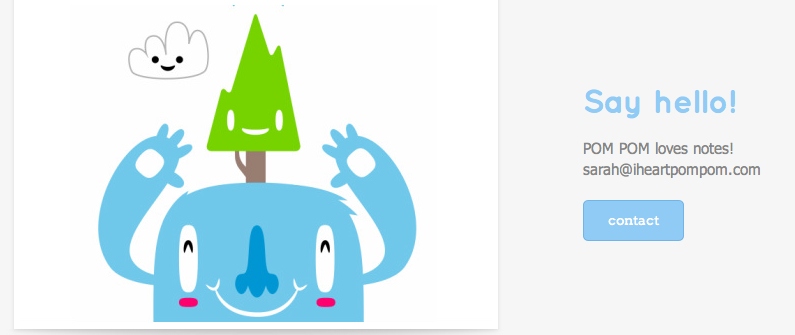 Thanks so much Sarah for your contribution & dedication to girls being active and working together.  So glad I met you & look forward to sharing lots of posts about the POPSTiCKS – because you know more girls skateboard when they see girls skating & we encourage each other.
Speaking of encouragement – POM POM is a proud Sponsor of EXPOSURE Skate – several lucky people will be winning their own POPSTiCK on Saturday 11/7/15 in Encinitas, CA – really hope those winners share their travels with both POM POM and us!
XOXO – skatingfashionista