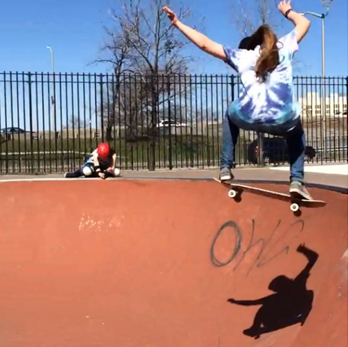 Nina Moran is from Brooklyn where she skates & tie dyes – yes she's wearing her work.  Love love love her account and her bio picture is one of the cutest I've ever seen – check it out you know you're curious.
Nina is a Girls Riders Org supporter out on the East Coast – they're an inspiration for us just starting in San Diego.  GRO is dedicated to inspiring, educating, and supporting girls through action sports to become confident leaders of positive change.
No matter your level – share your pictures – a picture really does speak a thousand words.  Skating is universal – we don't need words to get more girls skateboarding – we need pictures of girls skateboarding to inspire other girls to start!