World Cup Skateboarding – WCS – stopped at the Lake Cunningham Regional Skatepark in San Jose, CA on September 11 & 12th for the Tim Brauch
WCS and Tim Brauch Foundation support girls skateboarding and this is the second in a series of why the girls had fun at the event.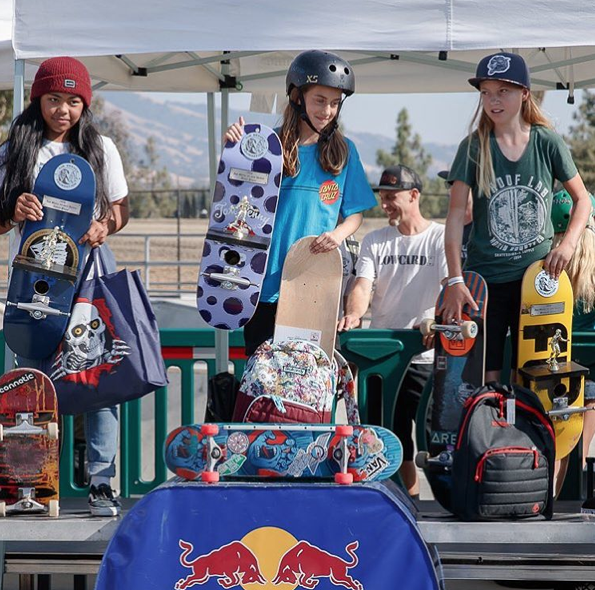 This post in on Minna Stess – who won 15 & under AM's!  Also pictured Asiya Mercado and Zoe Safanda.
And I want to give a shout out to the trophy maker airborne_angel_hamcsc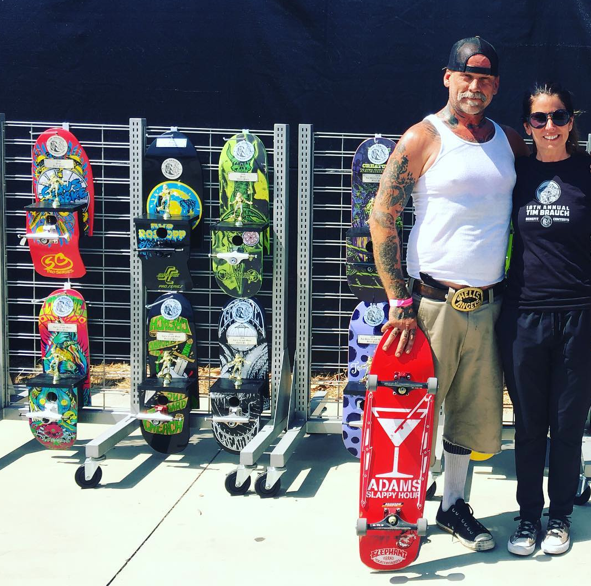 seriously those are some rad trophies!
As you can guess Minna was on fire during the competition.  It takes tons of practice to get ready for a competition and Minna put in the work and had fun doing it, while staying stylish.  Here's what she had to say about the event & if pants are required for skateboarding.
SF:  How many years have you been going to Tim Brauch Competition in San Jose?
Minna:  This was my 3rd  year at the Tim Brauch Memorial Bowl Contest.
SF:  Favorite memory of this event? 

Minna:  Being able to skate with my friends Jordan Santana, who came from Houston Texas and Arianna Carmona who came from Buena Park, Ca because I don't get to skate with them all the time and I like to watch them skate too.

I've know Arianna for five years when I met her at Woodward West and she's like a big sister to me.
SF:  I heard Arianna turned the big 18 during the week of practice, did you celebrate?
Minna:  Yes she turned 18 on Saturday.  I was already practicing at the bowl when my mom, who was at home waiting to drive down as soon as Finnley, my brother, got out of school got a text from Arianna that simply said:  "So I heard Minna owns a dress"

My mom said:  "Hahaha! You can check her closet next week!"

Arianna said:  "Well, you see, Minna said for my birthday tomorrow that she would skate in a dress so I was wondering if you could bring it but if not we can pick one up from Goodwill"

My mom wasn't sure if the dress fit, but she took it because a promise is a promise plus it was a birthday wish.  I usually wear  t-shirts and pants or shorts.  Arianna thought it would be a  BIG DEAL to see me take runs in the gnarly Lake Cunningham Skate Park Bowl in a dress.

I don't wear dresses for just any event.  I wear dresses when I want to.  I wore a purple and lavender Billabong dress for my dad when I was 4.  I wore a fancy pink dress 5 years ago when I was 5 for my Aunt Mariana's wedding, where I was the flower girl.  And I got another Billabong dress I wore for Arianna's birthday at my skateshop sponsor Sonoma Old School for a vacation because I had to go to a formal dinner night.
The dress from vacation still fits so I just put it on and proceeded to line up at the bowl during Women's Pro practice at the bowl.  I felt some staring.  Heard a few comments – people surprised to see my shoulders and stuff.
I had made a promise to Arianna so I skated in the dress.  I don't love dresses, but I love my friends & family, so I had fun skateboarding in my dress.

I love the event and love my friends.  Hope you like the video of me skateboarding in a dress.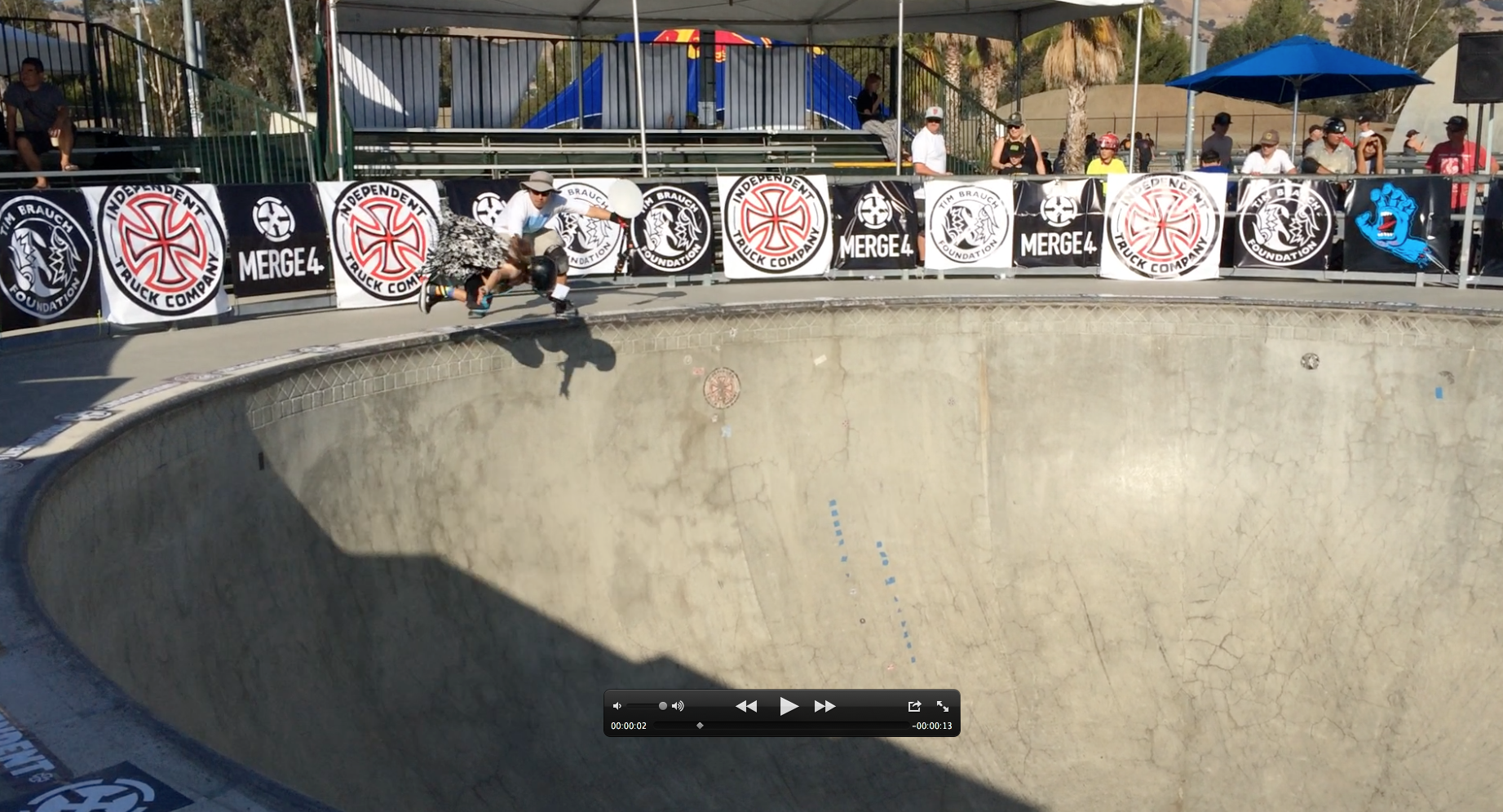 video of Minna skateboarding TBM in a dress above & screen shot from the video below – photo credit:  Moniz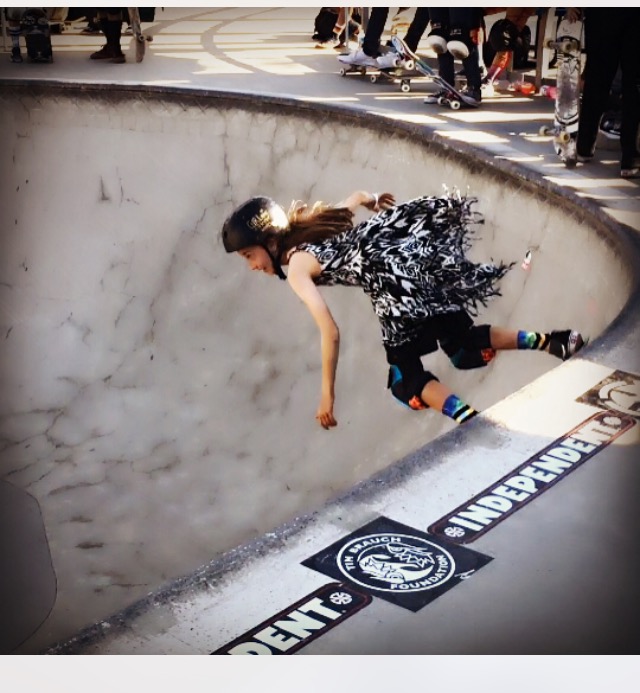 As a fashionista – I'm liking how the Billabong dress is working with the 187 Pads, Stance Socks, Vans shoes – you'll have to watch to see the Santa Cruz board & Independent Trucks in action 🙂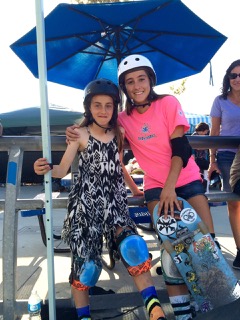 Minna in the dress which complemented her XS Girls NOT a 4 Letter Word Helmet wonderfully & Arianna
I skateboard for fun and I've said it a million times – there's no uniform in skateboarding.  Wear what you want & wear it proudly.  Keep sharing your stories because more girls skateboard when they see girls skateboarding and get encouragement.
Till next time keep it stylish on & off the board just like Minna & Arianna!