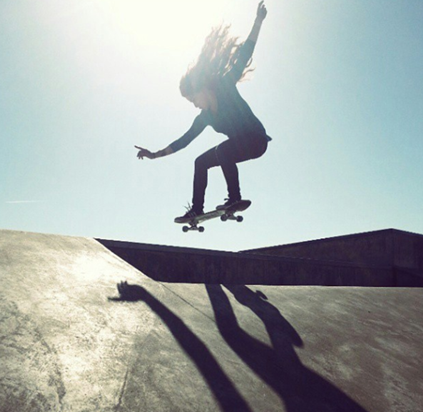 Carmen_sutra can ride skateboards of all sizes. I like that – the pictures of her skate adventures are incredible. I appreciate that she loves all skateboards.
There's no such thing as one size board fits all. Just like there's no must have wheel. And believe me I argue with my dad about wheels all the time. Yes, there are guidelines – you can check out Tactics for details. The most important take away from the article is: "This is all a matter of riding style and personal preference, so use these ranges as a starting-off point and determine the best fit for your own set-up."
There is such a thing as favorite wheels. If you have a skateboard with wheels you love and over a period of time they have consistently performed– it is totally ok to consider them your favorite wheels and you can ride them until they don't roll anymore. Yes even if some people are like "WTF is up with those wheels" – if you like the feel of the wheels keep them on your board.
I also believe it is not a waste of money to have several boards that you ride depending on what you're riding. You're blessed if you can have several boards. With clothes you should never wear ill-fitting ones. And with boards and wheels it's the same thing – if it feels wrong for you it's wrong – if it feels good to you – ride on.
Thanks Carmen for sharing the rad shot and showing girls can skateboard!