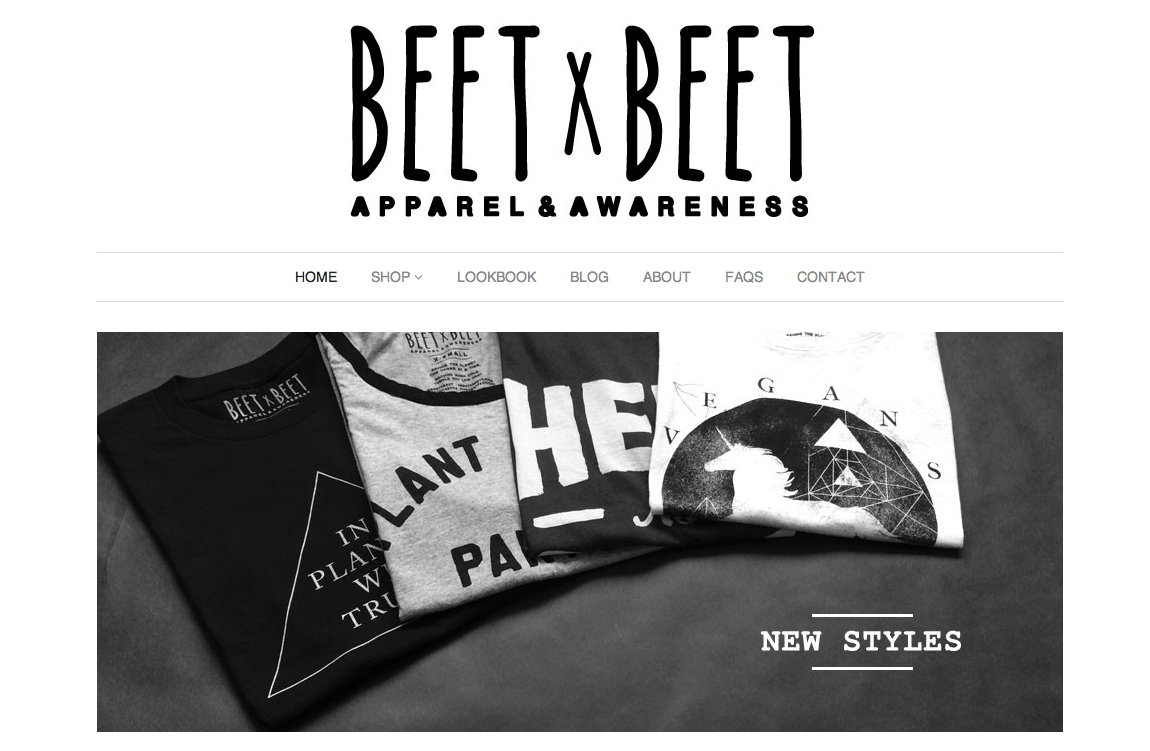 I skateboard for fun but I take my fashion quite seriously.  What I mean by that is fashion or what I wear is an expression of who I am and what I believe in.  I only wear what I feel good about wearing – so if there's a trend and everyone's wearing it – you'll only see me in it if I'm feeling comfortable in it.
I don't think clothes have to be dramatic or edgy or uncomfortable or anything else to be fashionable.  I think clothes need to work with you – the old saying "wear your clothes don't let your clothes wear you" is gospel to me.
So t-shirts – fashion or not?  Fashion 100% and a billboard for what you believe in.  One artist who agrees is Jacky Wasserman – she's a graphic designer and LA DJ who's brought her life's passions:  design, food and music to life in her clothing line Beet x Beet.
Jacky was a skater girl in New York skating at Chelsea Piers Skate Park near where her father lived.  She's a Vegan and uses her clothes to inspire others to consider the Vegan option.
And yes before we begin the interview – I am not a Vegan – I'm not a Vegetarian – I'm not even a healthy eater.  But I respect people's diet choices.  I don't think what you eat makes you "good" or "bad" – I believe you should have the freedom to eat as you choose and that all life – including plants & animals should be treated with respect and kindness.
I respect and admire people who stand up for what they believe in while treating others with respect – it's always better to be introduced to new ideas in an atmosphere of fun.  So here goes Skatingfashionista interview with Beet X Beet founder Jacky.
SF:  How did you come up with the idea to get
 your message out there & educate through clothing –
 clothing is totally a walking billboard but it's usually
 just used for promoting brands/logos – how did you come up
 with idea to make it more meaningful?
JACKY:  When I first moved to LA two years ago I was
 searching online for a t-shrit with a vegan message. There
 were a few out there but none that really got me excited or
 that I would actually want to wear. So that's when I
 decided that given my background in graphic design and
 knowledge in the apparel industry it made sense for me to
 create my own t-shirt line. But I wanted it to be a little
 different from others. I wanted to promote not only veganism
 but important messages about things involving food that
 needed to be heard as well such as GMOs and Monsanto. I am
 really passionate about my vegan lifestyle and i'm also
 passionate about the environment so I wanted to combine
 those two ideas because I think they naturally go hand in
 hand.

 Having people wear BEETxBEET shirts provokes a
 thought and is a conversation starter so the messages on the
 shirts are being talked about and given a voice so people
 are able to spread the word wherever they go and wherever
 they live. It's also great thinking about a vegan
 athlete wearing one of our shirts in the gym and maybe
 turning heads because the common myth and misconception
 about being vegan is where we get our protein from so if
 other athletes see strong men and women in the gym sporting
 a vegan tee, they can help educate those who might be
 interested. The goal here is to get people to start thinking
 differently about how they eat and how much the choices they
 make everyday impacts the world around them. We are all in
 this together and we can all help make a difference towards
 a more thriving, positive, and peaceful
 world. 
SF:   I agree all it takes is one step at a
 time to make a difference and we can do it together – how do
 you measure if Beet x Beet is making a difference?  Are you
 non-profit?
JACKY:  To answer the first question, I'm not really
 sure how exactly we can measure if we are making a
 difference in terms of people going vegan or getting
 educated because of our shirts but the point of it is that
 we are getting the message out there. We are trying to do
 our part to be a part of the solution. Most of the customers
 we have are already vegan or are aware of GMOs etc. We have
 gotten very positive feedback from fans and the community
 which is really cool to hear. It seems like more and more
 people are becoming aware of what being vegan is and we are
 seeing the numbers rise as far as demand in restaurants etc.
 which is a good sign. More well known fashion brands are
 switching over or offering vegan leather or synthetic
 materials to appeal to the vegan community which is amazing,
 such as Free People. There are also new vegan fashion brands
 popping up all the time which has made it so easy to have
 a cruelty-free wardrobe these days. We also participate in
 marches and protests here and there when we can to
 stay involved in the community and help educate through
 that route as well. 

 Although we are not technically a non-profit
 organization, all of the profits we have made so far have
 gone back into the business itself. We
 are currently working toward being able to parter with
 different non-profits/organizations each month to where a
 portion of our proceeds go to an organization of choice.
SF:  Do you think all your customers who buy
 the Pro Vegan items are Vegan?  Like I love the Go Vegan
 Right Meow but I'd be conflicted on wearing it – totally
 want to let my Vegan readers know about it so they could
 wear it.
JACKY:  I think most of them are but it's
 interesting because our variety of shirts caters to everyone
 really. Even meat eaters. I've had lots of people buy
 for their friends or family members who are vegan which is
 really thoughtful and awesome of them. Also, for example,
 the shirt's with 'In Plants We Trust' message
 has been purchased by some of my non-vegan friends who are
 Acupuncturists and Herbalists because the message can take
 on a broader meaning that way. The Tofu Bishes has been
 purchased by vegetarians before and the GMO and Monsanto
 ones have been purchased by non-vegans as well. I have heard
 some people say the same thing as you though. They are drawn
 toward a certain design but may not be vegan so they would
 feel conflicted wearing it. But even that thought right
 there is something to make you at least think about
 what that means to you right? So in that regard, we have
 done our job.
Thank you so much for spreading the word with
 your readers! 
Above a happy customer of Beet X Beet – tangue.  And to me that's what fashion should do – make you happy – inspire you to have the best day possible in your skin & what you're wearing.  And if fashion educates you – bonus – thanks skateboarding for introducing me to Jacky & Beet X Beet hope to see her and more of her t-shirts soon!
Would absolutely love if girls sent/tag me pictures of themselves skating in Beet X Beet t-shirts – more girls do skate as they see girls skateboarding and we encourage each other!
And yes Jacky – I am encouraging you to get on a skateboard soon!