EXPOSURE Skate will be at the Encinitas Community Park on Saturday November 5th.  EXPOSURE Skate empowers girls through skateboarding and donates proceeds to Carol's House (helping survivors of domestic abuse).
This is the 5th year of girls skate competitions plus Learn to Skate & Yoga Clinics, autograph signings, and a fabulous vendor village. 

This post is about the EXPOSURE Yoga Challenge.  The entire EXPOSURE event is free including the Yoga Clinic – just sign up on the Yoga Registration Page to let Bridget know how many to expect – the yoga clinic is co-ed and from 9 – 10:30 am on 11/5.
Celebrating 5 years of EXPOSURE SKATE with 5 days of YOGA.  Join our IG yoga challenge for a chance to win prizes!
To participate in the EXPOSURE Yoga Challenge
Have an Instagram Account
Follow the 5 sponsors @exposureskate @yogaforskateboarders @arborgirls @sillygirlskateboards @betherad
Follow the 5 hosts who will demo the poses @ameliabrodka @bridgetdoesyoga @skatingfashionista @deerearth @sarahshreds
By 11/5 – the date of EXPOSURE post yourself doing all 5 poses on your Instagram & if you like why yoga helps your skateboarding
Be sure to tag @EXPOSURESKATE & #ExposureYogaChallenge
Go to EXPOSURE Yoga Clinic on 11/5 – following Steps 1-6  enrolls you in the raffle for a Grand Prize!Every participant will receive goodie bags at the clinic.   If you're the raffle winner, you'll be awarded the Grand Prize at EXPOSURE
Not able to make it to EXPOSURE there will be a separate raffle for those who did Steps 1-5.  The winner will be notified via IG week after EXPOSURE
Contest starts October 1st so get following & you'll have plenty of time to make your posts.   Be creative & have fun!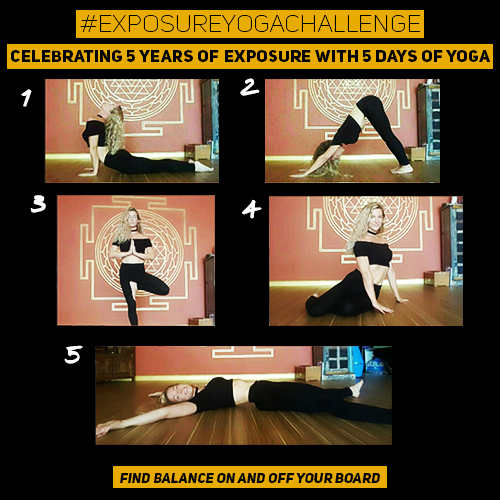 UPDATE – challenge is underway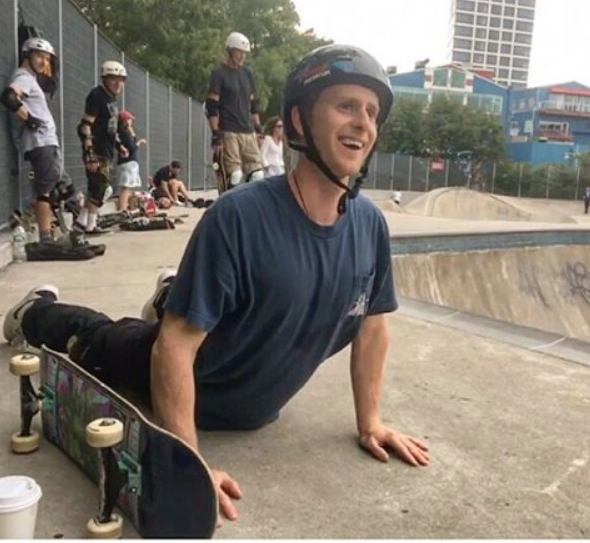 Alec filling in for Amelia – Day 1
Below Bridgette explaining the Day 1 pose – Cobra Pose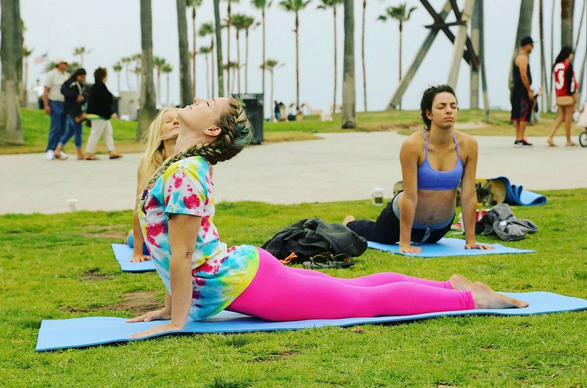 Day 1 is Cobra Pose.
To practice this challenge pose:
-Lying on your stomach, plant your hands beneath your shoulders, elbows bent, hugging them in towards your ribcage
-Plant the tops of your feet into the ground, activating your leg muscles
-On an INHALE slowly straighten your elbows and press the ground away from you
-Lift your chest and expand through your ribcage as you engage your lower back muscles -Firm shoulder blades into your back as you relax the tops of your shoulders away from your jaw and relax your neck
-Pay attention to the story this pose is telling you about your body
There are also 5 yoga principles I am going to touch on each day.
Today's #yogaprinciple is "proper fuel"
Your vehicle won't go too far without the proper fuel. Sometimes it takes a while to figure out exactly what that is! For me, personally, it has been crucial. I happen to have severe gluten & dairy allergies that effect my immune system. So, for me, finding the proper fuel has meant avoiding these fun foods, unfortunately!  But this principle also applies on a much more basic level, like simply making sure you are drinking enough water every day!
Honor your body by what you choose to fuel it with
Photo by the loveliest @steph_mo_photo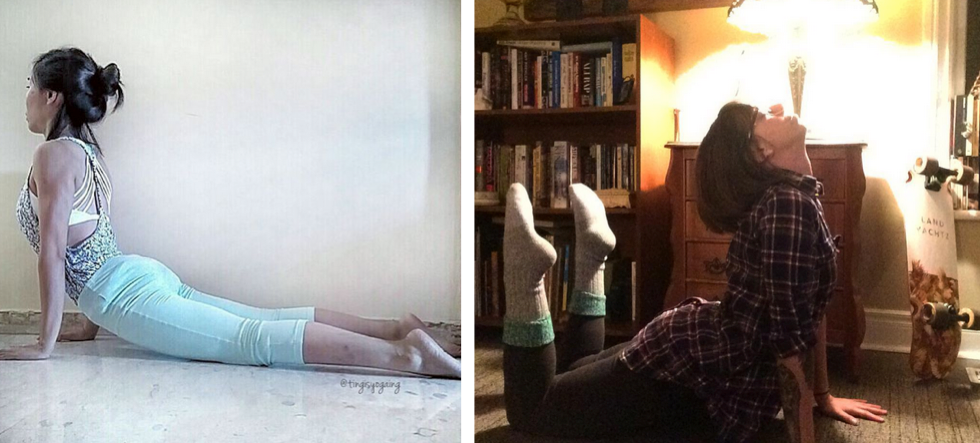 Above Ting and Sure Foot Yoga share their Cobra Pose just click on their name to see what they had to share.
DAY 2 – Challenge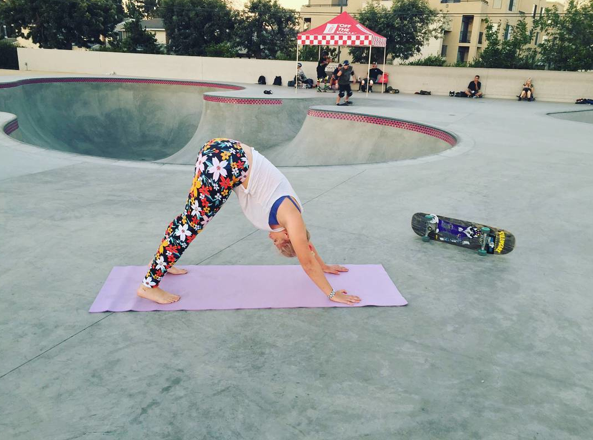 Sarah Thompson aka sarashreds demonstrates the Downward Dog Pose
To practice this challenge pose:
-Begin on your hands & knees in a quadraped position
-Stack shoulders over elbows and elbows over the creases of your wrists
-Press the ground away from you as you hug your shoulder blades into your back
-Curl your toes under as you lift your hips up & back
-Hands about shoulder distance apart, feet about hip distance apart
-Relax through the back of your neck
-Release heels towards the ground (they do not have to touch the ground)
-You always have the option of bending your knees slightly to relieve tension in the hamstrings
The yoga principle today is "proper action"
Yesterday I talked about how I fuel my vehicle, today I want to talk about how I TREAT my vehicle. I know that activities I love, like skateboarding, are really good for my body. It cultivates strength, allows for self expression and it makes me happy! However, the flip side of this is that every action has a re-action. Activity can hurt. For me, yoga is a perfect way to maintain my vehicle, just like getting the oil changed in a car or rotating the tires. Yoga matches the strength & endurance of skateboarding with flexibility & rejuvenation. It's all about balance! Play hard, but heal harder 🙏 #Namaskate – Bridgete

Above surefootyoga & bridgetdoesyoga
DAY 3 – Challenge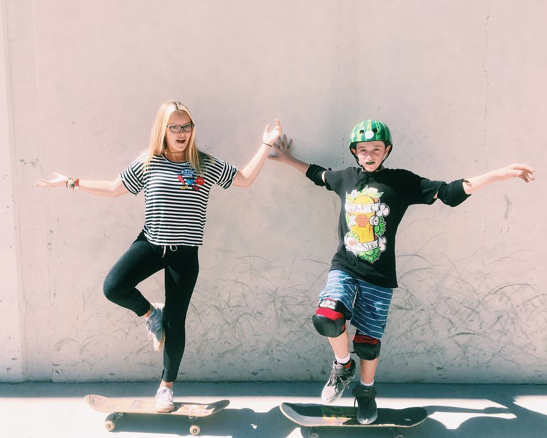 Jake Golden & I with the Tree Pose & yoga principle positive thinking – Buddah says "What you think, you become"
To practice this challenge pose:
-Stand up straight, stack all your joints; shoulders over hips, hips over knees, etc.
-Big toes touching, heels slightly apart
-Start to shift your bodies weight into one of your legs, and out of the other (you will eventually switch and do both sides)
-Firm down into the ground through your standing leg
-Externally rotate your lifted leg out to your side as you bend your knee
-First, bring the bottom of the foot on your lifted leg, to the inside of the calf muscle on your standing leg
-If you are comfortable you can try to bring the bottom of the foot on your lifted leg to the inside of the thigh on your standing leg
-Bring your hands together to your heart's center or stretch them above your head like branches of a tree
The yoga principle today is "positive thinking"
Positive thinking doesn't just mean being happy. To me it means finding contentment even when things in life are not going so well.
Everyone has different struggles. Positive thinking helps you to realize that your struggle is not your identity. It is not who you are.
Things happen, we learn, we grow, the sun rises and sets and so on. It only benefits you to see the positive in any situation life may throw your way!!! – Bridgete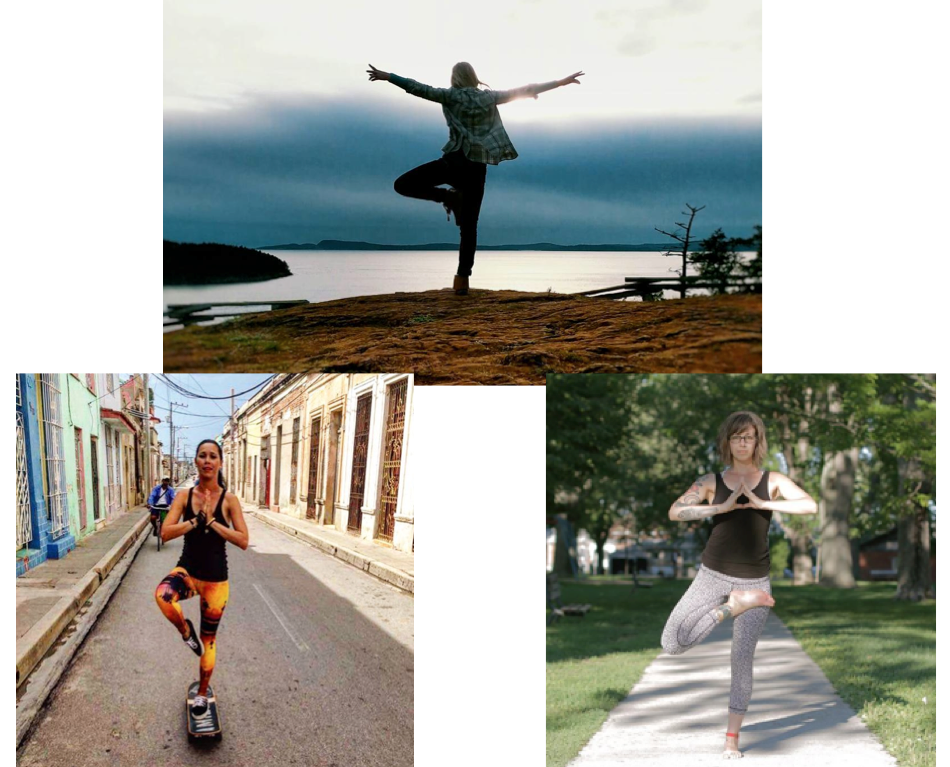 Above 3 lovely examples of the Tree Pose from Celestial Mermaid, Get Wise Fool, and Sure Foot Yoga
Below my dad with his unique style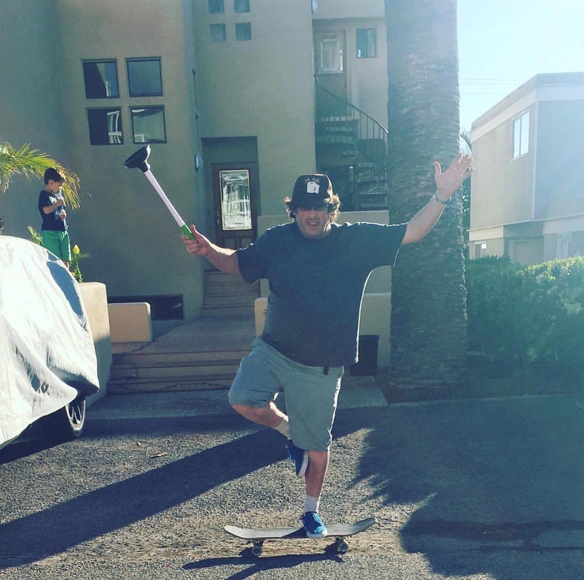 I prefer this picture from Skate Yogi in NYC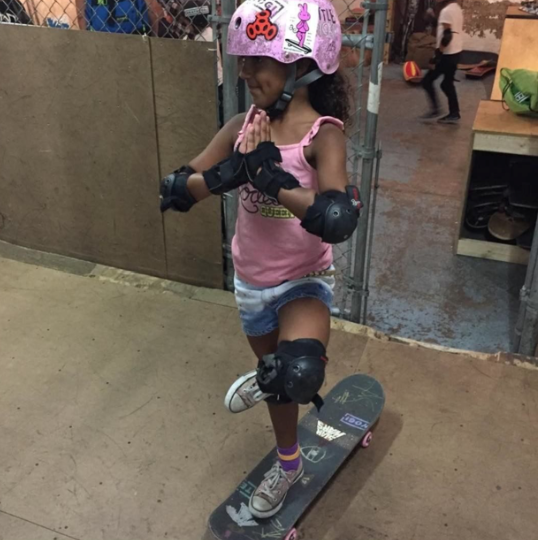 DAY 4 – Challenge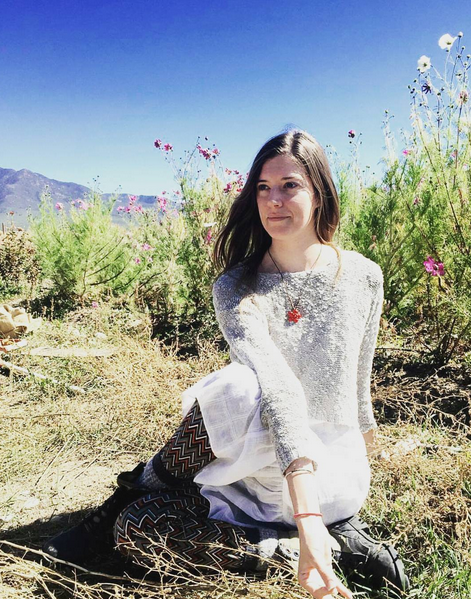 Deer Earth with Seated Twist
To practice this challenge pose:
-Sit in any comfortable cross-legged position
-Root through your sit bones, stabilizing your pelvis
-Inhale as you lift through the crown of your head
-Exhale as you twist from the center of your spine toward your right, looking over your right shoulder
-Place your left arm on the outside of your right leg
-Continue to create space in your spine with each breath
The yoga principle today is "proper breathing"
If your body is the vehicle, then your breath is the engine. You are not going very far without it. When you are focused and breathing you use a much greater amount of your lungs' capacity, saturating your circulatory system with oxygen. This aids in cell turnover and overall rejuvenation in your entire body. – Bridgete

Above Bridget & Amanda – Friends who yoga + skate together, stay together
and Sure Foot Yoga who is going strong on keeping up with the challenge!
DAY 5 – Challenge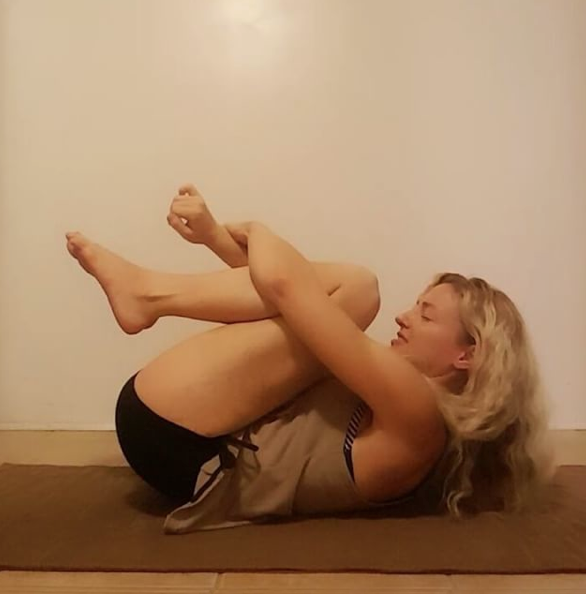 A video from Bridget – watch to see her favorite pose the Savasana which means "corpse pose" in sanskrit – the challenge here is to release all effort from the body & completely relax!
MORE UPDATES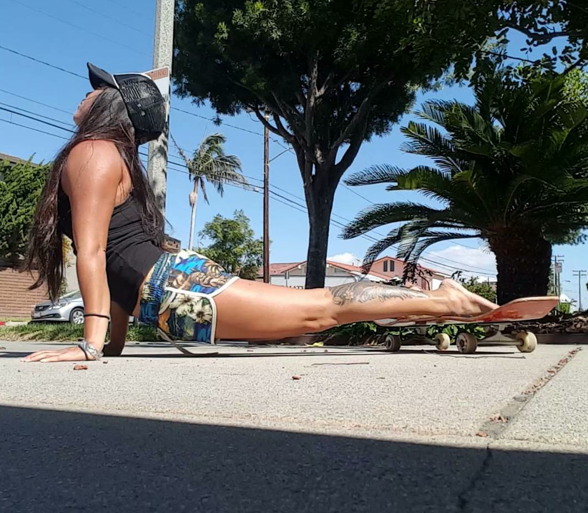 MomIsMyName_5509 shares this Updog for @exposureskate yoga challenge in my fave boardshorts. For myself yoga helps with my balance and flexibility, which I've been extremely grateful for at the skatepark. When my board rolled out from under me one day, one foot stayed on the board and I ended up doing the splits. Had I not been flexible from my yoga stretches I could have very well hurt myself, but no harm was done and skating resumed. Good times.
To me skateboarding is rolling yoga so I hope to see lots of people participate in the challenge & at the Clinic – till then keep it stylish on & off the board!
Save