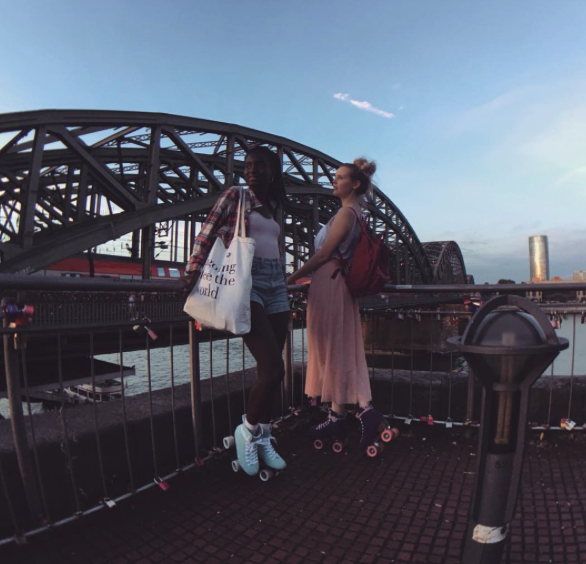 Paula aka @paulamnchw recently got to skate through the streets of Cologne with BTFL and I had the opportunity to ask her about how she came to love roller skating.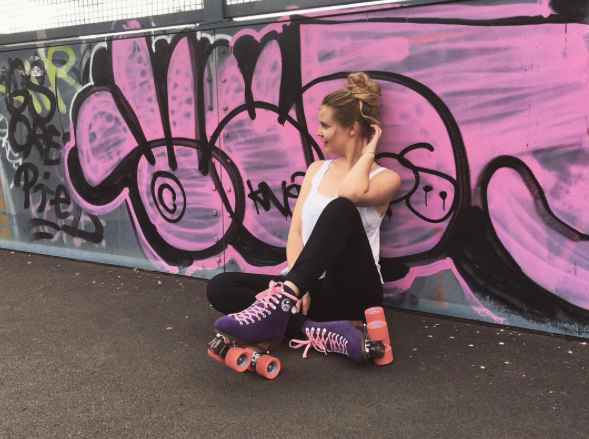 How long have you been roller skating & how did you get started?
Paula:  I've been skating for over 10 years now.  Like many young girls I dreamed about becoming a "figure skating princess", but there was no ice rink in my hometown. So I started artistic rollerskating.  First as a hobby and now as a competitive sport.
When I moved to Berlin, I met so many cool people, who showed me a new perspective of rollerskating.   I'm discovering a new world full of sparkling roller discos, street skating and ramp skating action.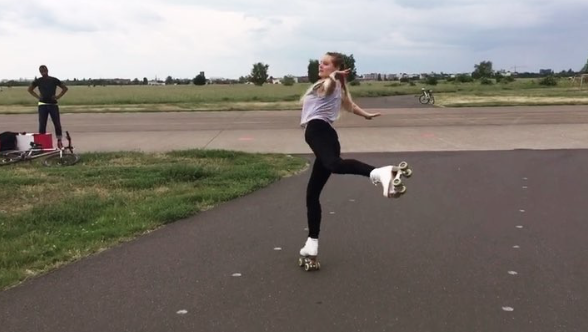 above video "roller dancing in the street"
On your IG, I see you skate indoors and outdoors. Is roller skating popular in Berlin is it growing in popularity? Are there a lot of places to roller skate?
Paula:  To do artistic rollerskating you need very smooth ground, like in a gym.  Artistic rollerskating in Germany is not very popular, like outdoor skating it's a hobby.
In other countries, like Italy, there are a lot of public skating spots and everyone knows about this amazing sport.
However, lately I see more and more young girls on roller skates.  I'm happy to help them find good places to skate and learn tricks.  Most of them tell me they want to be like the girls from the new Disney channel series called "soy Luna", which is actually about rollerskating.  Hopefully the next generation will make rollerskating more popular.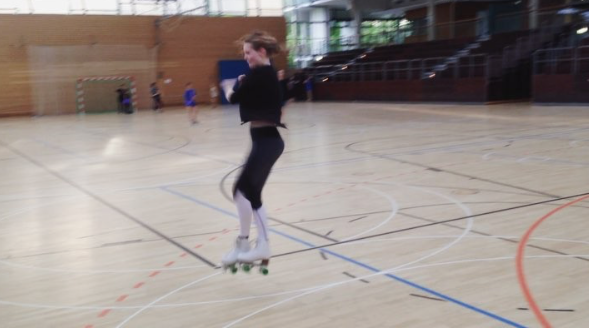 What do you like about roller skating?
Paula:  I like the way you can express yourself.  When I do artistic rollerskating I feel like a princess dancing to beautiful music.
For fun and action I enjoy outdoor skating with my friends at a skatepark or skating around the city.
Why do you think roller skating is good for girls?  
Paula:  I can recommend both of the the skating styles I do. The artistic one is all about passion, feeling like a little star performing your program with beautiful music plus hard work (exercise).  Freestyle skating on the street or in ramps is just about fun, action and spending some good time with friends.
Girls, just go out and skate!  Skate slow, skate fast, skate artistic, skate on streets – but just skate!
Thank you so much for sharing Paula.  You inspire me.  As someone who just recently took up roller skating, it's great to have role models.  Seeing other girls having fun and just doing so much on their skates.
I've skateboarded for years at parks and on the streets especially by the beaches and now roller skating is a new way to explore, have adventures, and make friends.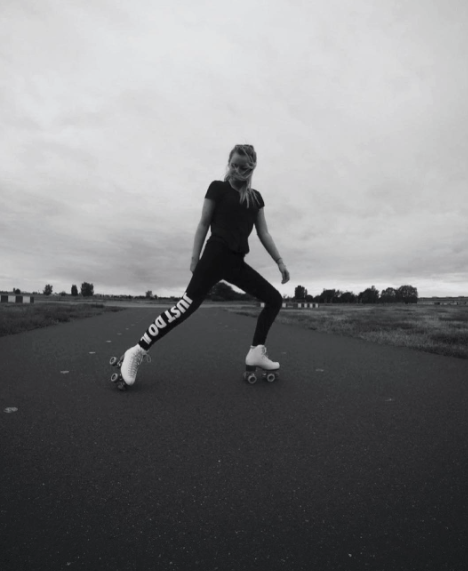 Paula's roller skating in Germany, I'm trying here in Southern California – where are you having fun roller skating?
When more girls share their roller skating fun it will inspire even more girls to try roller skating – so hope to hear from you soon.