When you participate in an event like EXPOSURE Skate, it's your hope that others will see the girls skateboarding and give it a try.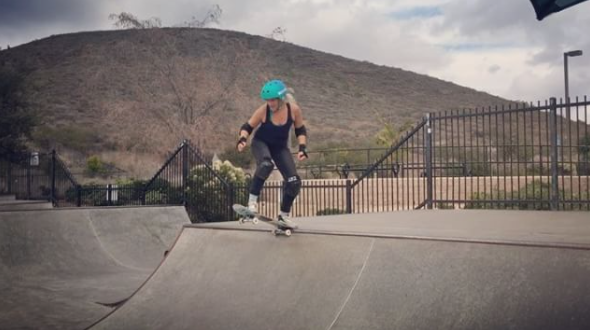 After I read the caption for the video above from SD Skate Life, I asked Andrea if she'd like to have a post.
Well this was rad! Andrea picked up a skateboard for the first time last week. Today was her first lesson, and by the end of the hour, she tackled this solo drop in on the four ft. quarterpipe at PQ 🙌🏽 |This is a solid reminder that its never too late to pick up a new skill ✌🏽 – Andrew, founder SD Skate Life
Her response was immediate:
Skating has truly been one of the coolest experiences of my life.  The skating community is so encouraging and welcoming.  I've met so many amazing, inspiring women just in this last month.  If I could help in anyway to spread the stoke and encourage other ladies to get out and skate, I'm down!
So I sent her some questions and learned what inspired her to try skateboarding.
I started skating shortly after Exposure this year.  I was so inspired by all of the ladies, from 5 to 40, all just so amazing.

I met one chic in particular named Stephanie, she was the one who really inspire me on a deeper level.  She shared her story with me and I just couldn't wait to get a board and meet up  with her and some other ladies that started skating in the last couple years.

I'm 31 and really was always kind of intimidated by skateboarding.  But after seeing the fire in these ladies eyes and the excitement in their voices when they spoke about skating, I knew I wanted to feel that.  

I don't really have a "home park" but Prince skatepark was where I first attempted.  Took a lesson at RP skate park and was stoked on that park.
As to why she thinks skateboarding is good for girls:
I think it's good for girls to do anything they want to do. If you want to skate, don't let anything stop you from trying!!!  You have nothing to lose.  Girls supporting girls in any activities in life I think is so important and should be done more often!
Thank you Andrea for sharing.
As for that inspiring chick named Stephanie – I'm happy to have her as an IG friend and to have written about her several times.  You may know her as Little Surfer Girl.
Another very inspiring skater girl that Andrea has been skating with is Kendra, she's constantly working at spreading the love of skateboarding – she event started We Skate Together.
Never underestimate the power of encouragement.  The one kind thing you do or say can give someone the courage to try and succeed.  Then their story and actions can inspire even more people.
The world is more stylish when we encourage each other on & off the board so please keep sharing your stories.