Monique is a filmer.  I wanted to include her in the series of girls who photograph girls skateboarding because to me the importance of pictures and videos is that seeing is believing.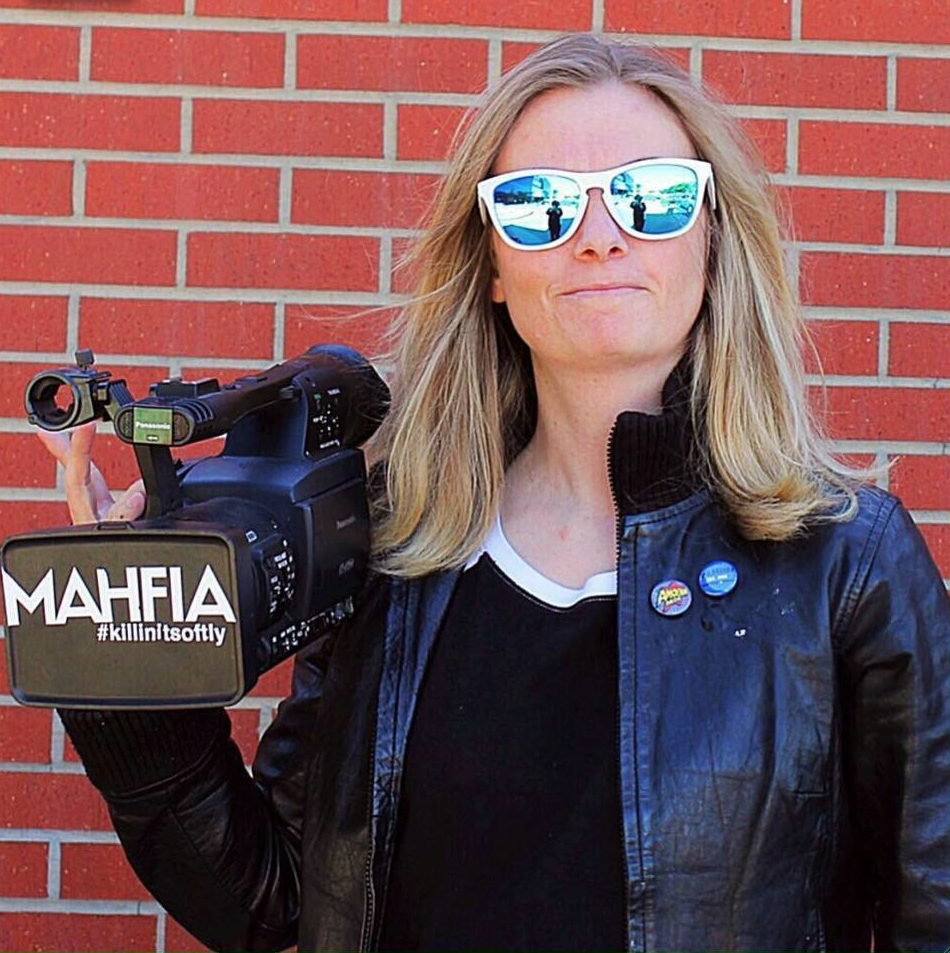 pictures in this post by Zorah or from IG with link if you click on them
Because of Monique's work the world sees that #girlscanskate.  Her latest project is the first full length girls skateboarding film to be produced in the US in over a decade – Quit Your Day Job.  Which I've blogged about before and am thrilled to say exceeded its Indie Go Go Campaign!
Here's my interview with Monique
SF:  How/when did you start filming skateboarding?  Do you skateboard?   If so was it before or after you started filming skaters?
Monique:  I started filming about a year and a half ago, when Erik Sandoval offered to teach me, while making a video together. What was supposed to be a Meow promo edit, became a full length all-girls video.
Yes, I started skating with the boys back in 1995 when I was 14.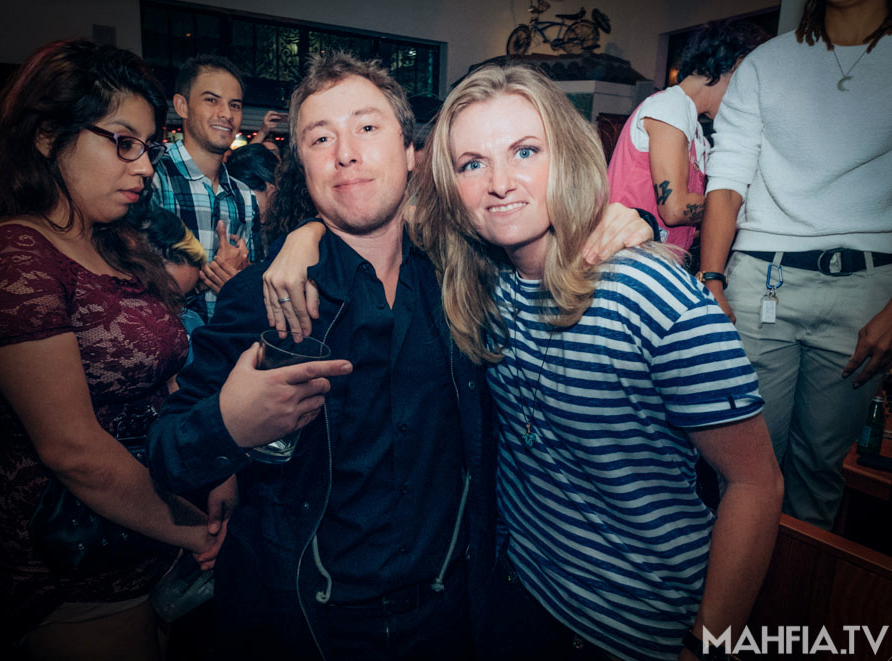 SF:  How did you get involved with filming skater girls?
Monique:  I already knew a bunch of girls that I had met through my long time friend- Lisa Whitaker, but never thought I'd be filming any of them, especially the pros.
Mimi Knoop gave me the opportunity to shoot photos and film at the US Open and XGames, even though I didn't know what I was doing, and was only shooting for myself – just for fun. Then I met Erik, and everything changed.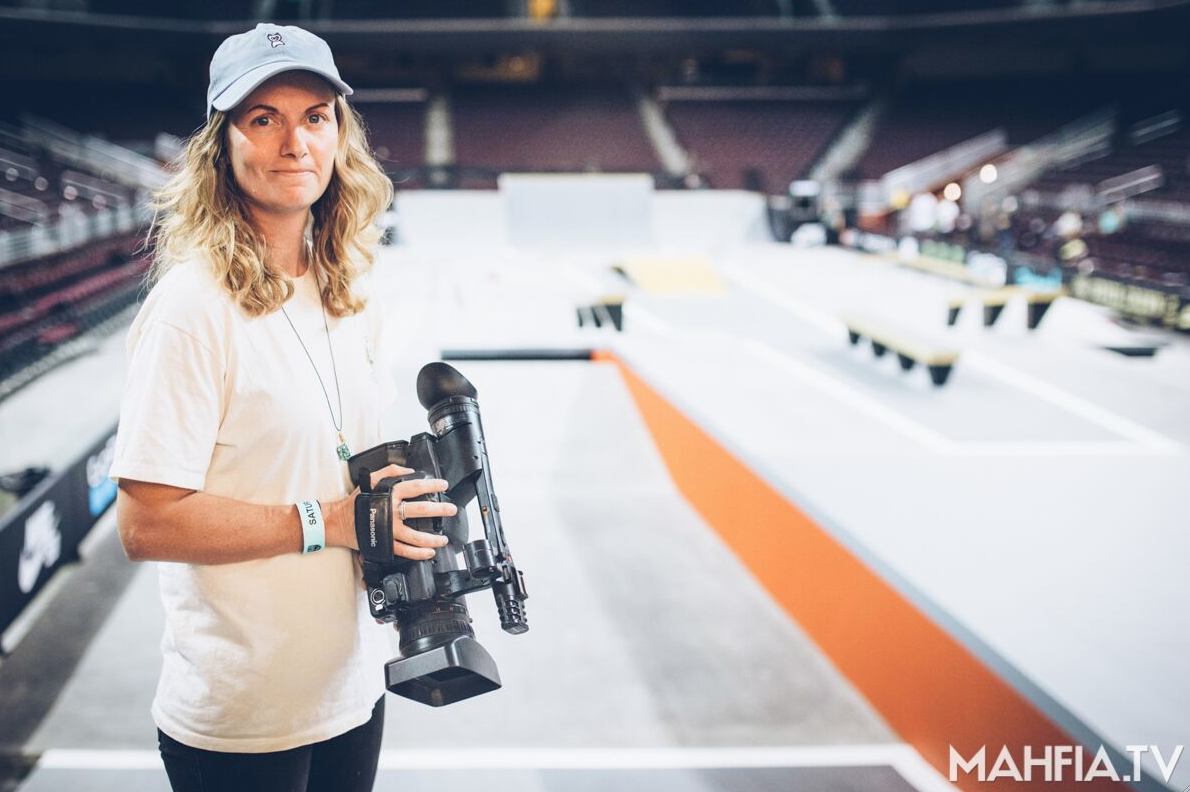 SF:  How has girls skateboarding changed since you started filming?
Monique:  I've witnessed a lot of changes over the last year and a half!
I encouraged Savannah Headden to come out to L.A, and she ended up never going back to Virginia Beach. She went from only having a shop sponsor, (a lame "cool guy" shop that didn't realize her value) to picking up legit company sponsors that fully back her. (Meow, Etnies, & Cloud 9 Grip) Not to mention, she filmed her first video part with us, and earned a spot as an alternate at the XGames.
Candy Jacobs also filmed her first street part, earned her spot back, and her career has been taking off!
Girls got added to Street League last year, which is huge! Mariah went from an SLS alternate, to a competitor this year.
Samarria and Alana became pro, and Vanessa started filming again after a 10+ year dry spell. She's been killing it!! She just turned 30, and is better than she's ever been!
I've watched all these girls progress, and the bar go up. More companies and/or networks are taking interest in these girls, and opportunities have been popping up left and right. Things are changing. This is only the beginning!
Also, our industry has grown significantly! Meow and Hoopla have grown a lot this past year, which allowed them to add more girls to their rosters.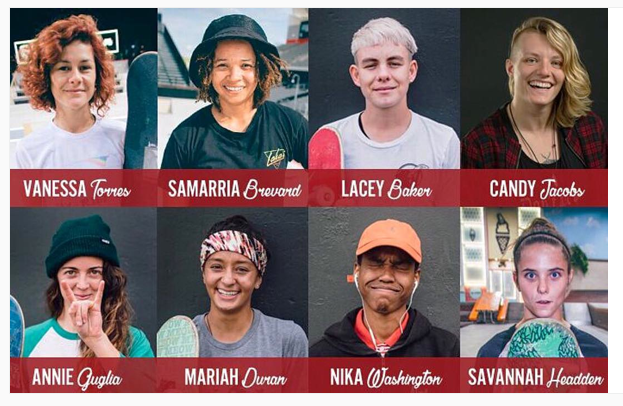 SF:  What's your favorite type of shooting –  for example street/bowl/vert/long boarding ???
Monique:  Street is my favorite for sure, but I also love filming the bowl and vert girls!
I always look forward to filming park, and street contests with Erik for Mahfia! Erik and I began filming bowl and vert for our video, which has been fun! We recently filmed at the Prince Park bowl with Mimi Knoop, Nicole Hause, Izy Mutu, Shanae Collins, and Fabiana Delfino. We also filmed with Hanna Zanzi at the Volcom park bowl.
Our video is mostly street, but we HAD to add vert and bowl! I can't say I've filmed any long boarding, but I'm open to it!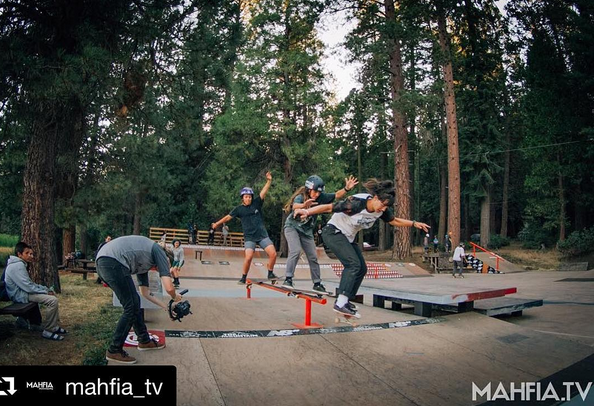 SF:  Where do you like to film – for example locations/parks/events/contests ???
Monique:  9 times out of 10, we're filming in the streets of L.A, but sometimes we'll take day trips to the I.E. and San Diego.
We've also taken quite a few road trips to San Francisco, and one to Phoenix and Albuquerque. On a typical day, we usually get the girls warmed up at either Lincoln Plaza or Marsh Park before hitting the first street spot.
When it comes to events, and contests, Erik and I travel to cover as much of them as possible for Mahfia! I always look forward to XGames, US Open, and Wheels of Fortune in particular – but they're all fun!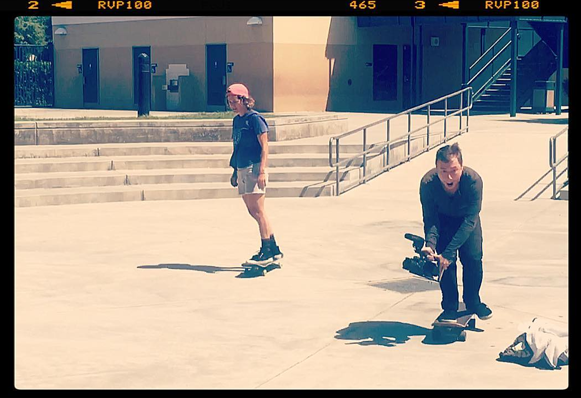 SF:  What's different about filming skateboarding than other filming?
Monique:  In my opinion, it's definitely more thrilling than shooting portraits, landscaping, etc. or filming boring stuff like soap operas, or theater. Ha!
Action sports keep you on your toes. Never a dull moment!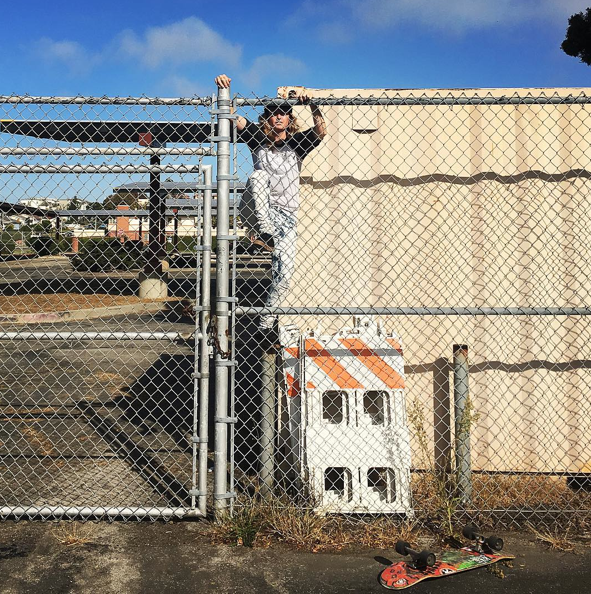 SF:  Where can people see your work?
Monique:  Mahfia TV! Almost all the skate edits from January of this year,  to present, were shot by Erik and/or I.
I also have some photos on the Meow site.
Monique's IG and Quit Your Day Job IG
SF:  What do you think of all the press girls' skateboarding is getting?  I think all press is good – but I want to be a journalist.  And every fashionista has a subscription to Vogue.  I was beyond excited when I saw Amelia shoot a prom dress campaign and then the pictures & videos got covered in magazines. And those long board girls in the Red Hot Chili Pepper video – loved it & totally inspired me to keep skating.  But is that press bad for competitive female skateboarding?
Monique:  I have to agree with you! All press is good, and I think it's great that we have two different girl scenes within our subculture. It's definitely needed. The girly-girls need women like Amelia that they can relate to, so they can feel confident showing up to the skate park in spandex or a dress, and the tomboys need more masculine women to look up to, so they don't feel ashamed of who they are.
If a girl riding a skateboard is getting press, whether she's wearing a dress, or men's Dickies – I'm hyped.
SF:  Did/do you have role models or people/organizations that continue to encourage and support your filming?
Yes! Absolutely! Lisa Whitaker has been my number one role model for a very long time. She has selflessly done more for women's skateboarding than anyone! She has some enormous shoes to fill! If it wasn't for her, I wouldn't be here, and if wasn't for Erik, I wouldn't be shooting. That is a fact.
Getting Lisa's approval, and encouragement early on, meant a lot to me. Once I knew she was hyped about what Erik and I were doing, it only made me want to work harder, and go a far as I could. Mimi Knoop, Kim Woozy, YuLin Olliver, Matt Gaudio, and a bunch of other people that run our industry, keep telling Erik and I that we're "killing it." Hearing that, makes me feel like I'm succeeding, and have a bright future ahead of me.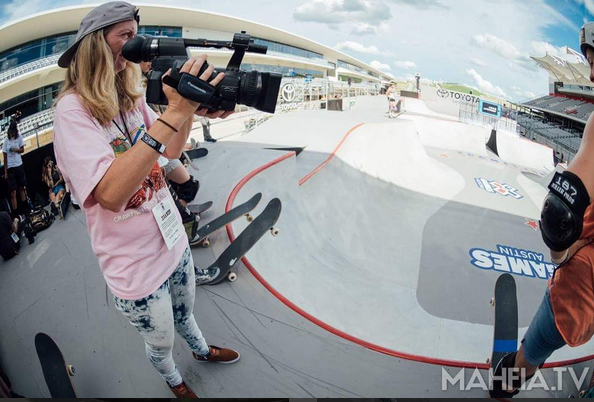 SF:  Anything you want to share about why girls filming girls skateboarding benefits the skateboarding sport & builds self-confidence & opportunities for girls.
Well, I can't speak for every girl, but I know a lot of them feel more comfortable filming with a girl, because it's a lot less pressure. Sometimes the guys can push too hard, and then it's just not fun anymore.
My method is to encourage, not pressure. This is what they appreciate about Erik as well. I also think most guys just don't have enough time to dedicate to the girls anyway.
At first, it was hard to believe that only two of  them had a filmer. Lacey and Mariah were the only ones that had put out street parts. The rest never really filmed street before, and had no means to film a part. I couldn't believe it! Like I mentioned earlier, opportunities have been popping up, and their parts haven't even officially dropped yet. I'm hoping doors continue to open for them. They all deserve the best for their hard work and dedication!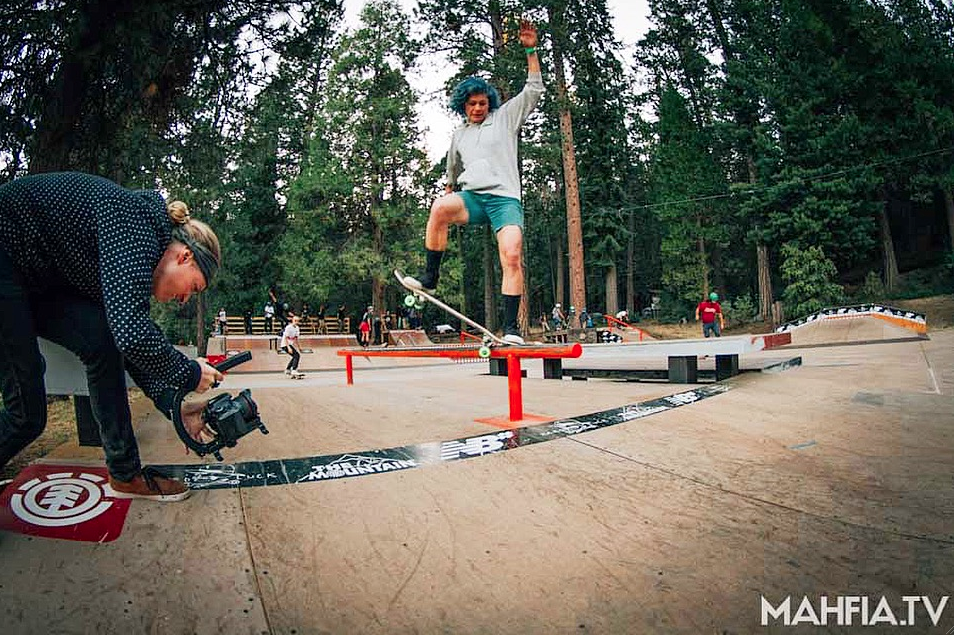 Thanks Monique.  I can't wait to see Quit Your Day Job.
I think you made so many wonderful points.  The importance of having people encourage you is priceless.  Having a person take their time to help you in an area they already excel in is  motivating.  I'm also motivated by how your love of skateboarding turned into a fabulous filming career.
Give a girl a board and you'll never know where it will take her.  My board took me to blogging – where is your skateboard taking you?  The self-confidence you learn from skateboarding can & does help you in life.
Save
Save
Save
Save
Save
Save
Save
Save
Save
Save
Save