The 8th Wheels of Fortune is coming up on May 5 – 7 in Seattle.  To welcome everyone there's an all ages party!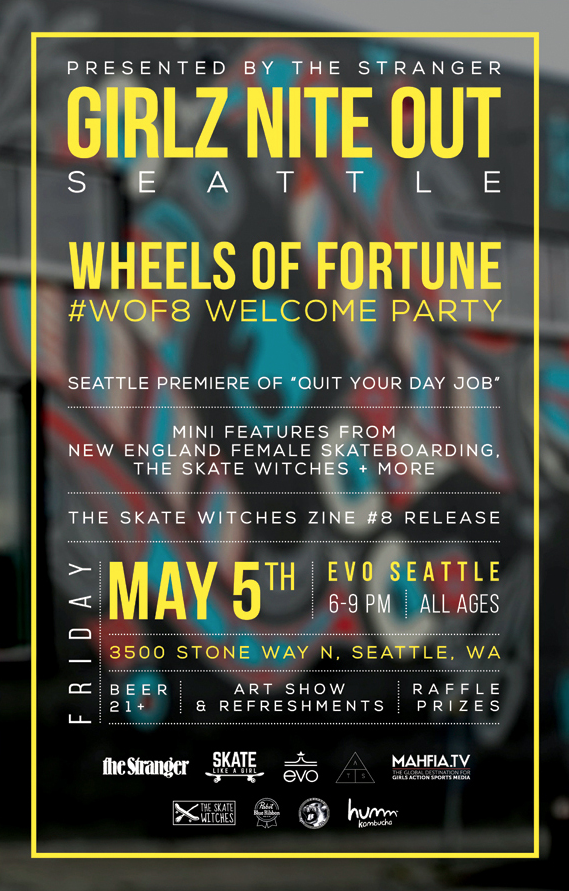 #WOF8 Welcome Party Girlz Nite Out Seattle is presented by The Stranger – Seattle's only newspaper.  The party will be at Evo – bring your board!
The party will feature a premiere of Quit Your Day Job, an all girl skateboard film

and have mini features by      New England's Female Skateboarding,   The Skate Witches   &   BroeSquad
Plus there will be  #TheSkateWitches Zine 8 release and a Female Skate Photo show curated by Mahfia TV featuring images by Nam-Chi Van, Olga Aguilar, Norma Ibarra, Zora Holivia, Mimi Knoop, Hanna aka Neon Stash, Sarah Huston, Shari White, Sima, and more!
There will also be raffle prizes, kombucha from Humm Kombucha & Beer from Pabst Blue Ribbon (21+)!
If you can make it out & as always share your stories and events because more girls skate when they see girls skating & get encouragement.
For more information on Wheels of Fortune click below to go to the Skate Like a Girl website.