I found out about Nux USA from my mom.  She handed me a business card where the job description said In-House Sales Diva and said "You two might have some things in common."  I was intrigued so I investigated – the following is what I learned from Christina Jones – the In-House Sales Diva herself and Malek S. Neman founder & CEO of Nux – activewear for inspired living.

SF:  I love Nuxology – who came up with that and was it before or after the clothes?
MSN:  I have always been a "seeker".  Along the way, in my life as a seeker, I have learned many things from masters, teachers, wise friends and my travels.  NUXOLOGY is an blend of such learnings that I try to apply to my life and that I think applies to our work.

SF:  What's your role and how long have you been there?
MSN:  I am the CEO of NUX and started the company in 2007.

SF:  At NUX, we measure our success by the inspiration we are able to
evoke.  I loved reading that on the webpage.   How do you hear back from customers success & how do you share that?

MSN:  We  have open social media channels of communication (such as Instagram and facebook), where people tag us wearing our clothing, hashtag NUX or NUXUSA, or send us pictures of themselves working out in our clothing.   We are always trying to improve on our communication.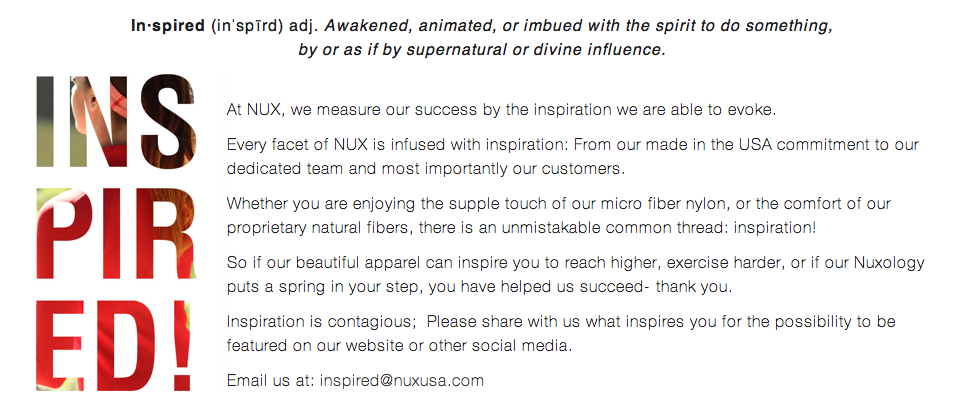 SF:  Compression – what kind of compression would you recommend for skateboarding?  What kind is the one I liked based on looks?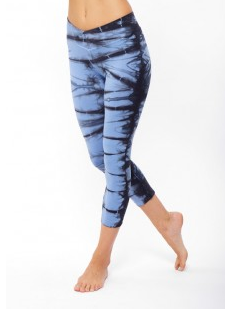 MSN:  The V Crop Pant is Moderate Compression, which is
great for higher impact activities;   compression holds you in, and helps blood flow and perhaps is even more protective in case of a fall.   A moderate compression piece would work well for skateboarding.

SF:  Does compression lead to better performance and/or less
soreness?

MSN:  There are many compression products on the market for runners and cyclers … compression leg sleeves, compression arm sleeves,  etc.  The benefits of these pieces are well documented. We at NUX offer beautiful articles of clothing with a built in compression. So it is fashionable and functional.

SF:  Do you think wearing a compression top helps core strength?  And if so why?  I guess I'm wondering if it makes it harder to move but easier to be straight.
MSN:  I am not sure about core strength, but we have received e-mails from customers with back problems telling us that the compression tops help with their back problems.
 SF:  Your offices are in LA area is that where clothes are made to or
what city/state?
MSN:  We make everything  with love in Los Angeles, California!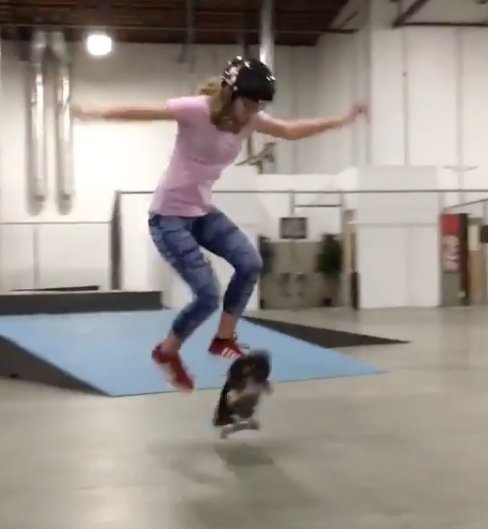 I appreciate Nux taking the time to answer my questions and I do recommend active wear for skateboarding because it is fashionable and functional.
It is true that you don't see a lot of active wear clothing at the skatepark.  There was a time when you didn't see girls at the skatepark either.
So why do I think active wear has a place at the skatepark?  I believe in smart material – material that wicks sweat so you feel dry – that's smart.  Material that improves circulation and can lessen back pain – that's smart. Material that doesn't split when you move while skateboarding – that's at least helpful if not smart!
And above all – I believe in options.  Sometimes I want to wear jeans, or skirts, or active wear, or . . . . I'm going to wear it because I want to & can.  There is no skateboarding uniform – wear what you want & wear it well.
Do you have something to recommend while skateboarding?  Send me a picture and your story – because more girls do skateboard as they see girls having fun skateboarding & staying true to their style.