I've always been thrilled to work with ivivva.  And working the grand opening at the new Carlsbad store on 9/1/16 was thrilling.
My mom was kind enough to take photos so here goes my post on the evening.  Below the store right before the VIP Event which went from 5 – 7pm.
Lisa and the store staff put so much planning into this event.  I go to lots of events and this was top notch.  In addition to having the store stocked to the brim, they anticipated a huge crowd so they had tons of activities that made the wait fun plus built community.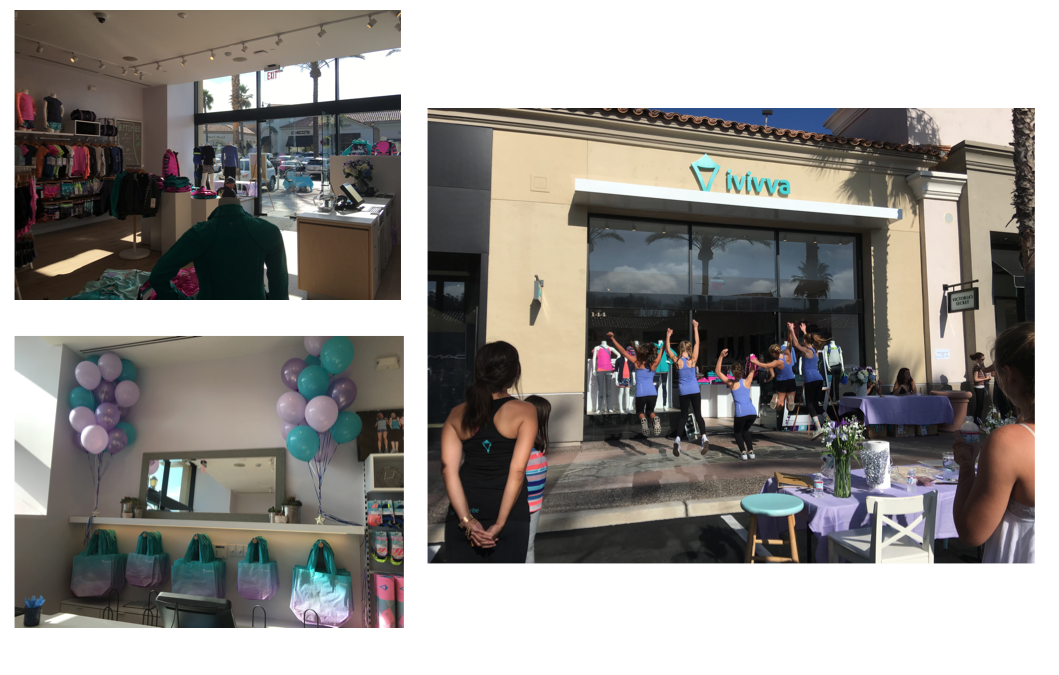 The night started with check in where you received your goodie bag complete with a raffle ticket.  The raffle was amazing for several reasons – starting with your stub was already in the bin so you didn't have to worry is my ticket in.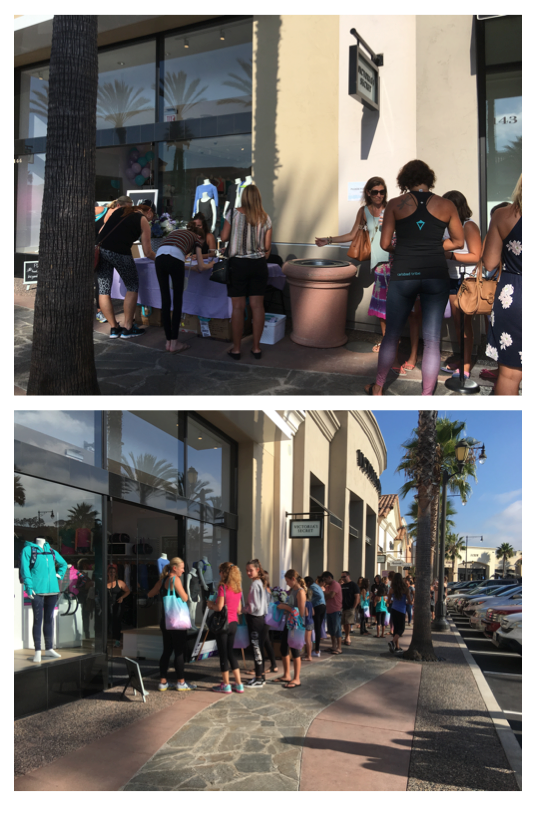 The raffles went on every 15 minutes.  The winning numbers were written on the store board – if you weren't there you have a week to go claim your prize.   So if you weren't there the entire night – I'd go back to the store to see if you won.  The jacket below was just one of the amazing prizes, plus you got to pick your prize in your size & color.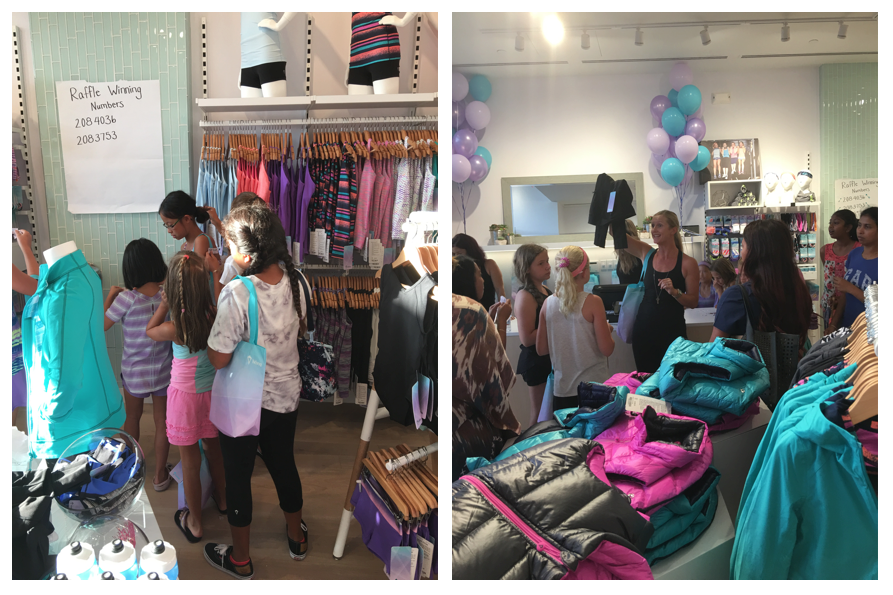 As more people arrived – the store kept getting busier.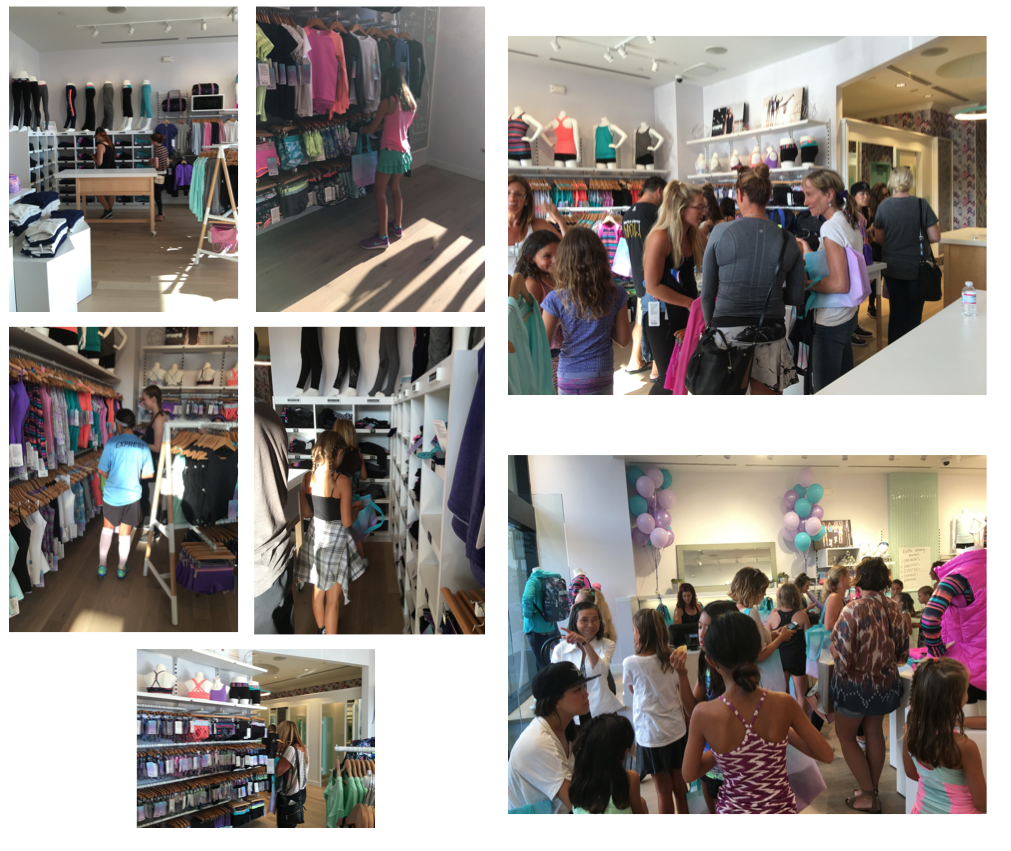 To make sure everyone was comfortable looking at all the selections – tops, shorts, leggings, jackets, backpacks . . .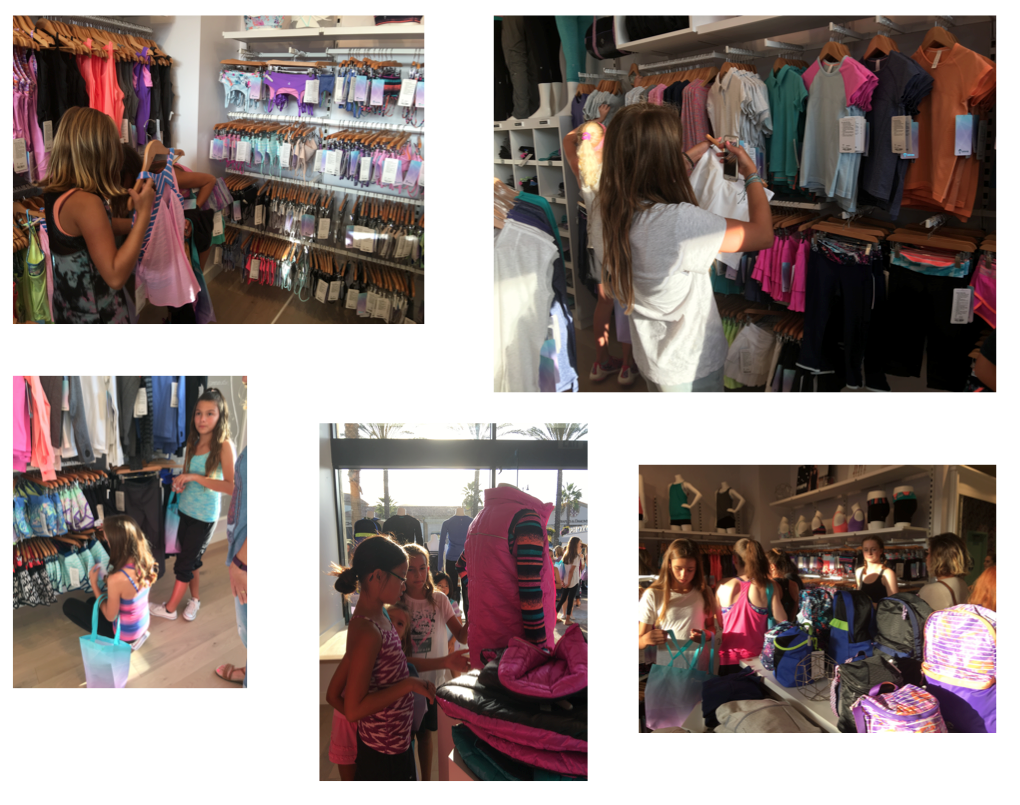 there were the activities including hair braiding

photos – both a photo trailer and IG frame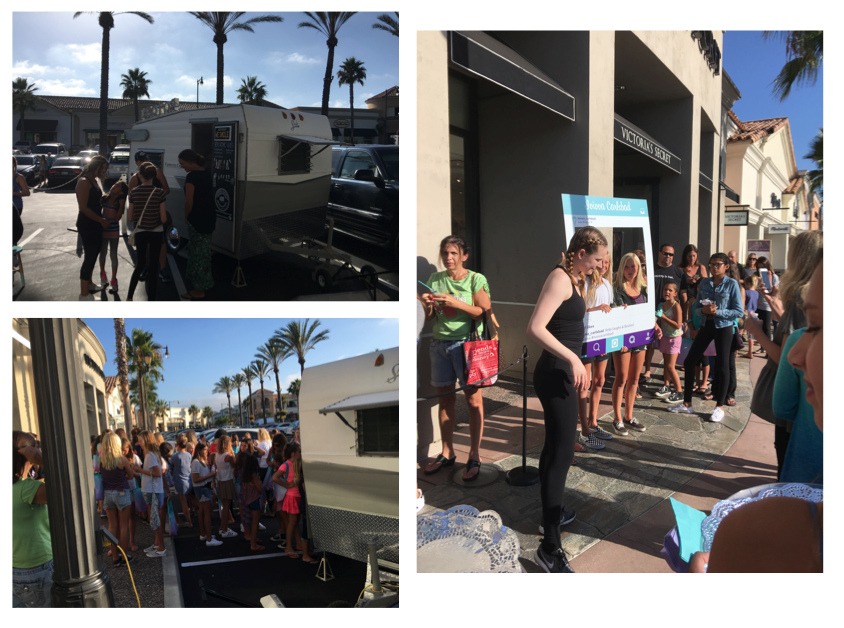 tattoos & of course delicious food & beverages
The activities were fun and I believe they built community because I saw people making friends.  Below are real life people having fun talking in a fitting room line.  Fun in a fitting room line only happens when you're with friends.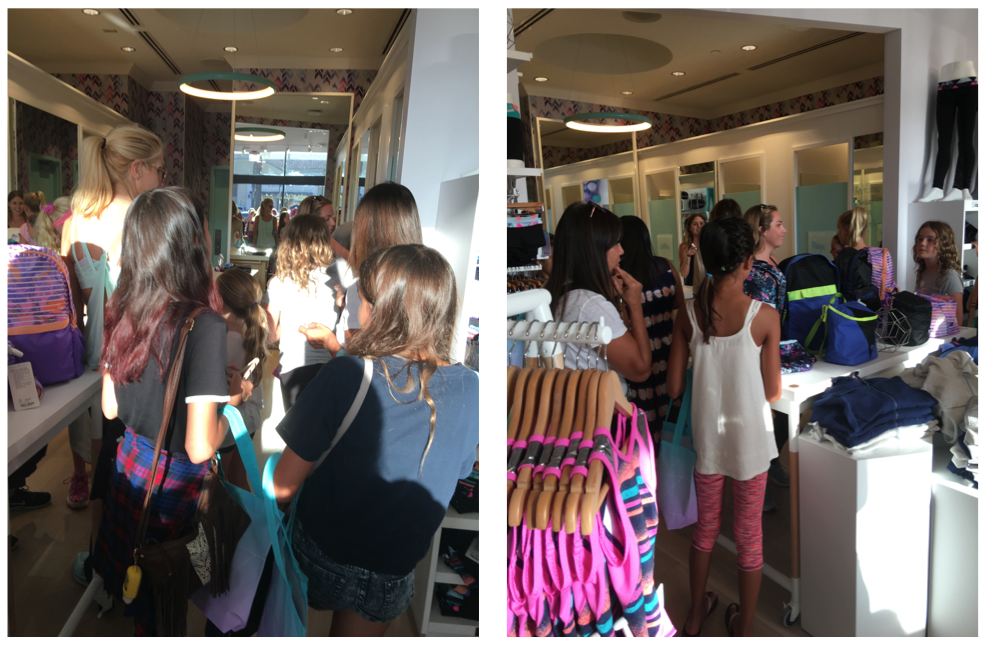 And I know I made friends.  All the girls in the purple tanks were volunteers – who I met for the first time last night.  They're all active girls (Syndi, Maddi, Rheigan, Kayla & Joy) who are passionate about their sport, their fashion, and making a positive impact on the world.  Here I am with just a few of them.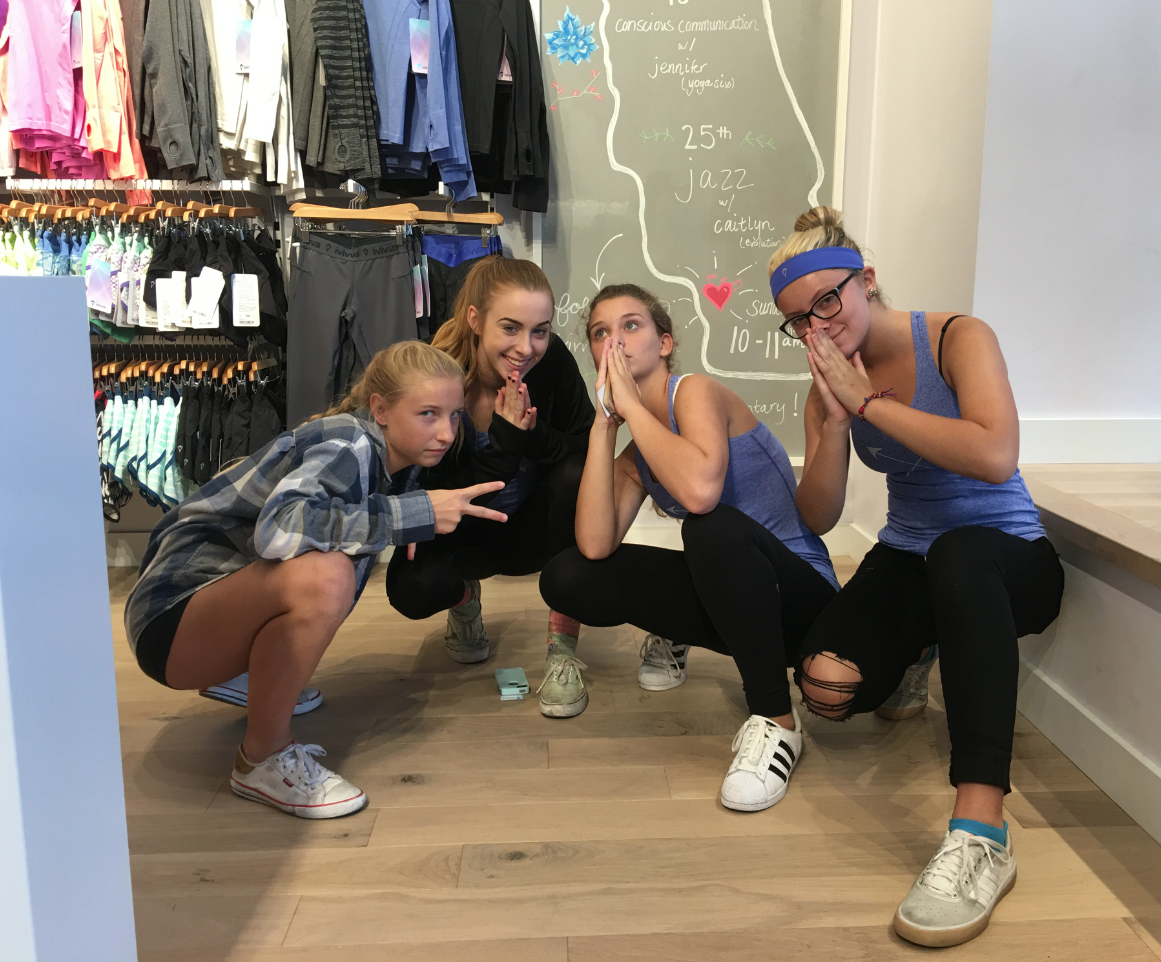 It's more than ok to be a girl – it's something to celebrate.  All girls have strength, beauty, and individuality – ivivva celebrates this by designing beautiful athletic wear and giving girls opportunities to meet & connect through movement.  The grand opening last night was just the beginning of how the Carlsbad ivivva store is building a community of strong girls.  You can follow them on IG ivivva_carlsbad to see all the activities and when you're in the store you can look at the board behind us in the picture – written in the map of California are all the monthly events.
ivivva communities offer a variety of complimentary athletic classes and Dreams & Goals programs. Through these events girls get to connect and celebrate each other – where they can push their boundaries, knowing that falling and getting back up is all part of the journey.
skateboarding is all about pushing the boundary, falling & getting back up so be looking for an ivivva_carlsbad skateboarding event soon