Skate Rising, EXPOSURE Skate's youth program, started in the San Diego California area and then expanded to Phoenix Arizona.  Starting with the February 17, 2018 event Phoenix Skate Rising will be at KTR Mesa.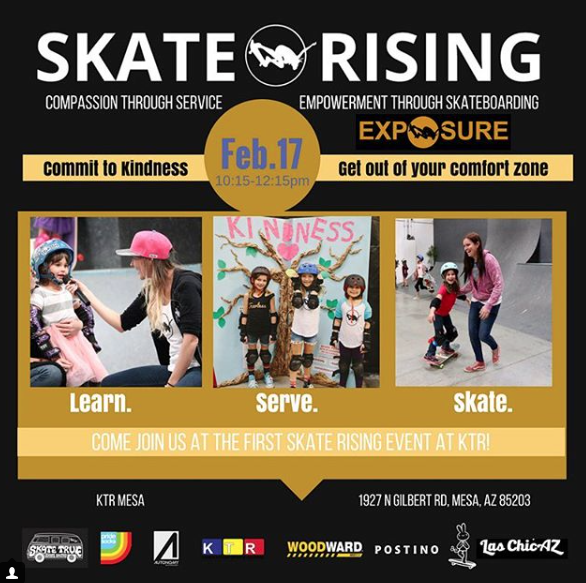 Skate Rising is a a free opportunity for girls ages 4 – 18 to join together to skateboard and learn about how they can contribute to the community.
At the upcoming 2/17 event there will be a lesson and activity focused on kindness presented by Calli Kelsey and Stacy Lovell  Perfect timing because this is Random Act of Kindness Week.
Plus there will be a skate clinic for girls of all levels and abilities run by Natalie Krishna Das Ellig, Skate True and Las ChicAZ with available rental gear because everyone who wants to try skateboarding is encouraged to!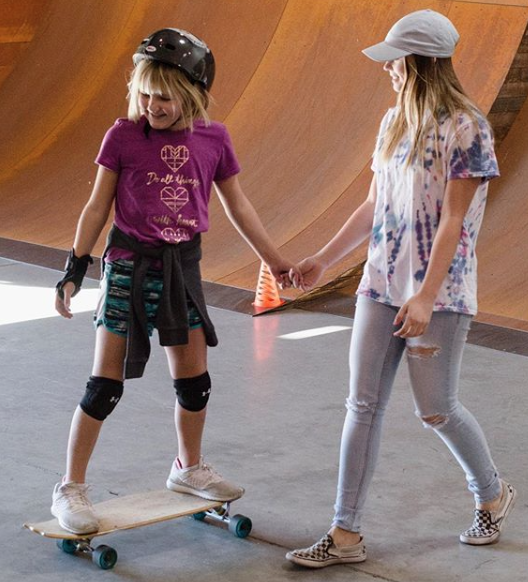 Snacks will be provided by Postino Wine Cafe and the event will end with a raffle full of fun prizes including a free week of camp at Woodward West! Super exciting because Girls Week is coming up fast.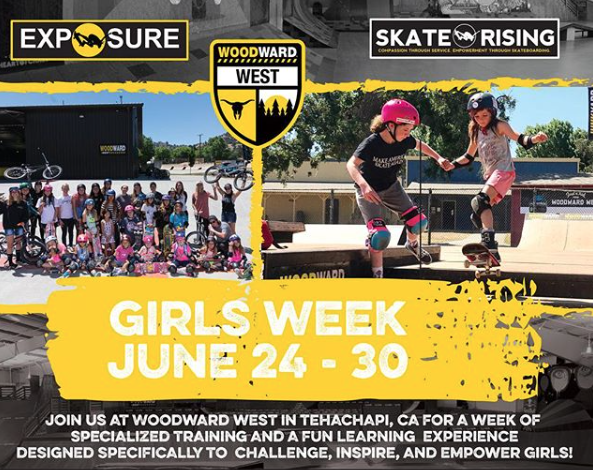 Stacy Lovell is the new Skate Rising Phoenix organizer and this is what she had to share about why she's excited to be involved.
My daughter, Mia, began skating when she was 5. She is excelling in the sport, having recently won 2nd place in 14 and under Am division at EXPOSURE, the largest all female skate comp in the world. As a part of EXPOSURE and being in the skating community, I met Calli and we became close friends. She exposed me to Skate Rising and the great things they are accomplishing. I am proud to be exposing many new girls to the sport of skating, and to the positivity of Skate Rising. 
Skate Rising events are all about inspiring and empowering girls of all ages to come out, try something new, make some new friends, and experience an amazing group of loving, supportive people!   For the February 17th event, we are doing a talk about kindness matters and making kindness cards and planting seeds. We will also be making kits for the homeless.
More girls do skateboard when they see girls skateboarding, so I'm super excited for everything that Skate Rising is doing, the dedication of volunteers like Stacy, and for the support they receive from sponsors like KTR (Kids that Rip) and Skate True.
When I asked KTR why they were willing to host the month events, Jane said:
Skate boarding is very important to KTR Mesa as we have had some great skaters involved at KTR . Jagger, Jett and Koston Eaton along with Alana Smith to name a few. Skateboarding is a great activity for all kids and we love the goals that Skate Rising has for girls who love to skate board.

We have a pre-school morning program that includes skateboarding and we are so excited for all of the little girls that are getting out there and trying this great activity. We have also started a Friday girls skate boarding class to encourage more girls to try skateboarding.

Encouraging kids to try new things, meet new friends and focus on doing great things for their community is something we love to be involved with and are excited to have Skate Rising at KTR Mesa.
At the events, Skate True will be helping with the skate clinics and then after offering skatepark tours. Stacy told me that Mia loves Skate True tours which provide 4 hour sessions to 2 different parks out of a 35 parks in the greater Phoenix metropolitan area. The kids are encouraged to skate true to themselves and skate anyway they want during the session receiving personalized tips and training along the way.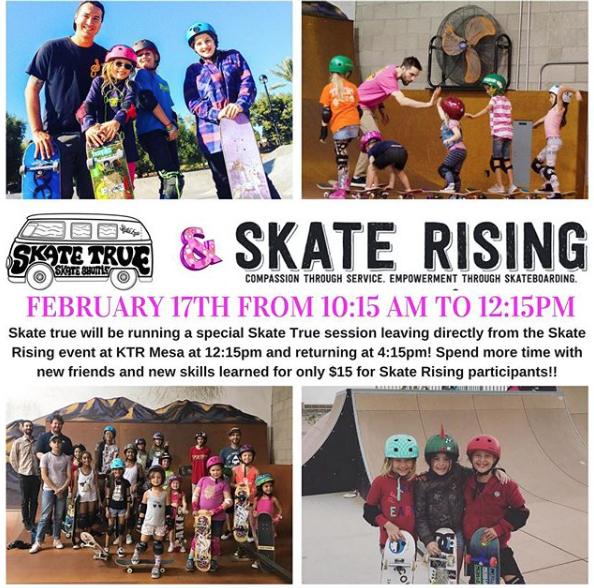 All this makes me want to visit Phoenix!  Girls are skateboarding around the world and with such wonderful support the future looks bright in deed.
For more on Skate Rising click below and to find out how you can get involved contact Calli at calli@exposureskate.org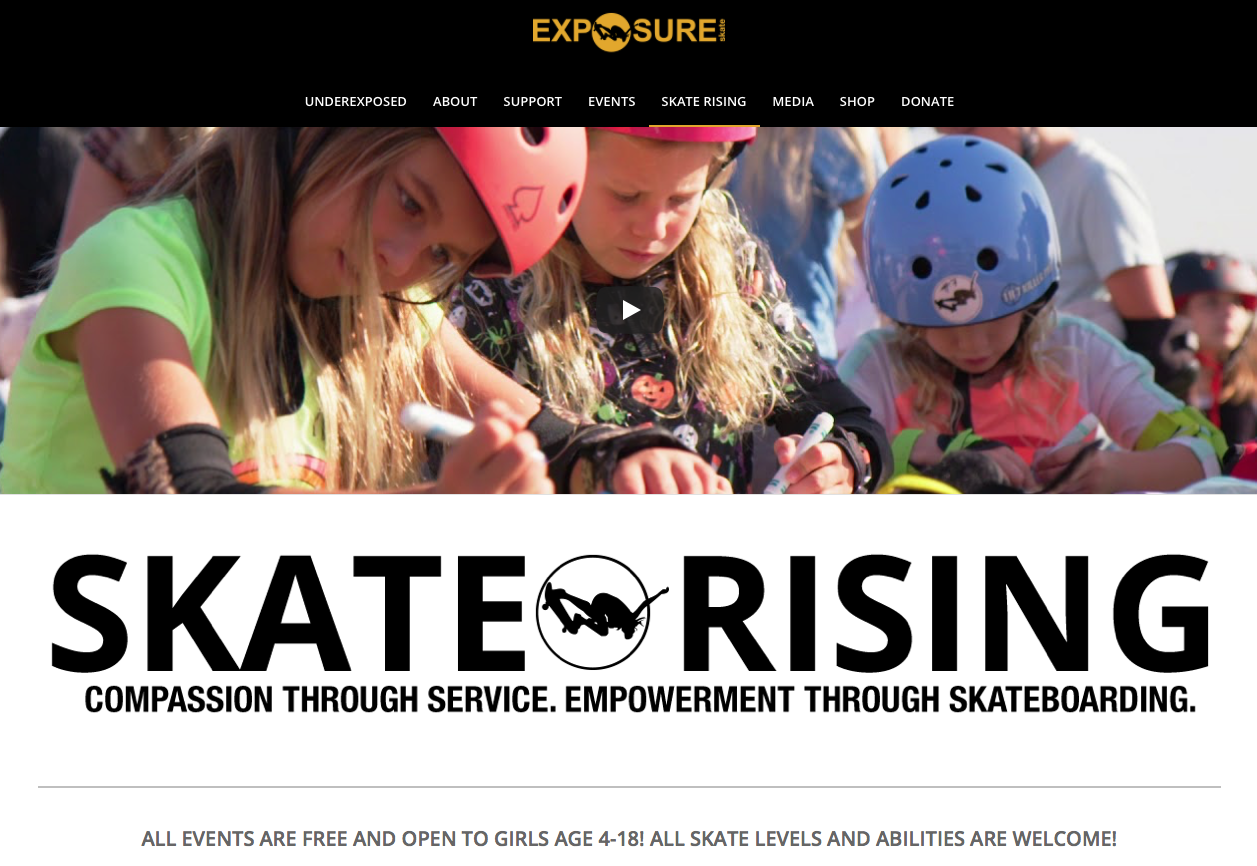 Till next time keep it stylish on & off the board and if you have a story to share about how skateboarding is fun for you, how you're encouraging others to skateboard, or who's encouraging you to be your best self on & off the board – please share!  Kindness grows & it grows faster the more we read and talk about it.  Happy Random Act of Kindness Week.