More girls skate when they see girls skateboarding, so I love when artists represent girls in skateboarding.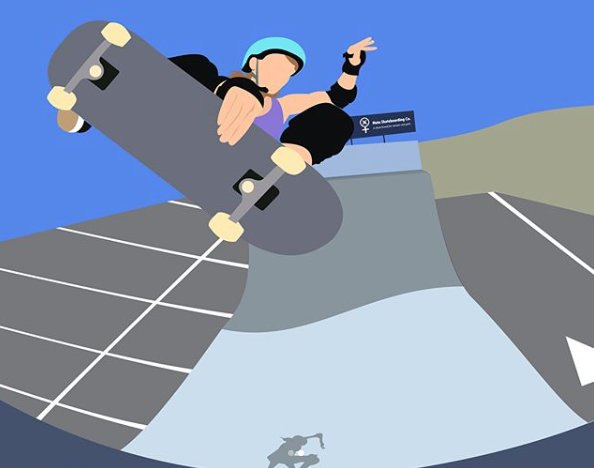 The artist is Noah Sturdevant @noahssturdevant . He's a Graphic Design student at Full Sail University, who's set to graduate this February.  The art was part of his school project and this is what he had to share on it.
I read that it's part of a school project, how did you decide to incorporate girls skateboarding into your school project?  
This project was for school, and we were tasked to create an animated ad for a company, existing or of our own design. In this case, Mute Skateboarding Co, or what will likely end up being Mute Clothing Co., is a skate lifestyle brand that I would like to launch for women and girls. Starting a skate brand has been something I have wanted to do for several years now, so it was honestly the first thing that came to mind when we were told we could create an ad for any company of our own design.
Are you a skater?
It has been a long time since I have been on a skateboard, about 12 years or so, but used to ride one quite a bit in my early 20's. Lately, as I have been reaching my mid 30's though, I have felt that I need to get back on a board again, so my wife and I recently just bought new setups so we can get out and skate.
What inspired you to want an animated ad campaign of skatergirls?
There are a few different things that provided me with the inspiration to create this idea. My wife is also super into skating, and we always try to catch the women's comps, parts, etc., but have noticed that there aren't a lot of video parts, ads, or anything that really pushes the female skate movement like it should. That was the main spark of inspiration, just to create something that could help give women in skateboarding a "voice" or presence in the industry, and hopefully create some rad designs for shirts, boards, etc, that represent women in skating.

While researching and brainstorming ideas, we also came across Underexposed which has also been a huge inspiration for me. Amelia Brodka does an excellent job showing what challenges female skaters face, and it made me realize how much of a difference there is between men and women's skating, which is just ridiculous in my opinion. There are also just so many rad female skaters out there, and I think it really just comes down to me feeling like they need to be seen and acknowledged more than they are currently.

There has definitely been a shift recently in the industry, like with Sammaria Brevard going to Enjoi, Nora Vasconcellos being put on Adidas, Leticia Bufoni going pro on Plan B, and of course Lacey Baker tearing up the SLS courses and dominating as the SLS champ, so I think the industry is starting to get it finally, but I still feel like there is a lot that can be done to really show how rad female skaters are.
What can you share about your plans for Mute Skateboarding – will it be more than a school project?  
Originally, I envisioned Mute as being an all-girl, full skate/deck company, but am starting to pivot that idea to a clothing and lifestyle brand for women and girls. The reason for this being that there is already a Mute board company out there, and I don't feel that teams and deck companies should be exclusive like that. To me, it isn't necessarily a win in the industry to have an all-girl team, but to have a team where guys and girls are just all equal as skaters.

At the same time, my goal with having a lifestyle brand for women and girls is to create something that is empowering, and will help get women and girls out on a skateboard. So, there is definitely an opportunity for an all-girl team, which would be sick, but that would just represent the clothing/lifestyle brand, and not a full deck brand. If I can get Mute off the ground, I would also love to start a deck company that would be all inclusive for everyone.

As far as any graphics are concerned, I really only have the animated ad put together so far, and those graphics would only be used for ads. Anything for decks, shirts, etc., I am hoping to get worked out over the next couple of months before I start my Master's degree.
Is there a link to the animation?  
 I do have the full animation up on my current portfolio,
click above to watch or head over to Youtube below
The Youtube link is also for the final ad, which ended up being branded for Mute Clothing Co, and the three illustrations I created are all in that ad.

Only one of the illustrations was actually based off of a skater, and that is the one in the middle of the video, and the billboard ad (attached). That one is actually based off of a photo of Amelia Brodka from a Supergirl Skate Pro competition. For me, she was the ideal skater to use as inspiration for the ad, since she is doing so much with EXPOSURE Skate to get female skaters the recognition and exposure that they deserve.
What can you share about the process of vector drawing?  
Vector art is honestly just like any other form of drawing, in that it starts with an idea, research for inspiration, then moves to a sketch, and then the vector illustration is the final step. The main difference is just how you interact with the program, in this case Adobe Illustrator. Vector art is overall just more based on geometric shapes than other mediums, which helps give it a cleaner and sharper look. Most commonly vector art can be seen in designs for things like enamel pins and animation, so I do use it a little differently than other artists and designers, but I feel that it helps give my pieces a more unique style overall.
Thank you so much for taking the time to share your project. Wishing you good luck on graduation and looking forward to seeing how you develop this further.
How are you sharing your love of skateboarding?  Hope you share your story soon!