Yes, we'd all rather be riding our skateboards, but sometimes you have to carry them – on the plane, bus, or when security is enforcing those no skateboarding signs!  Unity Backpacks got creative and eliminated the straps making it ever so quick & easy to go from riding to carrying your board.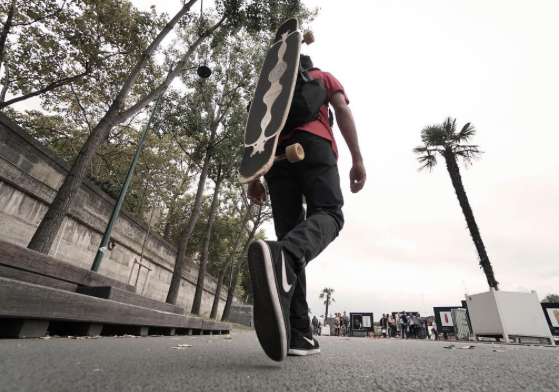 I recently got to check in with Brandon the co-founder.
Why did you first come up with the idea? 
The idea of a Unity Skateboard Backpack came upon from a student facing the everyday struggles of commuting on campus. With only inadequate options on the market, we decided to come up with our own option.

Through months of product development we have launched a quality skateboard backpack with an innovative design to allow skaters world-wide to never carry their board by hand again!
Below the video shows how easy it is to go from riding to carrying your skateboard!

If there's no straps how does the skateboard stay in place?
Riders simply peel & apply a pre-cut Unity Skatecro grip tape cutout onto their board. We offer small, medium and large Skatecros to fit boards of all sizes. Our current prototype is designed to hold boards up to 12lbs, comfortably. However, we are currently revamping our design to hold boards up to 15lbs!

Our pre-cut Skatecro is not our only grip tape option. Often times, users have a desire to create their own Skatecro designs by purchasing our DIY roll of Unity-Specific Skatecro. This allows users to either completely grip their board or get crafty with their designs.

Our grip has been tested both competitive street skaters to ensure the grip tape quality is consistent with it's main purpose, to grip. Several semi professional skaters were surprised by the quality of the grip tape in terms of it's ability to grip and allow for flicks/tricks.

Recently, many of our riders have been applying the Skatrecro, etiher DIY or pre-cut, to the underside of their board. The adhesive on the grip tape is industrial strength, designed to be applied to surfaces of many textures. It's easily applied to a variety of name-brand boards (Penny, Sector 9, Carver, etc..)
Riders/wearers can choose what side of the board to "stick" to their Unity backpack.
Thanks Brandon for taking the time to answer the questions.  I love when people get creative at how to improve things & make things simple.
How are you maximizing your creativity with skateboarding?