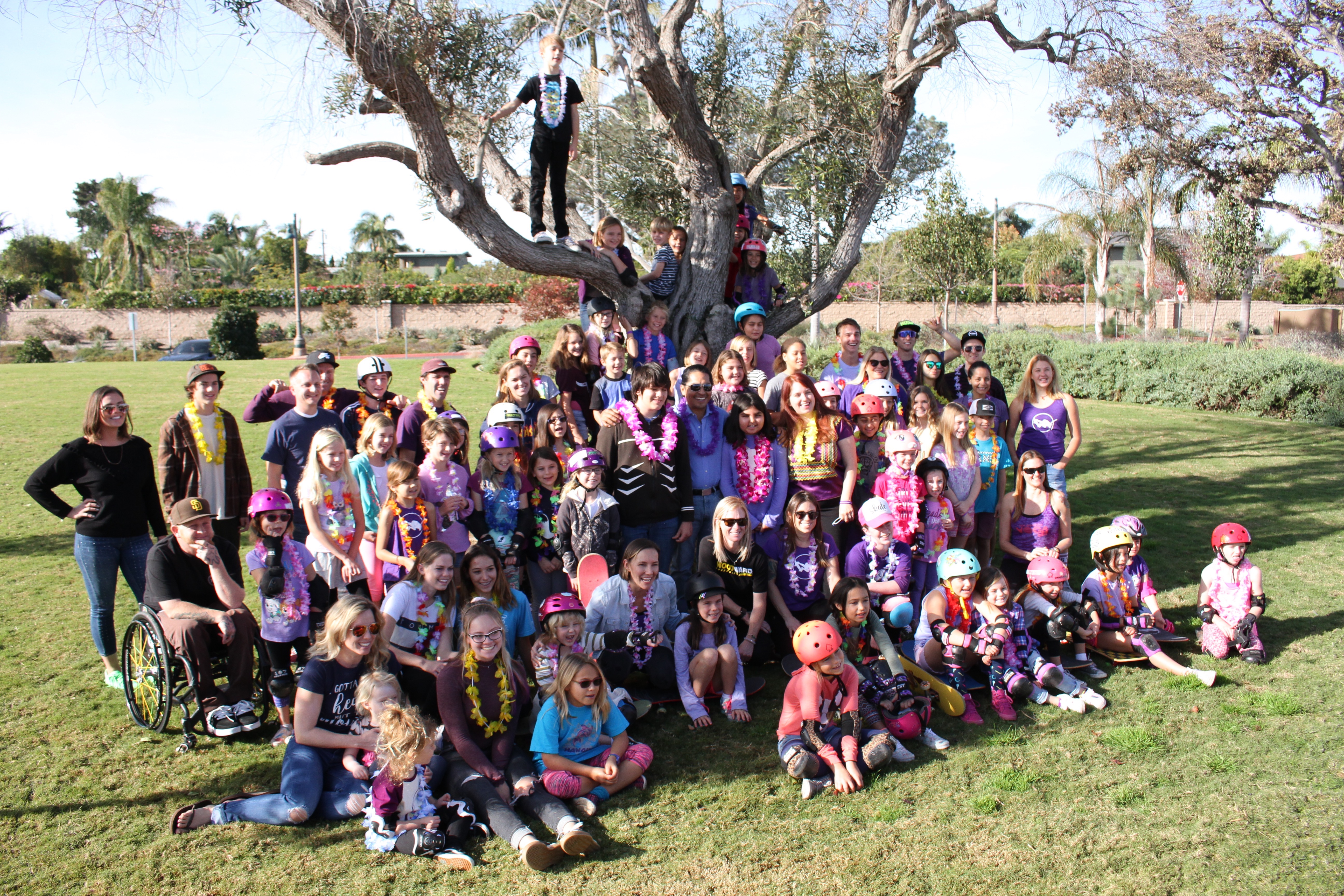 Skate Rising, EXPOSURE Skate's youth program for girls, meets at the Encinitas Skate Plaza the second Saturday of every month. The girls meet up to learn, be of service, and skate.
This past Saturday, December 9th was extra special because it was dedicated to showing Skate Rising participant Vivian Gomez that she is not fighting pediatric cancer alone!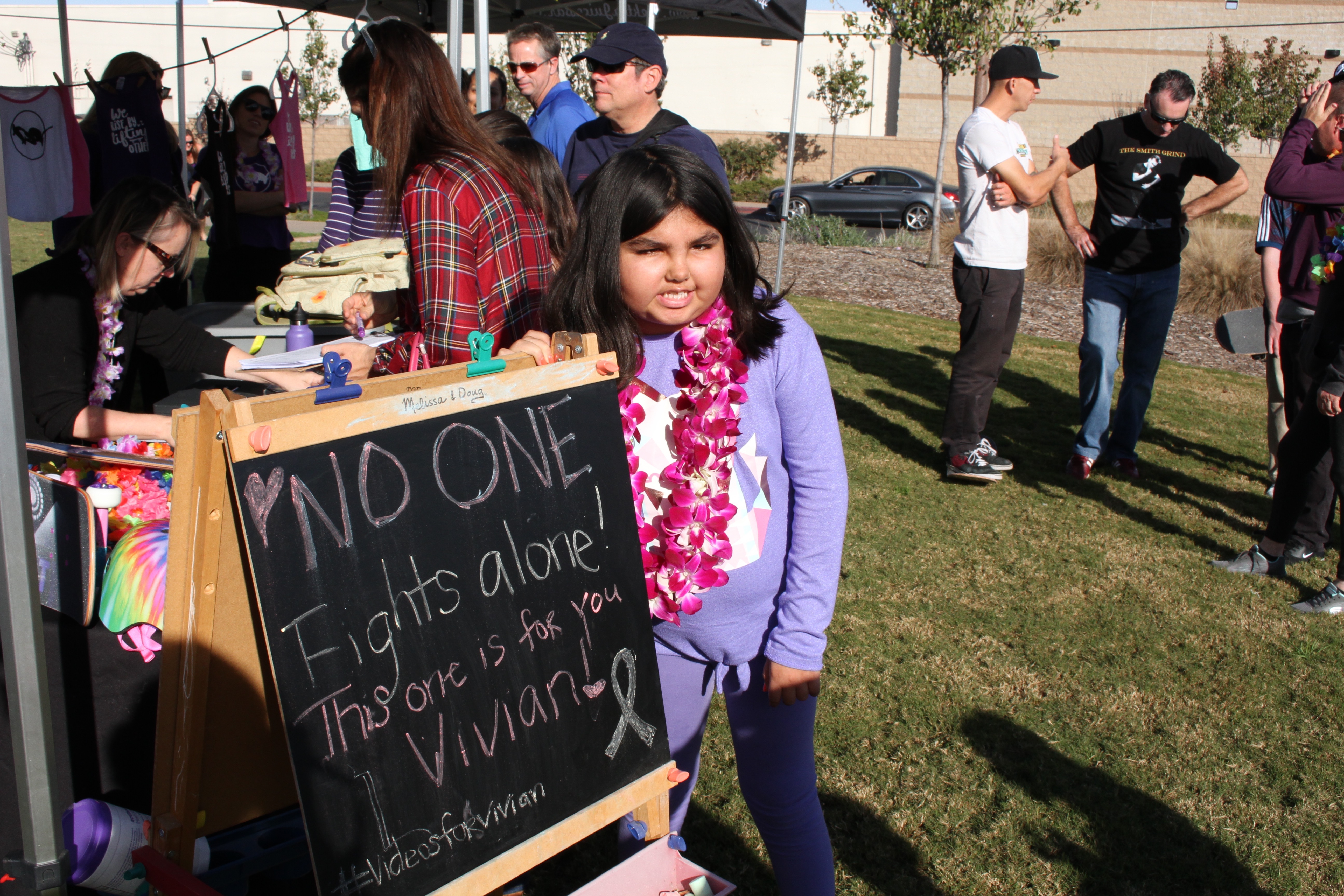 Vivian is 10 years old, her favorite color is purple and she loves leis. So it was rad to see so many in the community come out wearing their purple, putting on a lei and showing Vivian she's not alone as she fights DIPG, a rare form of brain cancer.
Before the skateboarding started, everyone heard from Dr. Tyler Seibert, a UCSD Oncologist on how simple acts of kindness can bring joy.  Kindness then abounded as eleven of the bravest girls I've even seen cut their hair for @locksofloveofficial.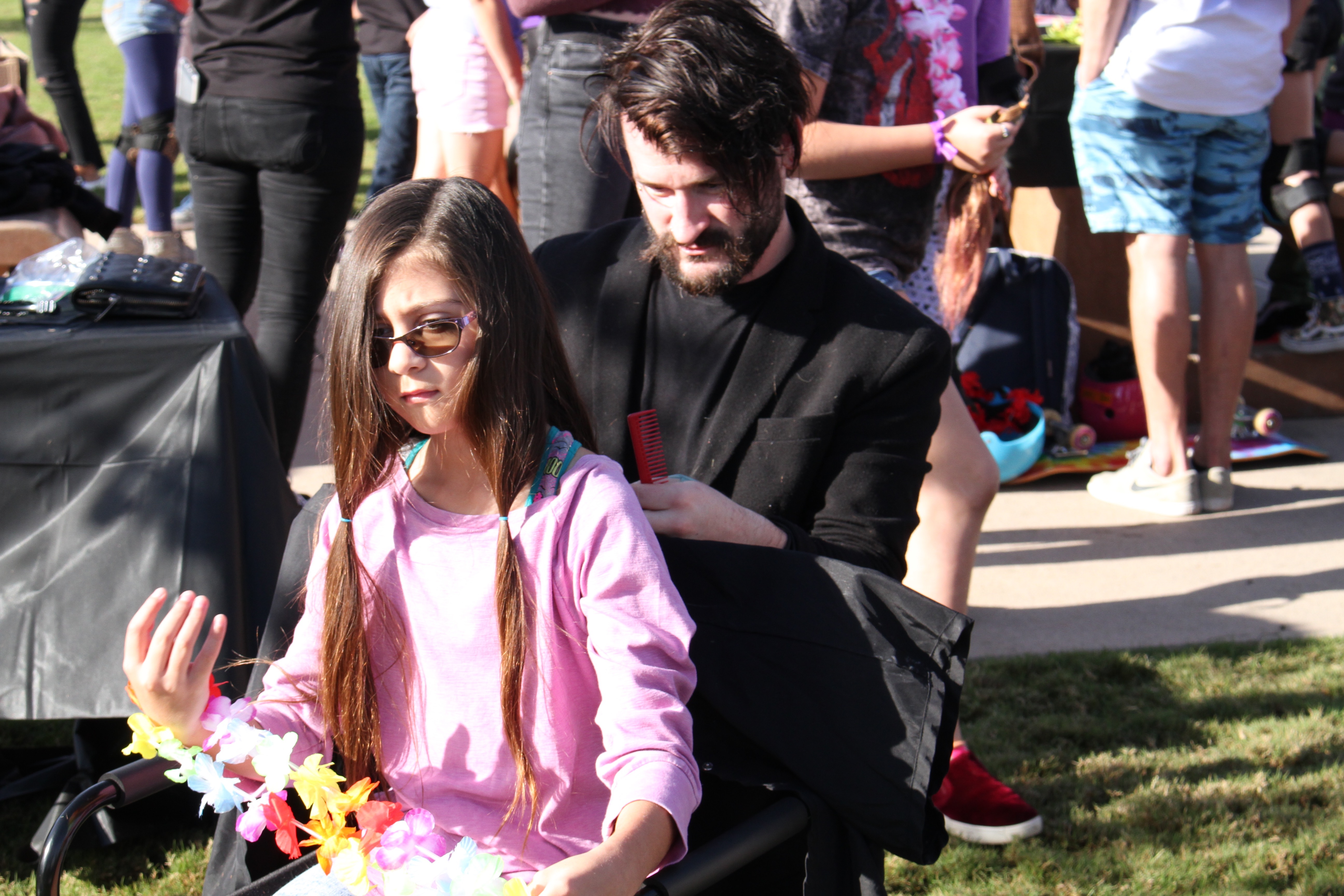 Locks of Love is a public non-profit organization that provides hairpieces to financially disadvantaged children under age 21 suffering from long-term medical hair loss from any diagnosis.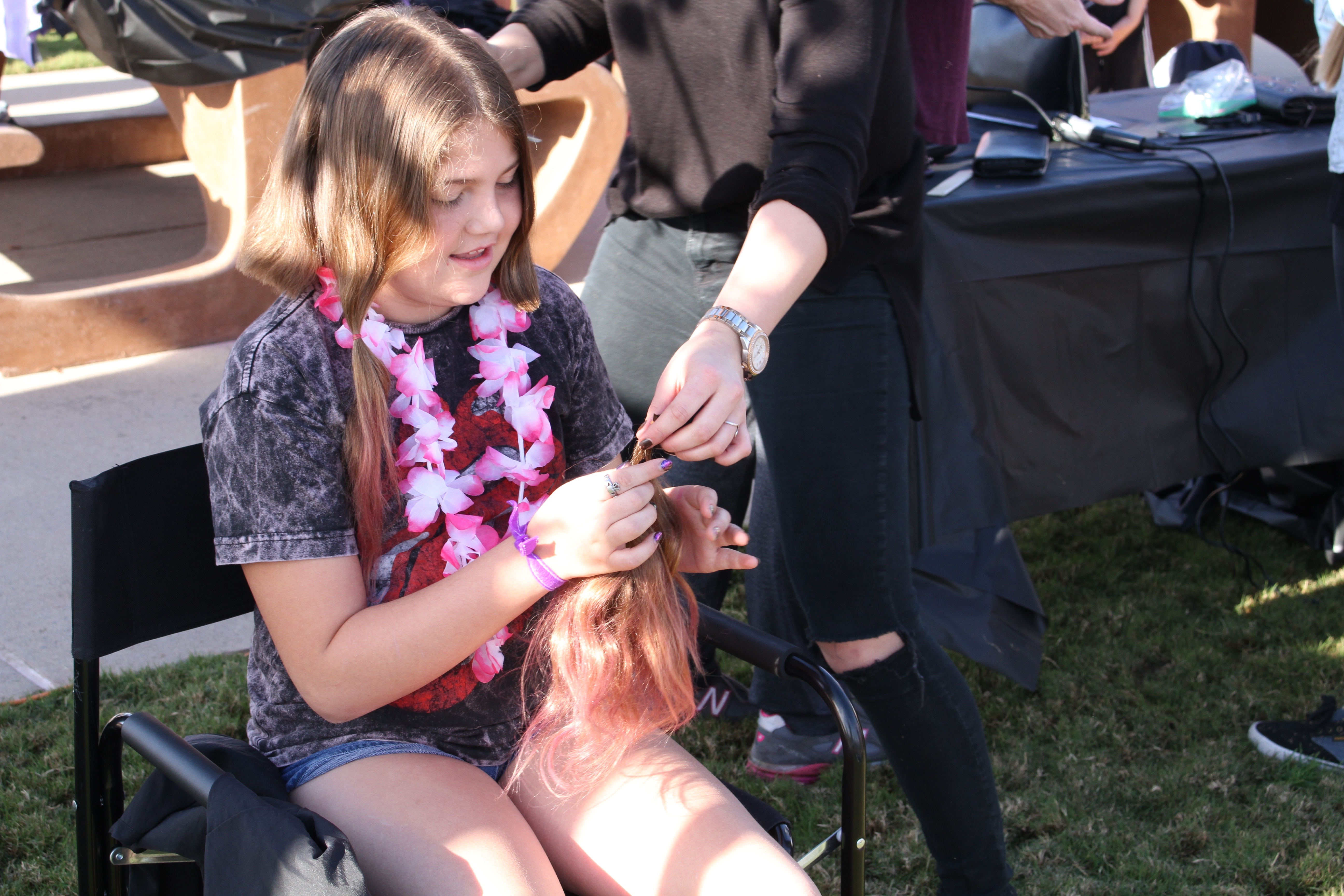 These are just a few of the girls and stylists from the Kelly Cardenas Salon who participated at the event.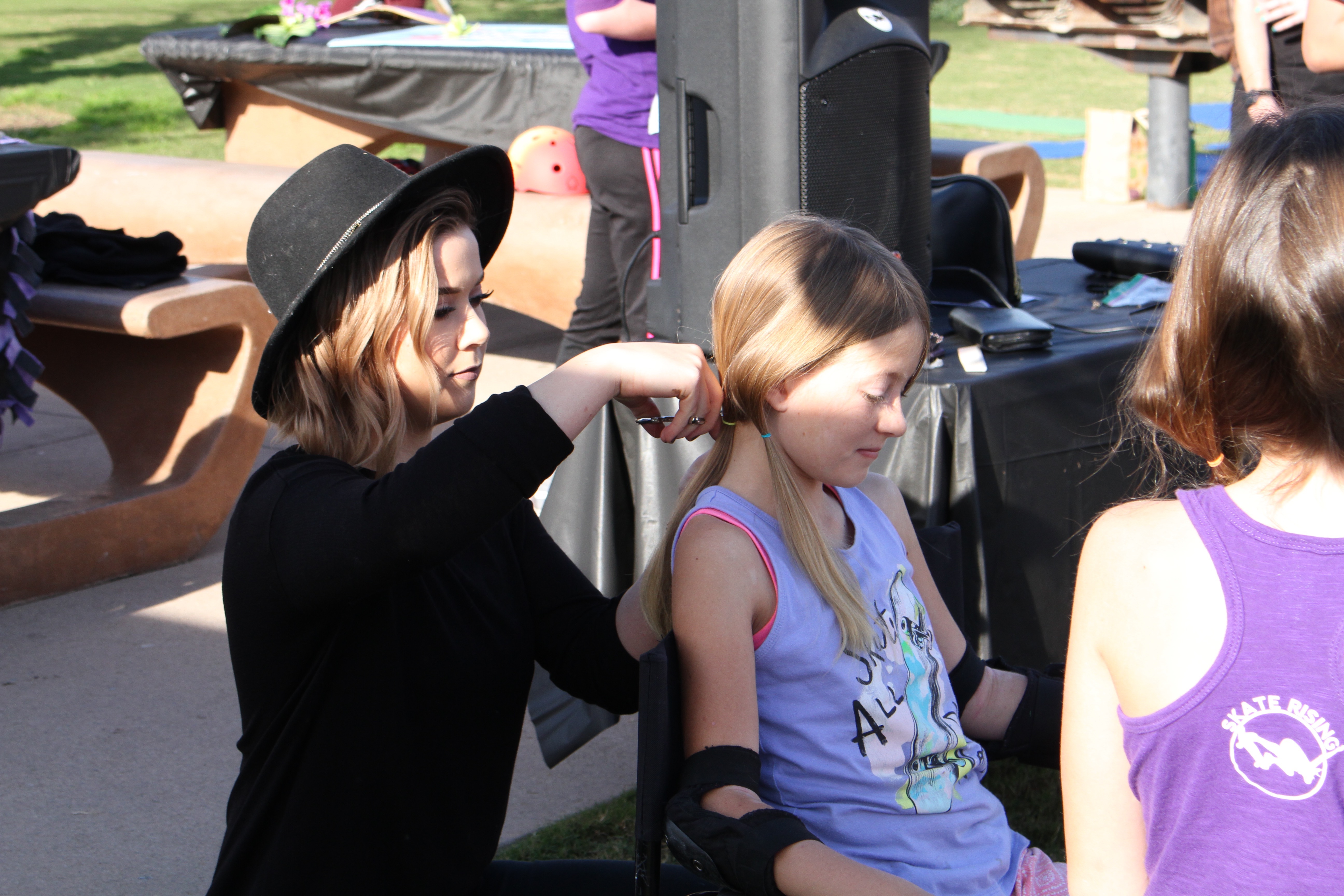 The girls then made 70 activity kits for pediatric patients going through radiation treatment.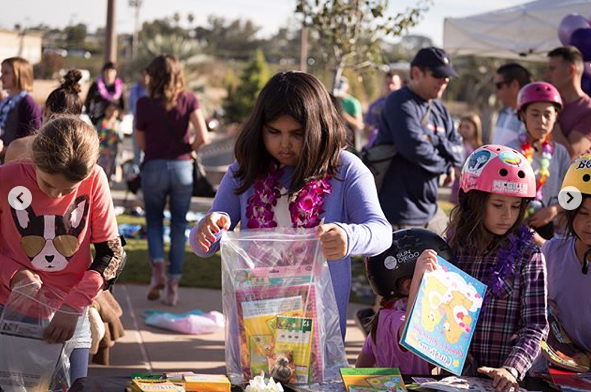 photo above @mmoorephotos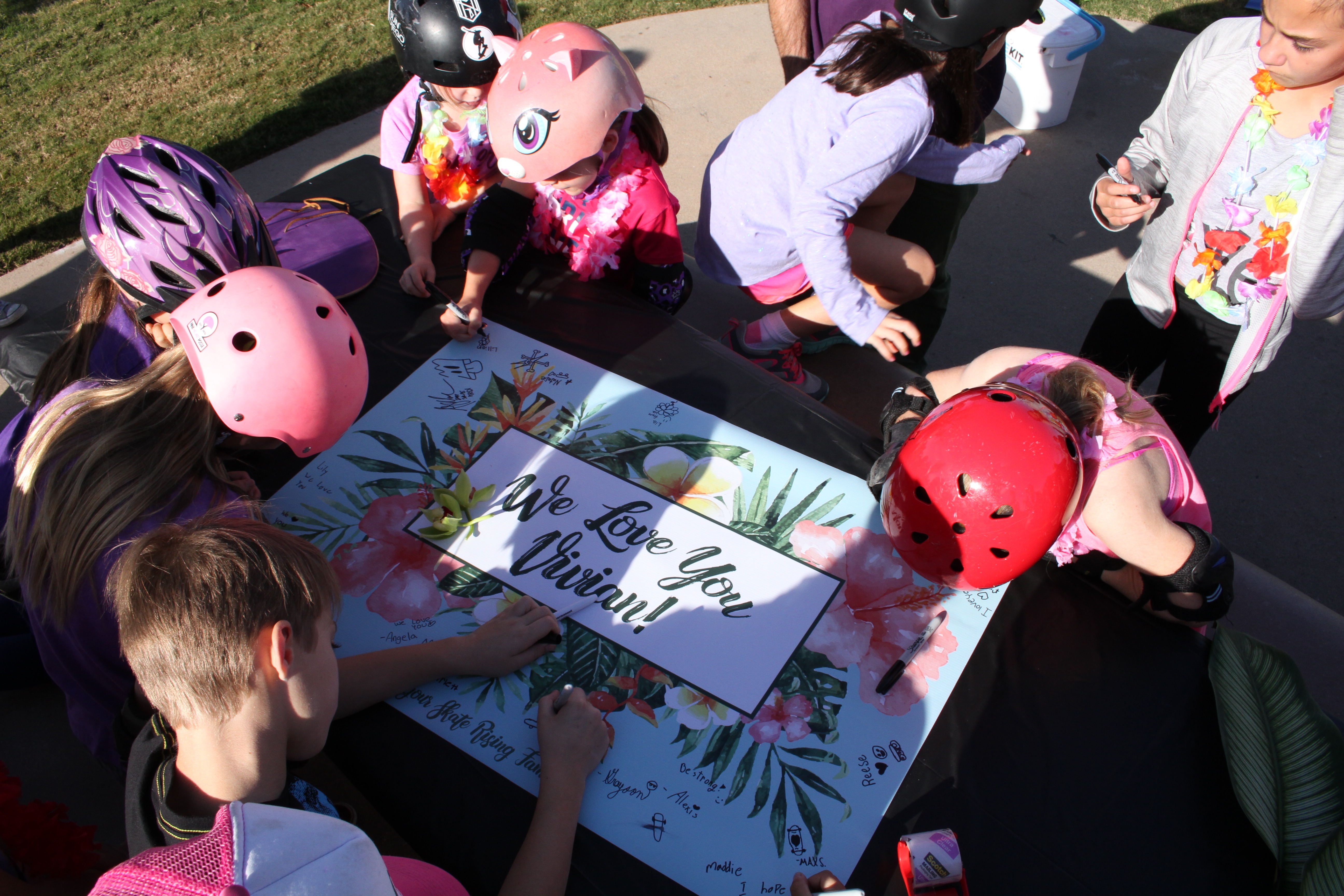 Everyone took time to sign Vivian's card, which she received with a goody basket that included the hand knotted blanket below and an exquisite helmet from My Grey Matterz who participates at every Skate Rising by running the loaner equipment & educating everyone on how to protect your brain.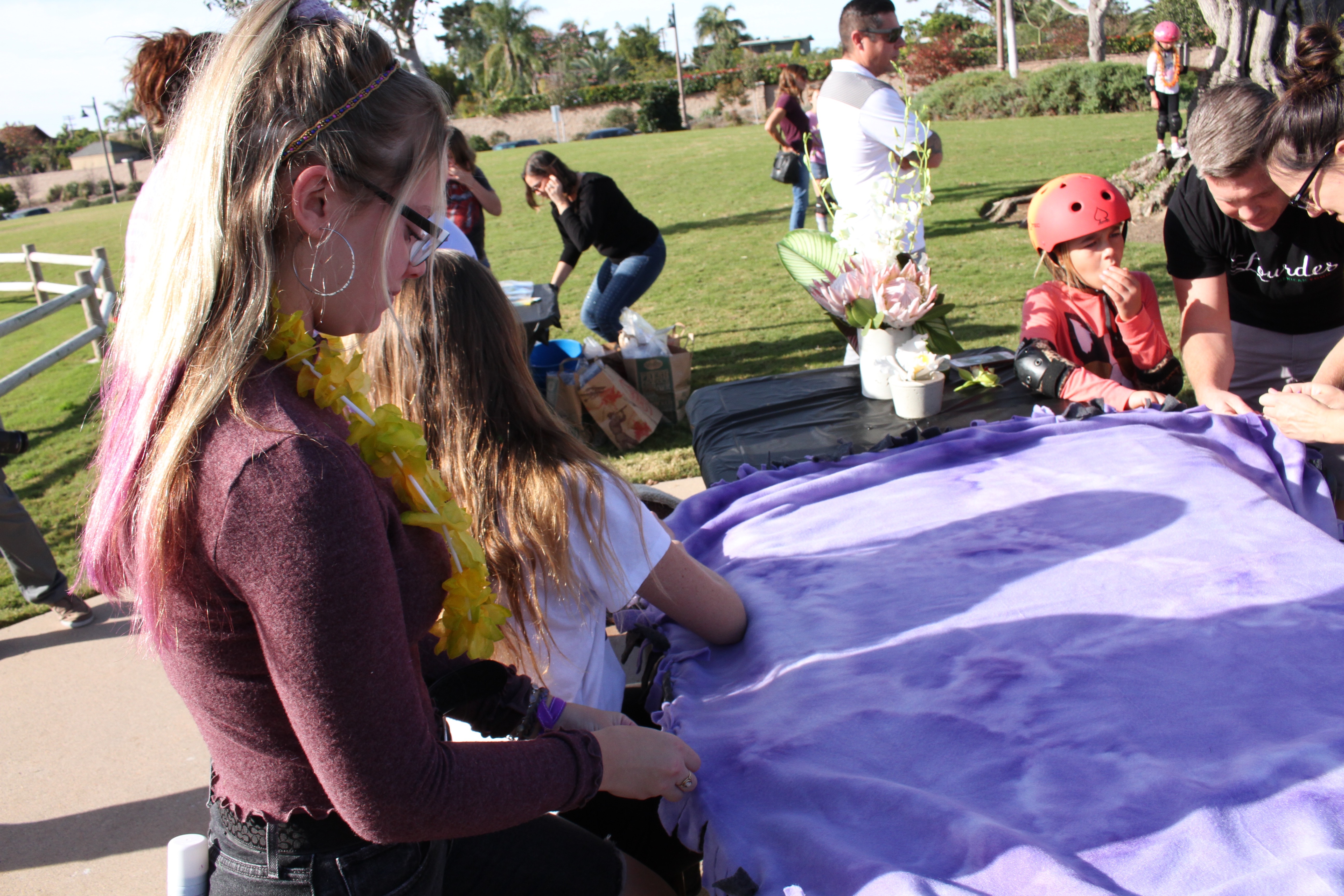 Then it was time to skateboard.  Neal Mims who's always so kind to organize the Learn to Skate portion of the program lead the train!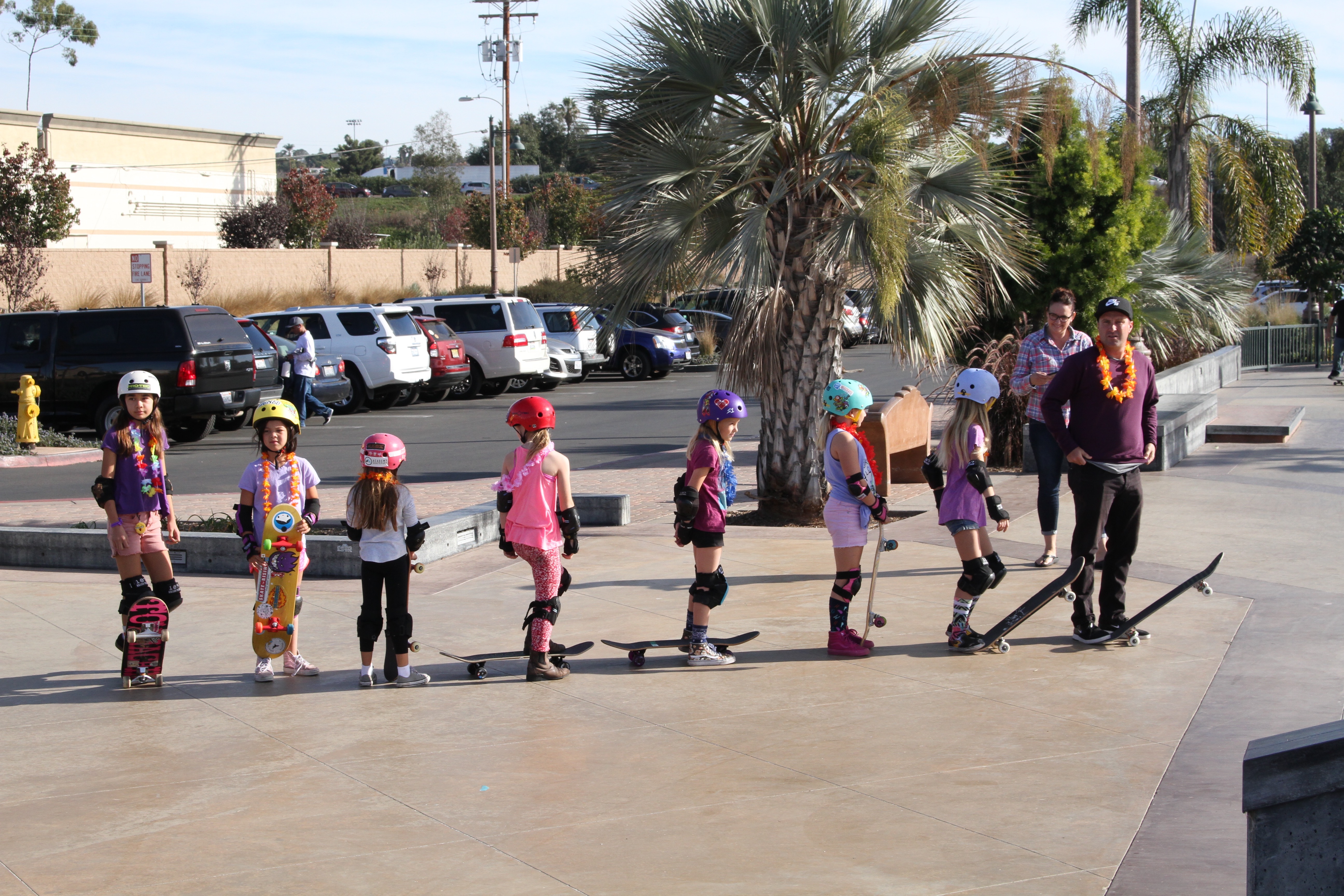 How truly beautiful to see all the purple & leis cruising the plaza.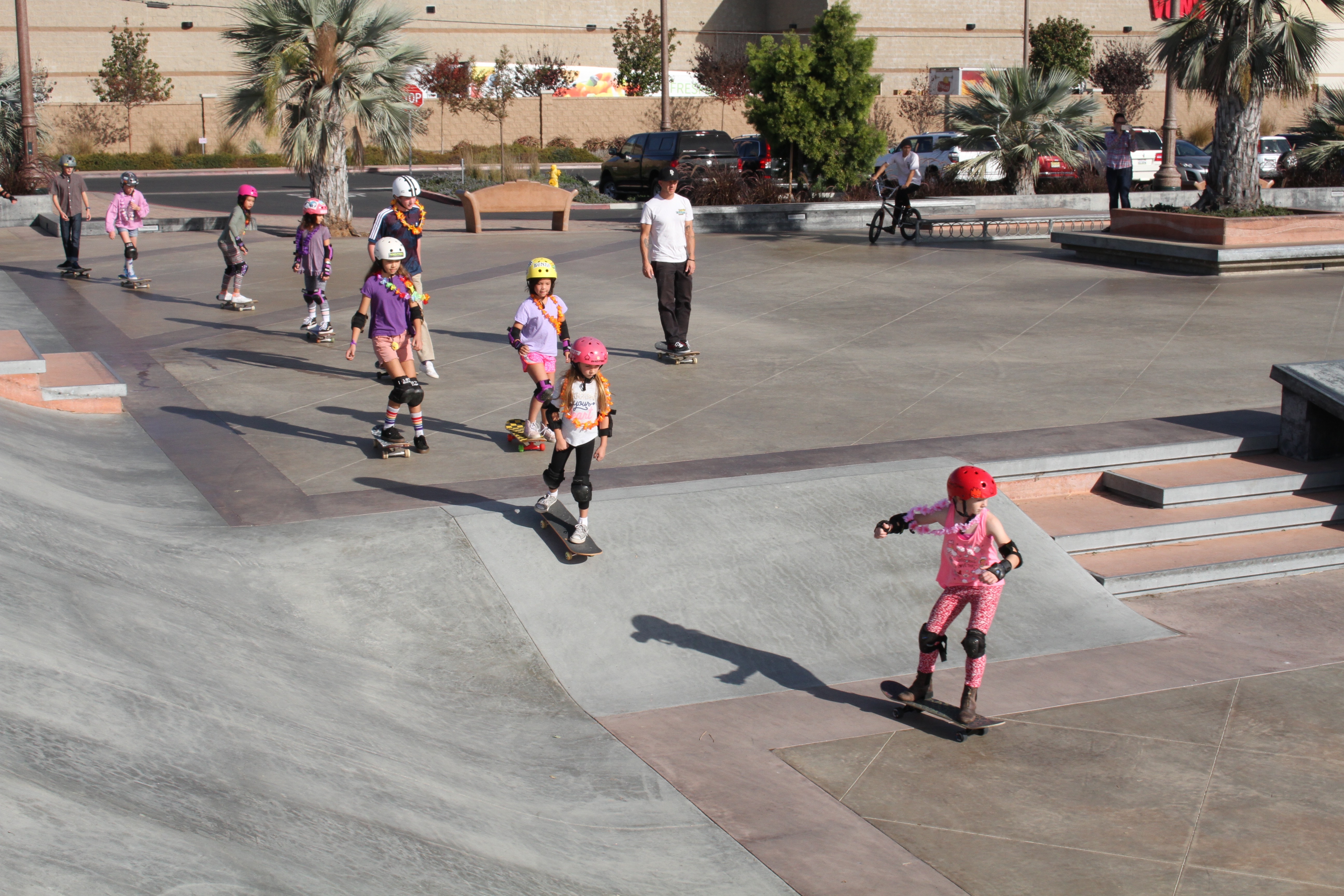 I always love to see handholding & support on & off the board.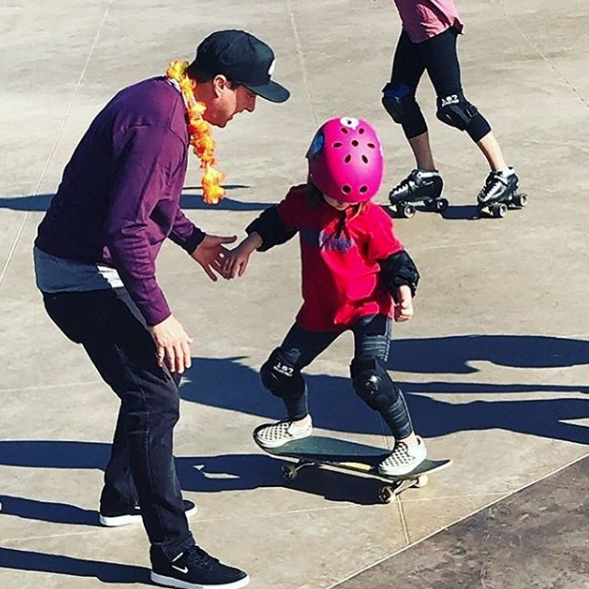 photo above @jessicaannsepulveda
The support for Vivian's Go Fund Me was truly amazing.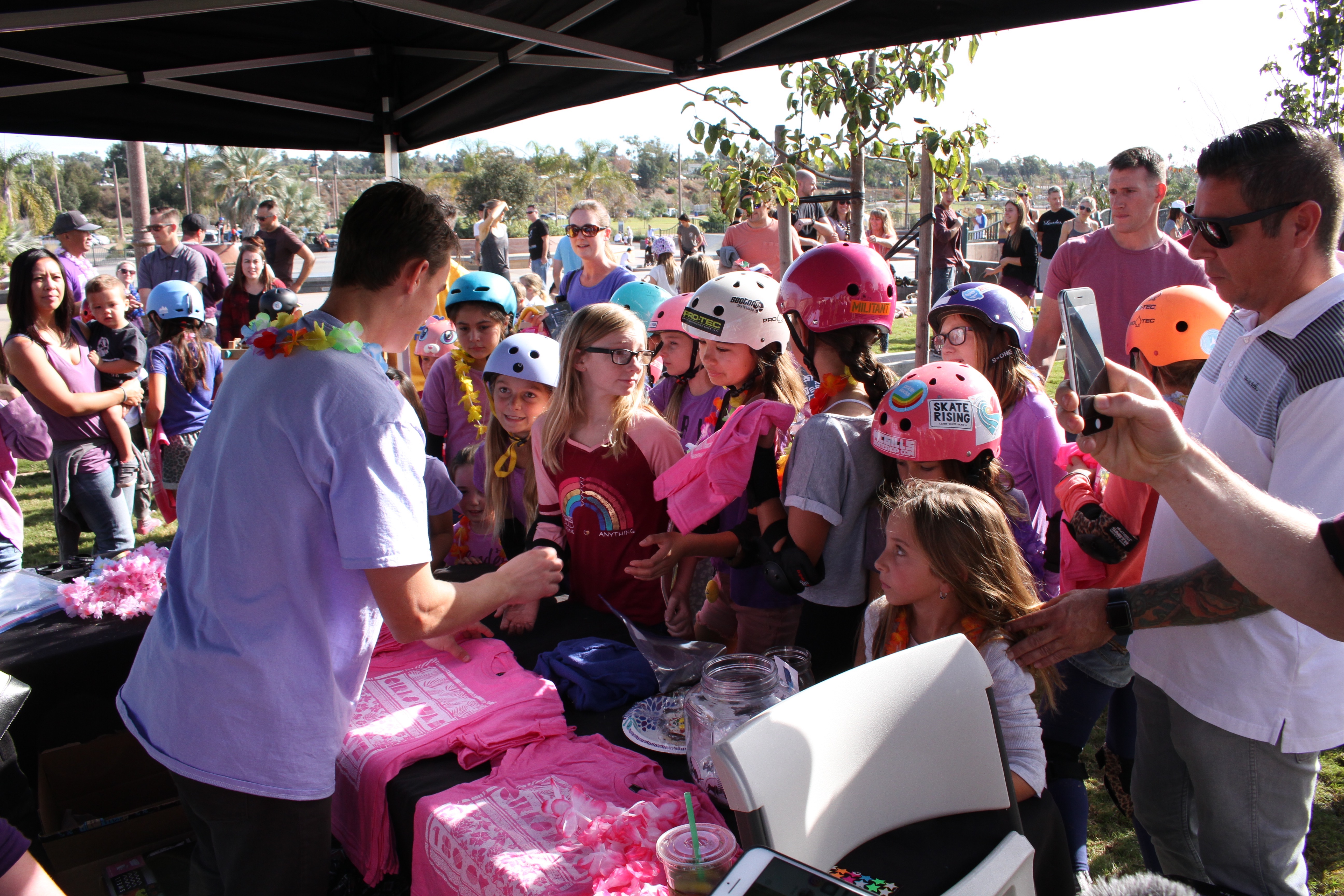 Above pro skateboarder Jono Schwan had to work hard to keep up with how generous people were.  Those who donated at the event got to pick either a free ice cream coin from Handles Ice Cream in Encinitas or a pair of Stance Socks.
The event ended with a raffle, which included 2 Grind for Life Skate Decks, an Autonomy deck, and a complete from 180 Skate.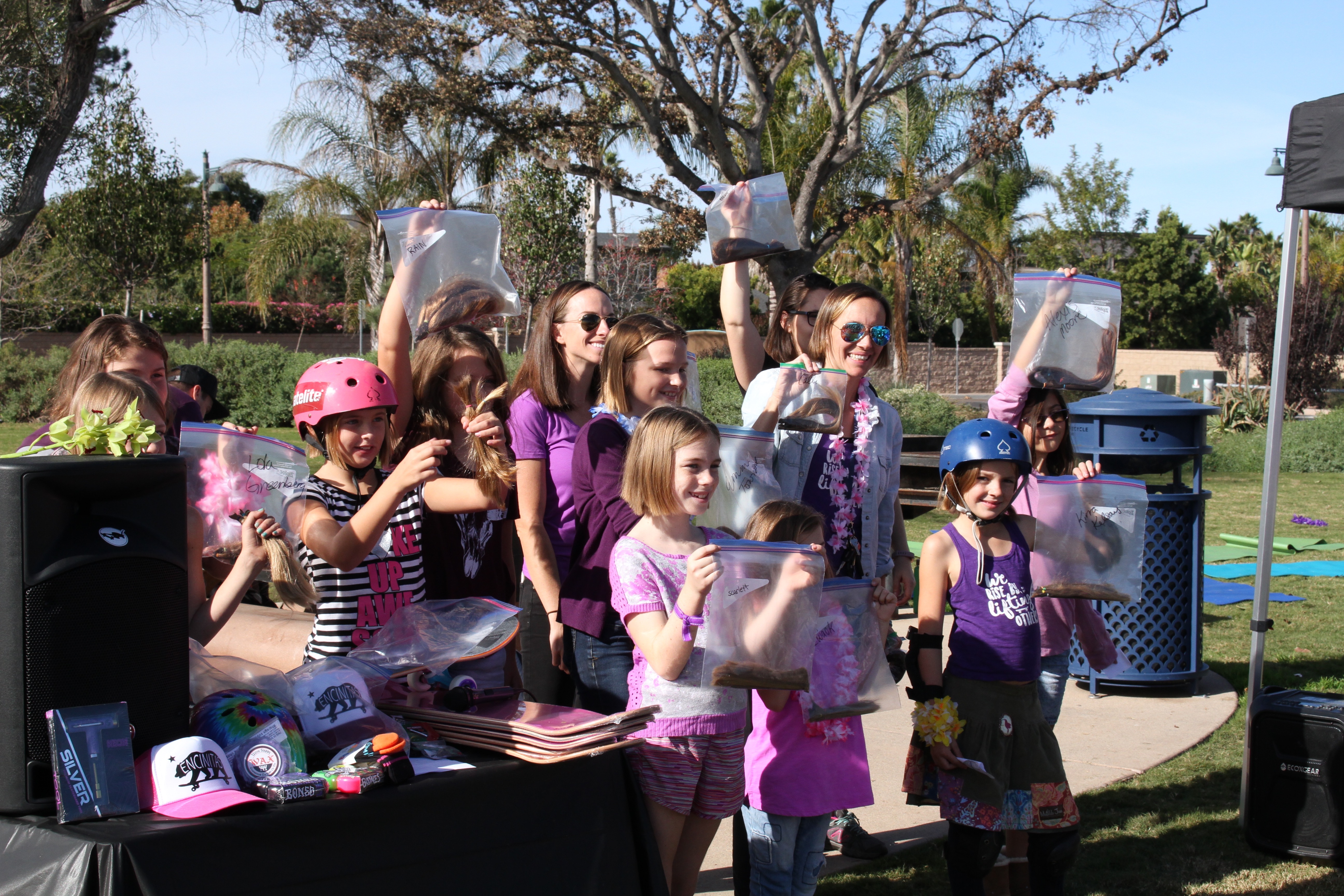 Plus all the girls who participated received a 180 Skate Pink Tee.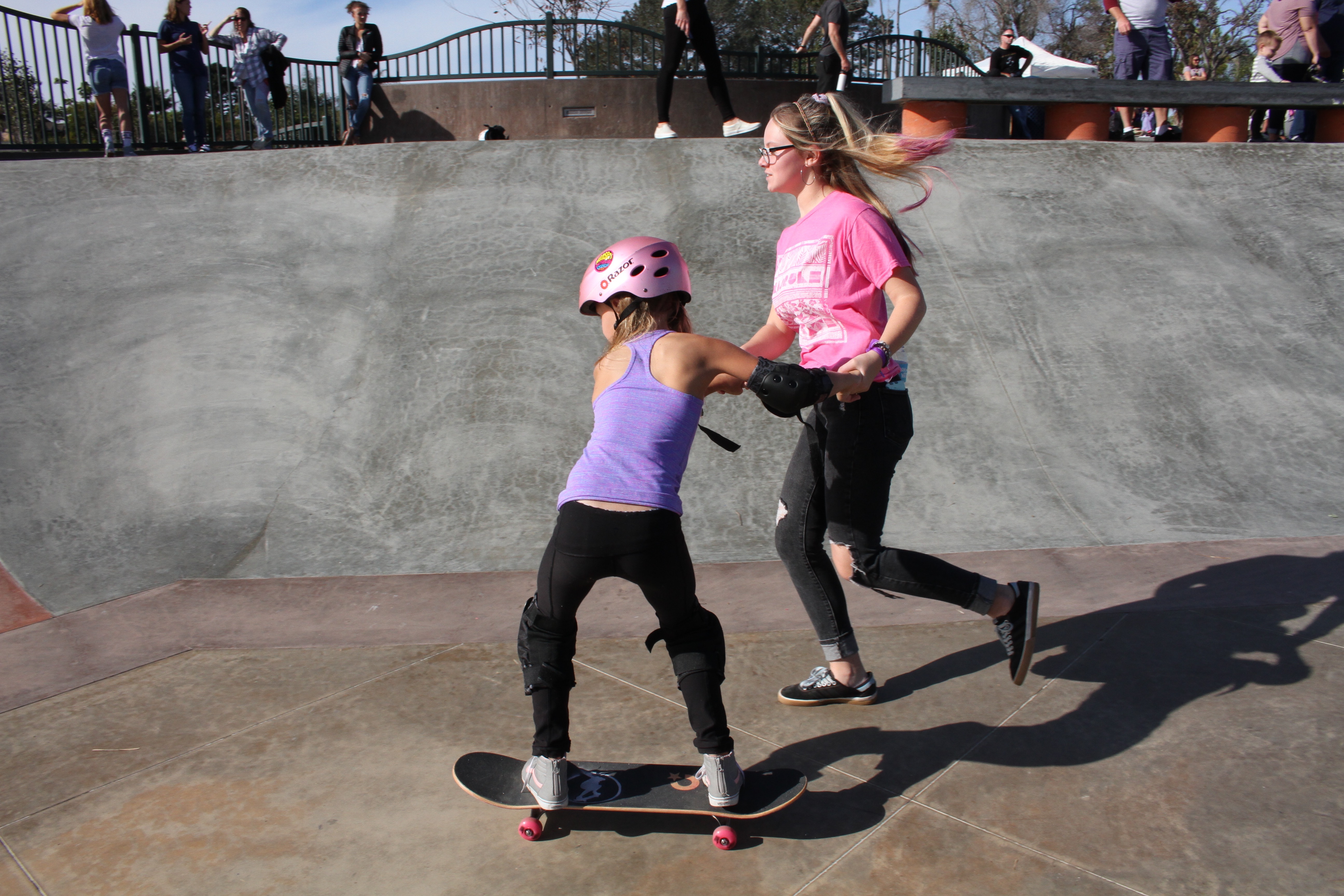 If you weren't able to make it, you can still support Vivian.
Vivian with pro skateboarder Andy MacDonald & Chris from GFL
You can support Vivian by making a #videosforvivian
We invite YOU to join us in putting many smiles on her face. . . take 30 seconds out of your day to wear the color purple if you have it (her favorite color) post a sweet message for Vivian and challenge three people to do the same.
Use the hashtag #VIDEOSFORVIVIAN
Watch this video to learn more!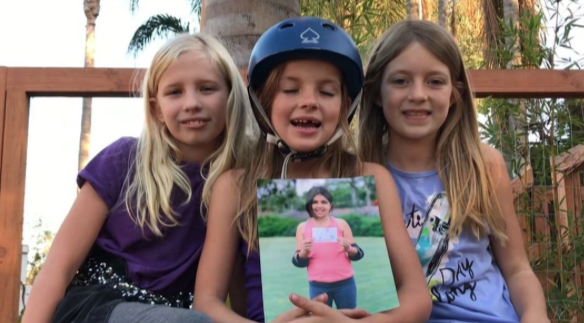 and/or donating to her Go Fund Me.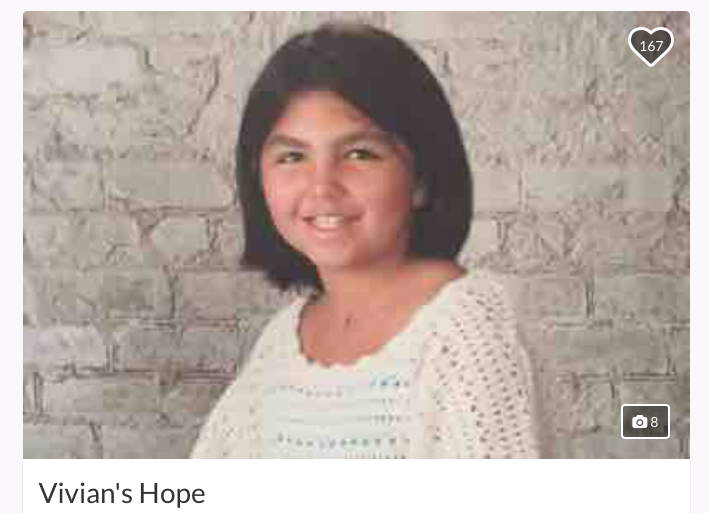 Diffuse Intrinsic Pontine Glioma (DIPG) has no known cure at this time, but I believe that all things are possible when we work together. Thank you to all you participated and will participate.
To find out more about Skate Rising contact the organizer Calli Kelsay at calli@exposureskate.org
You can check out Skate Rising Encinitas the second Saturday of the month at the Encinitas Skate Plaza or if you're in the Phoenix area you can check out Skate Rising Phoenix.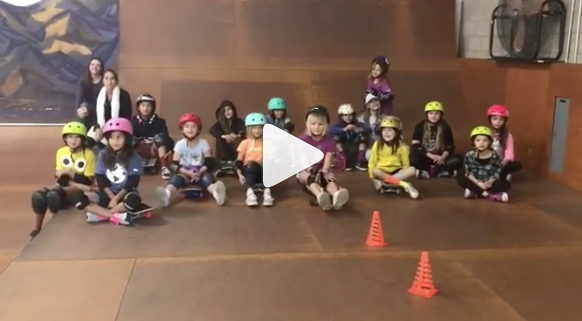 Skate Rising Phoenix's Video For Vivian
unless noted photos: Gavin Silberman