Matt Suncin aka The Sk8 Coach offers private lessons, group clinics, and skatepark tours. I recently had the opportunity to interview Matt who's based out of Arizona.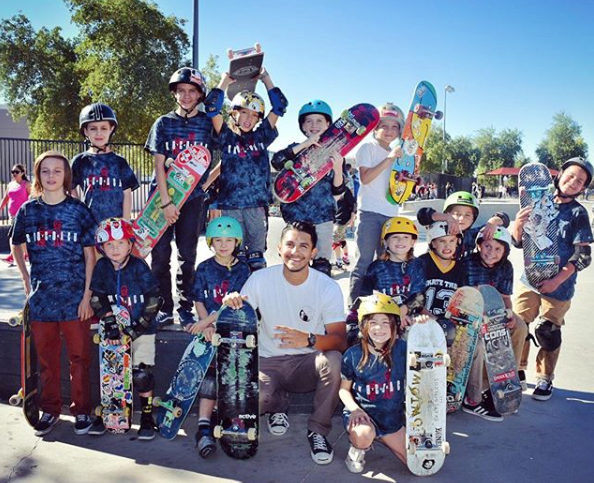 You've been skateboarding since 2004 and coaching since 2010, how have you seen girls skateboarding grow?
Matt:  The growth I have seen in women's skateboarding over the past decade has been tremendous. Not only are the number of girls in skateboarding increasing, but the possibilities for them to actually make skateboarding a career is expanding too.

With this new wave of professional women skateboarders taking the industry by storm, I think it's really opened the gate for a lot of young girls to aspire to become skateboarders.

When I first started teaching skateboarding lessons there were very few girls in our program, but just in the past few years alone, I have seen the number of girls coming in for lessons quadrupole. Now it seems like there's a girl in every skate class!

With all-girl events like Skate Rising and Exposure Skate contest empowering more girls to get into skateboarding, it's apparent that girls are going to have a big future in skateboarding.
Do you ever do girls skate sessions/tours or do you prefer to just have everyone in the mix?
Matt:  I recently created my first all-girls skate class at Kids That Rip (KTR) in Mesa, Arizona after being inspired by an event I volunteered at called Skate Rising. The way they were able to bring all these girls together to encourage each other to skateboard and give back to the community was really inspiring, and I wanted to create something similar to that on a smaller scale. There are girls ages 5-10 y/o in the class and it's definitely one of my favorite classes to work with.

Together they've all made a lot of progress and some of them even entered in their first competition this year. It was awesome to see their confidence boost afterward and how pumped they got on skating. I'm stoked to be a part of it all with them and it's going to be rad to see where they take skateboarding in the future.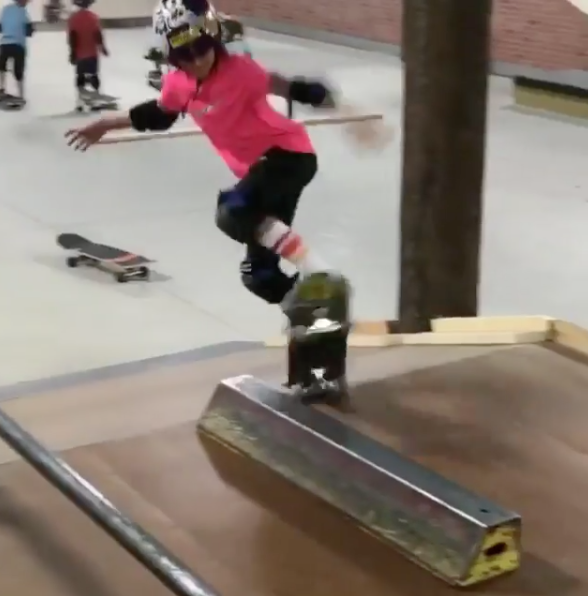 Encouragement helps the person being encouraged and the giver, how have you benefitted from being able to share skateboarding?
Matt:  Totally, my whole life has been changed because of it! Sharing my passion for skateboarding with the kids has been so gratifying. Being a good role model for them and just encouraging them to go for their dreams has simultaneously helped me achieve my hopes and dreams too. I never really thought I could make skateboarding into a career, but somehow it's actually been working for me in this niche little way. I wake up every day and go to a skatepark for work, it's been a blessing.
video celebrating a first kick flip
So many doors have been opened up for me because my passion for sharing skateboarding, and I have hopes of traveling the world to share that passion. So far I've made it to California for Camp Woodward.. keeping my fingers crossed for Hawaii next!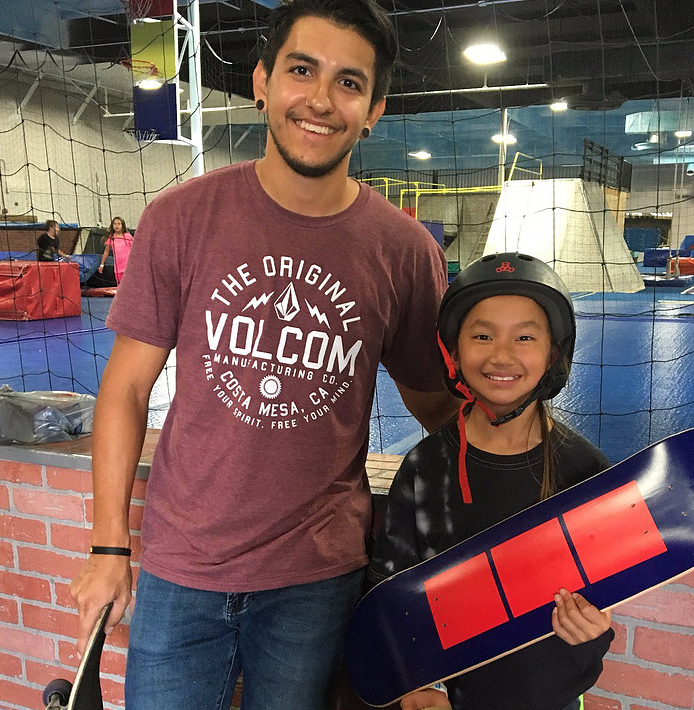 In addition to being The Sk8 Coach, you're a college student, and volunteer. How do you find the time – make it all balance?
Matt:  It definitely gets a little hectic sometimes, but I like the hustle. Honestly, I've just gotten used to the grind and working hard. I like staying busy because it satisfies my need for progression. I crave progression in all facets of my life like I crave progression on a skateboard, it's just satisfying! The good news is I pretty much make my own schedule, so I can still make time for the essential stuff like taking my dog on walks and catching up with family/friends.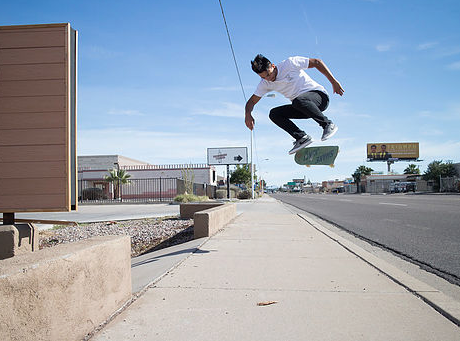 What's one of your favorite memories from coaching and what's an upcoming event/tour you're excited about and why?
Matt:  That's a tough one! Well, one of my favorite memories from coaching this year was actually just a few months ago at this contest called 'Locals Only'. I started doing this thing where I would go out to the park where the contest was held and try to help the kids figure out their runs. So there were these two girls that I got to work with named Paige and Savannah, and it was both their first time entering in a contest. This contest was pretty big, and it was held by the biggest shop in Arizona called Cowtown. If you've ever skated in a contest you know how it goes, nerves were high and the pressure was there. As a coach, I was just telling them to go out and have fun, try their best and I'm proud of them no matter the outcome. So they went out and skated their lil' hearts out for 3 minutes in the AZ sun with everyone out there watching and it was just so cool to be a part of that with them. The fact that they went out and conquered their fears, got past the nerves, and just skated was a huge success in my book. So all the kids and parents were stoked and eagerly awaiting the award ceremony. Then, to complete surprise of us all, they announce that Paige wins 2nd and Savannah wins 3rd! The girls just lit up with excitement and joy! Everyone was stoked, and it was probably my most proud moment as a coach.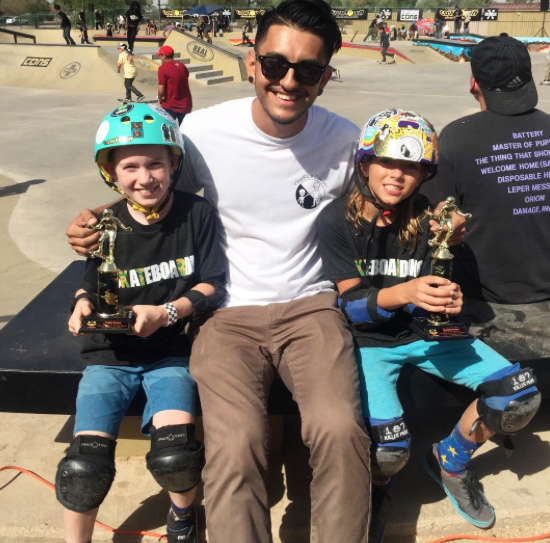 The next event that I am super pumped for is a competition called 'Hesh Sesh' and it's in February. My sponsor Nemesis skateboards are putting it on and it's actually going to be at my workplace, KTR Mesa. We just remodeled our park this year and haven't had any events for it yet, so to have my sponsor come out and put on a contest for us is going to be awesome. Big shout out to Nemesis skateboards and KTR Mesa for setting this up, I can't wait!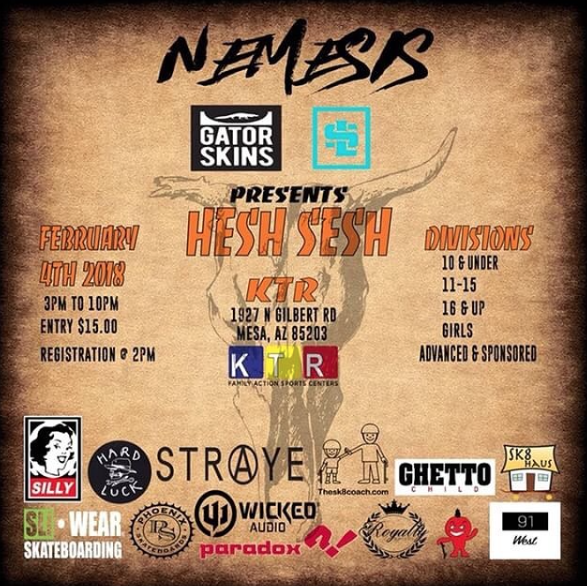 Thanks Matt for taking the time to share.  To find out more about The SK8 Coach follow them on IG and check out their webpage.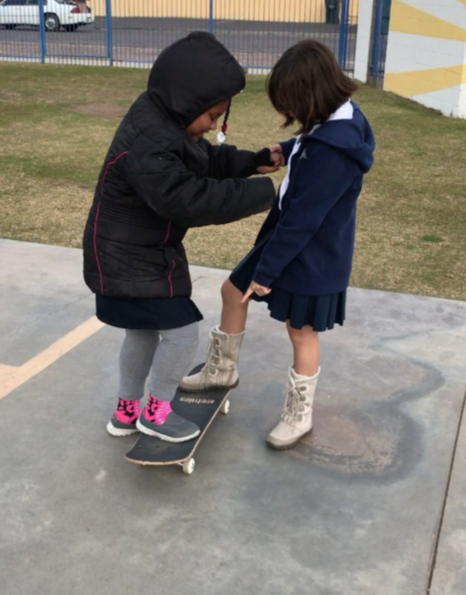 Who inspires you to keep it stylish on & off the board?  When we share stories about what's going on that's positive the positivity grows.
For instance I found out about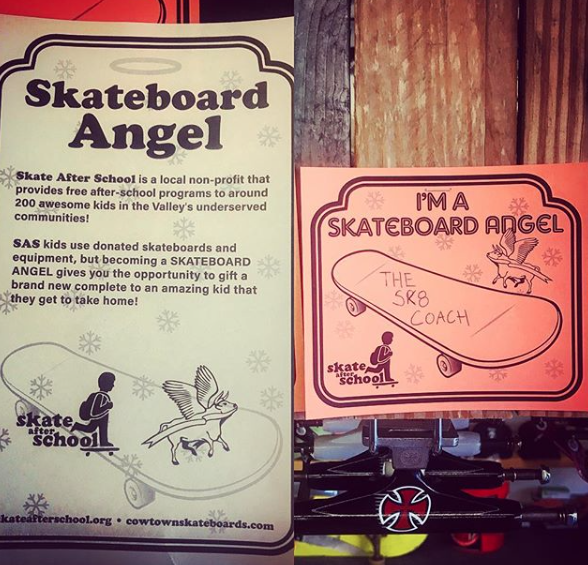 when I saw that Matt's a supporter.  We can all make a positive difference.  All acts of kindness make a positive difference – when you're helping someone learn a trick, cheering someone on, collecting supplies you're spreading kindness that will grow.
Merry Christmas & hope you share your stories of fun on a skateboard.