The Sheckler Foundation is on a mission to
educate, equip and empower our community to "Be the Change."
One way they do this is through events.  On September 9th they hosted a Gala which was followed on September 10th by their 10th Annual Golf Tournament.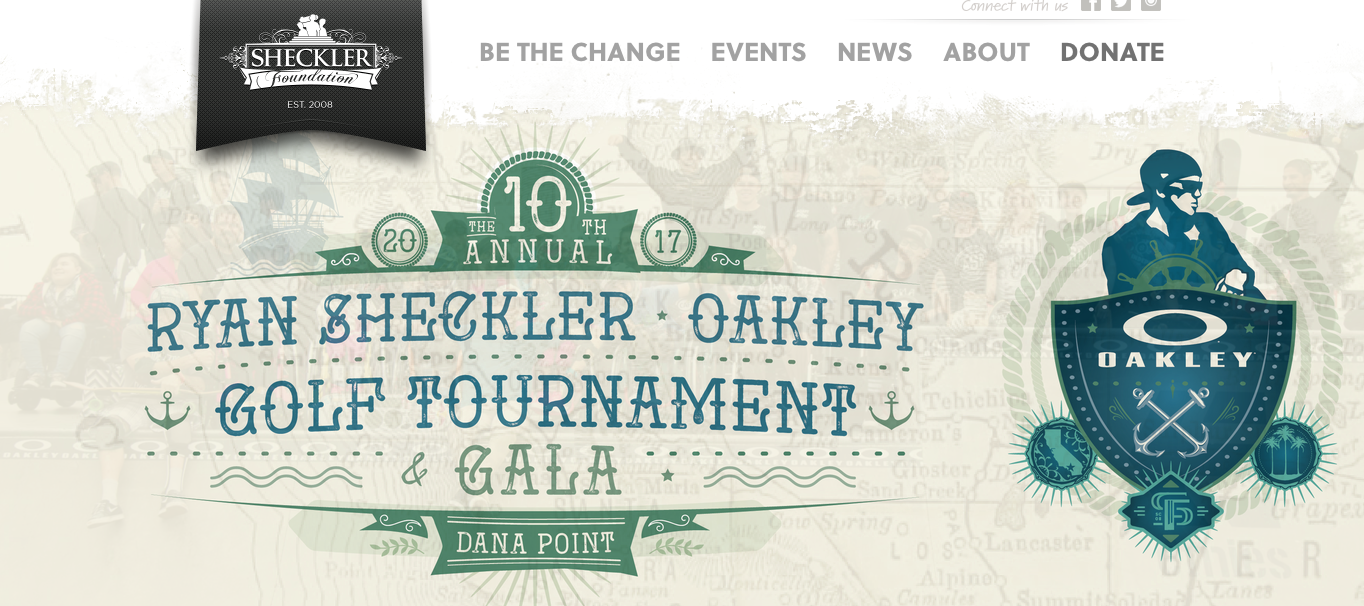 The weekend was a huge success with $300k being raised to benefit the Sheckler Foundation's "Be the Change" program.
I was fortunate enough to drop by the Monarch Beach Golf Links in Dana Point where the 10th Annual Celebrity Golf Tournament sponsored by Oakley went off.  Among the crowd were celebrity athletes like Klay Thompson, Reggie Bush, Ryan Mathews & Clay Hensley. I also got to see Machine Gun Kelly a week before KAABOO because he came to golf & "be the change".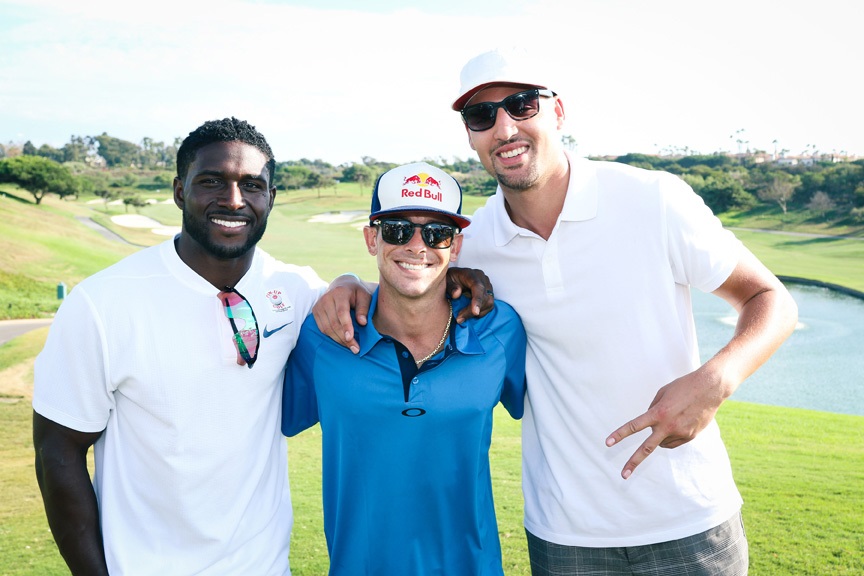 And yes, I had the opportunity to chat with Ryan, pictured above with Reggie & Klay.
Q: How did you get into golfing?
A: "I have always liked to golf, so when it came time to bring everyone together I thought this would be a great way."
Q: This year's theme was Lost at Sea. How do you pick each years' theme?
A: "I think the theme adds a fun touch to the event. I usually decide the theme based on the location. "
Q: How do you find time to prepare for such a big event?
A: "To me this event is one of my favorite things. Most people could see this as work but really it's just friends coming together and doing good for the world."
Q: Why do you continue to contribute so much? 
A: "The world needs more nice people and we can only do that if we treat each other with kindness."
In addition to a game of golf, there were hole activations, contests, games and entertainment along with food served by Chronic Tacos, Zebra House Coffee and Wienerschnitzel.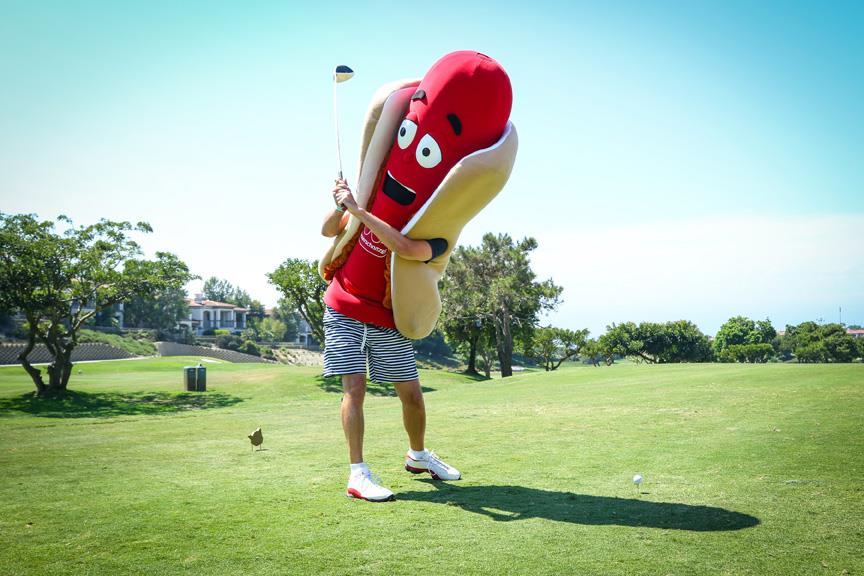 Above thee Wienerschnitzel getting some golf in!
and below is Lumecube's sling shot game.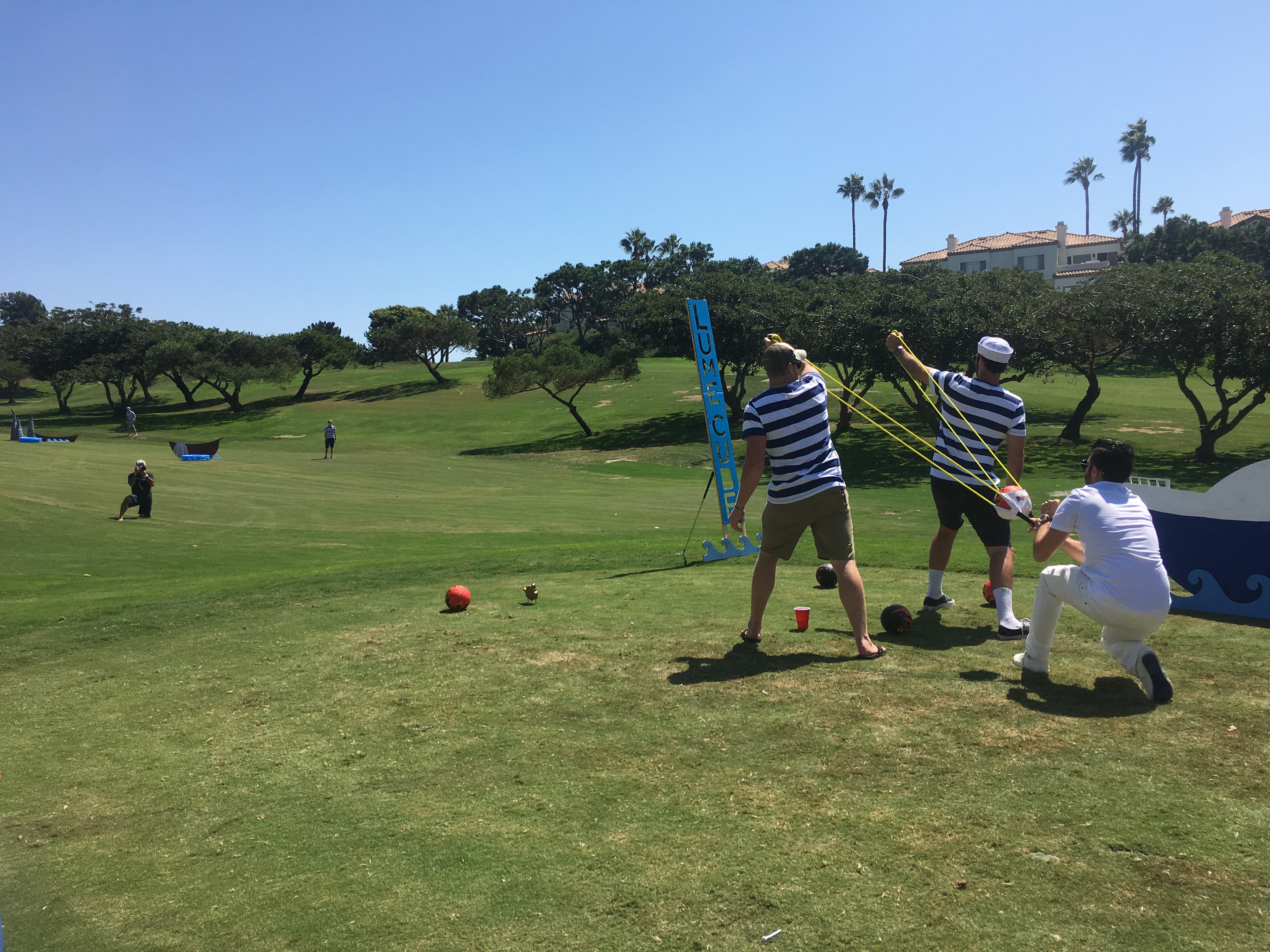 This wasn't your typical golf event.  For instance some golfers, like Neal Mims, embraced the ponds.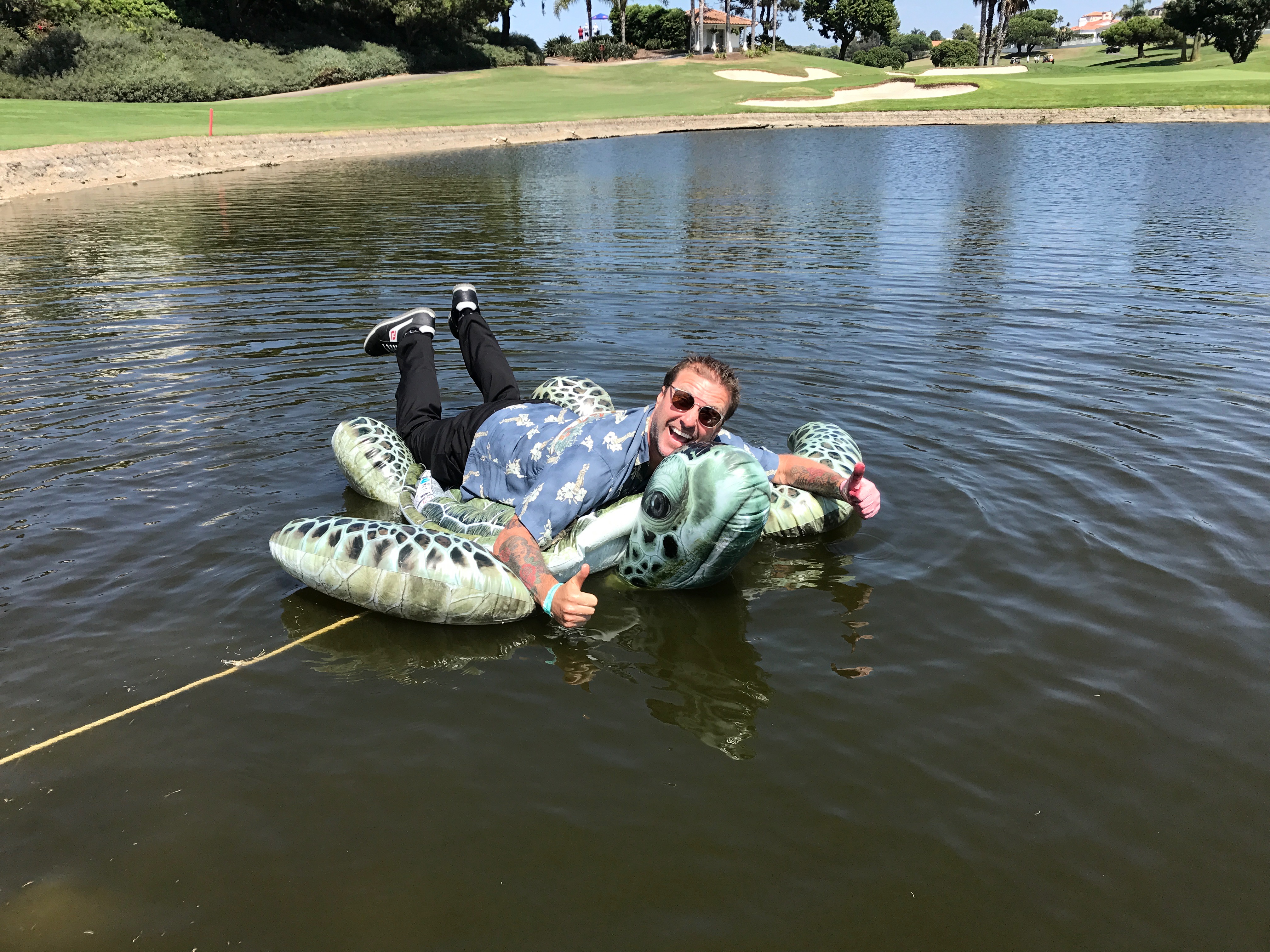 One way that everyone could get involved, even those who couldn't make it to the golf course, was the Helicopter Ball Drop.  After the golf game a helicopter came by and dropped balls that had been purchased for a $20 donation.  Anyone who purchased a golf ball was entered to win up to $5,000. 100% of the proceeds from the ball drop went to help the victims of Hurricane Harvey.
Once you bought a ball you hoped it landed closest to the mark.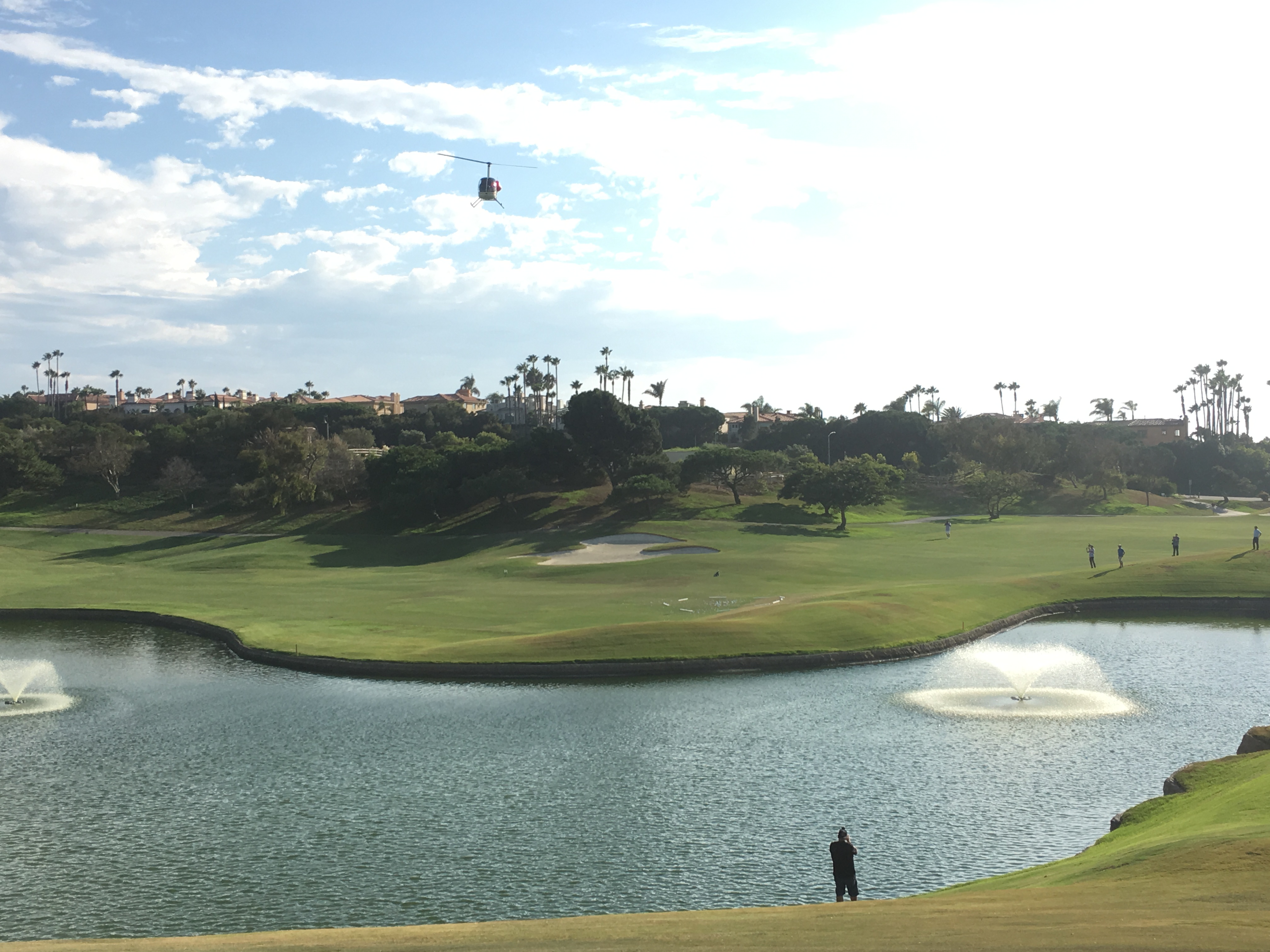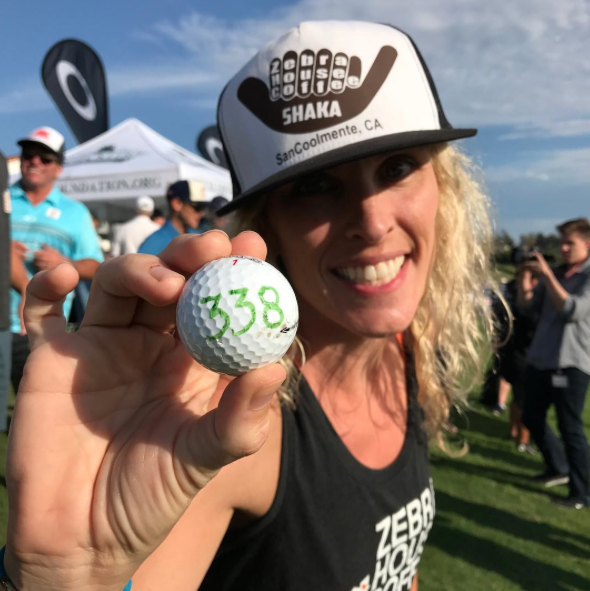 338 was the lucky ball!  Zebra House Coffee – a San Clemente local coffee shop – was the winner & in true spirit of the event donated their winnings back to the cause.
What a wonderful way to end an amazing day.  To find out more about the Sheckler Foundation and how they are & inspire others to "be the change" check them out on their website & follow them on IG, FB, or Twitter.