ELLE is a top touring street artist, in a male dominated art scene.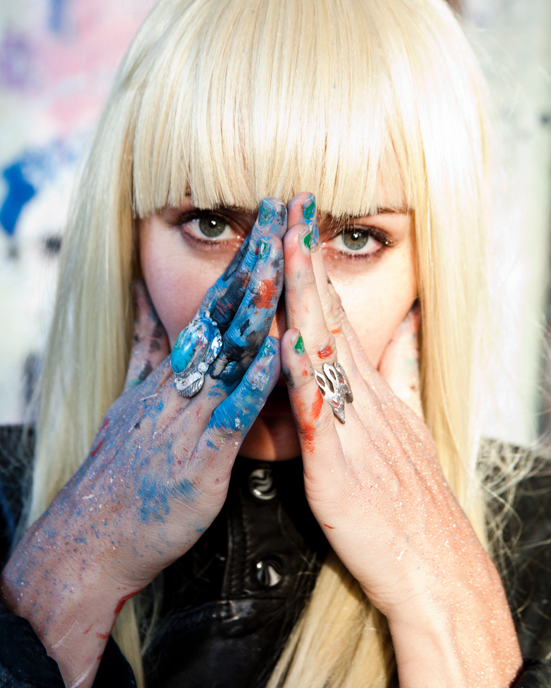 ELLE photo by Peter Marquez
In addition to finding her work "in the street", you can find it in galleries, published in books, and worn.
Yes, through her work with Reebok she created 2016 ELLExReebok graffiti legging & the 2017 ELLExReebok yoga capsule collection.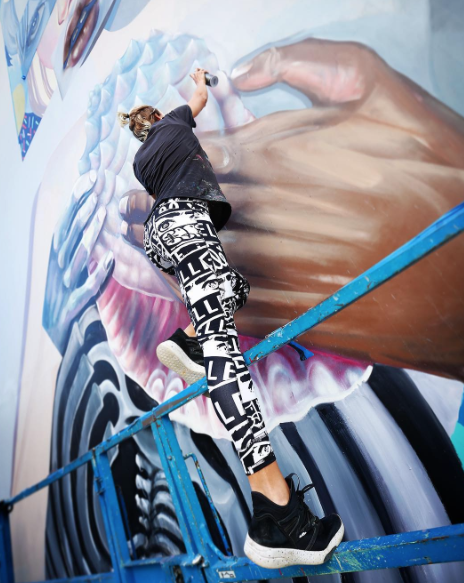 ELLE in ELLExReebok photo by dscreetsheet
She will be coming to the San Diego area for KAABOO on September 15-17th and I had the opportunity to ask her a few questions about her art before going to KAABOO and seeing it live.
When did you start creating graffiti & how were you able to transition from illegal graffiti artist to a sought after artist?
ELLE:  I had never really "seen" graffiti or streetart before moving to New York about 11 years ago. When I stumbled upon art by Gaia and Swoon in Chelsae I was inspired to do it myself. I got really into wheat pasting but was frustrated with how quickly they were coming down off of the walls, and so I began graffiti. I got really obsessed with getting up, doing graff and meeting other writers. A few years later I got sponsored by Liquitex paint– with the free spray paint I started offering to paint people's walls, and that snowballed into festivals, museums, and individuals inviting me to come and paint with and for them.
Coyote Howl London photo by The Commissioner
I've seen some of your incredible work around the world thanks to IG & your website.  What are a few of your favorite places and pieces?
ELLE:  Hmm.. that's a tough question. I feel like some of my pieces have been benchmarks, or personal breakthroughs.

To name a few: a couple pieces I did in Brick Lane London while I was there showing at the Saatchi "XX" show, curated by Yasha Young and Olly Walker,
Brick Lane London – photo by d7606
then again in Colorado for Colorado Crush last year,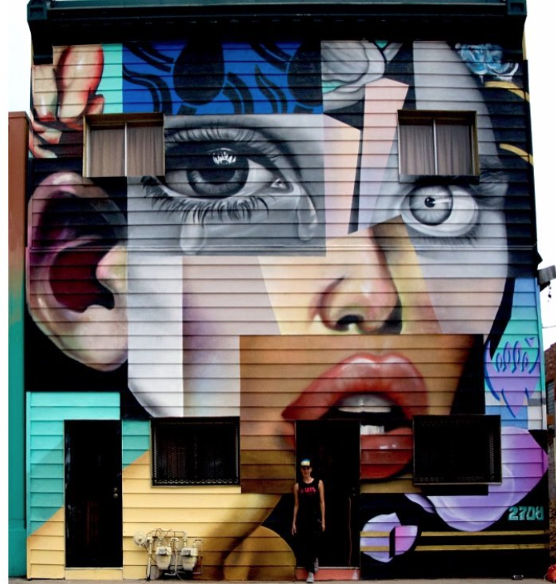 @coloradocrush16
and a piece I did in LA just a couple months ago for Not A Crime campaign.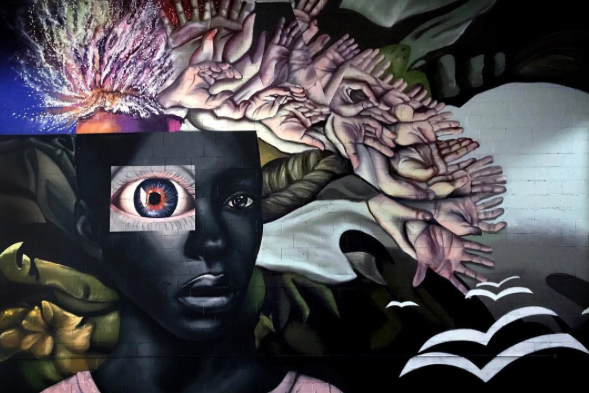 piece from #sunsetmarquis #notacrimecampaign in LA, CA
For all of these pieces I felt like something clicked that I had been wanting to happen, or I was able to finally move in a direction that I really wanted to.
What's the timing of your KAABOO piece – will you be creating all 3 days or ???  and what happens to your work after the event?
ELLE:  I will be arriving late night on the 13th and will paint the 14th through the 17th. I also have two digital files that have been printed out and will be flanking the main stage. Those pieces were painted here in Melbourne a few months ago.
Lola in Melbourne photo by @kimothy1109
I love that you tell stories through your art and use it to communicate what's important to you like raising awareness of global warming hazards & the need to protect the ocean, what's your vision for your KAABOO "story" or do we have to wait & see?
ELLE:  Thank you! I was recently inspired by the book "A Sixth Extinction" as well as the movie "Chasing Coral." Both go into detail about how we, as humans, are affecting the world; how we are pushing the reefs to extinction along with other species… If I can help to bring awareness to that and help, by recommending that people go carbon neutral, or that in consuming beef we are upping the methane greenhouse gasses, and by using single use plastics we are putting plastic into the food chain-than I will do so.

Wouldn't it be amazing if we could reduce our imprint so that we actually left the world in a more positive state than we came into it? I am hopeful. I think that if we live consciously then we can change things for the better. For the Kaaboo piece and all of my future pieces I'm hoping to inspire others to join me in these causes.
ELLE's piece on NO to the Dakota Pipeline
Any chance you've thought of painting skate decks or grip tape?
ELLE:  My little sister is a skater, and I've been meaning to paint her a skate deck for ages! I love skate culture and watching skaters, so would be rad to design a deck or tape for sure!
Thanks ELLE for sharing with us and please share pictures of the deck!  To check out more of her work follow her on IG and check out her website. Her art is amazing as our all the places she travels to.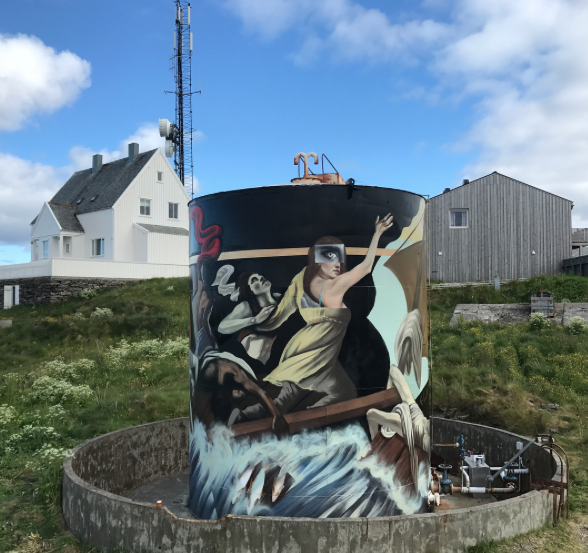 ELLE's work in Norway above & Ibiza below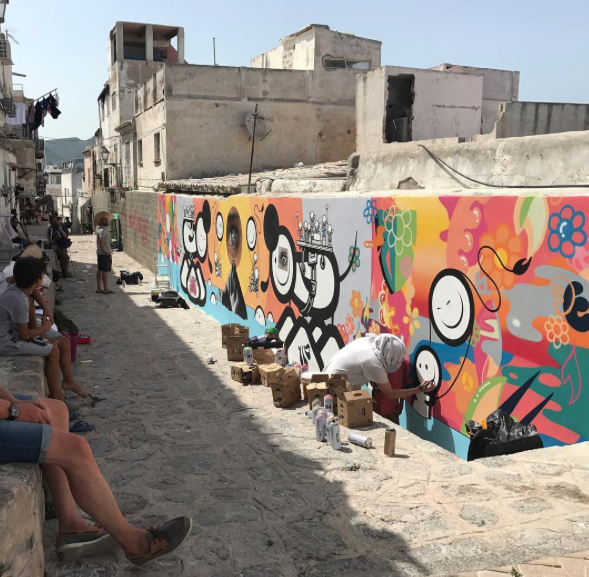 KAABOO 2017 is coming up fast September 15 – 17th.  KAABOO features:
world-class music, hilarious comedy, incredible cuisine, craft libations, inspiring contemporary art, and personal indulgences
To see the full 2017 Line Up click here.  To see my 2016 recap click here.  For apps to keep you up to date on schedules
iPhone Download
Android Download
Link to the KAABOO app page
More posts on amazing artists scheduled to appear at KAABOO 2017 are on the way.  All the artists featured are girls following their passions and willing to inspire other girls to do the same!
XOXO skatingfashionista