Carly Ealey is a San Diego, California artist who will be painting a permanent mural at the Del Mar fairgrounds live during KAABOO at the Trestles Stage – September 15-17, 2017.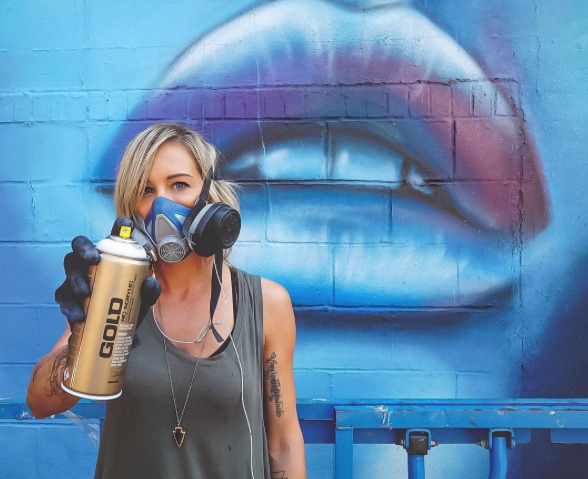 I recently had the honor to ask her a few questions about her art.
How did you start as a mural artist?  Were you using spray paints from the beginning or how did it come about?
Carly:  Painting murals was a natural progression from painting on canvas. I found myself wanting to paint larger and larger pieces and eventually moved to walls. I would mess with spray paint from time to time on smaller surfaces but didn't really try using it outside of background textures until painting larger scale. I realized how fast you could paint and cover more surface area with spray a couple of years ago and was totally hooked.
Denver, Colorado
Before spray paint, I was painting with just brush and sometimes on big rolls of paper and wheat pasting to walls which was very time consuming. I love the instant gratification you get from spray paint and the use of my whole body…it's a release.
I've seen some of your incredible work like the pieces at Chez Pierre Cabaret in Edmonton, Alberta Canada, the border wall in Tijuana, Mexico, and your piece from last year's KAABOO how do these compare in size and style to what you'll be doing at KAABOO this year?
Carly:  Every wall is different and requires a unique approach, I think that's partly why they're so fun to paint. My wall in Edmonton for Rust Magic mural festival 2017 is the biggest one I've painted yet and was a crazy struggle the whole way.
Edmonton in Alberta, Canada
I was short paint, encountered weather delays, and the wall was constantly wet (the building is incredibly old and has a very water logged and leaky roof) but it ended up being my favorite mural so far. One of my goals has been to make my murals look more like my smaller scale paintings and I feel like that mural achieves that despite all of the challenges that arose.
Tijuana Mexico
The border wall was an experience for sure…living in San Diego, Mexico is our neighbor and very much integrated into our everyday culture. Baja Internacional invited me to participate and I accepted immediately. Part of my desire to paint the TJ/SD border was to promote border unity and embrace diversity so it was a really cool and personally meaningful project to be a part of…especially during these turbulent times in this divided political climate. The border wall itself is pretty gnarly, rusted red corrugated metal. It's definitely not the most ideal surface to paint on but the experience made it worth it. You just have to keep in mind that this is something people will only really see as they are speeding by on their commute so I kept it simple and big with not a lot of detail.
KAABOO 2016
Looking back at my KAABOO mural last year, I now realize what a luxury it was to be so well taken care of with my giant fancy lift and food and restrooms haha! It's pretty crazy to see how far I've come in just a year. I've only been spray painting seriously for a couple of years now and I feel like I've grown tremendously. Then again, I pretty much feel that way after every wall I paint.
San Diego, CA
Each mural is an opportunity to grow as an artist and even as a person. I guess anything truly challenging can do that!
LA, California
This year's KAABOO mural will be a whole new challenge. It will be my largest mural to date! It's on a permanent structure on the Del Mar Fairgrounds across from the giant mural of the humpback whale by Wyland. Which is pretty surreal in itself because as a kid, I was really enamored with Wyland's work and especially his massive murals. This particular surface is the facade of a two-story building that has a lot of doors and windows in it, so it will be interesting to paint. Because of the scale and amount of obstructions, my plan is to go really big with some giant female characters resembling mermaids or sirens in an underwater environment. It will be a cropped view of their faces as they gaze out from the depths.
KAABOO 2016 when it was WIP
What's the timing of your KAABOO mural do you start on Friday when the festival opens? Can you share insights into the planning before the festival to make it happen in just 3 days?
Carly:  Due to the size of this mural, I will be starting several days prior to the festival otherwise there would be no way I could finish in time. A lot of planning went into this ahead of time, all of the paint colors were planned and ordered well in advance based on sketches and mock ups of the design. I had to have the fairgrounds approve the design as well as the KAABOO team months in advance.
painted live at Karl Strauss Brewery Arts & Amps – La Jolla, CA
What's unique to you about "live art"? I saw your work on the container at the SDCCU Festival of Arts North Park and you were at KAABOO last year but is it usual to have a large audience watching you create? How does an audience change the vibe?
Carly:  Live art is just another challenge. I used to be really nervous about painting in front of people but now it doesn't bother me. In fact, I kind of like it now. As long as you have a good crowd and positive people, I think it just makes you try harder. It can be more of a challenge to focus sometimes but that's where good music and headphones come in handy.
container painted live at SDCCU Festival of Arts in North Park
Any chance you've thought of painting skate decks?
Carly:  I've actually painted quite a few decks in my days…and surfboards…and I've even designed some skis haha
Whatever the medium Carly's art is stunning!

Thanks Carly for sharing with us. Can't wait to KAABOO to see her work – you don't have to. You can follow her on IG and check out her website to see much more of her amazing work.

KAABOO 2017 is coming up fast September 15 – 17th.  KAABOO features:
world-class music, hilarious comedy, incredible cuisine, craft libations, inspiring contemporary art, and personal indulgences
To see the full 2017 Line Up click here.  To see my 2016 recap click here.  For apps to keep you up to date on schedules
iPhone Download
Android Download
Link to the KAABOO app page
More posts on amazing artists scheduled to appear at KAABOO 2017 are on the way.  All the artists featured are girls following their passions and willing to inspire other girls to do the same!
XOXO skatingfashionista