This past Saturday – February 25th – the ladies skated at Transworld Skatepark in Carlsbad thanks to an invite from Poseidon Foundation.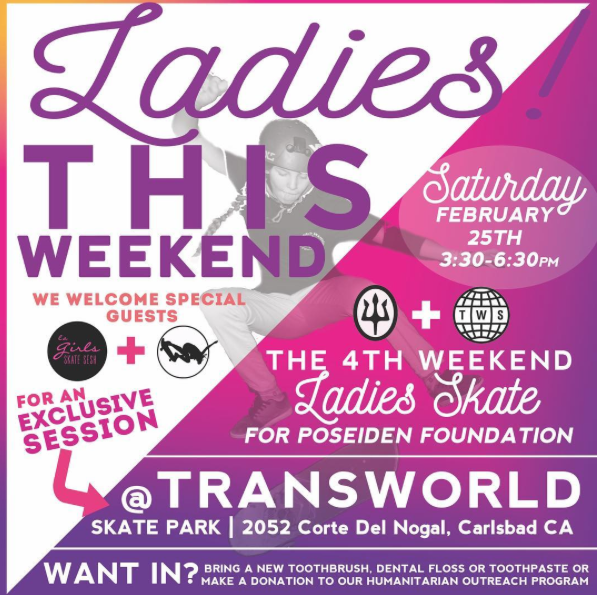 Poseiden Foundation, a non-profit lead by Micaela Ramirez, has been opening skatepark doors to the ladies for years.   They've had 8 annual Ladies Day events at the Berrics and now in 2017 they have a monthly event the 4th weekend of the month.
The monthly events are usually held at the Berrics in LA but every so often it's time to mix it up so this month it was at Transworld in Carlsbad.  Like past events the ticket for admission was a donation to help those in need.
The Poseiden/Transworld event collected dental supplies – toothbrushes, dental floss, toothpaste.  I wasn't able to go but I was lucky enough to catch up with Micaela for this recap.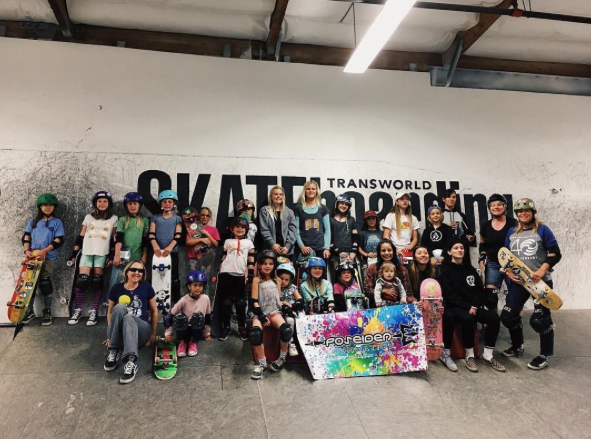 Congrats, Micaela for organizing another successful Girl Power event!
How many girls came?
Micaela:  About 25 girls came;  it was a fun session with a couple sibling brothers to cheer them on.
How many supplies were you able to collect?  Also who are the kits going to?
Micaela:  We collected 10 dental floss, 10 toothpaste, and 36 toothbrushes. The kits are for our Humanitarian Outreach Program, and this year's focus will be Cuba.

Many families in Cuba are not able to access what we take for granted on a daily basis.  This project will be a collection each month until Ladies Day at The Berrics, November 11th, 2017. We plan to make over 100 kits that will give a family of 5 the basic hygienic needs we all should have access to.
I heard you had special guests LA Girls Skate Sesh & EXPOSURE Skate, was there a demo or a skate clinic or  ???
Micaela:  The special guests are a way for Poseiden Foundation to highlight other girl organizations that are making a difference in the community. With skateboarding changing and more opportunities opening up for both males and females due to the Olympics, we find it important that we unite and work together, highlighting each others strengths and show how we as "Ladies" can all work together.

We plan on highlighting a new girl organization each month. So, if you have girl organizations in mind that you feel we should share and represent, please email us and let us know. It's important for us to work together. 🙂
How'd this month end up at Transworld?
Micaela:  Thanks to Chad Foreman and Mike Fitzgerald, they were able to put us in contact with Baily and Keegan who set-up the Ladies Skate Session at Transworld. Thank you guys, for making this event happen for the Ladies!
The "usual" spot is the Berrics but I hear you might have other upcoming surprise locations so what's the best way to stay informed of the monthly sessions?  
Micaela:  Yes, we will be having some surprise sessions; the best way to stay informed is through our IG PoseidenFoundation

website http://poseidenfoundation.org

and you can email us at LadiesSkate@poseiden.org or Berrics@poseiden.org
If people weren't able to bring dental supplies there was an option to donate to Poseiden Foundation's Humanitarian effort.  Last year you built homes in Columbia plus hosted skate events and had a blast with the youth, what's in store for this year and when are you going?
Micaela:  This year we will be teaming up with Amigo Skate Cuba, we will be visiting 3 cities, and working closely with the communities of Cuba.

We will be giving skate clinics, having Best Trick Skate Contest, and most importantly, bringing supplies to the communities that otherwise not available or extremely expensive if available. These are supplies we as humans should all have access to, and we will be making a difference, not only within the skate community, with in the educational system by providing school supplies, and hygiene.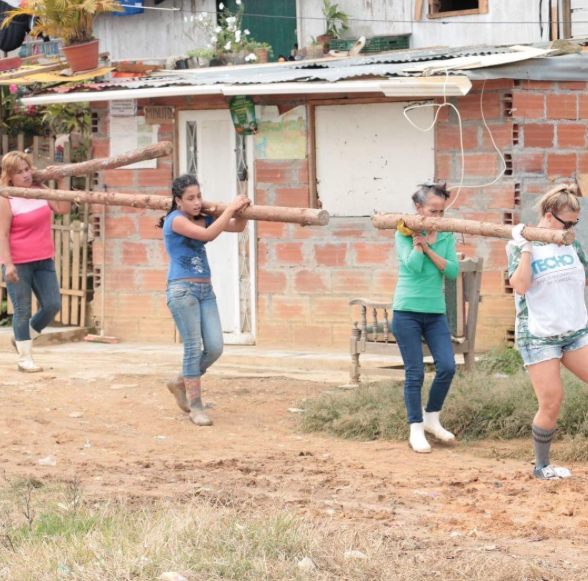 picture from last year Poseidon Foundation working in Medellin, Columbia
Thanks Micaela for always demonstrating kindness & inspiring others to do the same.  If you attended the event and have additional pictures, videos, stories to share just let me know & tag Poseiden Foundation.  Always room on the blog to share more happy memories.
Below some pictures by Tyler Stewart @ty_lor & yes now I'm extra sorry I missed it they had cake!