This is Poseiden Foundation's 8th year hosting a Ladies Day at the Berrics. It's on Saturday 11/12 from 10am – 5pm starting with an open session for ladies that are 14-under to come skate & get pointers from skate clinic staff.
The event gets bigger every year – look how it grew from 2014 to 2015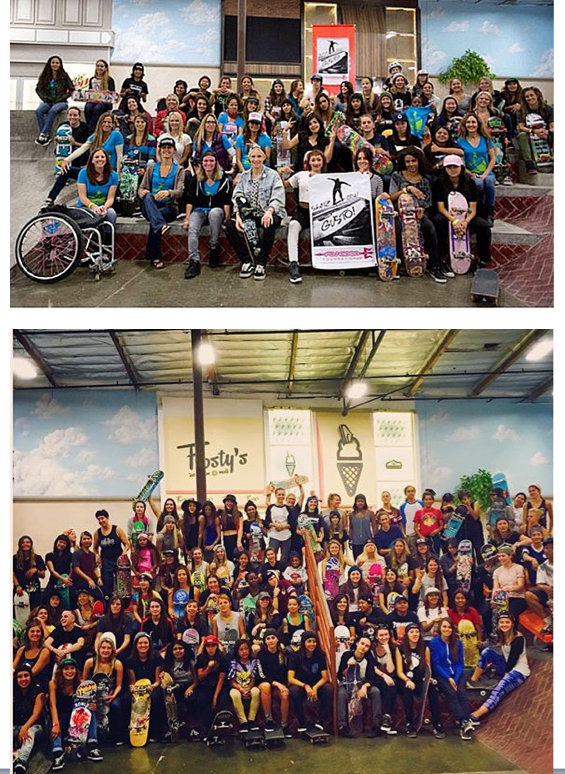 To get even more ladies involved Poseiden Foundation is hosting a "Refer-A-Friend" contest
1   Tell your friends to follow Poseiden Foundation on IG
2   When your friends RSVP on the Ladies Day Link ask them to enter your name
3   If you've referred the most friends, you'll win yourself & 10 friends a private "Ladies Day" skate session!  Before the park opens up to the public on Ladies Day you'll get to skate plus you'll get a Poseiden Foundation's Amazing Ladies Day Sponsors Prize Packet worth over $200.
Contest ends 11-10 and winner will be announced 11-11.
Last year I referred Meagan Guy – rad things happen when Ladies support Ladies so refer your skating friends now.   Winner to be announced on Poseiden's IG.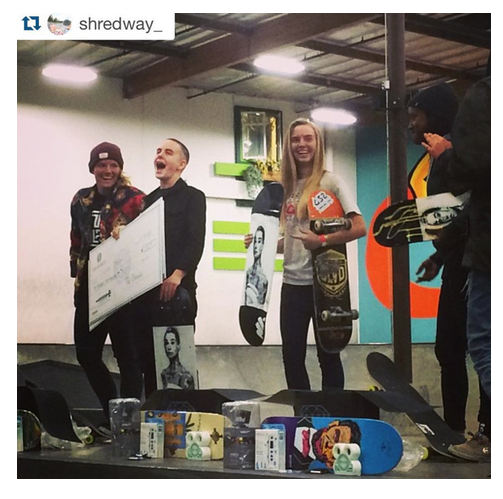 All ladies are welcome – all skill levels – all you have to do is RSVP using this link https://goo.gl/forms/aqj5ee147N5pkMAe2 you will receive the address once your RSVP has been confirmed.  I can say it's in LA, CA.
To find out more about Poseiden Foundation's Ladies Day at the Berrics I asked Micaela Ramirez, the Founder & President of Poseiden Foundation some questions.
For those of you not familiar with Poseiden Foundation they inspire the youth to dream and create life-changing experiences through empowerment, love, and support.
To reach the youth they organize skate and surf clinics, contest and tours. Plus they partner with environmental clubs to teach the youth about becoming aware of their surroundings and how they too impact our eco-systems with everything they do.
SF:  This is the 8th Ladies Day? How did you originally get the idea to have a Ladies Day at The Berrics and how were you able to get The Berrics to agree?
Micaela: Yes, this is the 8th Poseiden Foundation Ladies Day at The Berrics or Poseiden Foundation x The Berrics Ladies Day. The idea originally started when we created the West Coast Tour.
Poseiden traveled the coast of California, August 26th‐ September 2nd 2009 bringing professional skaters to lower socio‐economic areas where they interacted with the youth and taught the public that skateboarding can be used as a tool of self‐expression and builds the confidence in adolescents that are at‐risk and come from low‐income families.
The Berrics was the last stop. The very first Berrics was a collaboration with GRO (Girls Riders Organization).  Below is a copy of the press release back in 2009.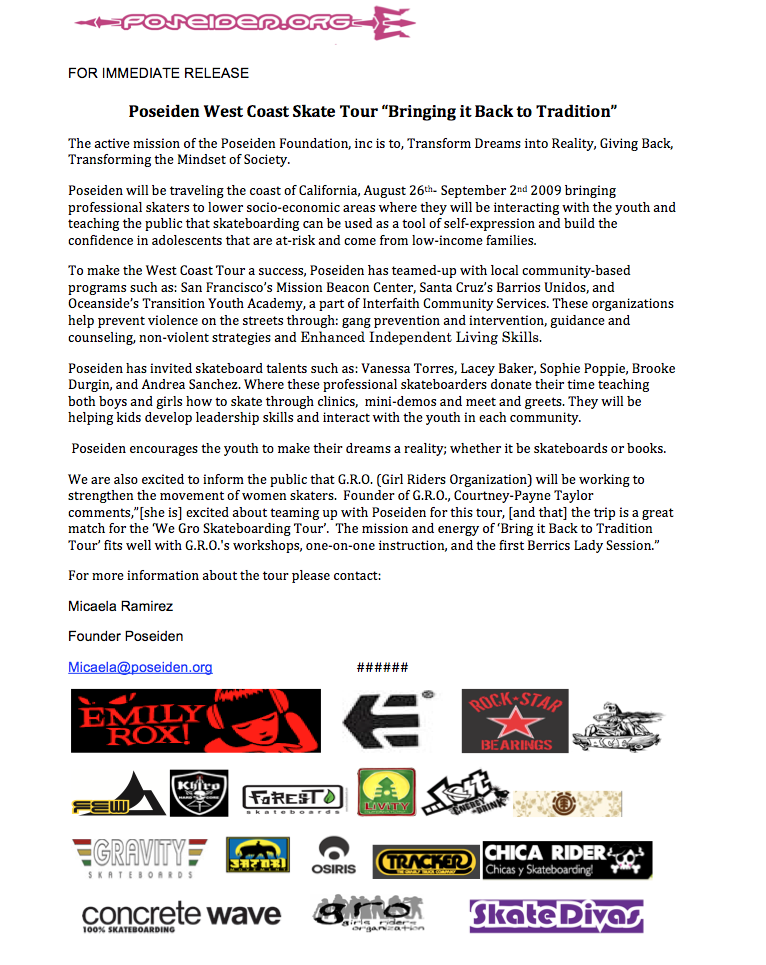 After the tour we continued forward, pushing the girls skate scene each year by presenting and introducing different Pro's, then it went to Pro's and AM's, to Pro's, Am's then Groms, Then to Pro's, AM's, Groms and finally Public.
Also, our Board of Director Jen O'Brien is friends with Steve Berra, and was able to directly speak with him about the day, as did Courtney Payne-Taylor.
SF:  I saw a picture on IG from the Second Ladies Day at The Berrics back in 2010 it's amazing how you've grown. Has the growth been gradual or really jumped in the past several years?
Micaela:  Thank you, the growth has really jumped in the last three years.  Since we started to open the Berrics doors to all girls, all ages and abilities, we have since an expoentional growth. It's amazing to see how many girls come out each year!
Below the 2010 group photo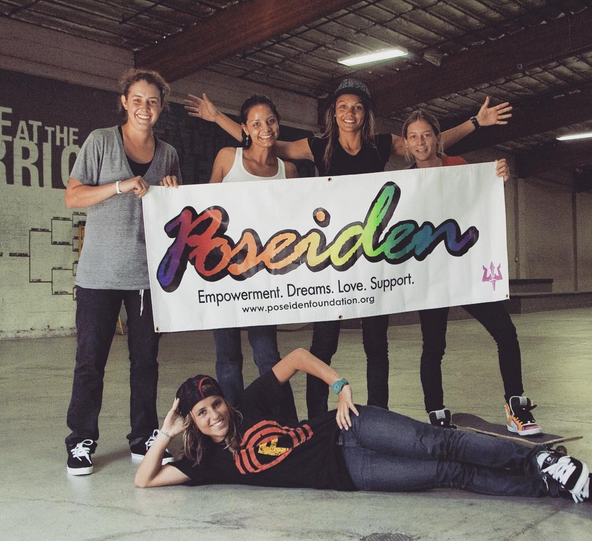 SF:  Last year was the first year you started contests. Why did you add contests? And how will the contests be different this year?
Micaela:  Adding a contest to Poseiden Foundation's Ladies Day at The Berrics had always been a goal.   As the event  grew,  more girls were asking on the RSVP form for a contest at The Berrics to help them gain exposure.  So we listened and turned the goal into reality.
Poseiden works to help girls achieve their dreams. We are grateful that each year The Berrics continues to assist us in turning dreams into reality.
This year there will be the following contests:
14 & under mannypad
Open 5 stair
Pro 7 stair
The 14 and others can choose if they'd prefer to compete in Open 5 stair or their age competition.  The Pro Best Trick is $3,000 prize.  The amateur winners will receive prizes totally over $1,000 each.
SF:  This year Ladies Day at the Berrics is being called "The Dream Series" final stop. What were the other stops? And can we expect more series of stops in the future?
Micaela:  Yes. Ladies Day is the final stop of our Dream Series. This year we began a series of events, calling it The Dream Series.
The first contest was at The Skate House in LA.   The second was at Red Bull's Curb Kings event "Queen of S.K.A.T.E".   The last event leading up the The Berrics will be hosted at Volcom headquarters October 22nd.  Then the final stop will be The Berrics November 12th! 🙂
Every stop has had the opportunity to be featured on The Berrics site, under News.  The Berrics has been so amazing in supporting The Dream Series, and we are definitely having a  2017 Dream Series!
to see more about these event click here for Skate House or here for Red Bull
UPDATE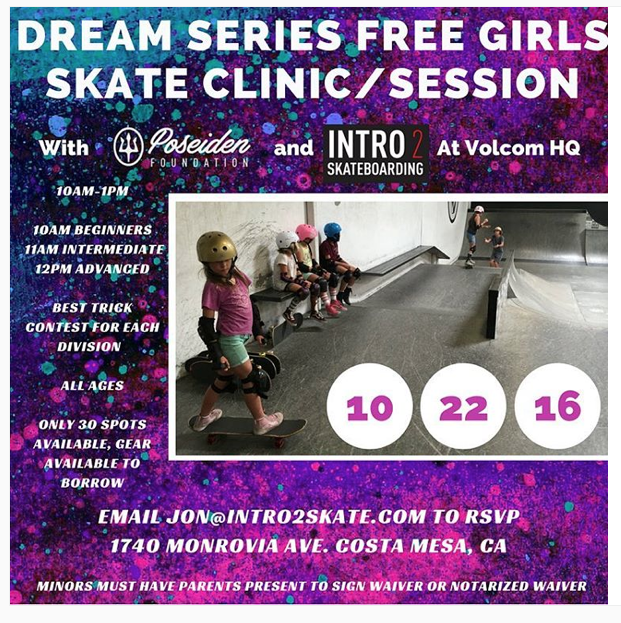 SF:  Poseiden supports humanitarian efforts, last year we brought canned goods & skateboard equipment drive. Should attendees being bringing something this year?
Micaela:  Since opening the event to the public, we have included a Humanitarian Outreach Fundraiser in conjunction with Ladies Day.
We at Poseiden Foundation believe in contributing to our community.  For the past three years, we have organized
a canned food drive for the LA Homeless,
a skateboard equipment drive for local youth programs
a monetary donation drive to help build homes for homeless families
We ask that all attendees bring canned food, skateboard equipment, and/or make a monetary donation.  Last year we were able to feed over 60 people located in Skidrow, gave over 30 skateboards to local youth outreach skate programs, and reconstructed three homes for families in Ecuador.
We are excited to see what this year will bring! 🙂
Thanks Micaela – I'm excited too – can't wait to see all the Ladies – like militant_23 above on Saturday 11/12 at The Berrics.
RSVP now & I have a feeling there will be surprises this year – maybe a vendor village – you know as a fashionista I love pop ups & maybe the music will be extra special too – for sure you don't want to miss out.