What's KAABOO?  3 days in Del Mar of Music, Comedy, Art, Food,  & Indulgences.  This was KAABOO's second year and in addition to huge musical acts like Fall Out Boy, The Chainsmokers, Aerosmith, and Jack Johnson there were amazing opportunities to just relax and be pampered.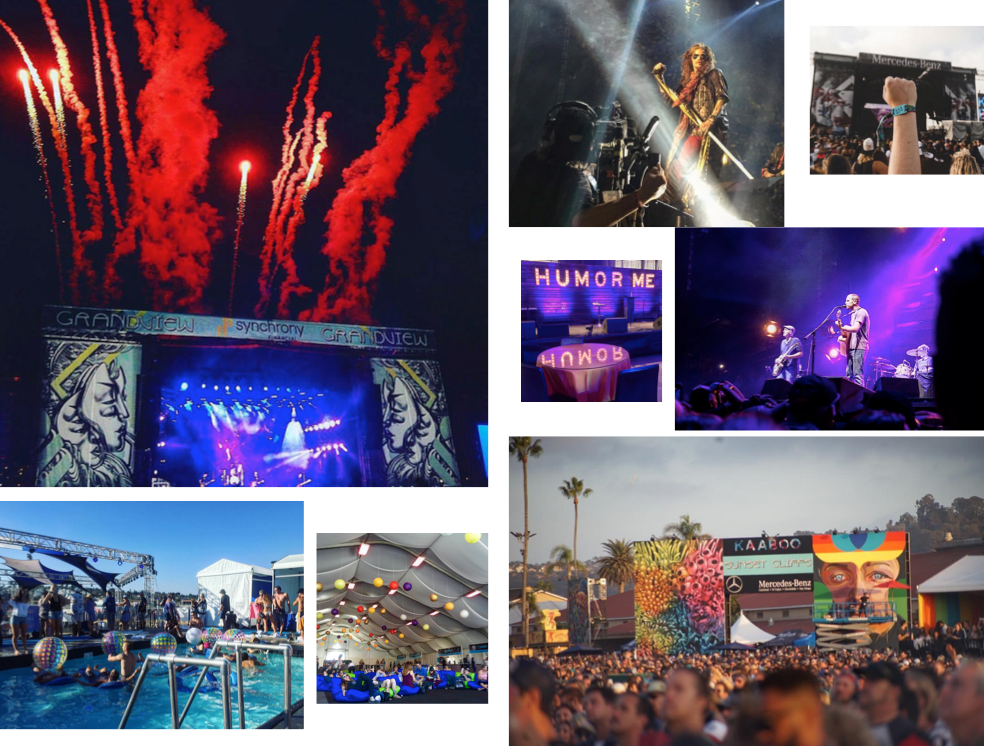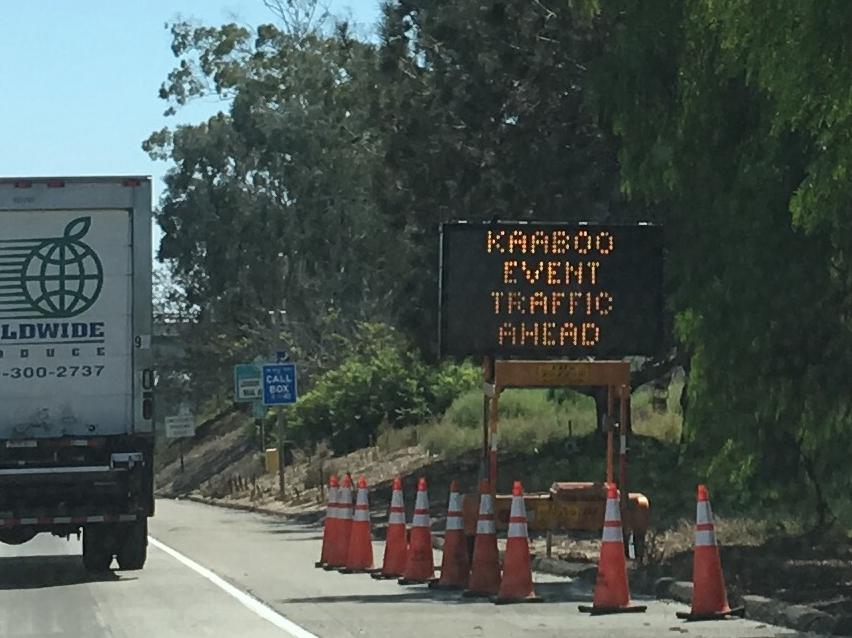 You know it's going to be a big event, when you see the signs on the freeway.  I went last year and it was big – this year was bigger.  Saturday single day passes SOLD OUT.  How could it not sell out when Aerosmith & The Chainsmokers were both on stage?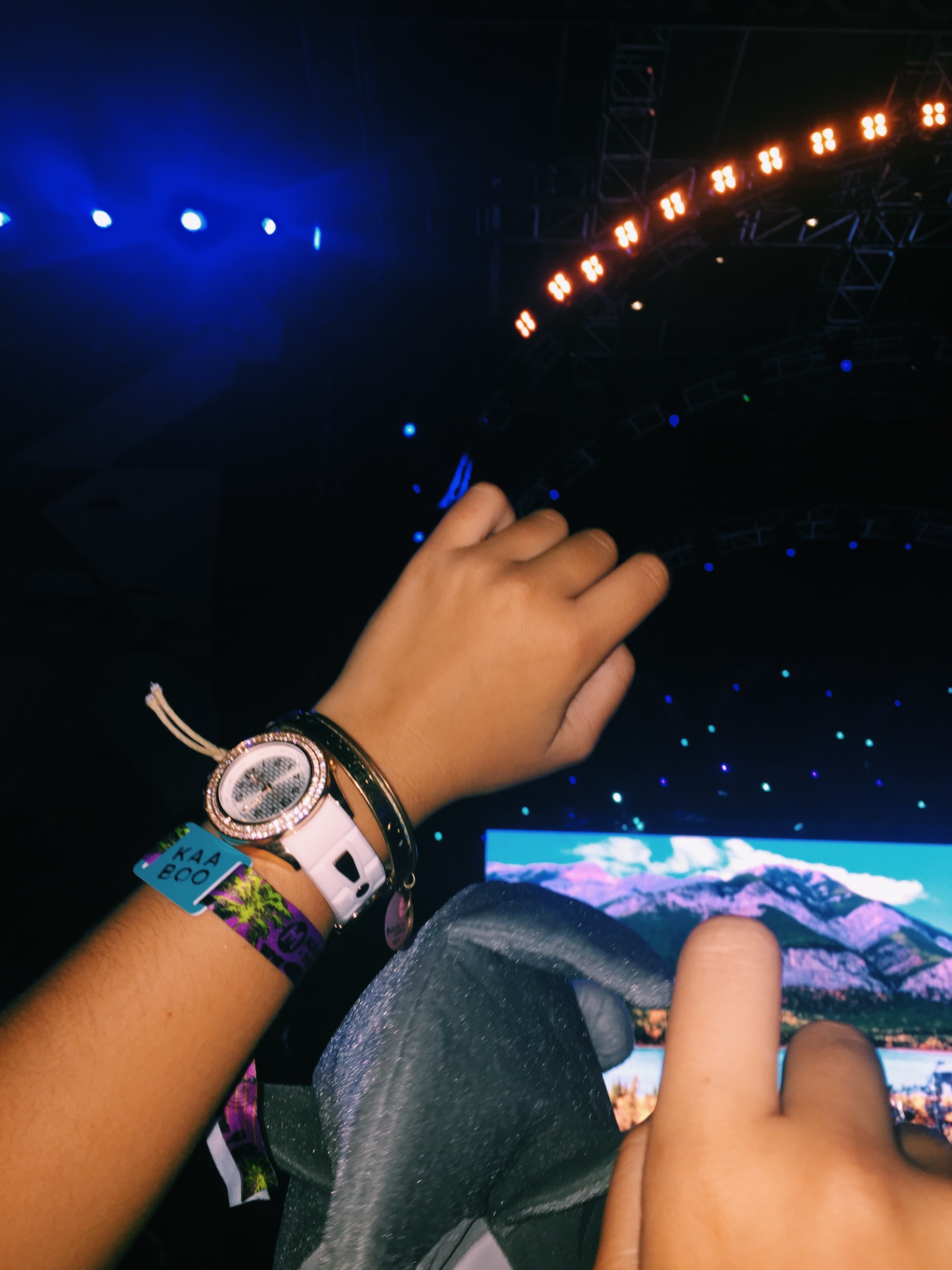 Let's see some of the Music highlights.  For me what makes the concerts special is the music & the vibe.  I'm sharing pictures that captured the vibe – which was fun –  dancing & singing along every stage you went to.  And huge shout out to all my fellow festival goers who captured & shared their shots.  I go to tons of events & the crowd at KAABOO was fabulous!!!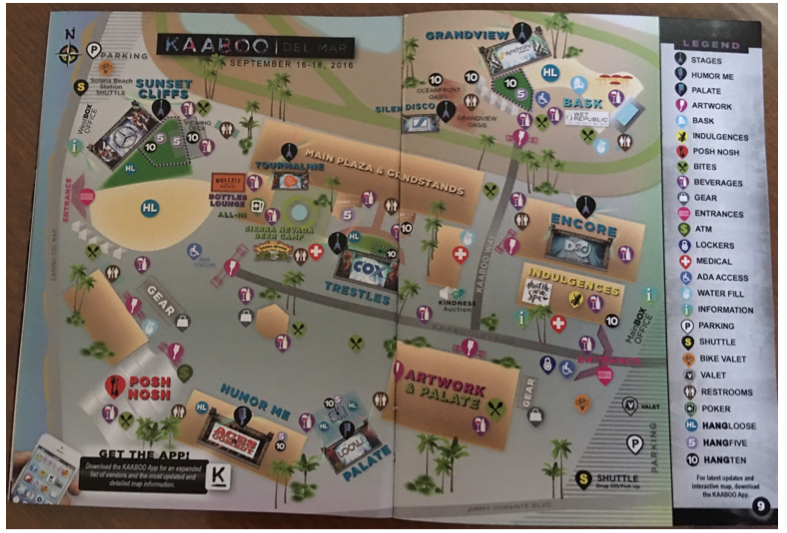 map from the KAABOO guide – nice guide that helped you navigate the 8  stages – see bottom of post for the line ups & the KAABOO app was super helpful & easy to use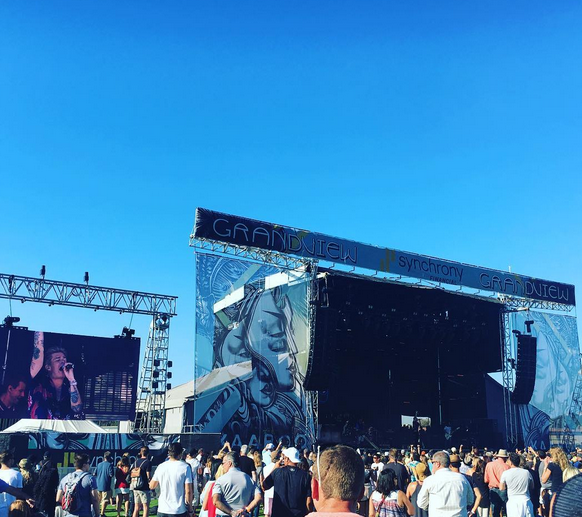 Sugar Ray is captured above by Kelly – that crowd was at 3ish in the afternoon – KAABOO was big & this years weather was perfect!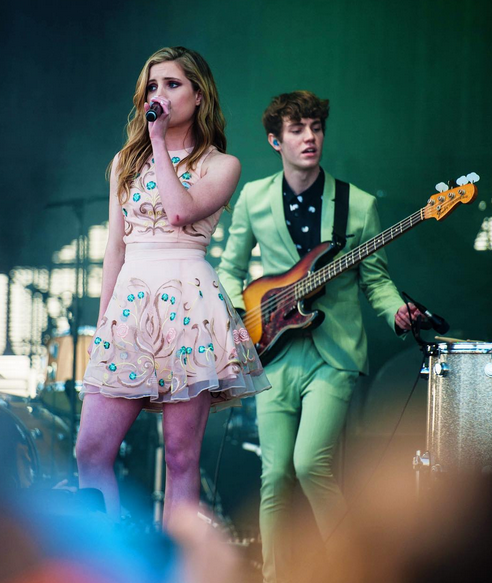 Nelson saw Echosmith kill it – and that dress, I love it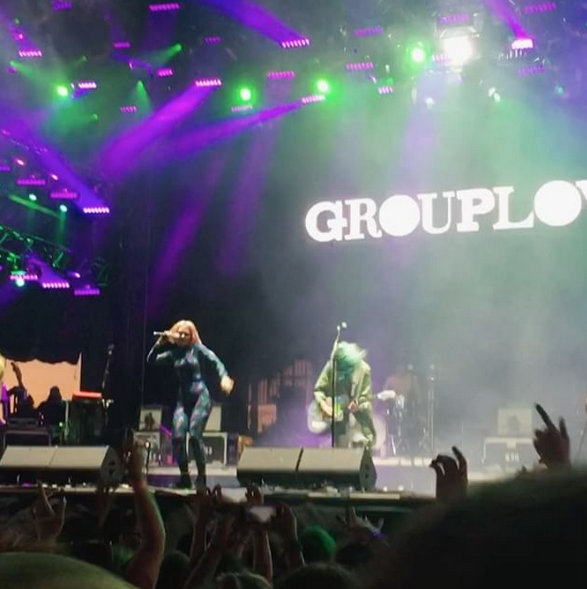 Caylee found Grouplove on Friday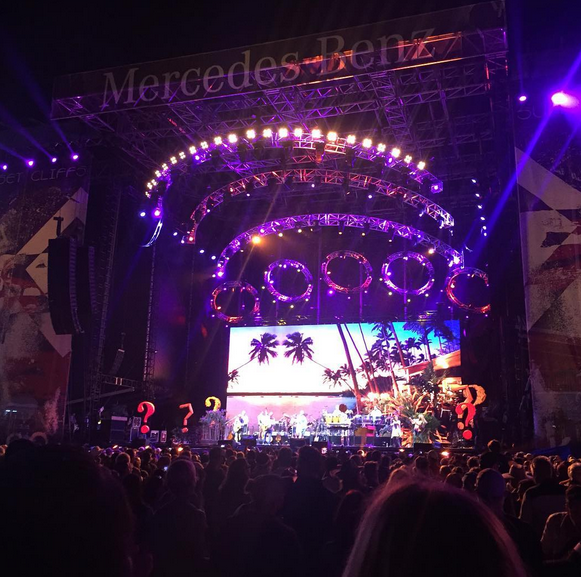 Above Agustino shares a shot of "Margaritaville".   KAABOO had Jimmy Buffett on the Sunset Cliffs Stage while Fall Out Boy was on the Grandview Stage.  So many choices at KAABOO & no way to go wrong.  Below a close up of the Jimmy Buffett stage from Rebecca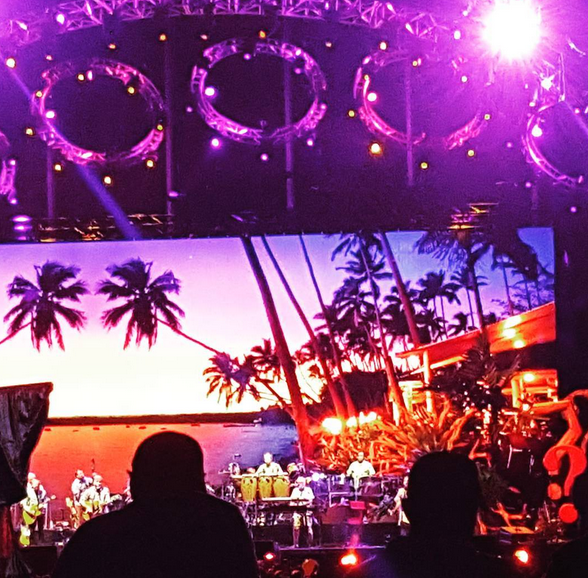 Below up close with Jimmy Buffett thanks to the photography of Jenny Martinez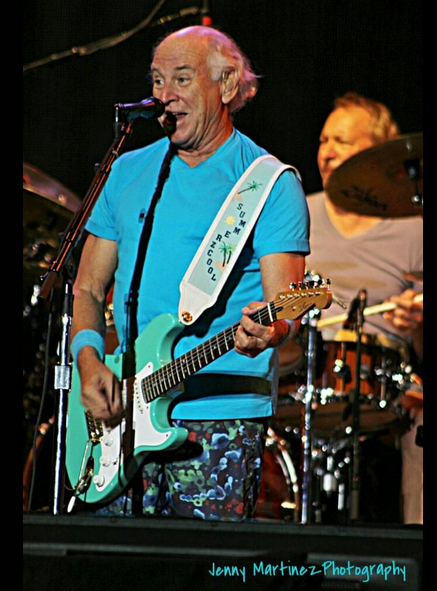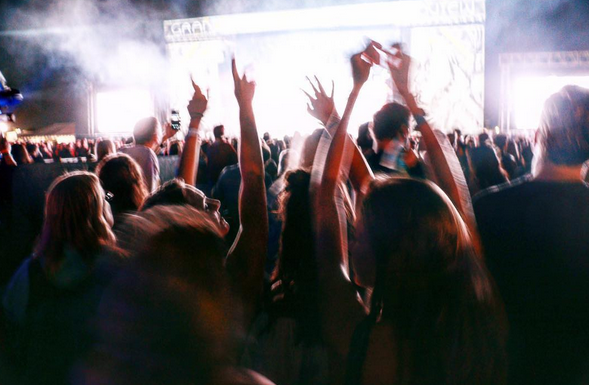 above my view from Fall Out Boy on Friday – yes the Grandview Stage on Friday went from Sugar Ray to Echosmith to Grouplove to Fall Out Boy = amazing
also amazing on stage with Fall Out Boy – "The Dancing Fire lights it up with Fall Out Boy! Fire, Aerial, & Pyrotechnics!"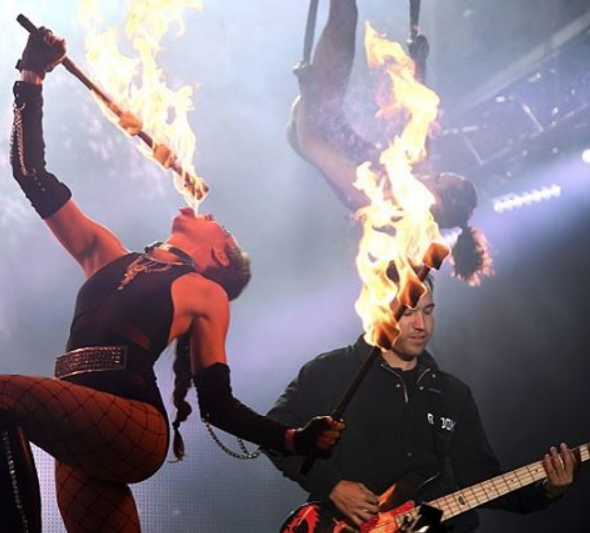 Harry shares the fireworks from Fall Out Boy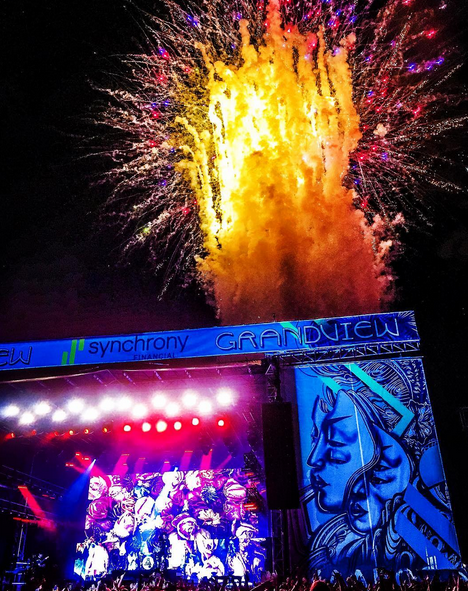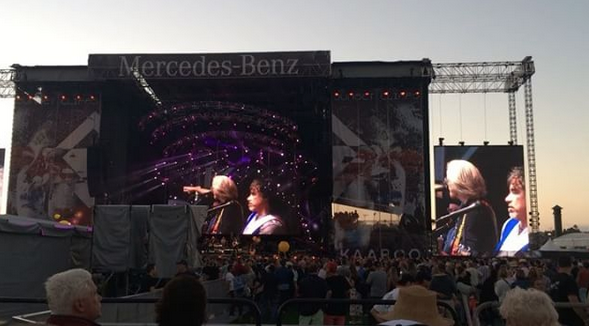 lucky for us, on Friday ISH kept his eye on the Sunset Cliffs stage and saw Hall & Oats then on Saturday ISH had us covered for this shot of Lenny Kravitz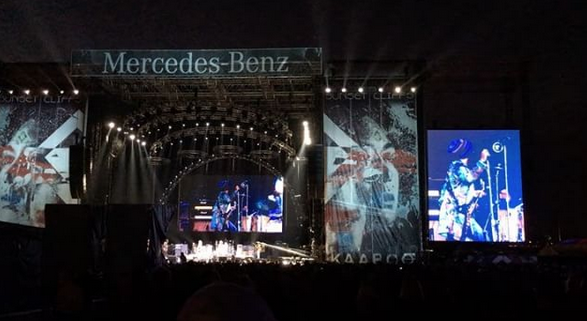 And Danielle shows us how popular Lenny is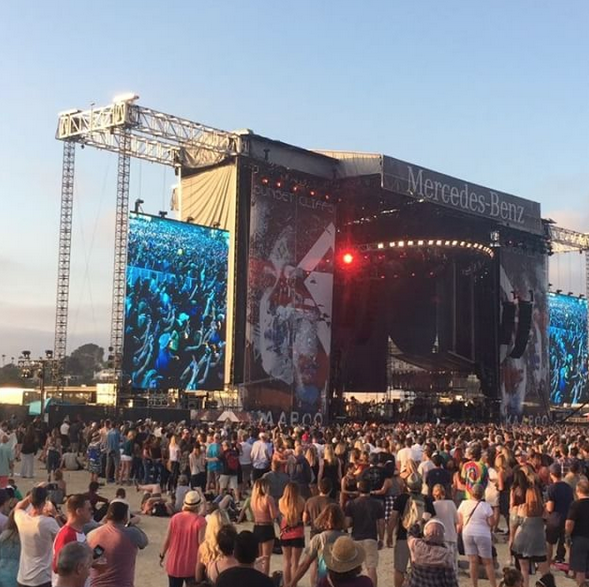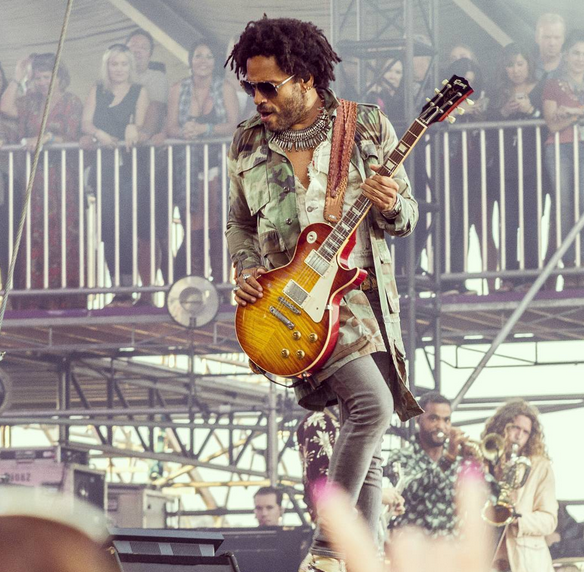 If a close up shot of Lenny is what you're looking for – Memo has you!  Before Lenny on the Sunset Cliffs Stage was Third Eye Blind – which Memo also captured beautifully.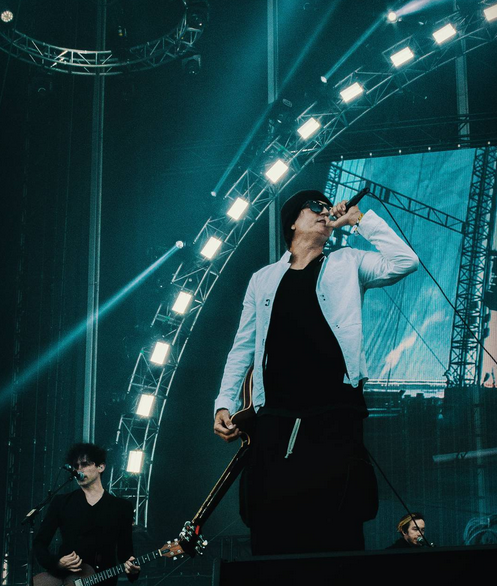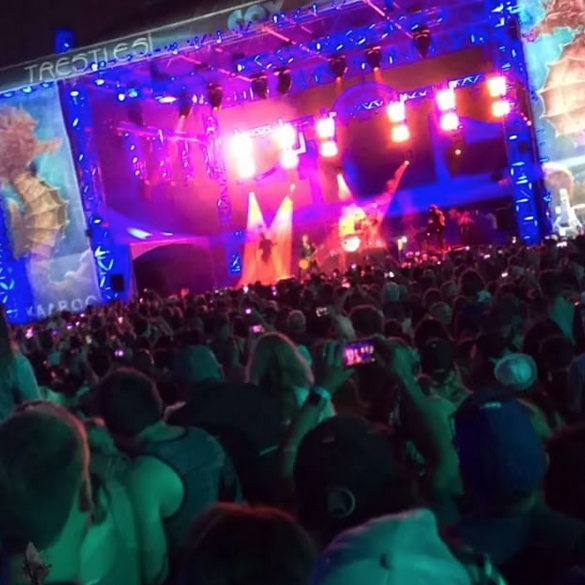 Sophia spent part of Saturday with the Goo Goo Dolls, above at the Trestles Stage, while Hao was at the Grandview Stage first to help Flo Rida celebrate his birthday (picture below) and then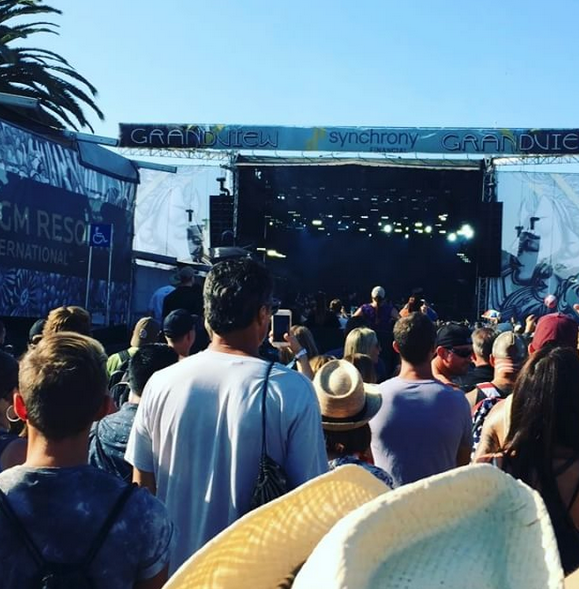 for the Chainsmokers (picture below) & if you think Hao's photo is rad you're not alone the Chainsmokers themselves liked it on IG.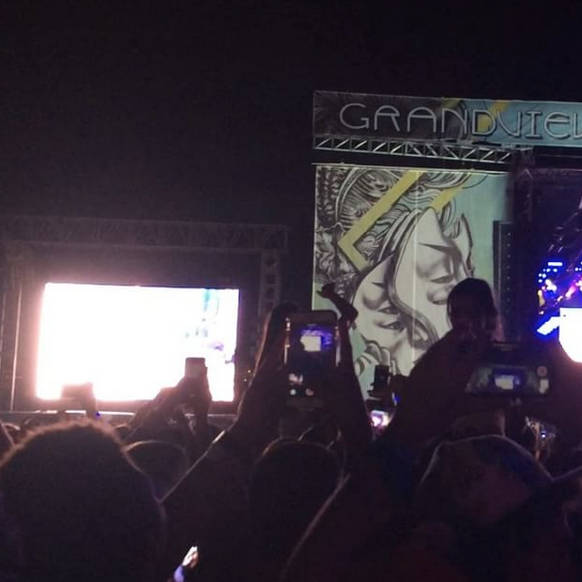 Hao IG is pretty amazing as he also had time to catch some Lenny Kravitz & Goo Goo Dolls so on Saturday night he was at Sunset Cliffs, Grandview & Trestles stages.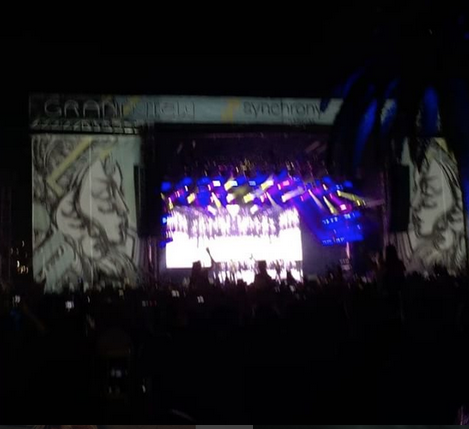 Before we leave the Chainsmokers – Angela above was loving the "100% Crowd Participation"   KAABOO really was such a fun crowd!
below Arturo captured the Chainsmokers set design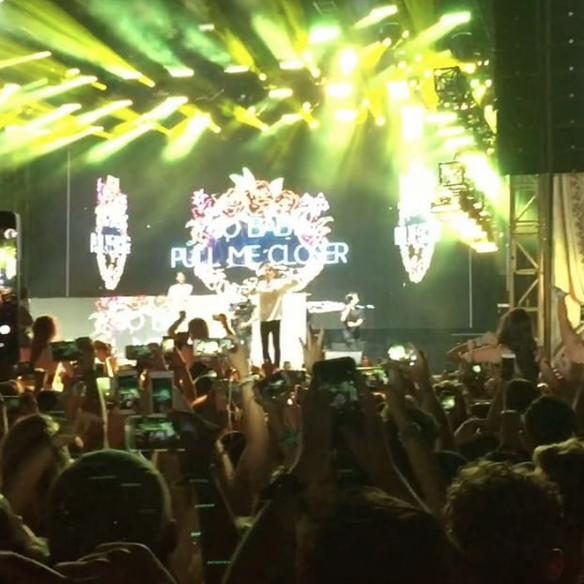 Yes, I think Andrew from the Chainsmokers winked at me so I might have looked for lots of their rad photos.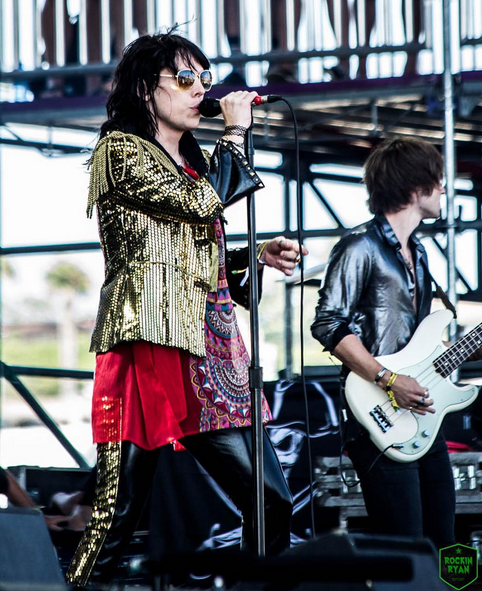 Rockin Ryan, who is a published photographer, shares this incredible shot, above of The Struts on Saturday early afternoon on the Sunset Cliffs stage and below Rockin Ryan's amazing shot of The Shelters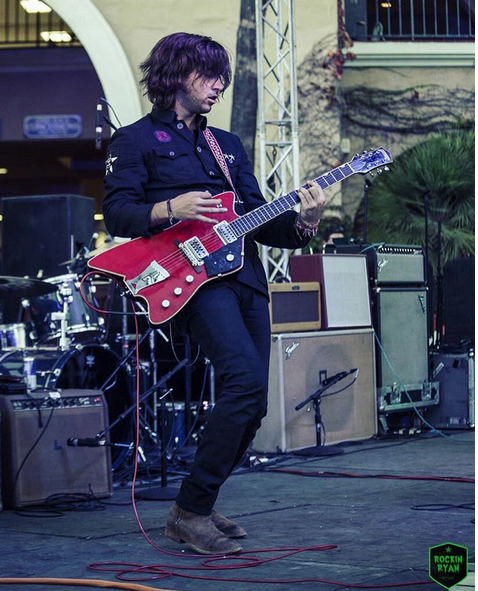 Frank captured this up close photo of Luke Spiller of The Struts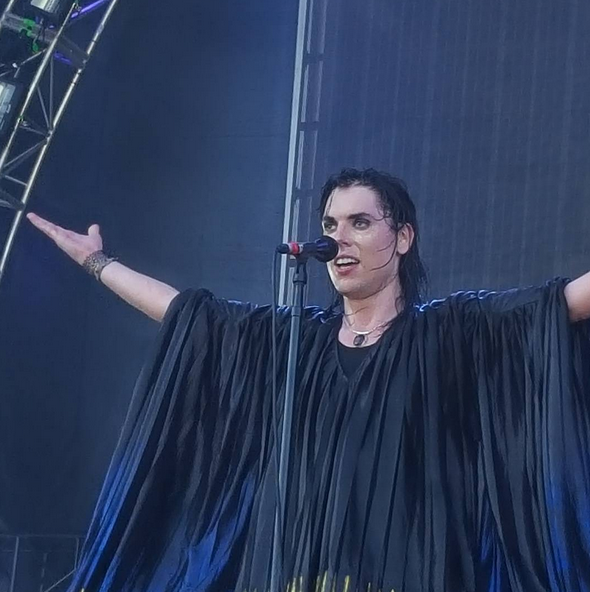 Also on Saturday the iconic Aerosmith on the Sunset Cliffs Stage as captured by ISH.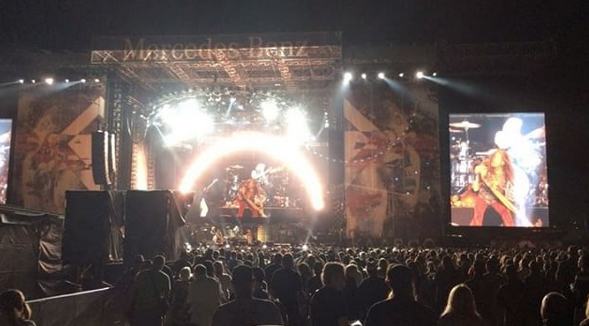 Below just one of the amazing shots captured by Micah Wright – photographer with Getty & Lonely Planet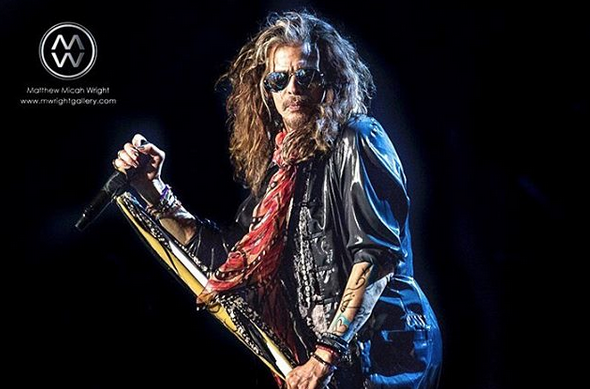 Saturday late night Steve Aoki enjoyed by Kayte Bataille – love to see the "hands in the air"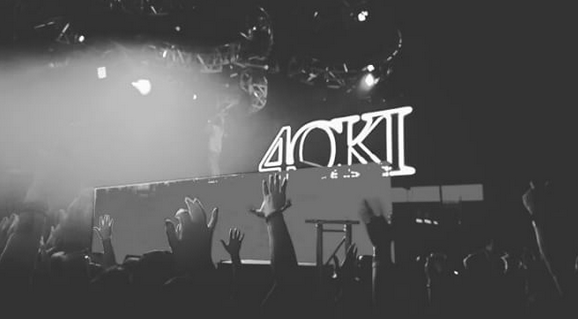 Still more – here comes Sunday . . .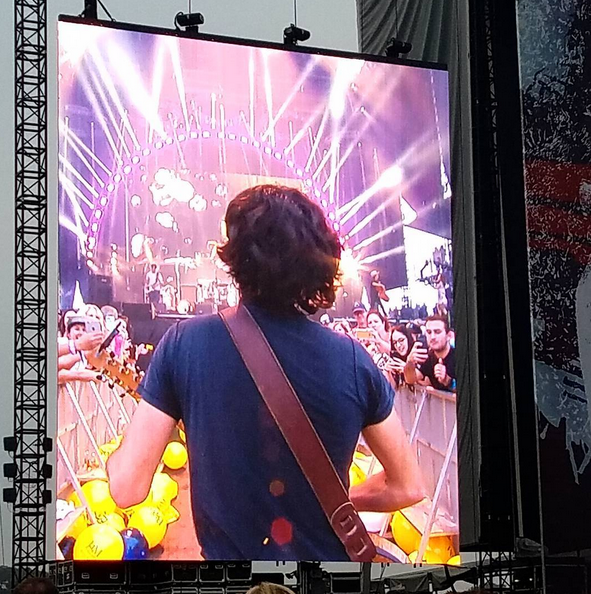 Jessica captured this incredible shot of The Avett Brothers on Sunday early evening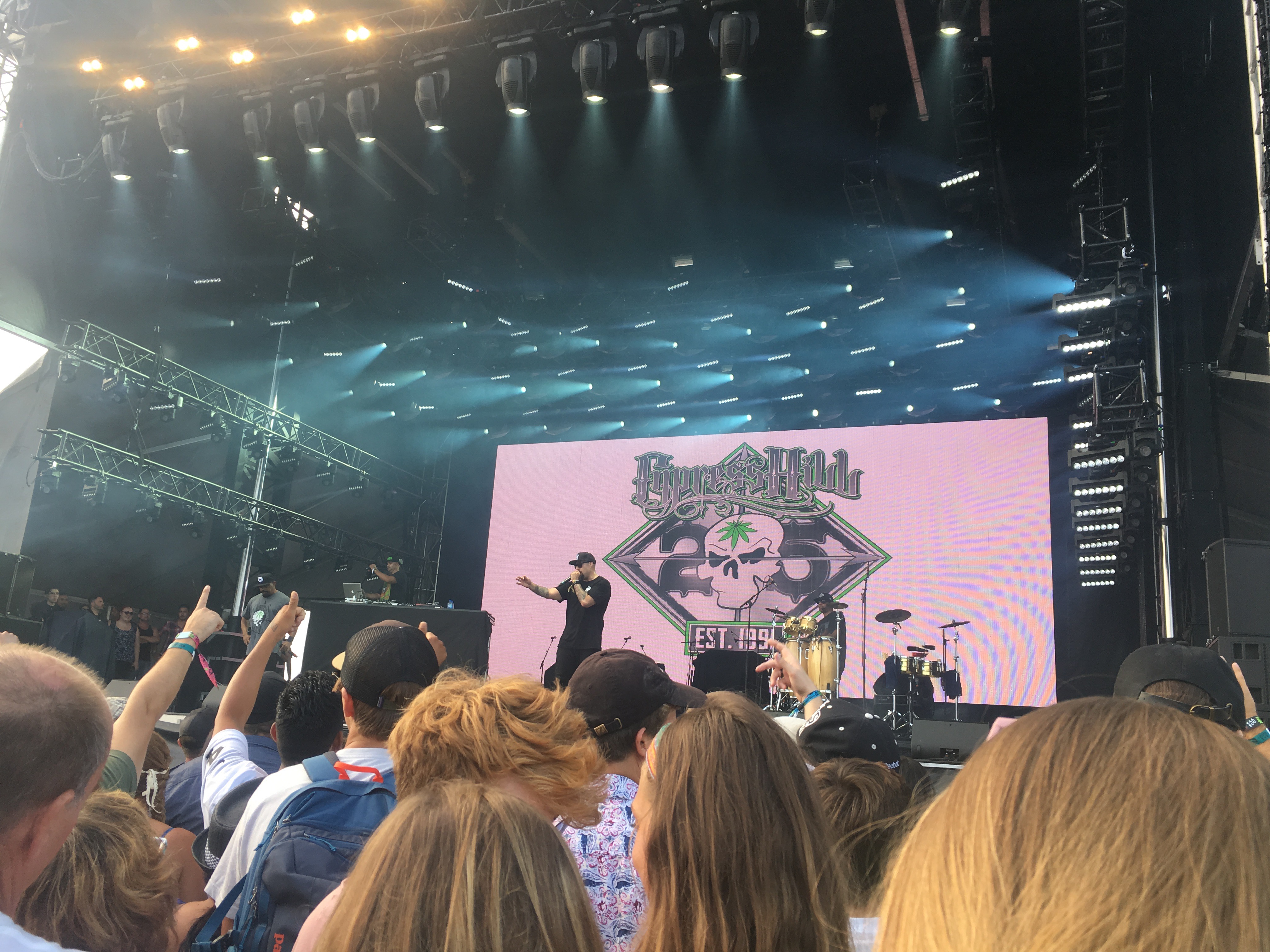 while I got a  shot of Cypress Hill on the Grandview Stage above and Cold War Kids on Trestles below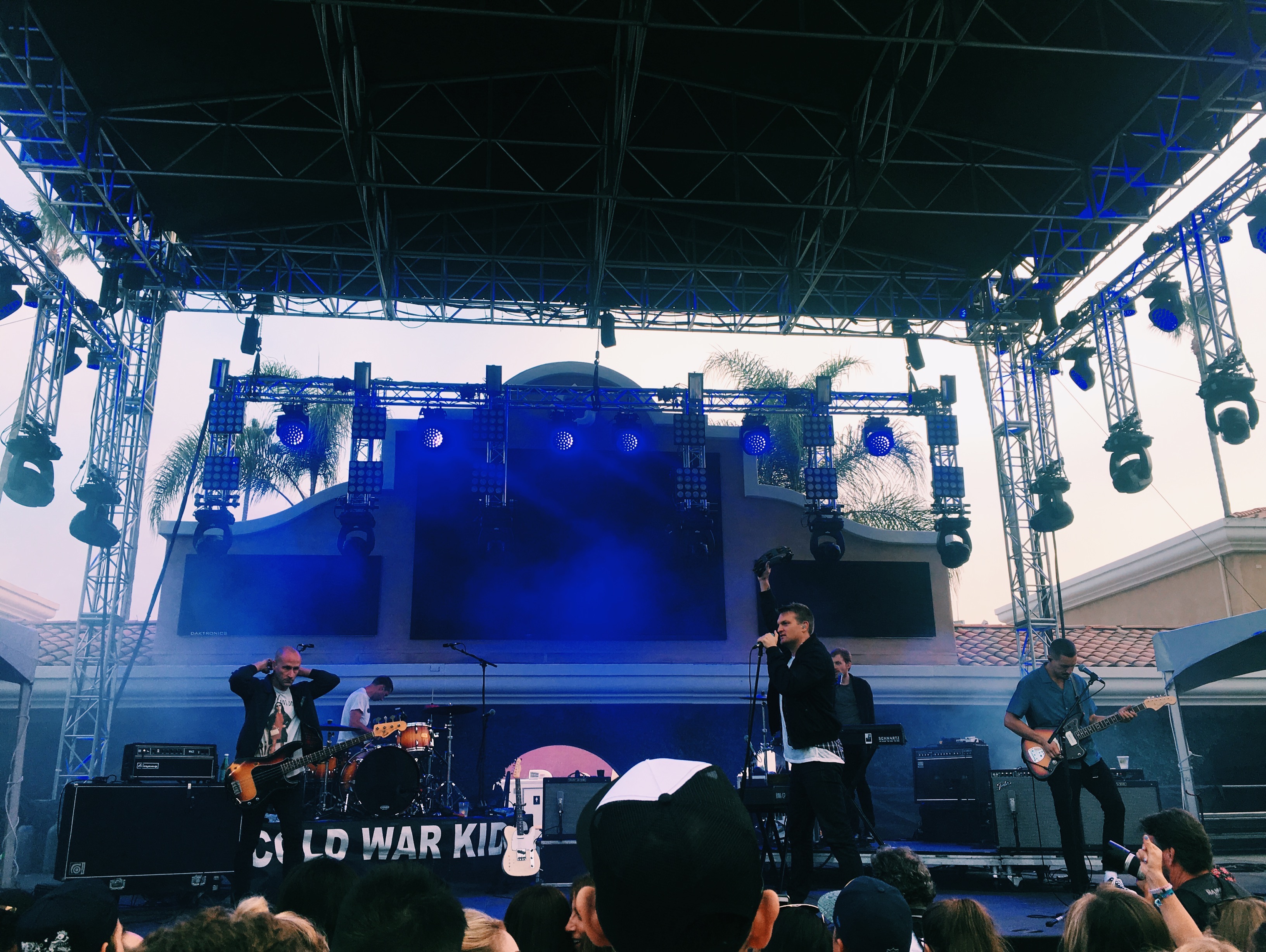 Sunday – Rebulution with Michelle Burke. 
Thank you again to all the contributors – there were truly so many shows across so many stages that there's no way I could have shared highlights of this many shows without everyone's willingness to share photos.  Takes a village to cover a festival this big!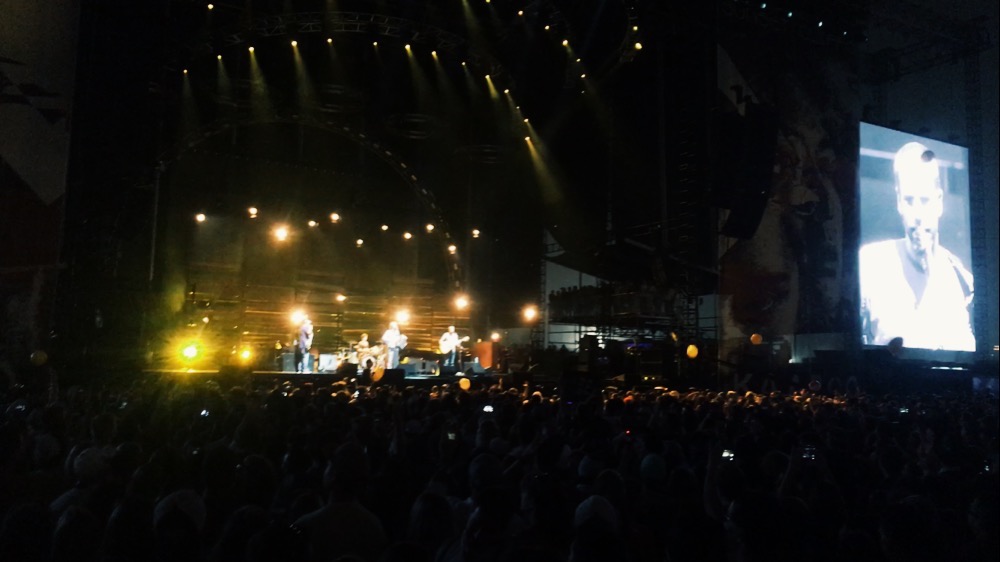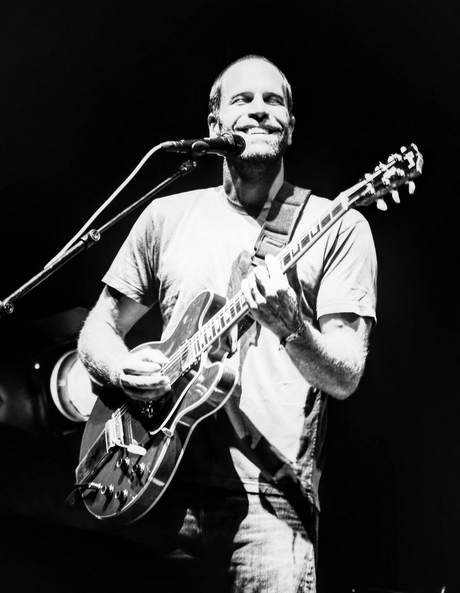 and shutting it down with Jack Johnson on Sunday photos by me & then Olivia Doan.
COMEDY
Jenny Martinez Photos captured so many wonderful photos including Dana Carvey and Jeff Ross on Friday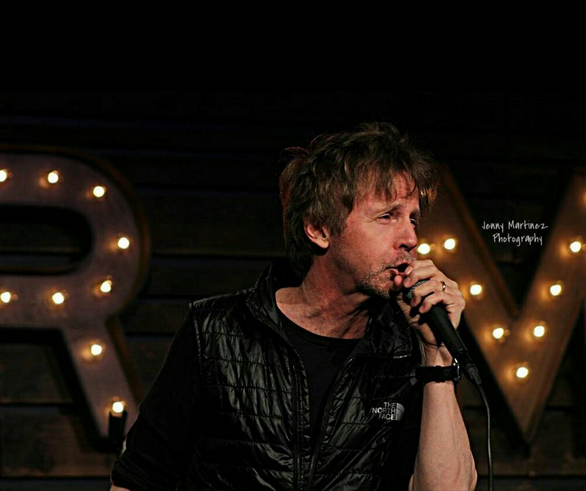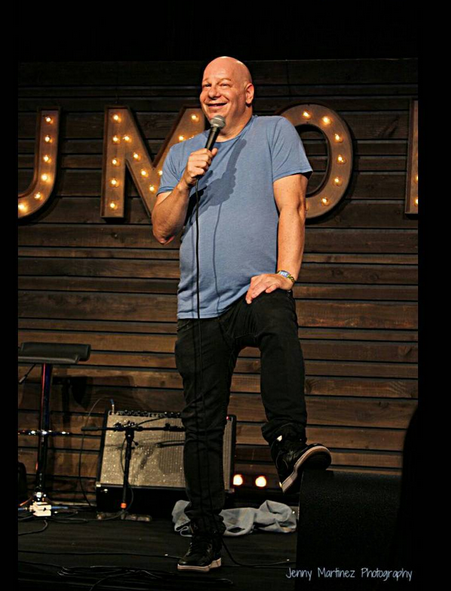 "Jeff Ross the Roast Master General!  This guy killed it on stage super hilarious!  Must see next time he's in your town!"  Jenny Martinez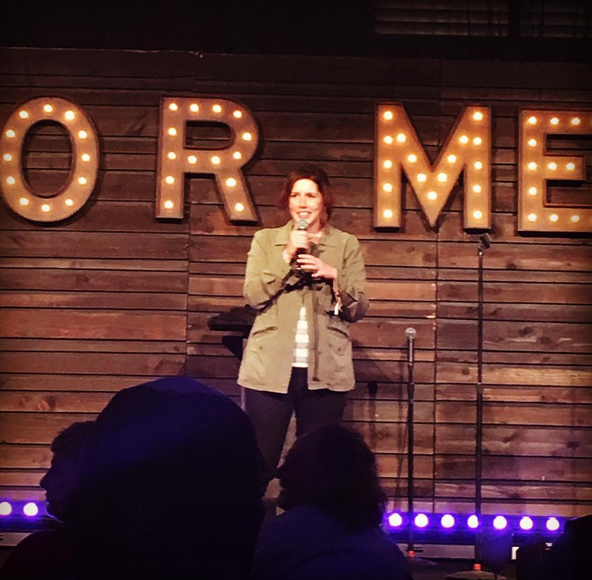 Anitra from the Non-Profit  Americana Nueva that focuses on GENDER EQUALITY, AND SOCIAL JUSTICE in business, family, and beyond captured this shot of Vaness Bayer on Saturday & be following Anitra on IG because soon she'll be posting more including Sarah Silverman.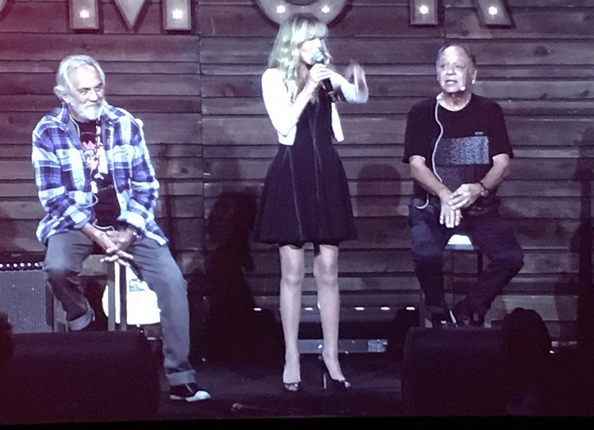 on Sunday ISH laughed with Cheech & Chong – thanks ISH for having awesome pictures all 3 days
ART
There was art done in advance and art done live.  And yes art for sale.  Here are just a few of the amazing works.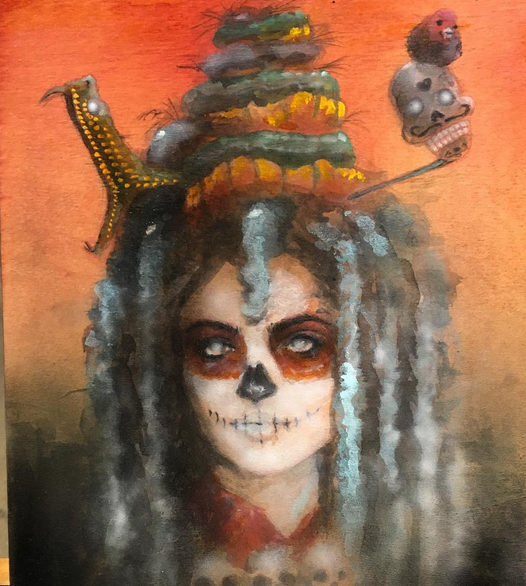 "Leviathan" by Brett Crawford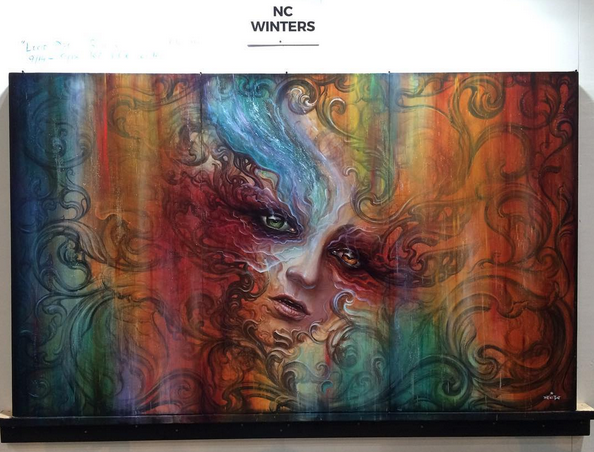 "Lucid Dream, Reflections on Ocean" by NC Winters
"Going Down the Rabbit Hole" by LOLO – click picture for a video
Arbor Skateboards, if you're reading this KAABOO is a rad place to find artists for future board series.
Oh – there was interactive art too- I'm loving all the pictures I'm seeing of festival goers with Taped Metal Canvas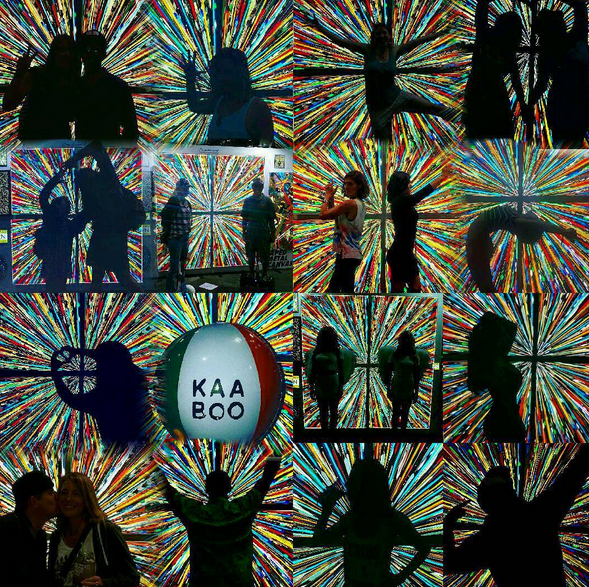 as far as walking art, Alex saw Glassman or is it Mr. Glass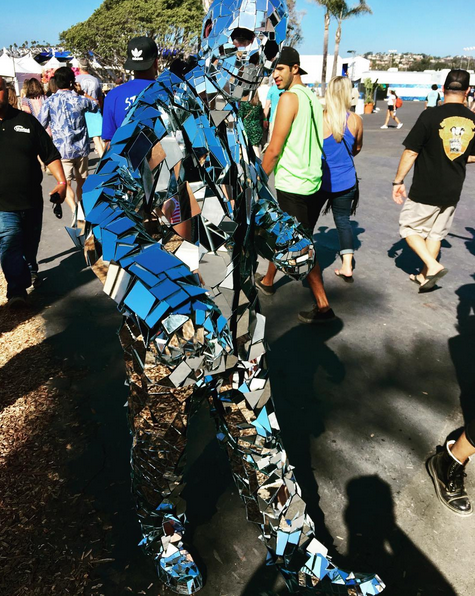 for more art see my post on Art at KAABOO interview with Aaron Glasson, Creative Director PangeaSeed
FOOD
There was a lot of food and I'm not talking "wizard fingers" – you know the hot dogs you might find at other festivals.  KAABOO is about the grab-n-go gourmet.  You could find it at Posh Nosh, on the boulevard, and at the stages – Sunset Cliffs Stage, Trestles Stage, Grandview Stage, Palate Stage & Encore.  Food was abundant & delicious.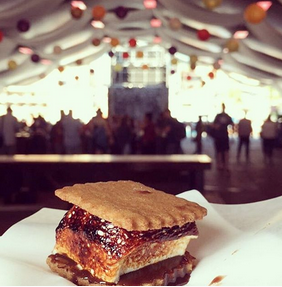 Gourmet S'Mores by Mallow Mallow in Posh Nosh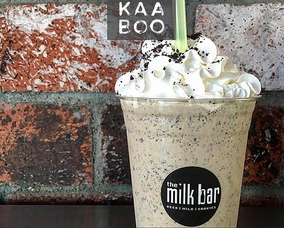 Milkshake Shenanigans from The Milk Bar in North Park after all cookies + milk + beer make the world go round
INDULGENCES
A returning favorite for me – Paul Mitchell.  Keeping a festival look going for 3 days can be hard – Paul Mitchell had me & everyone else covered.  Yes get your hair & makeup done or redone right at the festival.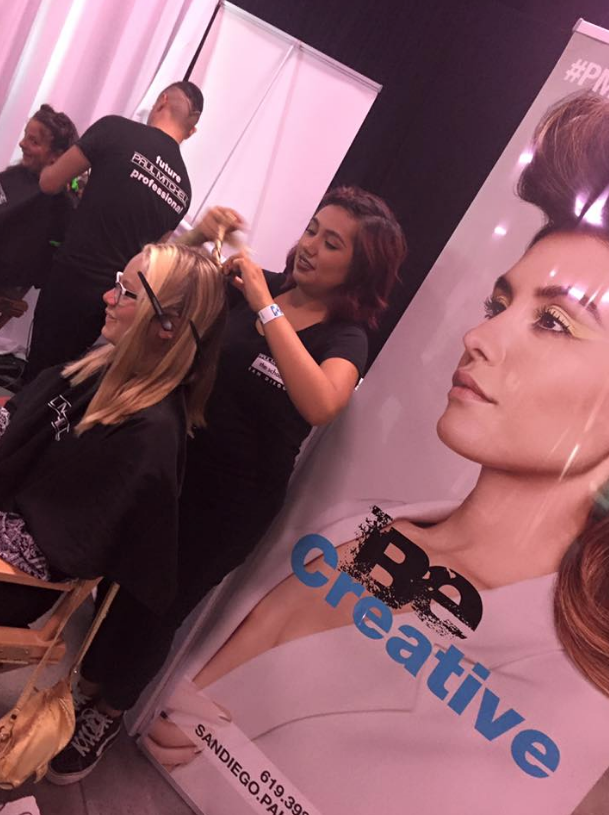 Above my Step 1 on KAABOO arrival go direct to Paul Mitchell.   For more on the school see my post & their site.
A new favorite Savvi Jewels.  What better place to start wearing your headband & embrace your inner princess than a festival?  I did say start because once you've found your inner princess – treasure her & take her out!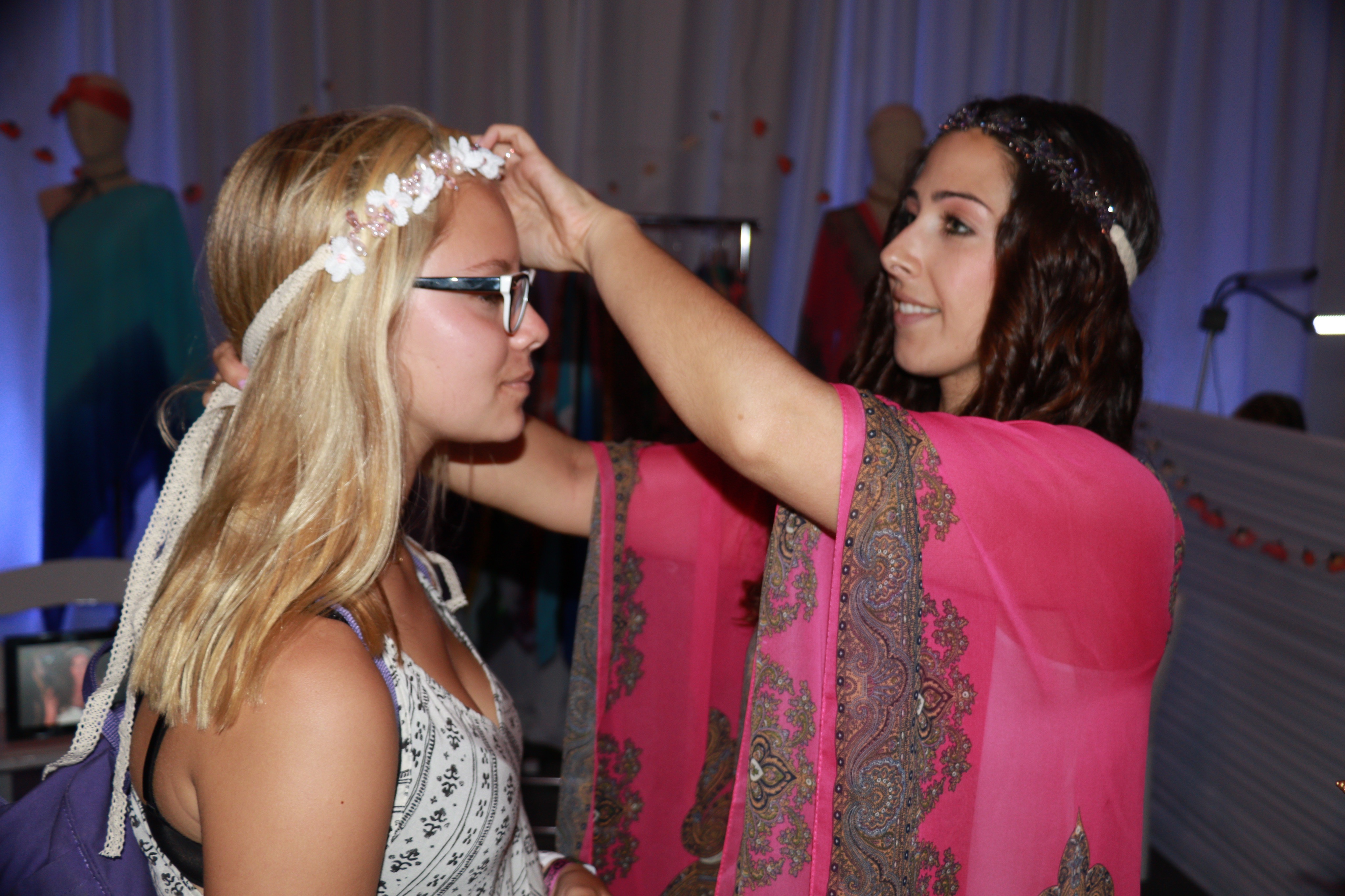 The best find of KAABOO for me was My_Wraps Wraps Wristband Headphones – Anti-Tangle Storage with Superior Sound. #wearyoursound with style. They don't just look great they sound great too!

When function & fashion unite – Super Powers Activated – I love these headphones & don't know how I lived without them.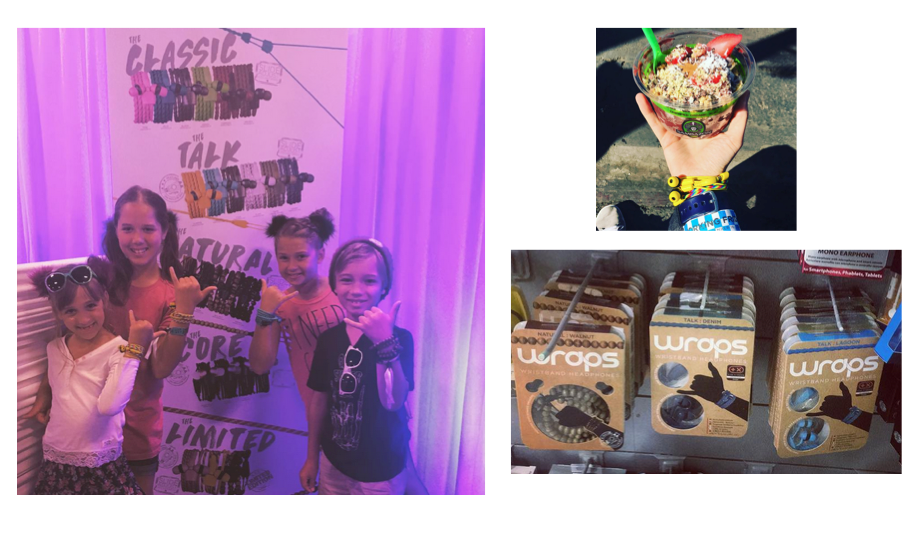 MEMORIES
The best part of any event to me is the memories with friends.  These are a friendship pictures that I just had to share.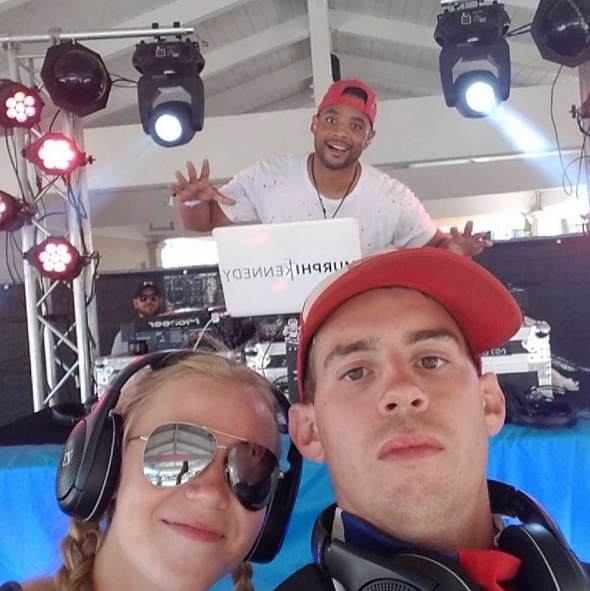 Murphi Kennedy, resident DJ at the Omnia SD had fun working & with friends – win-win!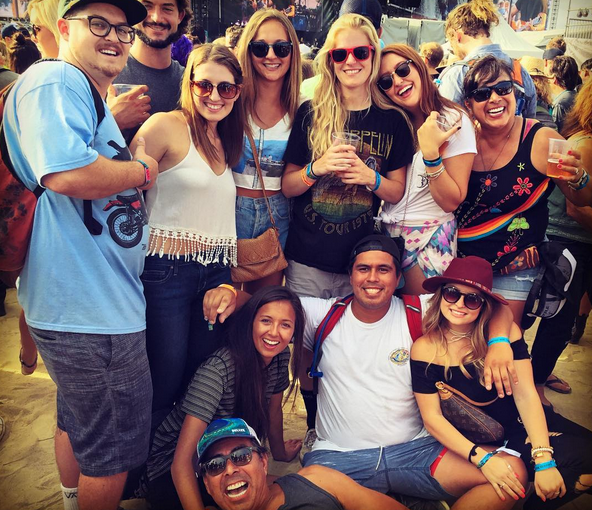 The week after KAABOO, Mark is ready to go back!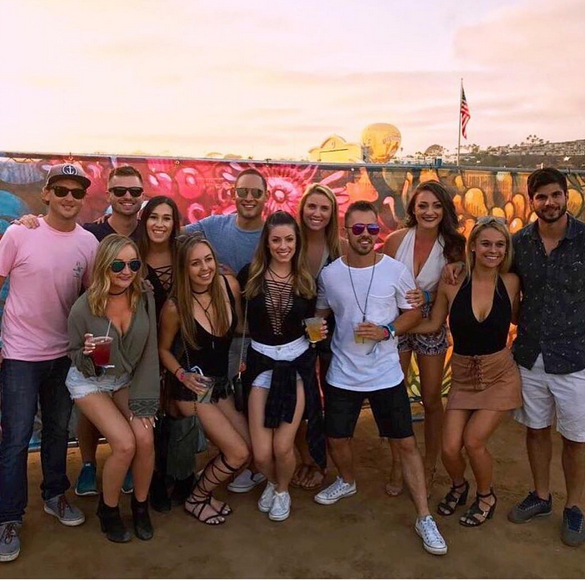 The Real O Marruiz had a blast with his squad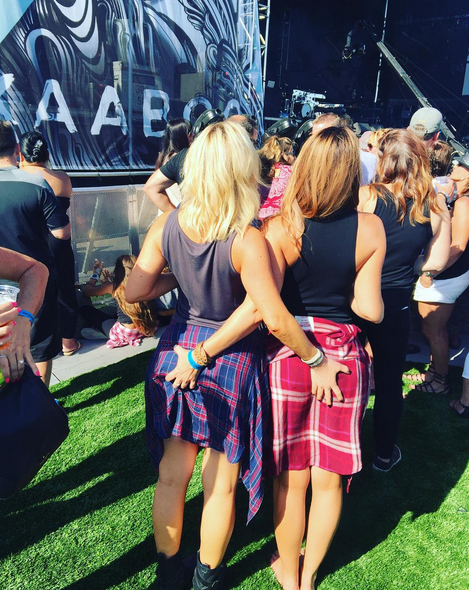 Erin with her friend Jamie because "Sometimes you need a hand from a bestie!"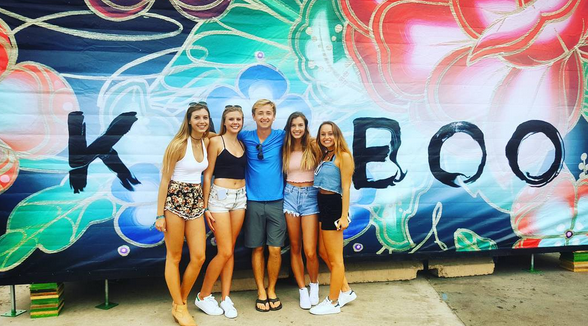 Shaiden came back to San Diego for KAABOO!   I'm from San Diego are but I'd say KAABOO is worth traveling for.
Donovan with "Da Boyz" & me below with just some of Da Girlz – oh yes we be wearing glitter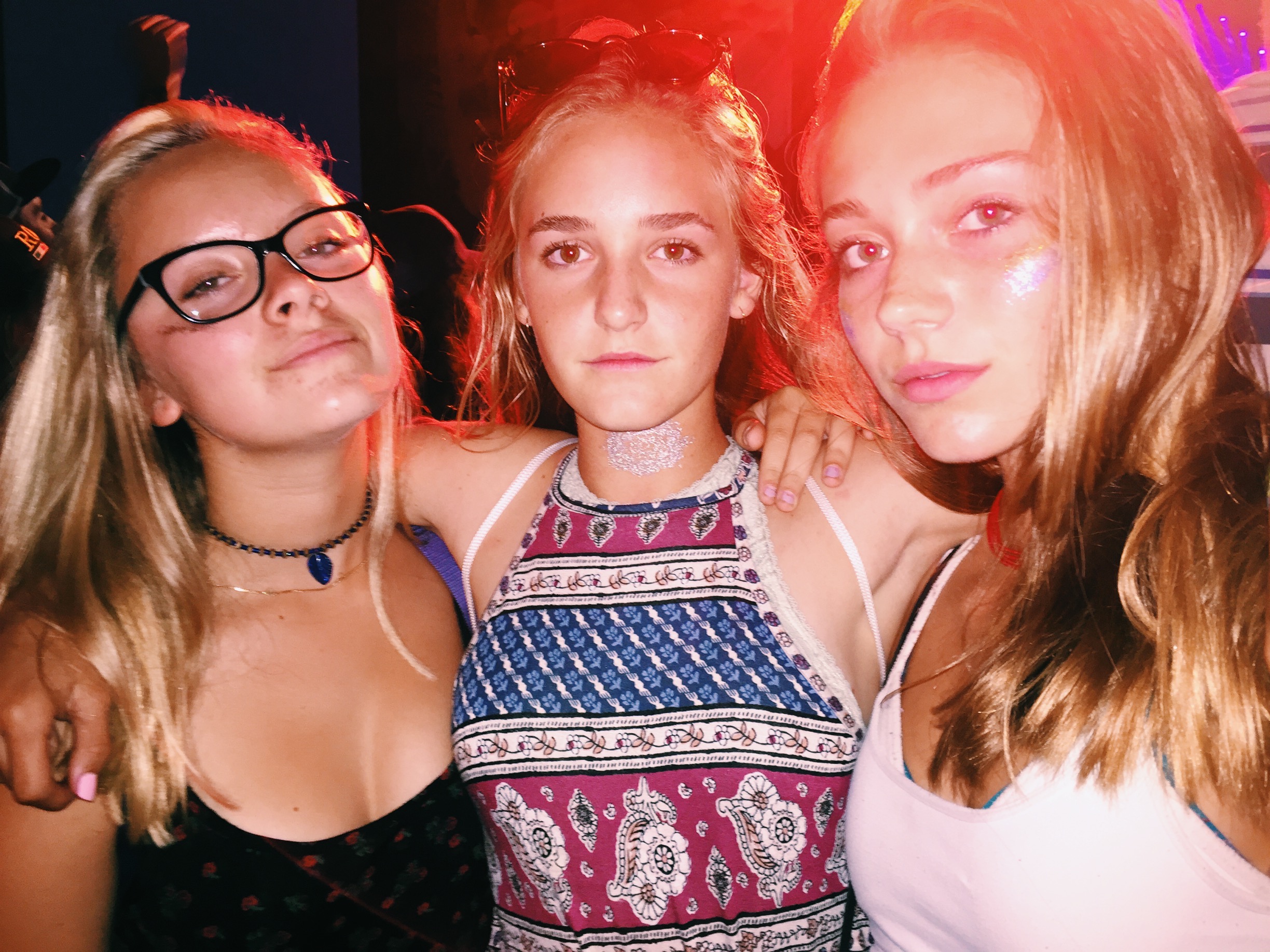 WAIT THERE WAS MORE
Yes, there was more.  A KAABOO Charity Poker Tournament on Friday & Saturday 10:30pm.  You played with pros – Phil Hellmuth, Maria Ho, and Mark Kroon with the YMCA benefiting on Friday and Voices for the Children benefiting Saturday.  Who says you can't have fun & help others?
KAABOO believes "that local charitable organizations have the ability to affect major change in a community.  With that in mind, we have focused our partnership and giving efforts in the San Diego Area.  One dollar of every pass sold by KAABOO will be distributed among our four title sharity partners through our charitable giving program:  KINDNESS."
Yup, I read the KAABOO Guide.  See page 31 for all the details on how KAABOO supports San Diego Community.  The 4 charities for 2016:  YMCA – Military Support, San Diego Foundation of Music – music & arts education programs, Voice of the Children – helping foster children, and Surfrider – protecting the environment.
You know what was missing?  Porta Potties & I say hallelujah for flushing potties & bathrooms with mirrors.  Nothing says style like running water.
If you have something to share from KAABOO – share it – one of the many beauties of blog writing – it's easy to update.  My e-mail is easy to find on my skatingfashionista IG bio.
NOW WHAT ???
Now what – it's time to get ready for next year – who's with me???

Details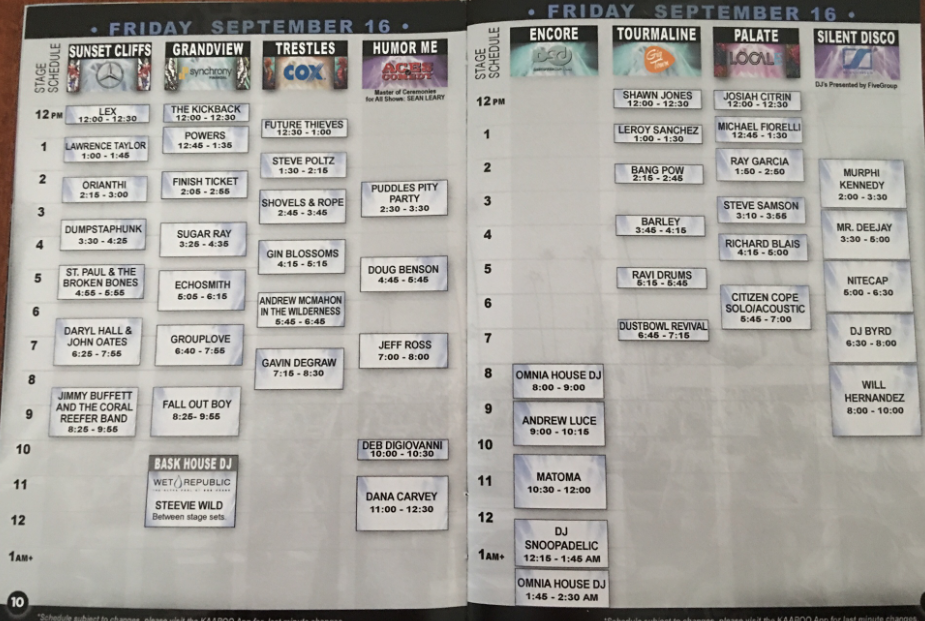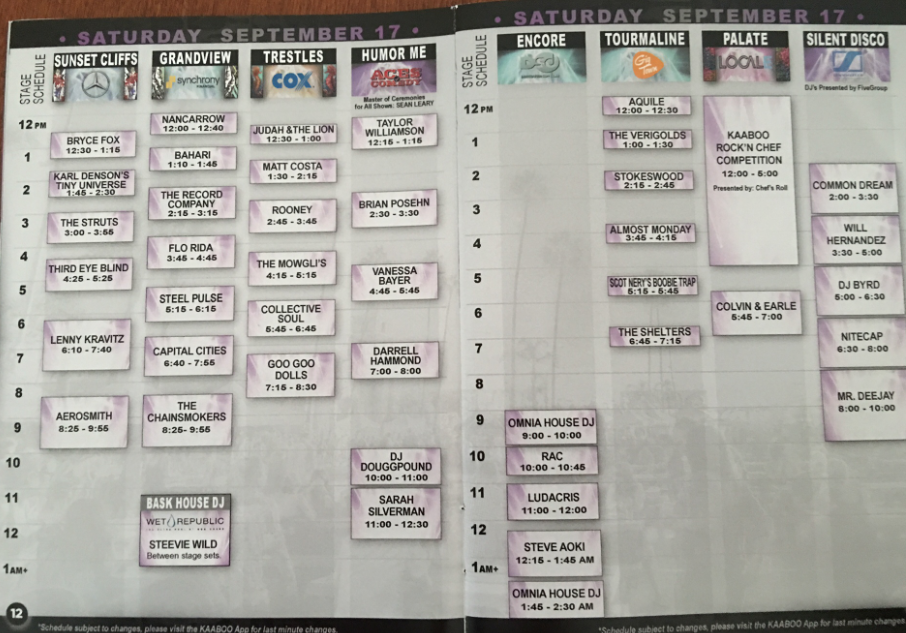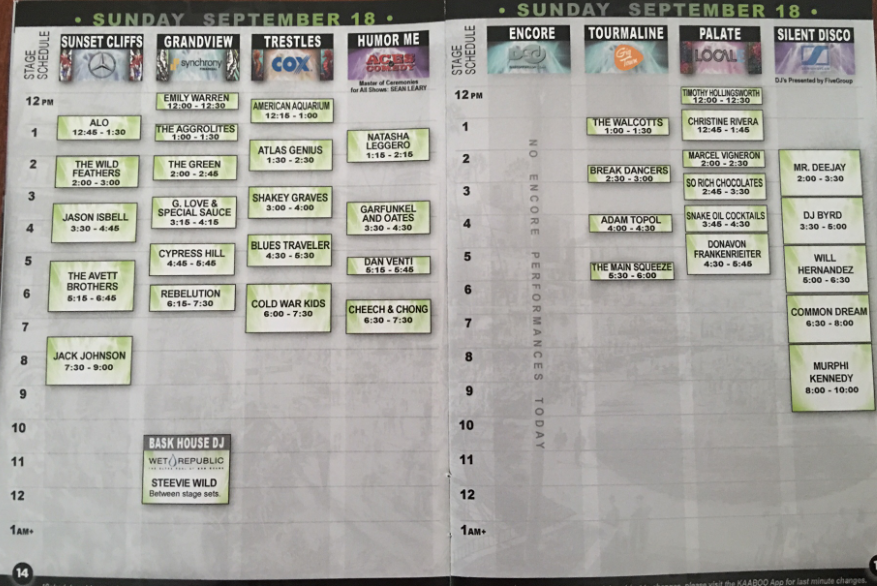 Save
Save
Save
Save
Save
Save
Save
Save
Save
Save
Save
Save
Save
Save
Save
Save
Save
Save
Save
Save
Save
Save
Save
Save
Save
Save
Save
Save
Save
Save
Save
Save
Save
Save
Save
Save
Save
Save
Save
Save
Save
Save
Save
Save
Save
Save
Save
Save
Save
Save
Save
Save
Save
Save
Save
Save
Save
Save
Save
Save
Save
Save
Save
Save
Save
Save
Save
Save
Save
Save
Save
Save
Save
Save
Save
Save
Save
Save
Save
Save
Save
Save
Save
Save
Save
Save
Save
Save
Save
Save
Save
Save
Save
Save
Save