When I started on this series of posts – Girls Who Shoot Girls Skateboarding – I wanted to include girls who shoot long boarders.  So I reached out to my friend Candy Dungan aka candybombing and that's how I met Harmony.
TBH I haven't met Candy or Harmony in person.  To me it's part of the beauty of being a blogger and a skateboarder – you meet people all around the world.
Each of the photographers got to choose how their blog post would go – here's Harmony's story.
My name is Harmony Thompson and I am a skateboarder, film maker, photographer, tattoo artist and musician from Vancouver BC.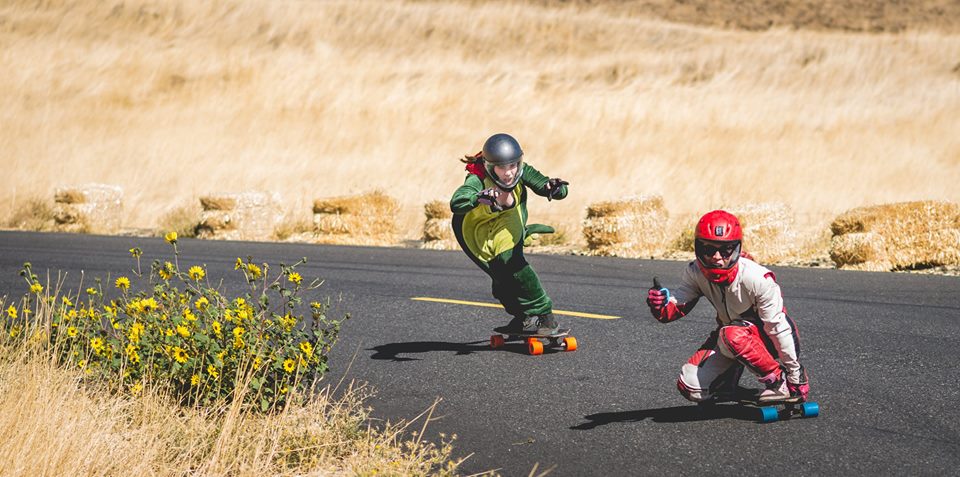 Harmony skating with Kady in a photo by Simon Lee
I started skateboarding a few years ago when I met a longboarder girl, Charlie.   She hooked me up with my first downhill board and inspired me to face my fears of falling and to just skate for the love of skating.  She also taught me how to fall safely, so I could feel more confident trying new and scarier things.   Since then I have fallen in love with all forms of skateboarding but mainly bowl, downhill and street.
As a photographer it seemed natural that eventually I would take pictures of the people around me and the things I had been experiencing, but I never thought I would end up with photos I had taken for fun published in one of my favorite magazines!
After separating my shoulder at Maryhill,  I was super bummed out that I couldn't enter my first race at Danger Bay (I was even registered!) so I decided to just go for fun and shoot pictures of my friends who were racing that day.
I ended up taking this really cool picture of my two good friends (Kady and Bhakti) who were practically holding hands through carnage corner. Later after sharing the pictures on facebook I was contacted by a girl named Candy from Concrete Wave,  who wanted to use the pictures I took of them in a little write up about girls in longboarding.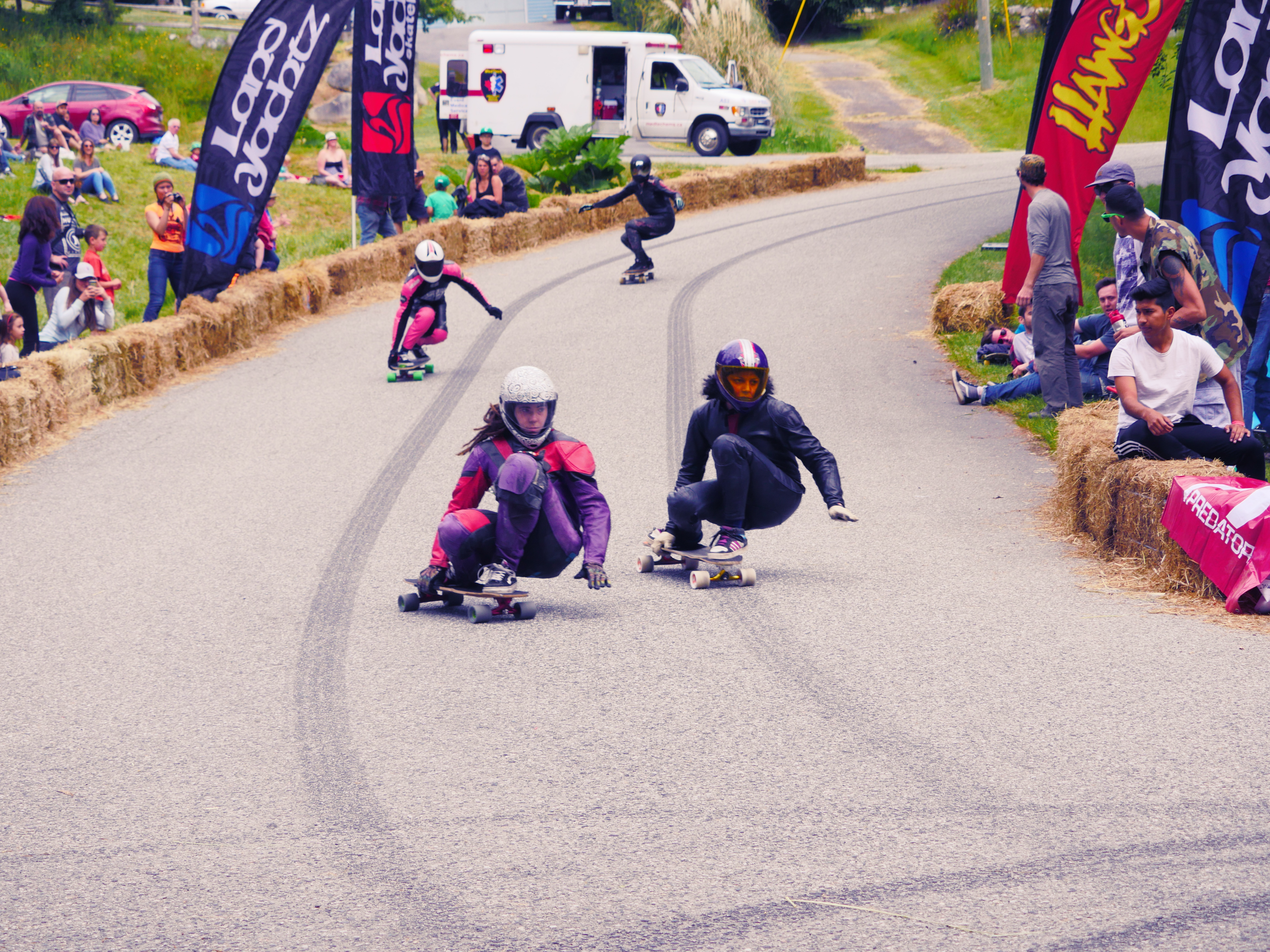 I was stoked that my first paid and published photography gig was from shooting pictures of my friends at an amazing event AND I got to tell them they were going to be in the 15th anniversary edition of concrete wave!
I remember Kady sharing a post of that picture with a caption something around the lines of  "whats better than a picture of 2 rad skater girls? one that was taken by another rad skater girl!" It was super cool to see how positively it impacted my friends, we were all rushing to get as many copies as we could! Suddenly I didn't feel so bad about my injury and I was super stoked that I was able to capture that moment for them!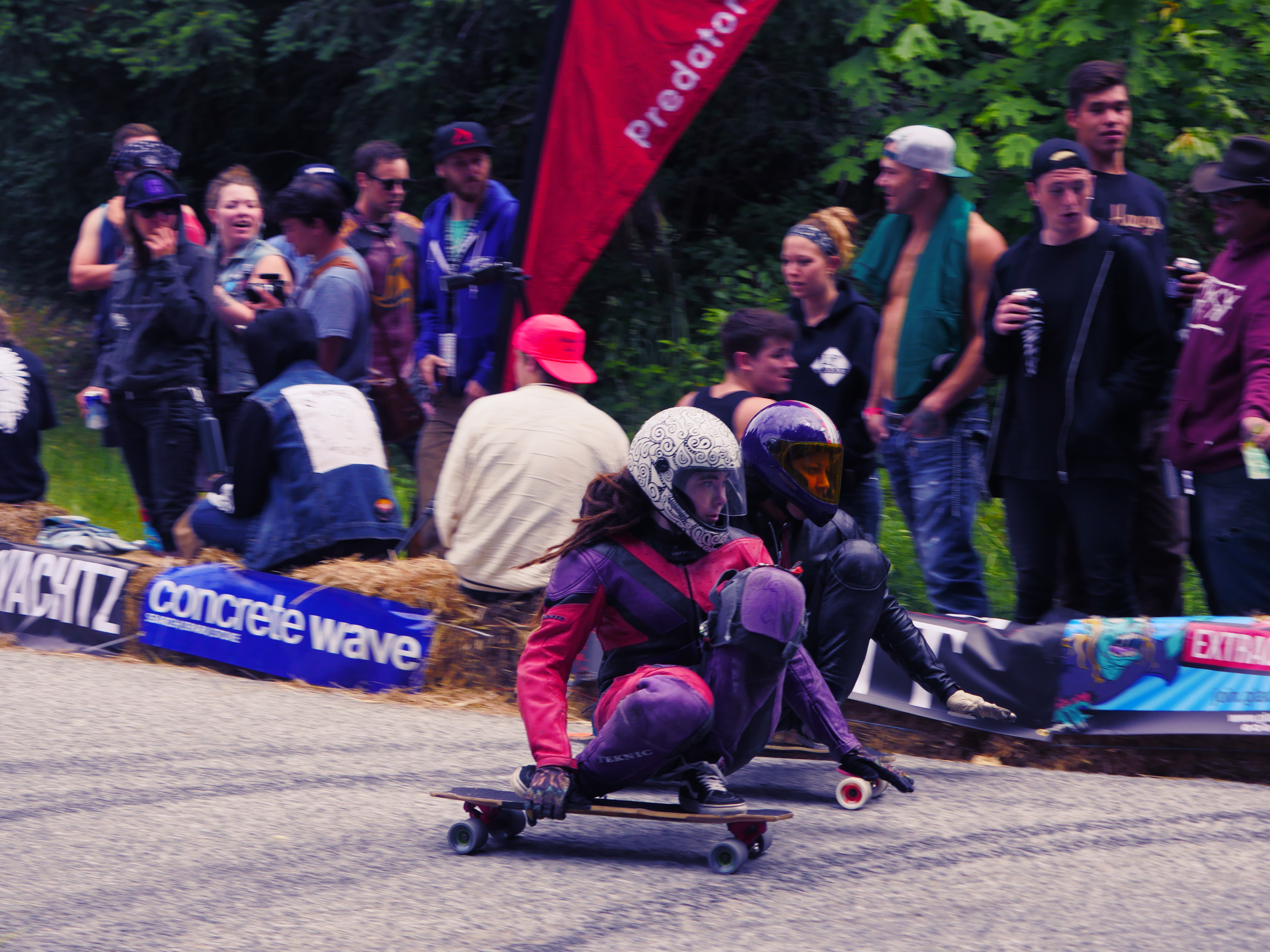 On another note Id like to give a little shout out to Chick Flip and the Skate Witches who taught me how to drop in and got me into the world of street skating as well as the Vancouver Ladyboarders (which is run by the lovely ladies in those pictures up there!) who continuously spread the stoke with everyone they come in contact with! It is so amazing to see all the support that is becoming available for female skaters and I think it can actually be really inspiring for a lot of the guys out there too! Keep on shredding!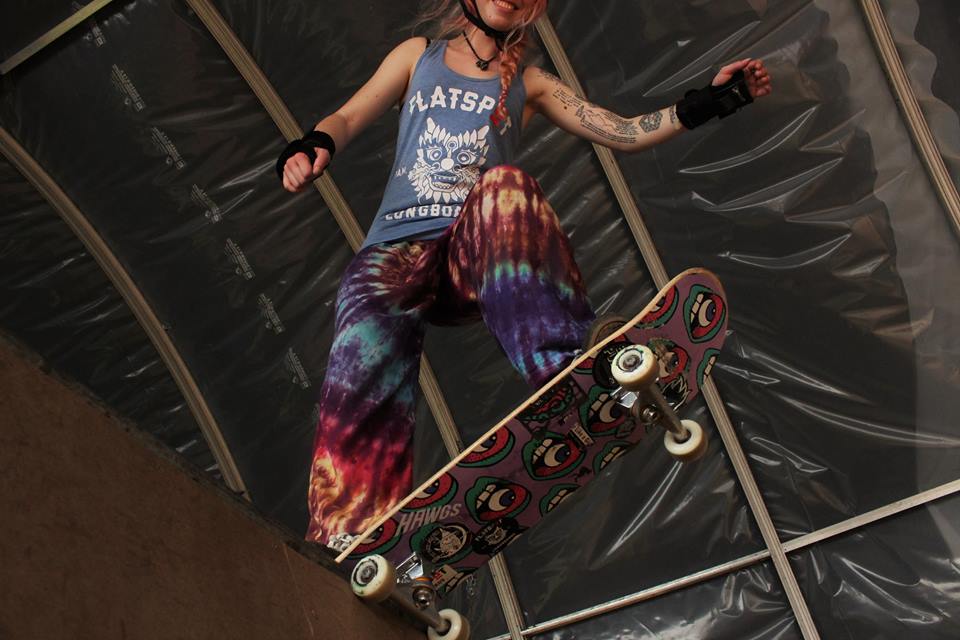 Harmony photo by Colin Buckley
If you are interested in seeing the random photography, videos, art or music that I create or if you just want to talk or skate or whatever, you can find me at facebook.com/soradsoharmony or youtube.com/soradsoharmony (pretty much anywhere at SoRadSoHarmony)
I am always stoked to meet more rad girls or people of any gender who want to skate and/or create in any way! So if you see me around or find me on the internet don't be shy to say hi or send me a message!
Much Love!
Harmony ~
Save
Save
Save
Save
Save
Save
Save