EXPOSURE Skate's Calli Kelsay has organized Skate Rising a youth program dedicated to lifting up our next generation.
I was lucky enough to attend the event Saturday 8/13/16 at the Encinitas Community Park.  If you missed it – no worries look for them on the second Saturday of every month at the park.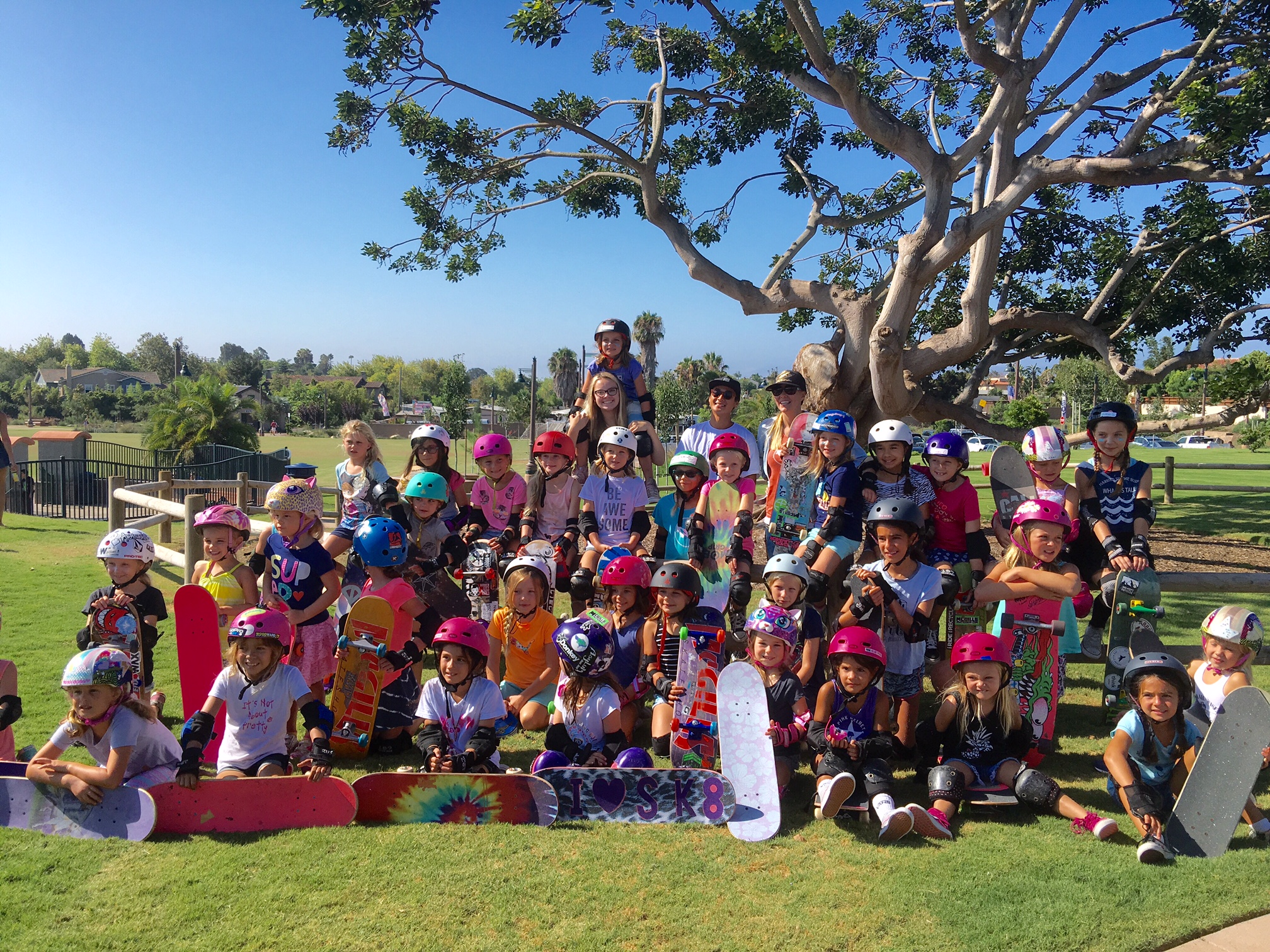 As you can see I wasn't alone.  There were tons of girls plus some very supportive boys.
Calli is super organized – the morning started off with us gathering to discuss bullying.  I've been bullied so I know it hurts & I want to be part of the solution not just bully back.
As one of the girls said bullying happens when someone's hurt and wants to carry it onto someone else.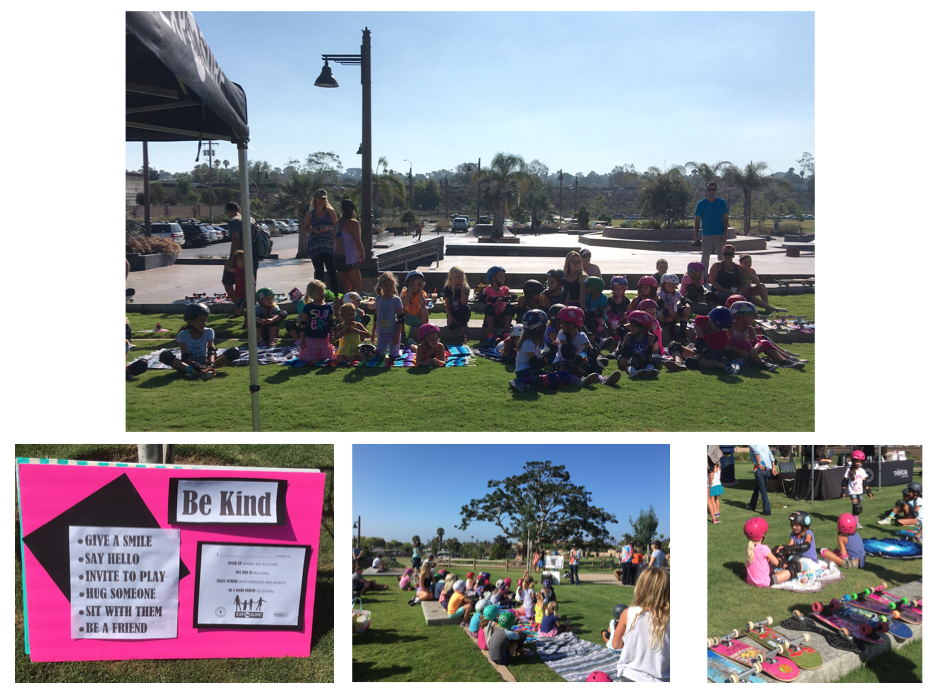 Bullying has many forms from the obvious of hitting to name calling, excluding, and telling lies about someone.
So what can we do?  Be kind.  I don't want to smile, say hi, open a door etc. for anyone that's bullied me but the girls are right that's the only way bullying will ever stop.  When people treat others with kindness – the bullying stops.
That doesn't mean you're saying bullying is ok.  It's never ok.  You should definitely stand up for yourself by telling the bully – NO it's not ok for you to treat me that way.
Over 50 girls signed "commit to kindness" contracts.  (picture above)  They pledged to Speak Up when I see bullying, Not Join in bullying, Treat Others with kindness & respect, and be a Good Friend to others.  Then we put 20 "back to school" kits together for kids that otherwise wouldn't have a new backpack with supplies.
Before we started to skate – we welcomed the girls who came from a far.  Alice May from Hong Kong came the furthest.  Connecticut and LA were there too – #girlscanskate all around the world!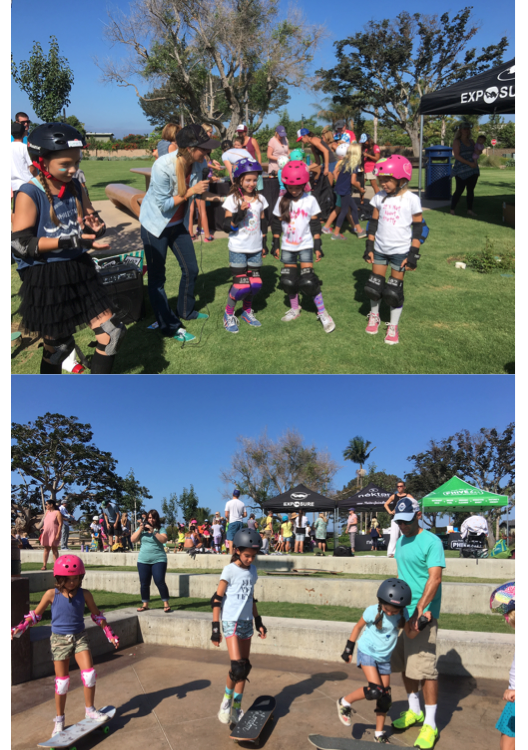 Jimmy Cao sent us all off with tips.  He then stayed and helped as did some moms, dads, and other skaters.
We skated park and we skated bowl.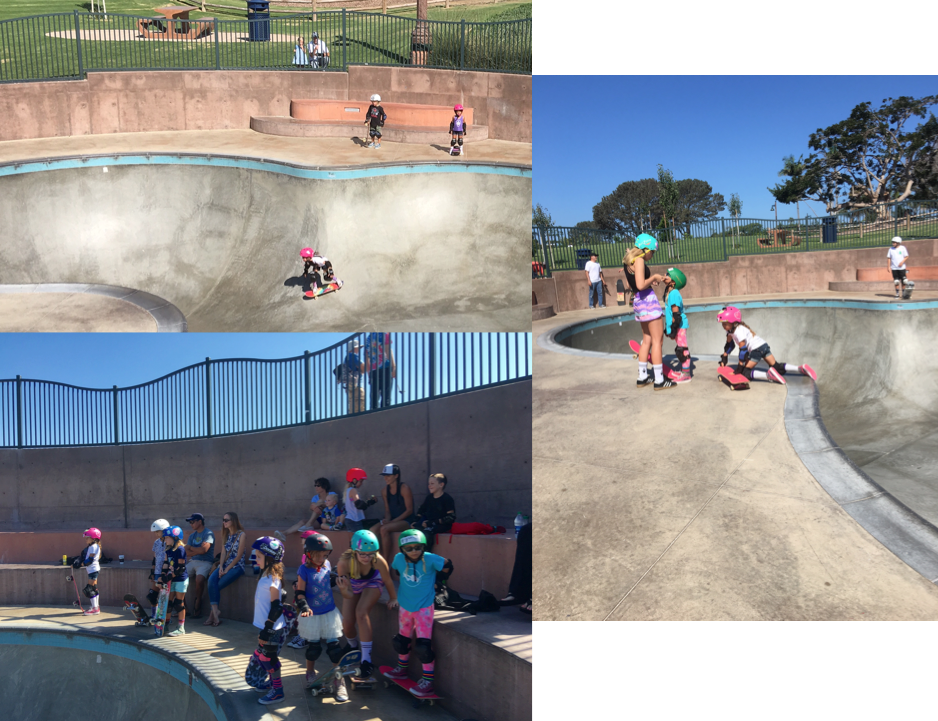 I'm ending the post with some more pictures and I'm answering the age questions.  Was I older than the other skatergirls?  Yes!   To me age is just a number – I don't pick my friends based on their age – I pick my friends based on their personalities.
till next time keep it stylish on & off the board