I started the blog because I believe more girls skateboard when they see stylish girls skateboarding.   Style to me is so much more than what you wear – it's how you wear it.
If someone looks confident yet approachable – that's style.  All the girls in this collage are stylish.  Each one of them skates and wants others to skate – skate because it's sport, art, transportation, relaxing, rolling yoga . . . skate because it's fun & always know #girlscanskate!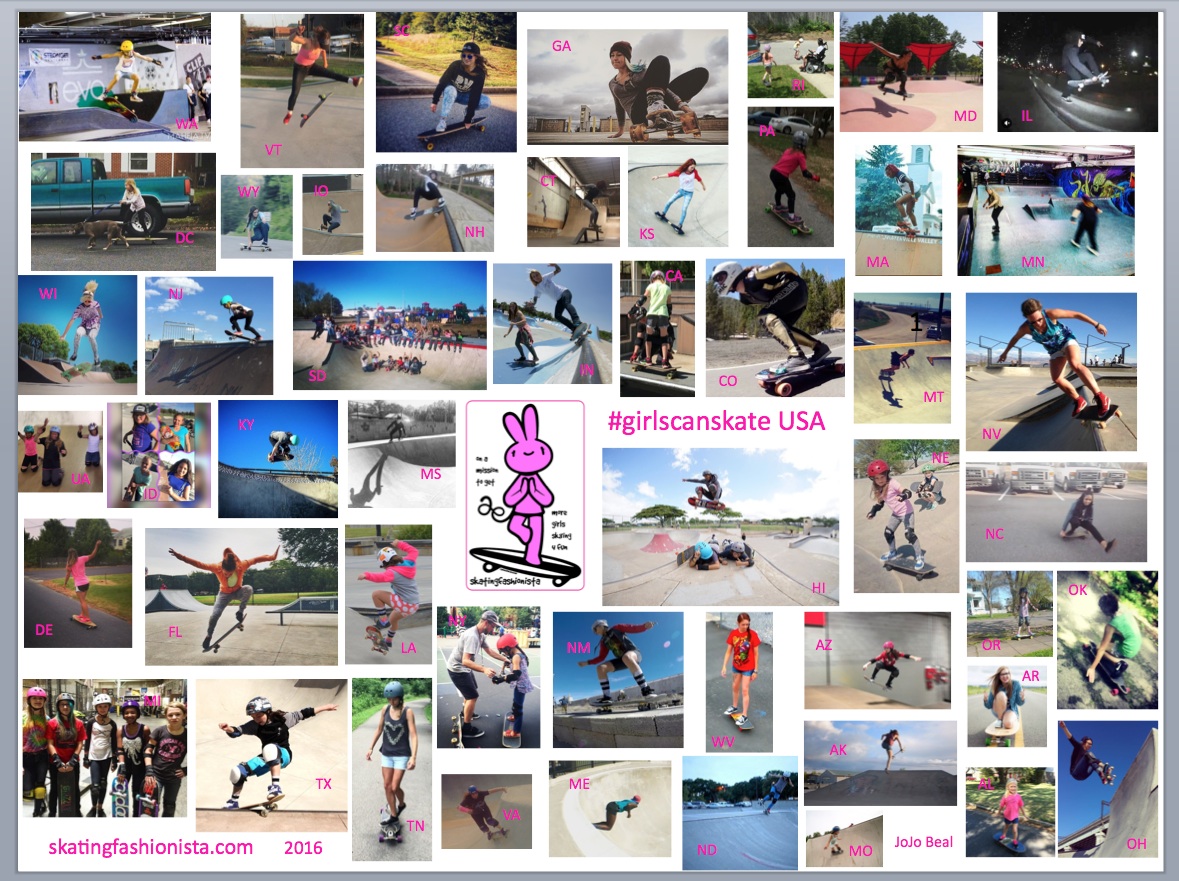 These girls show there's no wrong way to skate and no uniform in skateboarding.  So what are you waiting for pick a state or any location & go skate there!
Alabama               You're never to young or old to skate
Alaska                    It's never too cold to skate – there's always in doors
Arizona                 It's never too hot to skate – there's air conditioning
Arkansas             No matter where you move, your skateboard will go
California           Girls Scouts Skateboard
Colorado            Bomb hills not countries
Connecticut     Skating, traveling, eating & repeating is a life goal
Delaware           Stay positive when learning anything new
Florida                 Some waves are concrete
Georgia              Skateboarding and pizza can lead to happiness
Hawaii                 Your pictures not spirit can be deleted
Idaho                   Coexist
Illinois                 Anyone can encourage #girlscanskate
Indiana              Skateboarding builds a strong community
Iowa                    Skateboarding success is about getting back up
Kansas              Balance is the key in skateboarding & life
Kentucky          Travel on & with your skateboard
Louisiana           Most skaters don't compete – it's a choice
Maine                   Enjoy the now & know in time all things are possible
Maryland           Talent and style aren't gender dependent
Massachusetts     Face the Fear
Michigan             Support your local girl skater group
Minnesota          Success is on the other side of the comfort zone
Mississippi         What makes a skate park is its vibe
Missouri             Girls who skate with style have time to help others
Montana             Skateboard in a dress – if you want to
Nebraska            Share the love of skateboarding
Nevada                Red Shoe Tuesday
New Hampshire        Skate all the New England states
New Jersey          Hoboken is a real place with a real skate park
New Mexico        You can "be the change"
New York              Skateboarding is rolling yoga
North Carolina   Skateboard for transportation
North Dakota      Skate shops are a place to meet skaters
Ohio                          A buckeye is a tree
Oklahoma             Finding your true love on a skateboard does happen
Oregon                   Kick turn is my best trick
Pennsylvania      A day at a time, enjoying the journey
Rhode Island       Roll with your cause
South Carolina   You are limitless
South Dakota       Skate with your crew
Tennessee               Sidewalk surfing
Texas                           Everything is big in Texas
Utah                            Knee sliding is a skill
Vermont                    More skateboarders – that's good
Virginia                        Persistance is a life skill
Washington             Support your fellow skater girl – that's priority 1
West Virginia           Girls should be welcome at all skate parks
Wisconsin                  Fly through your obstacles
Wyoming                     Skateboarding can be a part of cross training
District of Columbia            Skateboarding or skate pulling ???