I was so busy at Clash yesterday – June 25, 2016 that I didn't even post to the blog.  Chasing down time chips is time consuming.  I'm back and here's my recap.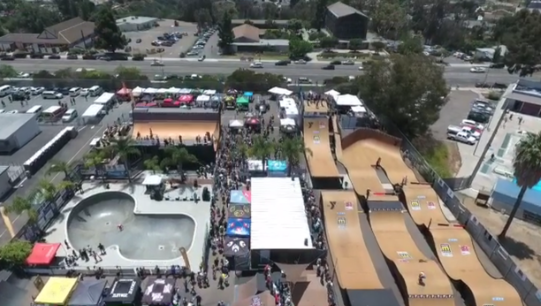 @kmdrones flyover
Note:  for who won Skatercross, Best Trick, High Jump or any "results" this is not the post to read – this is the post about the vibe of the day.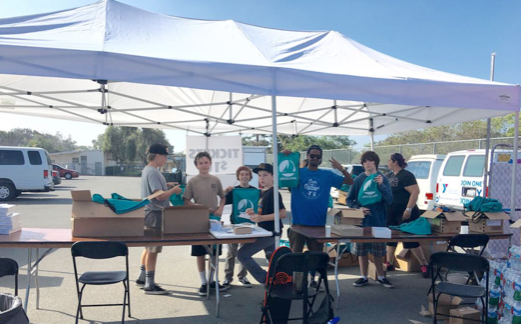 volunteers getting the goody bags ready for the front gate – yes general admission is $10 & VIP $50 but you get memories that last a life time, feeling that you helped others, plus some swag
Clash at Clairemont is in it's 10th year of fundraising for the YMCA Mission Valley aka Clairemont Skate Park aka Krause Family Skate & Bike Park and Grind for Life.  It's a day about fundraising – so many people give of themselves to keep this park rad and help people with cancer.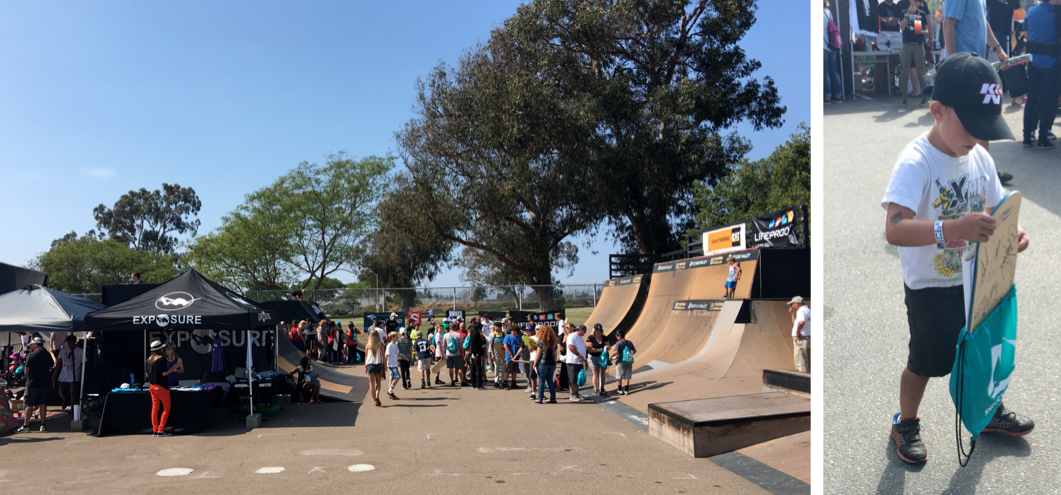 autograph line & then someone taking care of his deck with all his favorite action star autographs – Clash is the largest action sports fundraiser in SD
This year was extra special because the park was able to receive a new vert ramp (previously owned Dew Tour pro level) and first ever Skatercross track.  Clash may be one day a year, but the structures it leaves behind last for years to be enjoyed by the public.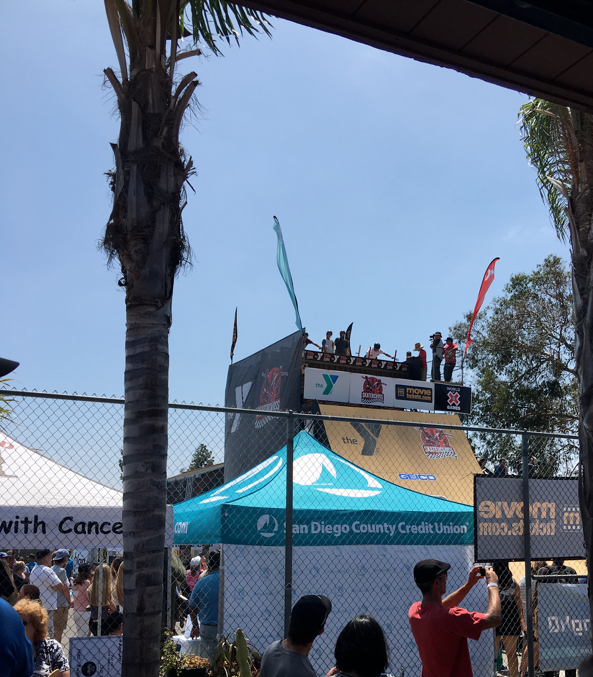 View of the racers from "Mission Control" aka skate park office
The event would not be possible without sponsors.  I tried to capture as many as I could in the photos.  I love how they interact with the crowd and make the day fun for everyone.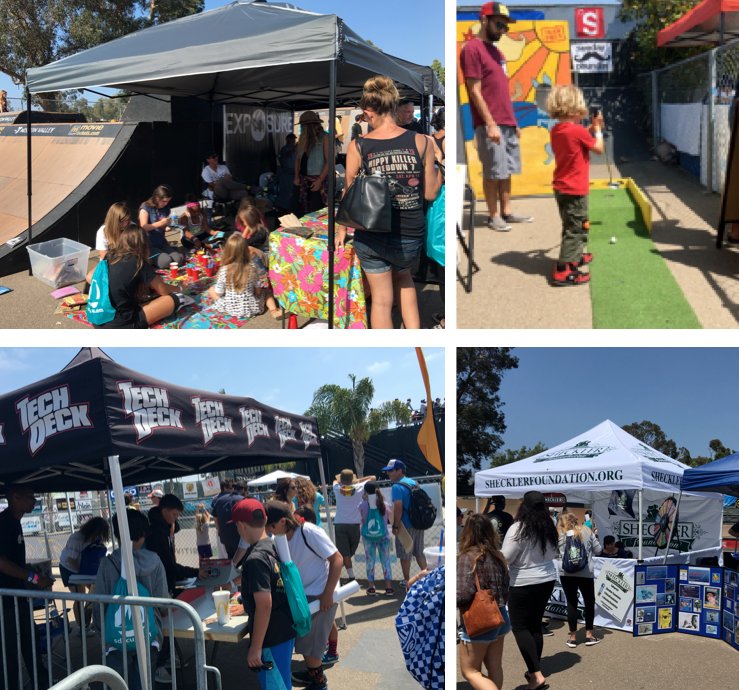 Bridge to Skate painting on recycled Arbor Skateboards, Team Phun golfing for prizes, Tech Deck having races, & spinning the wheel with the Sheckler Foundation were just a few of the interactive booths
Another thing I love about Clash is you get to make new friends and work with others.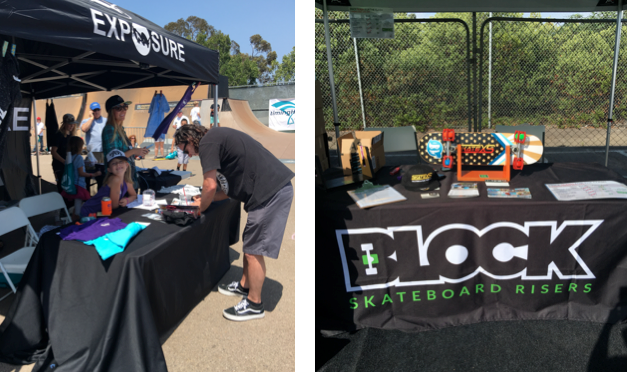 EXPOSURE Skate booth was staffed by skater girls like Kelsay Groms and Carly – so people saw that girls can skate and make a difference by helping others like Carol's House & Missing Girl.  And the Block Riser Booth displayed product for people who wanted to help & just couldn't be there – Skater Trainer & Skate XS
I also love the vendors who come back working right along the newbies & the vendors who might not have the best spot, but make it happen.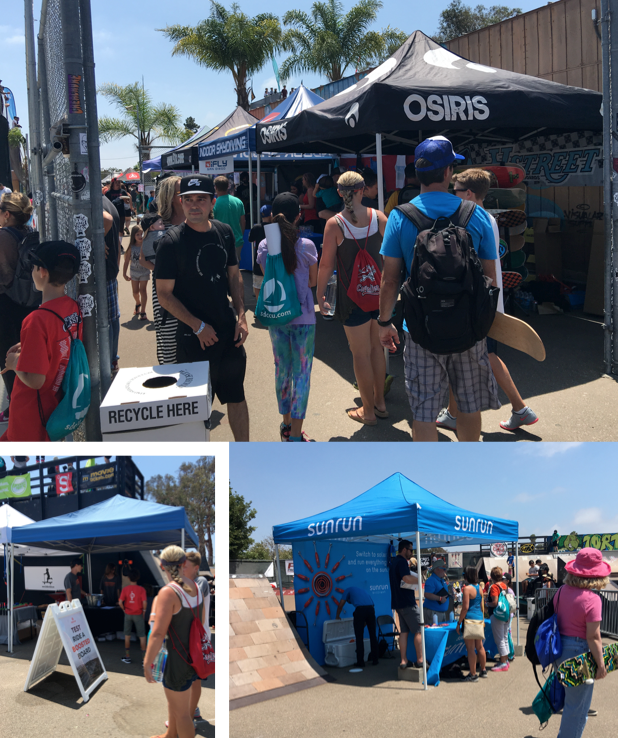 91X & Osiris surrounding newbie I-Fly, Cali Bars next to returning vendors Boosted Boards & banners from long time supporters Green Spot Salad & Movietickets.com, Sun Run's oasis tent in street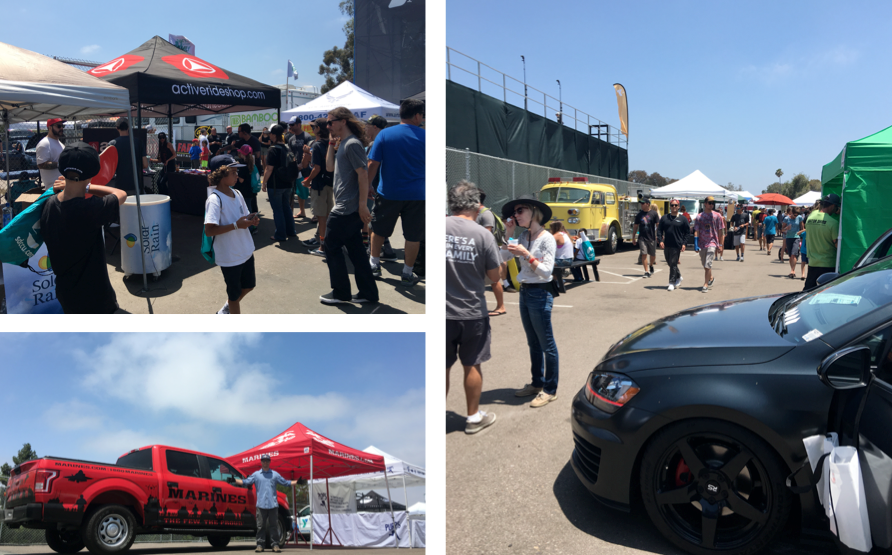 newbies Solar Rain keeping everyone hydrated, Active Ride Shop playing sock games to raise money for Grind for Life, & the Air Force next to long time supporter Camp Woodward
the Marines – huge supporter of Clash & the new vert ramp next  to another newbie Purps 
City VW with a car to display, Gator Skins as seen on the Skatercross track, & Dang Brother Pizza cooking pizza out of a fire truck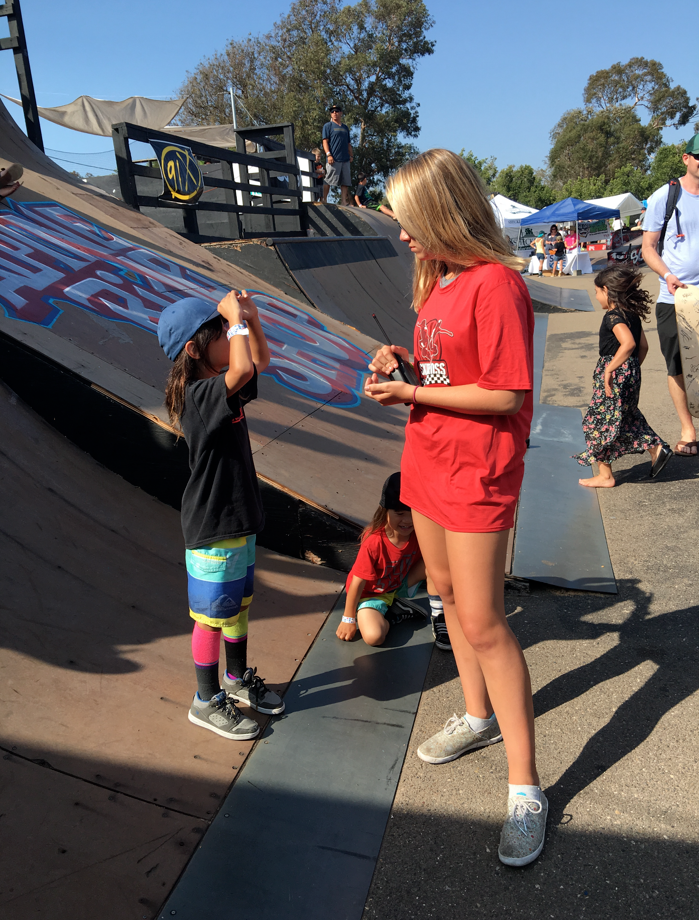 To be honest yesterday started off rough for me – my filmer for the documentary on the new vert ramp didn't show & told me his computer crashed and he lost tons of footage – I literally had to lie down for a bit.  Then I went out & hung out with my friends like Orion & Scion & realized it's all going to be ok. Worst thing that happens is my first documentary gets scrapped – which will suck but 20 years from now I won't remember that – I'll remember all the fun everyone had at Clash at Clairemont 10.
xoxo skatingfashionista
if you see an extra 0 in 2016 it's really an O – a hug
for an even bigger list of sponsors check out Clash Website
to see action pictures follow the links for Clash at Clairemont, Clairemont Skate Park, and Skatercross Events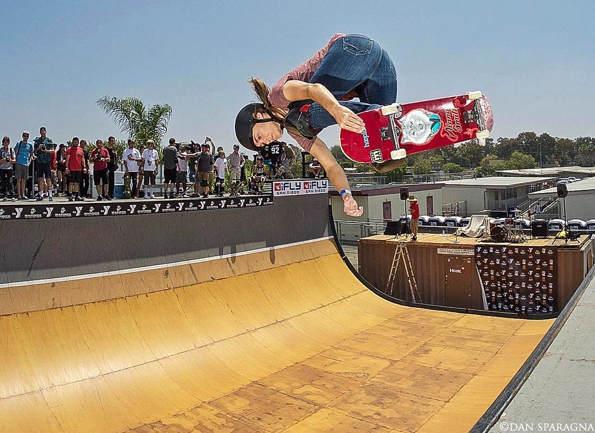 Mimi Knoop photo by Dan Sparagna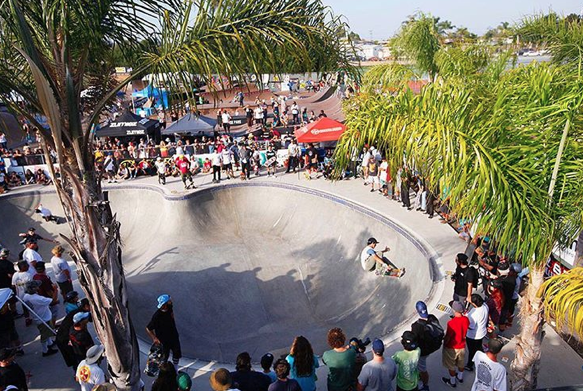 Cory Juneau photo by kcalfredphoto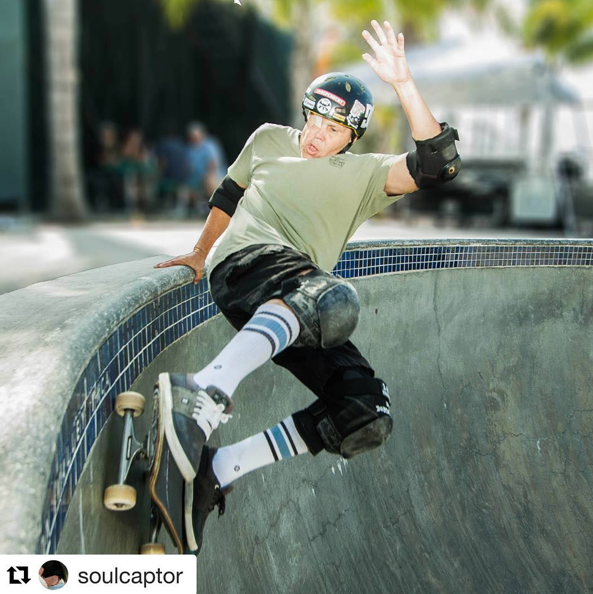 Mike Rogers founder Grind for Life photo by soulcaptor
plus google to find pictures like Transworld SKATEboarding coverage & be watching ABC "World of X" on July 23, 2016 for Skatercross race & the making of Skatercross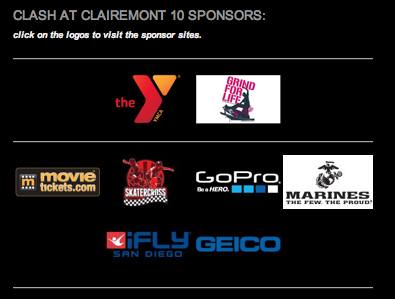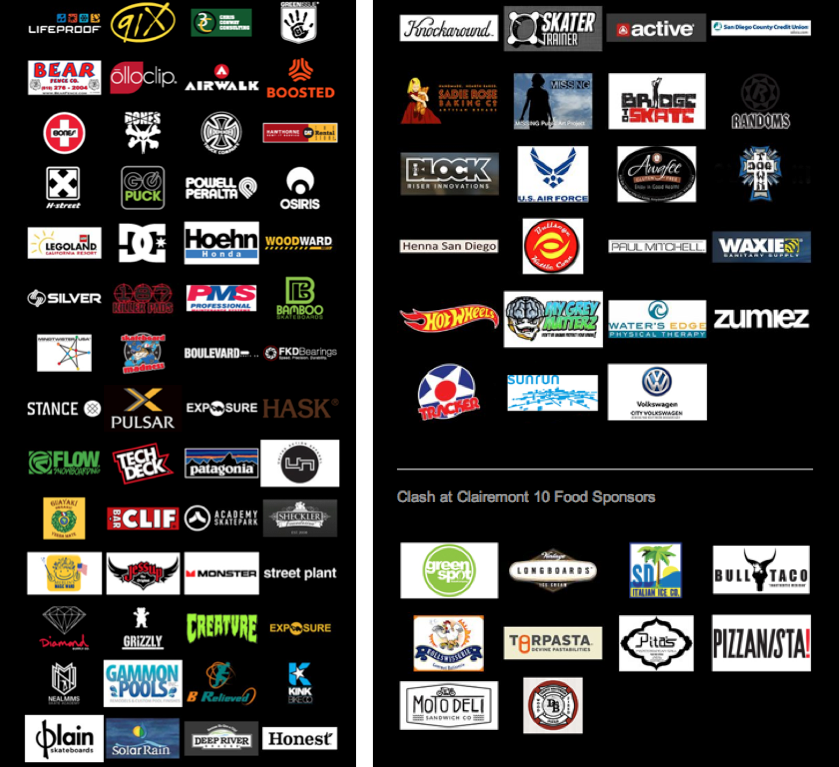 June 2017 Update Finally the Video