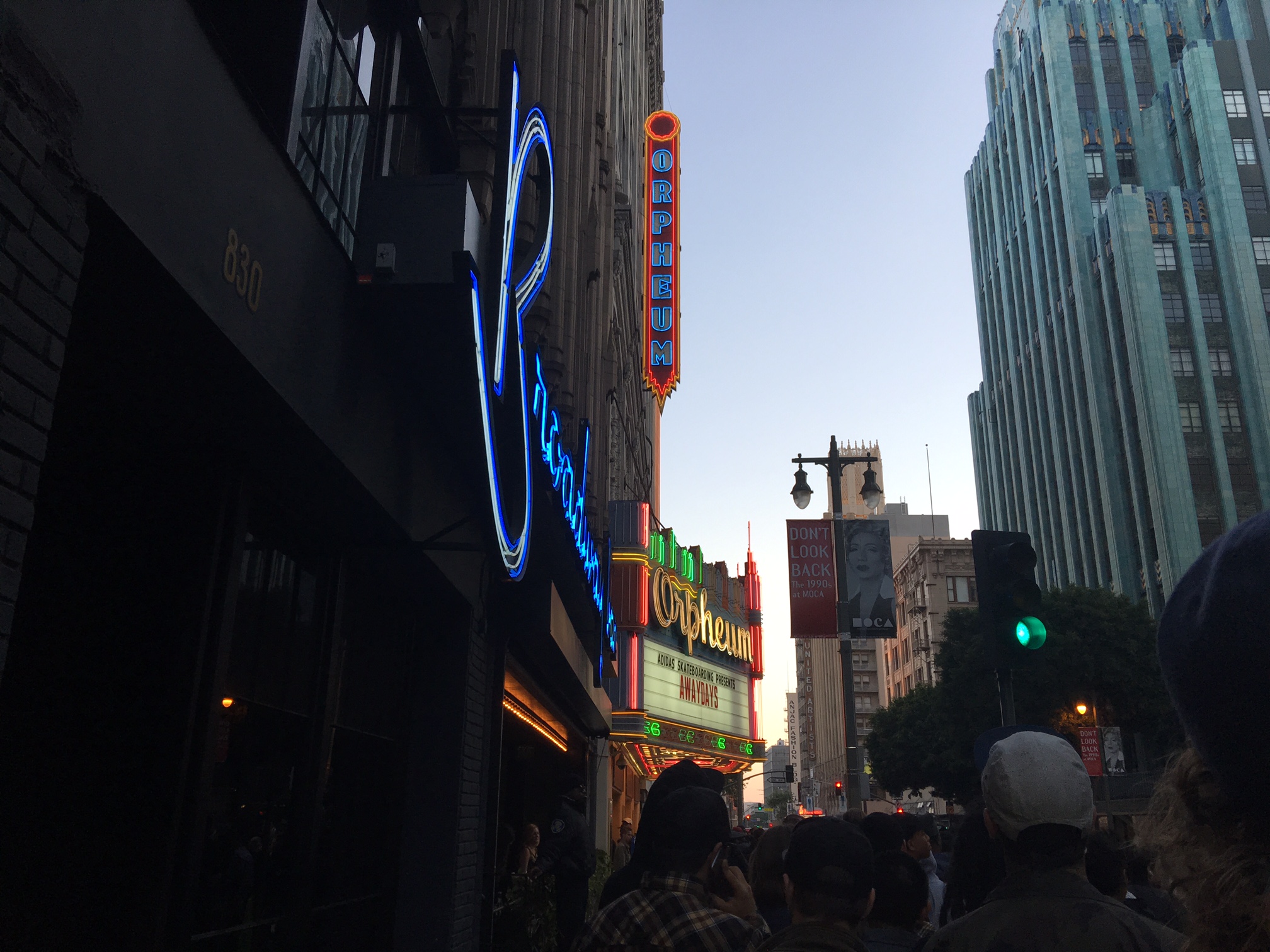 Last night was the premiere of adidas' first full length film.  It was packed.  This picture is me peeking over the crowd that literally circled the Orpheum Theater in Los Angeles.
Any time you have a large waiting group pandemonium can break out.  It stayed chill – all the people around me were in good spirits.  And to the guy who suggested the film be shown on a jumbotron so everyone could watch from the streets – that's a brilliant idea.
The Orpheum Theater on Broadway in downtown Los Angeles is amazing.  It opened in 1926 was renovated in 1989 and is currently the most restored of the historical movie palaces in the city.  It has a capacity of 2000 – which must have been met last night.

Snoop Dogg introduced the Gonz and everyone else who participated in the making of this film.  Somewhere out there is an amazing selfie of the adidas team.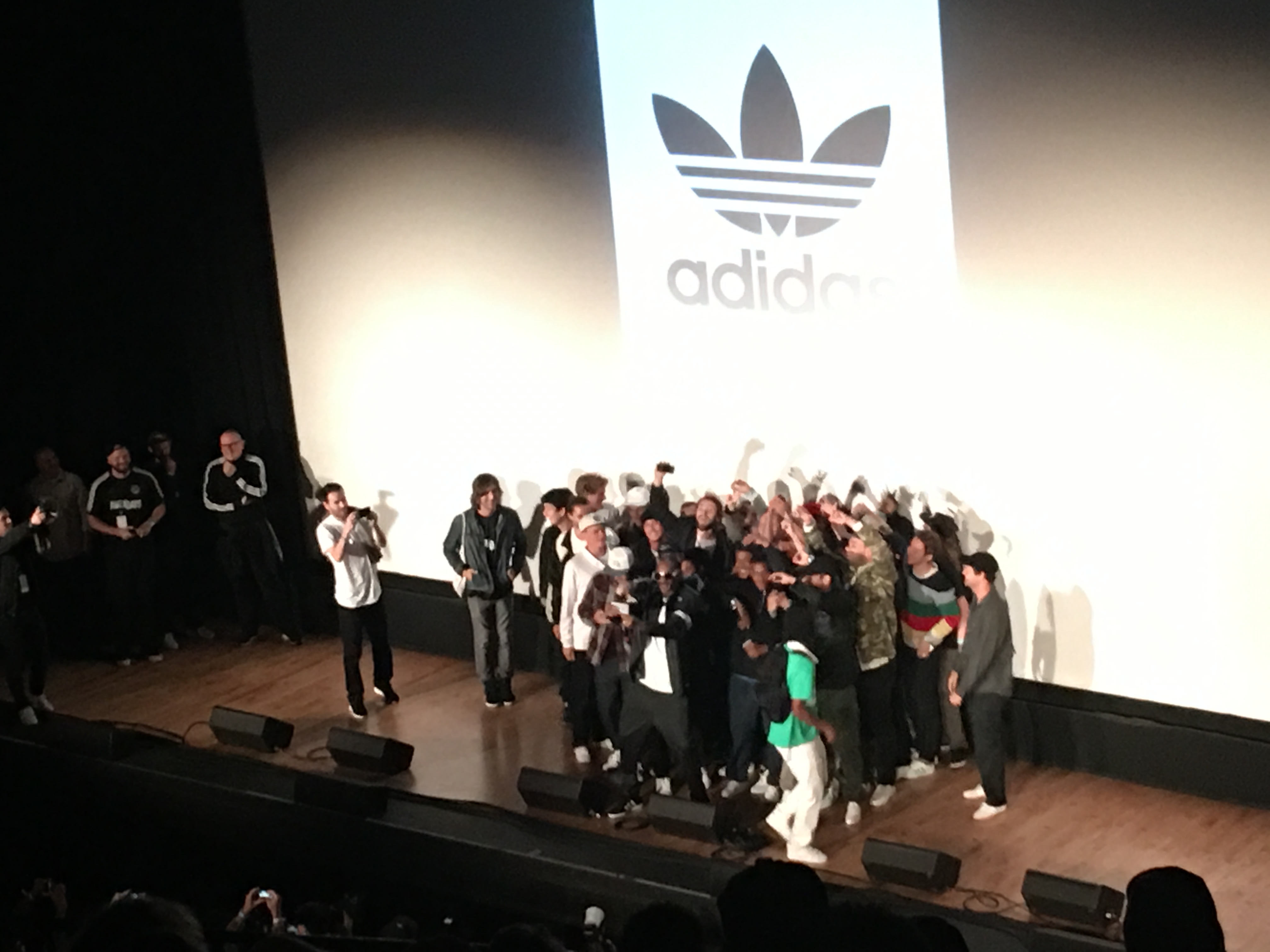 Then it was movie time.  Somewhere out there are reviews that will go into a lot of detail – this review isn't one of those.
Normal people don't skate like that – the people in this film were both incredibly gifted athletes & artists.  adidas also had amazingly talented people behind the cameras and  selected fabulous cities that complemented the skaters abilities.  The end result is a film that captivates you.
Should you see it – yes.  It's an inspirational film.  Not because I think I'll try some of those tricks – it was definitely one of those films don't try this at home & never try it alone – but because I want to experience the joy I saw.  They weren't skating for the cameras – they were skating for the love of it and allowed the cameras to be there.
Of all the charismatic people in the film – the stand out for me was Na-Kel Smith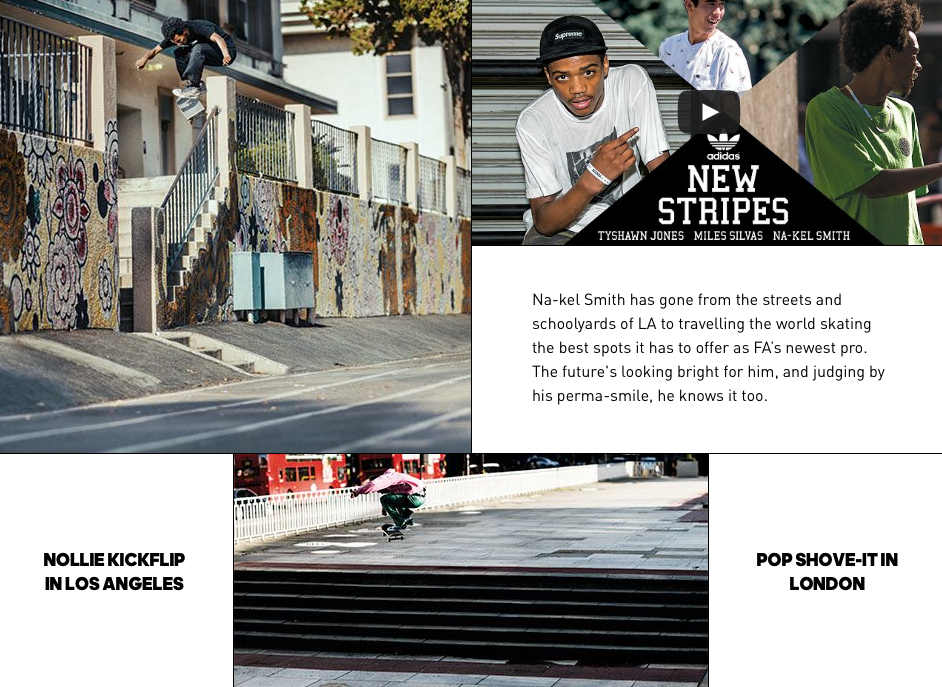 I could be biased because he had my attention from Episode 2 of Far & Away – the making of AwayDays by adidas & Thrasher.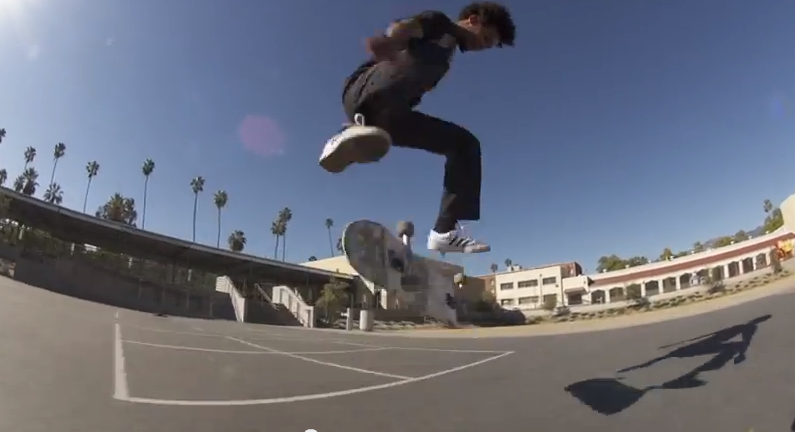 He loves skateboarding and he lives to share the love of skateboarding.  That's what makes skateboarding grow, that's what inspires me to keep skating & blogging.
I have the mantra – more girls skateboard when they see stylish girls skateboarding & get encouraged – the truth is more people skate when they see people skating and get encouraged.
This film inspires as it shows how universal skateboarding is – all around the world – take your board and skate.  You're not alone when you skate for the love of it – you'll find your homies who may be skating already or are the people you inspire to skate.
As the skatingfashionista I also want to complement the adidas team for taking some fashion risks.  I liked it.  There's no uniform in skateboarding.  I saw some sweatpants – some red pants – little camo – some patterned shorts – YES – wearing what you want – that's stylish on & off the board.
Finally Krispy Kreme – having your doughnut light on & people visibly in the store but the drive thru closed when I'm headed home & needing a doughnut & my mom needed coffee – not cool.  The world would be a better place with 24 hour Krispy Kreme drive thrus – so next time please be open.
XOXO skatingfashionista