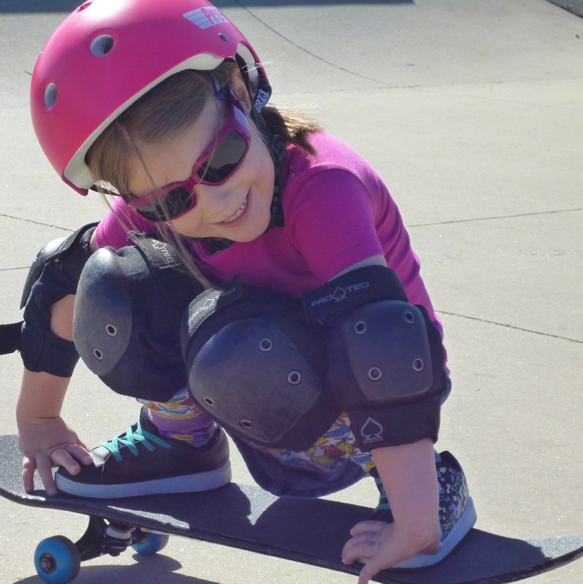 Holidaysauce_skateboards  aka mum Laura shares this photo which makes me believe that everything is better smaller and with a touch of pink.
This is Miranda, she's 5 years old and from Adelaide, South Australia. She loves skating in different skate spots around southern Adelaide, drawing robots and pretending she's an aeroplane (airplane). 
Mum and dad got her some skate coaching, which has been so much fun and really helpful in teaching her proper techniques and safety.
Miranda also loves skating in her lounge room, because it means she can launch herself from the board to the couch . . . at speed.  Mum and dad don't mind, though we encourage her to skate as often as possible outside.  It's all about having as much fun on the board as possible (and wearing cool pink helmets!)
While she's currently the only girl from her group of friends who skate, we hope her enthusiasm and playfulness will help encourage more girls to do the same.  Until then, she's stuck with mum and dad at the skatepark. – Laura
Miranda is very lucky to be "stuck" with such encouraging parents.  I'm confident her enthusiasm will be contagious and soon southern Adelaide skate parks will have many skatingfashionistas!
Her friends are also lucky because I hear her house has lots of skateboards for them to try out.  So today we celebrate all the people from down under who encourage girls to skateboard for fun.