*Several pictures added after original post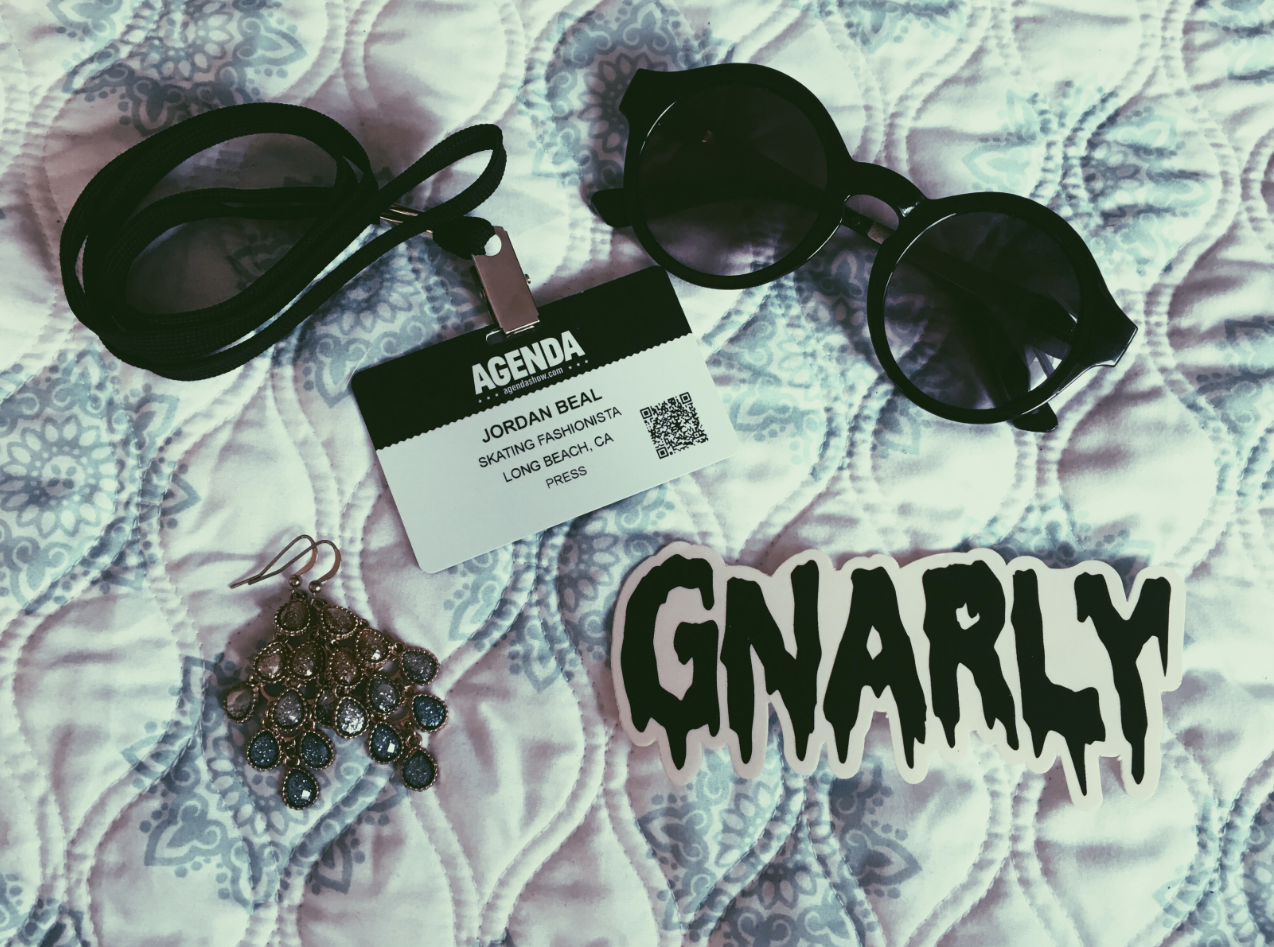 When I started skateboarding in 2012 I didn't have a female role model. I was one of three girls in the YMCA summer camp. The other two girls quit after the week. The boys were not mean to me. They just kept their distance.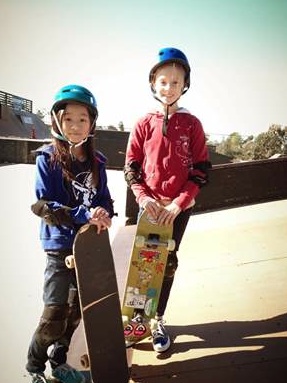 After this post was originally published – Amanda's mom sent in this picture from 1/12/2013.
When you're a 10 year old girly girl it's hard to be tight with the boys at the skate park. They just stared at my fashion choices. The other big difference was motivation. The boys wanted to push harder, go faster, jump higher – they were fearless. I am willing to fall to learn but my priority is fun.
As a result my skateboarding style is not aggressive. Many people point this out as if it's a bad thing. It's a choice. To me skateboarding is rolling yoga about the balance of mind, body, and soul. I don't plan skate runs, I follow the flow of the day. If skateboarding isn't fun, I quit skateboarding. What I never quit is being fashionable.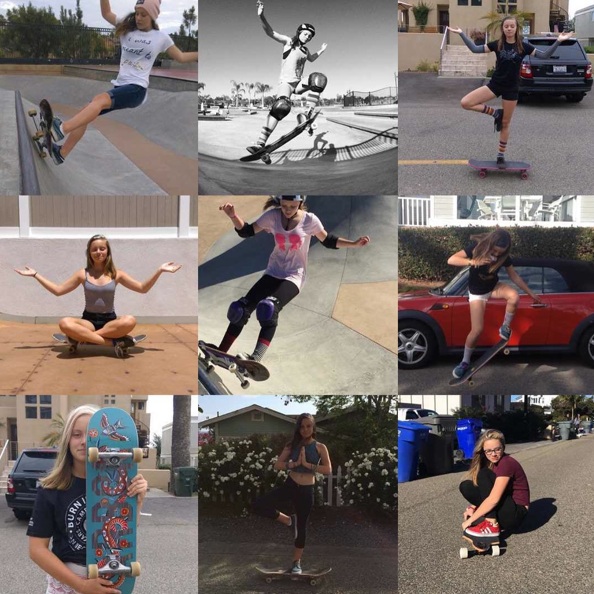 Added this photo when I added the one from 2013.  This is the collage from 2015 Instagram.
The longer I kept skateboarding, the more boys tried to help me. So I guess there's some truth to people accepting you when they see your passion and sincerity. One of the best tips I received was from Chad Rivera to see a documentary.
Underexposed was a film made by UC student Amelia Brodka. I got to see a screening and meet the filmmaker. I was so inspired that Amelia made a film about her passion and then started a non-profit so she could create the women's skate event she dreamed of.
I immediately became an Exposure Skate supporter.   It was inspiring to know there were other skater girls, so I wanted to skate with them. I started competing. And that's when the differences started to show.
I did practice for contests but my focus was on what I was going to wear. I saw every contest like a red carpet event so I actively worked to create the best outfit I could. My outfit had to look good and function. Pants that split and materials that show sweat never stylish on anyone.
Thanks to social media – Instagram, LinkedIn, and company websites I connected with people who helped me get dressed to skateboard. Then I asked Dave Duncan, a known and respected skateboard announcer to announce what I was wearing rather than my tricks.
To be honest I don't plan my runs – I have an idea of what I'm going to skate but the line isn't set in stone. What is set is my outfit. I will always be grateful to Dave when he announced I was wearing jeans by Articles of Society and tee by Boy Meets Girl.
In the rankings I was last but my passion was ignited. From this moment I knew I needed a blog to be taken seriously. Not seriously as a skateboarder but as a skatingfashionista. A skatingfashionista is someone who skates for fun and keeps it fashionable.
I believed beyond a doubt that if I showed the world girls could skate and keep it fashionable other girls would start to skateboard for fun and keep it fashionable. I realized I did have role models they just don't skateboard.
People like Gwen Stefani are my role models. She's an artist with multiple passions able to make it all work together. I expanded beyond Instagram and being Jordan Beal to create the skatingfashionista.com.
The first posts are of me skateboarding – by putting myself out there by being willing to say I'm here to skateboard for fun and keep it fashionable I started meeting girls around the world who were doing the same. Inspiration feeds inspiration so the blog has continued.
The blog is always evolving. I still help EXPOSURE Skate but I focus on the Learn to Skate Clinic – because that's my passion getting more girls skateboarding. This year I was amazed at the pros teaching with me – Neal Mims, Kenny Hoyle, Willy Santos, Alex Perelson, Chany Jeanguenin, and PLG were just a few. Seeing these pro skateboarders helping girls – some in all pink, some in skirts, some on a borrowed board for the first time – was beautiful.
I've found that working with charities leads to working with other charities. I didn't even know there were skateboarders helping kids with autism – ASkate or action sports athletes volunteering at Camp Beyond the Scars to make kids feel special. I share all these ways skateboarding can be fun on the blog.
I'm always on the lookout for partnerships. I was beyond excited to partner with Paul Mitchell. Skateboarding in the pink cape to show Paul Mitchell supports all boarder girls at Super Girl was thrilling but handing out products at other events to girls that otherwise wouldn't have PM products is rewarding – it makes me feel good. The blog let's me share easy ways to give back like tag #givingismystyle on InstaGram and Paul Mitchell donates to charities.
I haven not yet met Gwen (who's birthday is the same as mine 10/3) but I have met some of the most amazing people in fashion and skateboarding. People willing to help me show girls skateboarding for fun and keeping it fashionable – because seeing stylish girls skateboarding is what inspires more girls to skateboard.
And it's good for girls to skateboard – whether it's a cruiser, long board, in a pool, down a mountain, however they want to skate – skateboarding builds self-confidence. Plus it really is exercise – incredible core workout to stay on the board. I'm honored to ride an Arbor Skateboard because they have skateboards for every type of skateboarding plus by being an Arbor Girl I'm able to continuously meet other skater girls and keep my mind open and try new things like down hill skateboarding.
I was honored last night to hear Jon Wexler speak live at Agenda Emerge. He is the Global Director of Entertainment and Influencer Marketing at Adidas. I found out about the event because I follow @wex1200. I was so motivated to hear him speak – I ended up with a pass to Agenda so I could report on the fashion from the floor plus see him. It is so important to ask for what you want. I believe Oprah "You get in life what you have the courage to ask for."
I haven't written my blog post on my Agenda fashion finds – I had to write this one first. What I learned at Agenda Emerge is keep following my passions. I guess I didn't need permission to fail – because skateboarding has taught me falling isn't failure – but that's what Jon Wexler gives. He shares his success and his failure to show it's all about falling forward.
Will any of the potential partnerships I made at Agenda develop? I hope so because that will help more girls see girls skateboarding for fun and keeping it fashionable. But if not one relationship comes from Agenda I still grew and learned so much in two days.
Thanks Jon Wexler for letting me know about the event – and yes I think you know Gwen and can introduce me!
Added this picture from IG AGENDASHOW – Jon Wexler speaking at Emerge 1/8/16