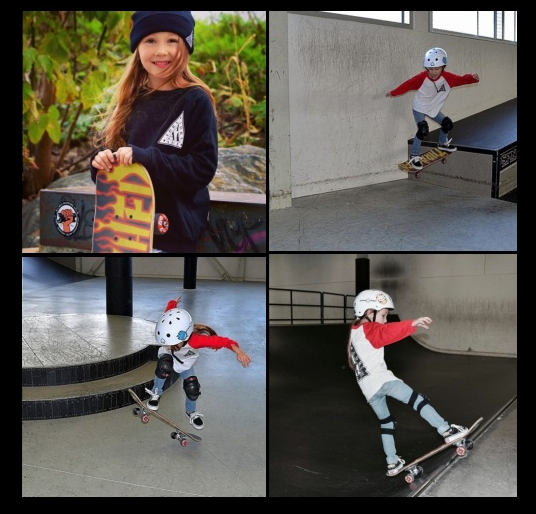 These photos are from lilyboardc in Montreal Canada – she's 5 and has been skateboarding for a few months.  She learns faster than I did – which is one of the rad things about starting to skate when you're little.  You are little and fearless which is a powerful combination in skateboarding.
Lily is inspired by her mom who says – in Canada there is not a lot of girl skateboarding 🙁
You know who can change that?  Us and we are – by sharing Lily and her mom inspire other girls to try skateboarding and that's how you get more girls skateboarding in Canada.
Thanks Lily & mom and thanks to the other girls from Canada who have already shared & I would love to find many more – let's do a month of Canada?  February has 29 days – can we find 29 skater girls in Canada?
The following Canadian skater girls have already been on the blog and I think we'll find way more than 29 skater girls in Canada – Ava from Edmonton who shared on June 6th, Stella Rose from June 10th,  August 19th Longboard4us, Volumatic in Alberta on August 25th, also from Montreal hannah_sk8 on September 4th,  Ali_stevens on September 24th,  Queenmeag on November 18th,  Sublimelimes November 24th and Babes Brigade from Toronto who started a Monday girls skate session on December 7th – strong girls encourage and inspire each other I'm so glad to meet more every day!