On Thursday, July 16th I set out on my Sole Tech adventure. Following in the steps of Poseiden Foundation founder Micaela Ramirez – I ventured to the Sole Tech Compound in Lake Forest, CA.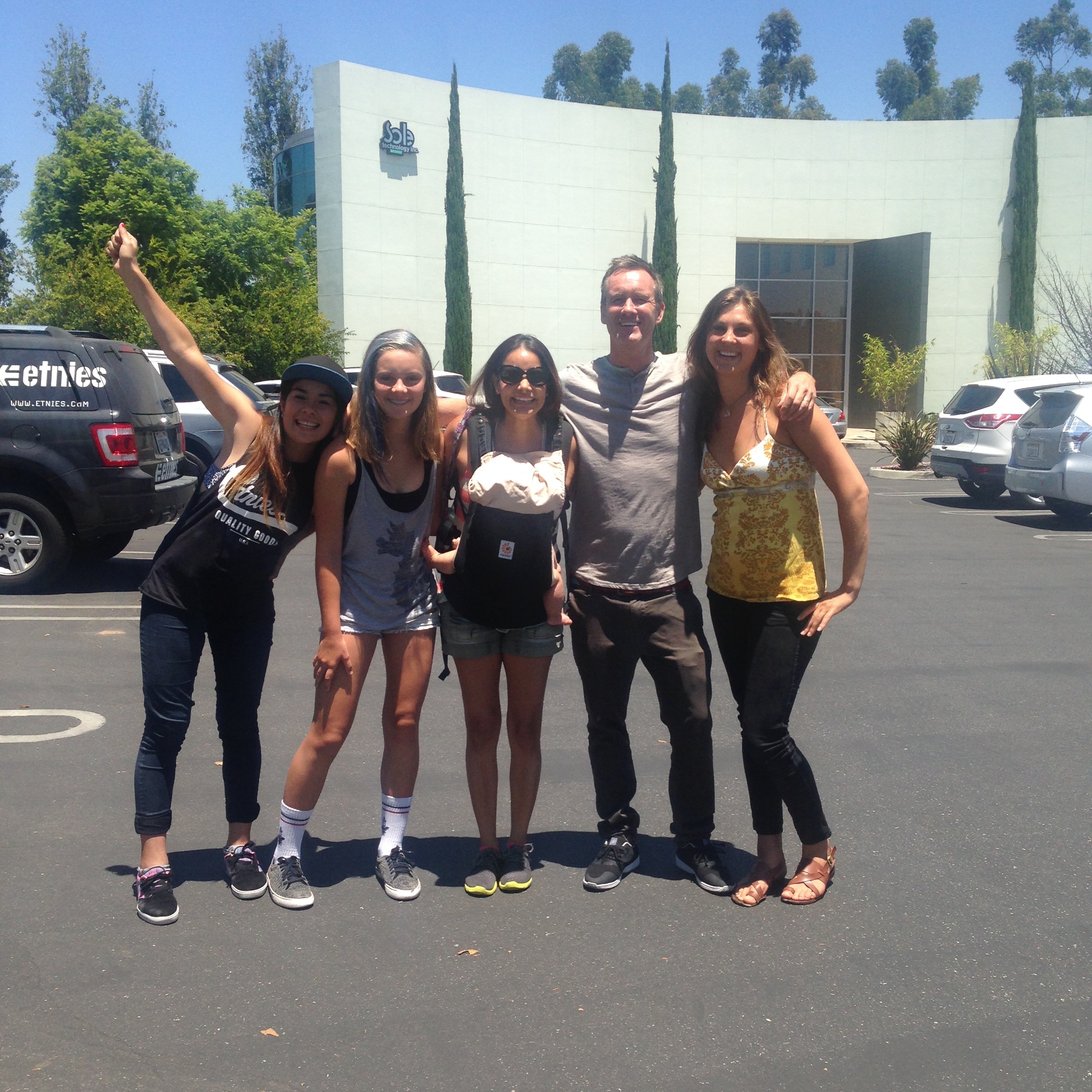 The tour group – Maria, me, Micaela, Don our guide, and Maya pictured outside Sole Tech World Headquarters. Photo credit my mom all other photos Maya Eve Porter/Poseiden Foundation.
Micaela organized the tour. She introduced Maria Jose – a visiting skateboard pro from Chile and myself to thee Don Brown. Yes, he's a SVP at Sole Tech – and he makes time to give girls tours – people do believe girls can skateboard!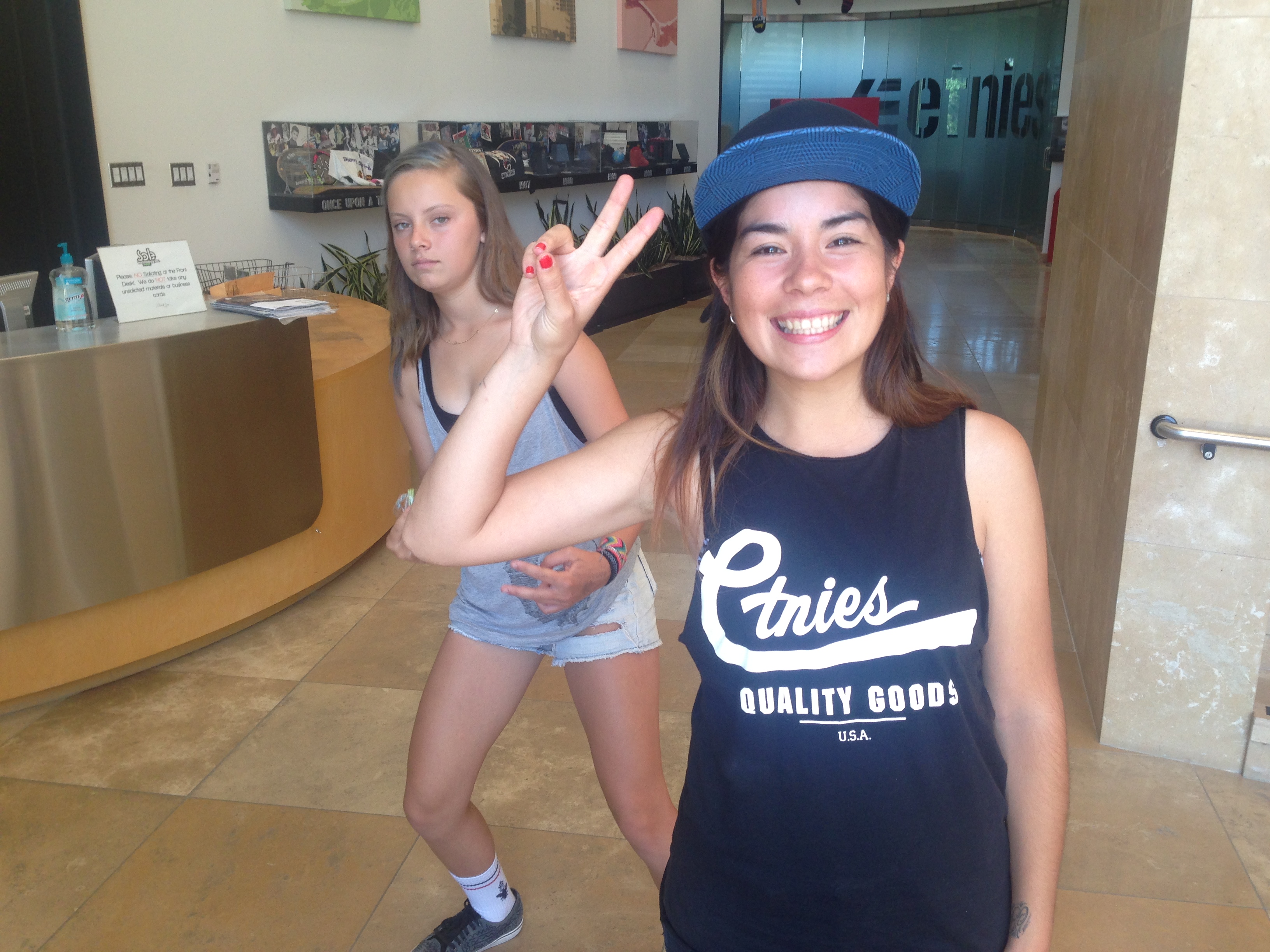 Maria and I goofing in the lobby at Sole Tech. Yes there's a clue for who/what Sole Tech is – etnies.
etnies is just one of the Sole Tech brands. The others are Emerica, eS Footwear, Thirty Two, Altamont, and STI Lab.
The tour began with a time line – the glass box behind us marks the start. Way back when in 1986 etnies was established as the first skateboarder-owned and operated global action sports footwear and apparel company.
Today it's still lead by skateboarder/owner Pierre-Andre Senizergues. There is love in the walls for skateboarding and surfing, snowboarding, Moto-X, and BMX.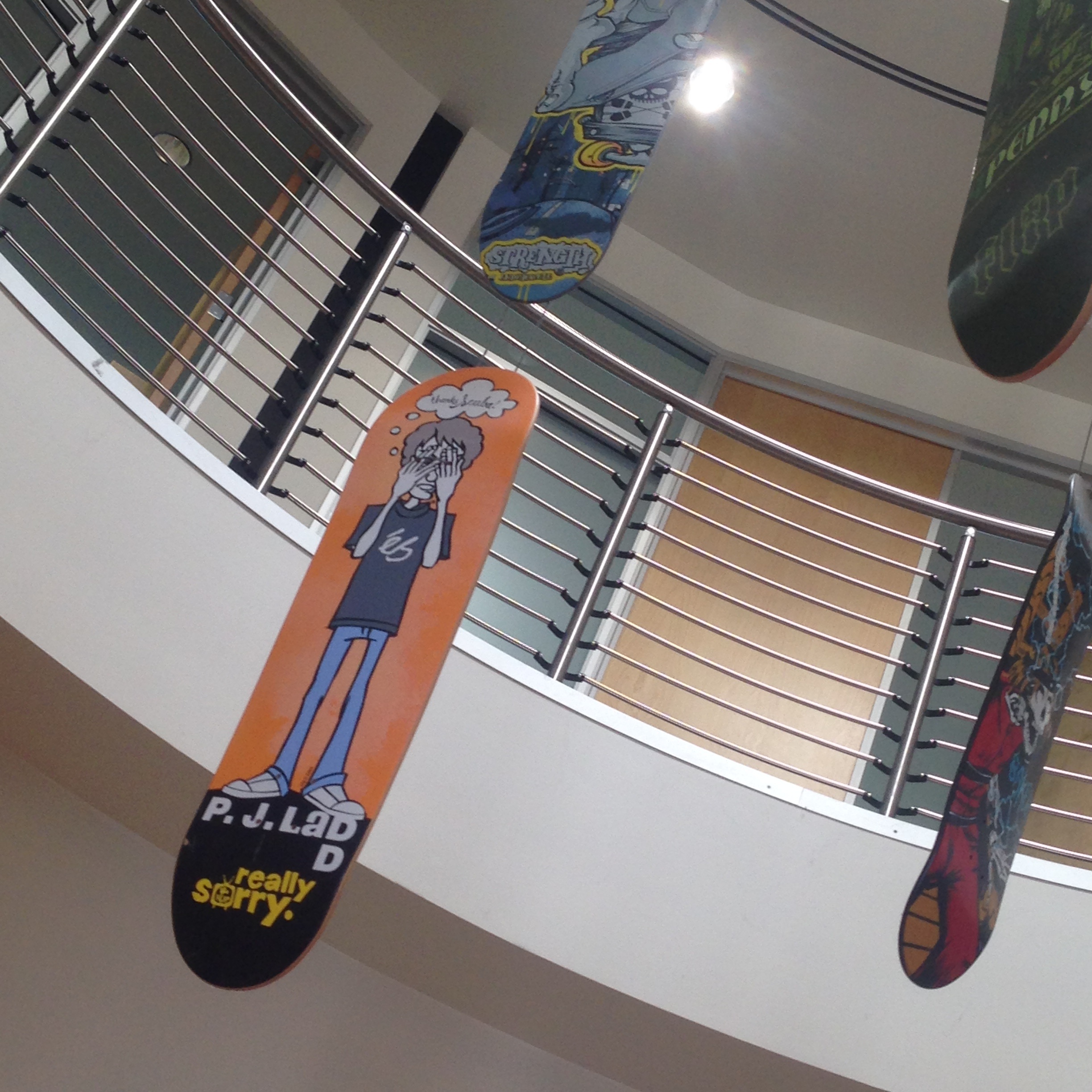 There are also skateboards in the air. Literally raining down from the upper floor.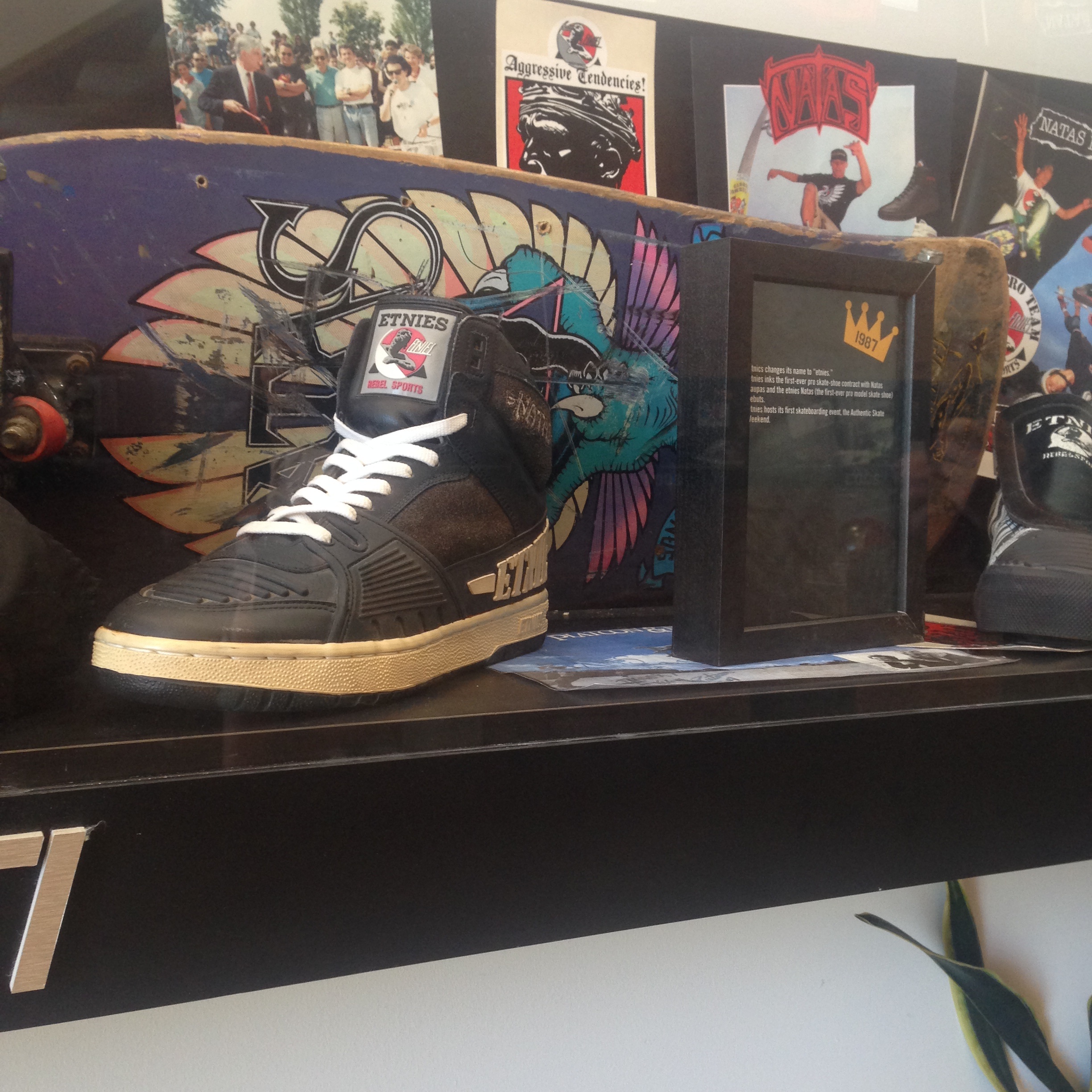 Zoom in on the case. All the rad events are marked. Like DYN (did you know) etnies introduced the first pro model skate shoe in 1987. And that there's technology in the shoe design – it's not just fashion it's function in these shoes!
Couple quick highlights: 1993 street culture, 1997 hiking look crossover, 1999 a sandal, 2001 Elissa Steamer pro shoe, 2002 rise of the boutique, 2003 art and music travel with the shoe to create art on the shoe.
What I loved the most was the stories behind the new products. The sandal really did start out as a shoe someone in the office played with. I appreciate seeing the shoes appearance change over time. Fashion, art, and skateboarding are always evolving – the only constant is fun!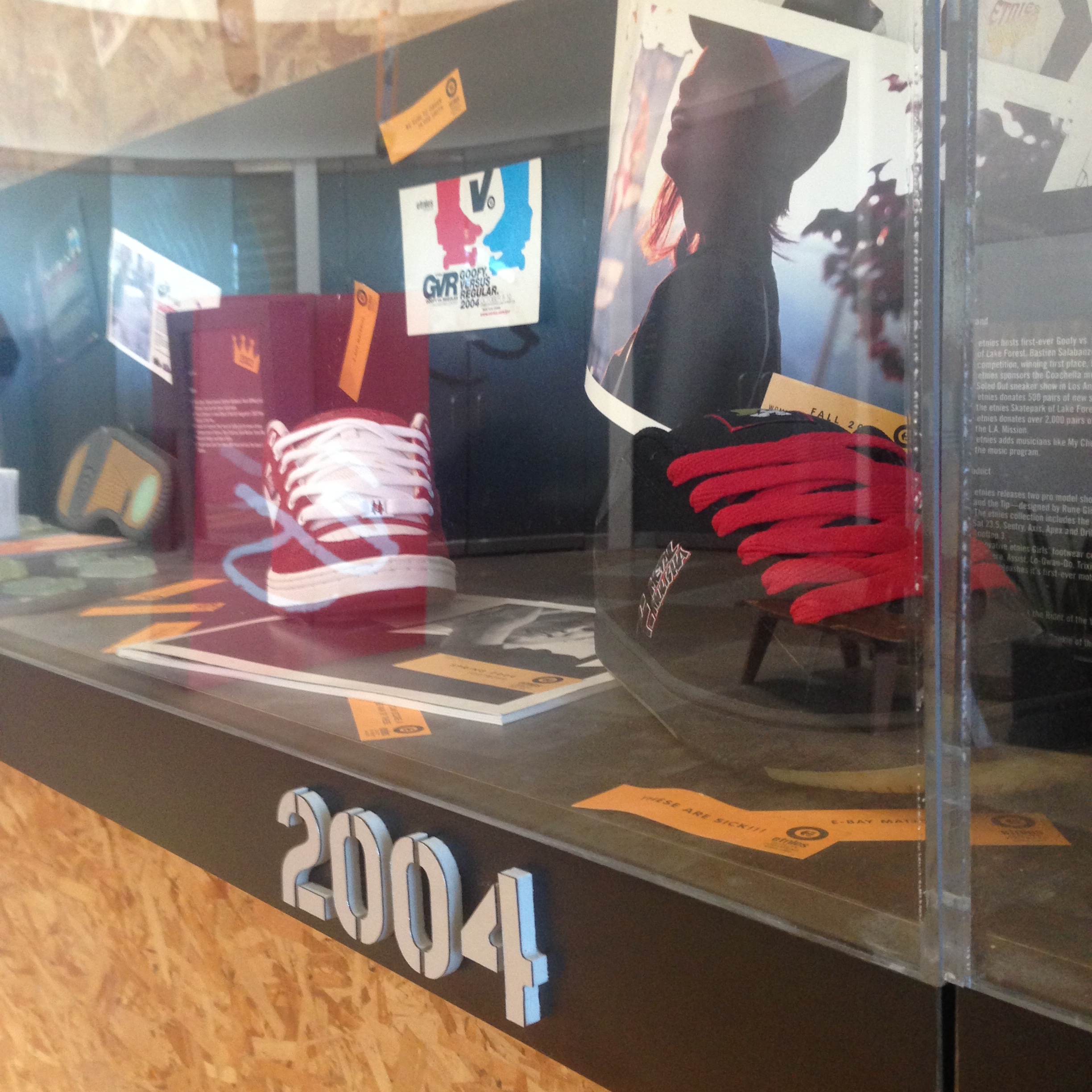 2004 marked the beginning of GVR (Goofy vs. Regular) contest. etnies has consistently introduced new shoes and new ways to celebrate skateboarding. And never say never – who knows when/if GVR could return.
I appreciated that etnies listens to employees. It wasn't a coincidence etnies became involved with Moto X or snowboarding it came about because the employees were interested. Passion in design is so important – passion is where real style comes from.
Here's an interesting fact – in 2005 women represented 50% of etnies business. What happened girls? No worries I'm here so let's check out what etnies has for girls.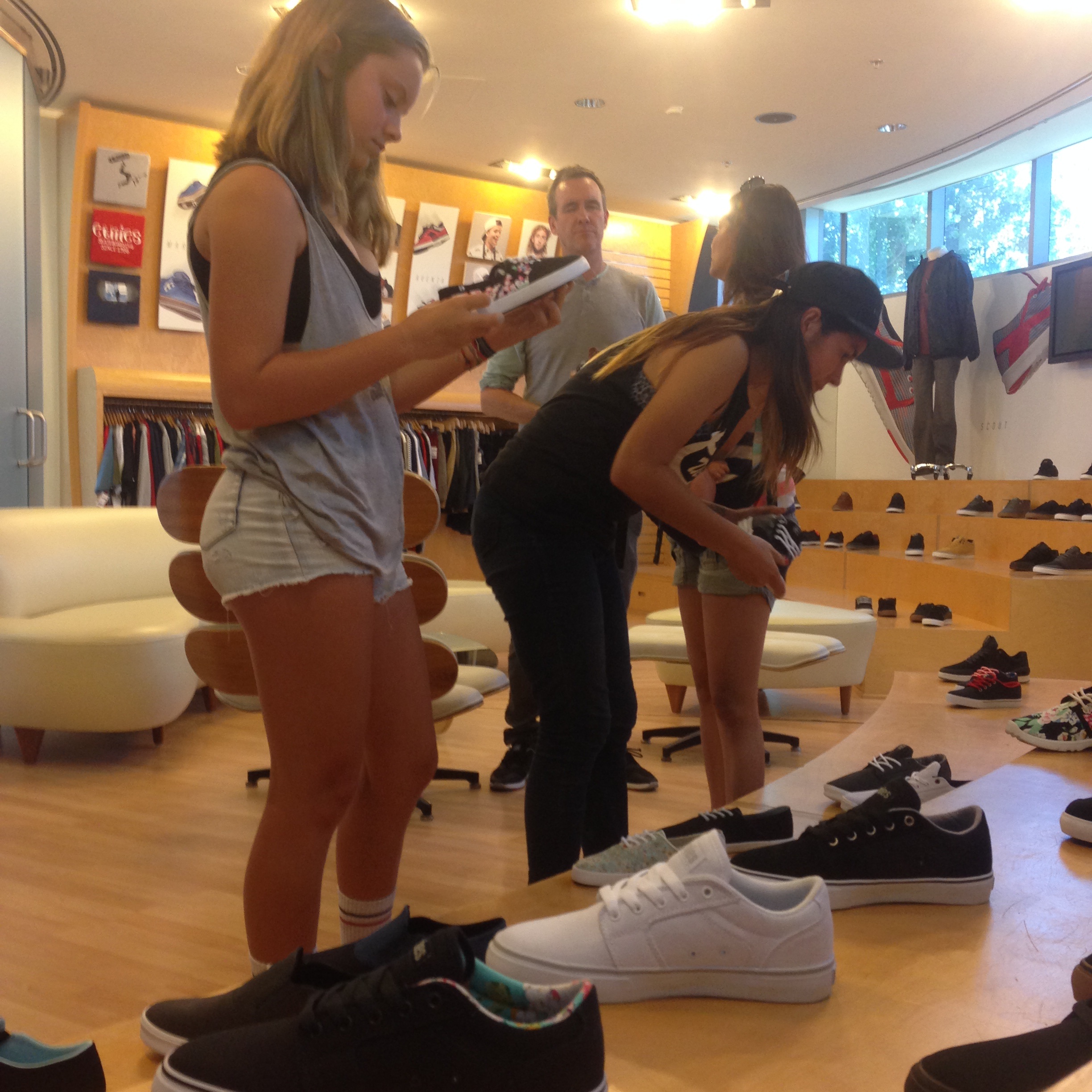 Each Sole Tech brand has a showroom – here we are in the etnies showroom.
If there was any question – girls can always wear boys shoes. Girls can where anything they want. That said all the shoes at etnies can be worn by girls. Before going on this tour, I couldn't remember a time I skateboarded in girls shoes.
I didn't stop skateboarding in girls shoes because I didn't like the styles. I was just disappointed they fell apart so easily. Skateboarding is fun – it is good for the mind, body, and soul but it is hard on the shoe.
There in the showroom my faith in the girl skateboard shoe was reborn. When I picked up the shoe, I found out about etnies Buy a Shoe Plant a Tree.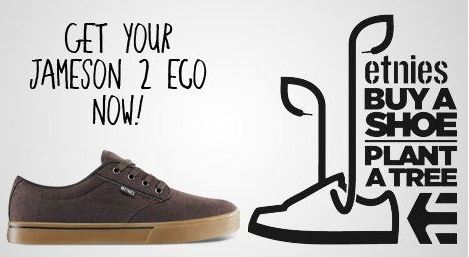 The etnies Buy a Shoe, Plant a Tree project began in 2011 when etnies Owner and CEO, Pierre-Andre Senizergues decided to invest in the future by planting a tree in the Costa Rican rainforest for every pair of Jameson 2 Eco shoes sold. In 2012 the program expanded to Brazil. To date over a million trees have been planted and as of 2015 any etnies shoe you buy gets a tree planted. With that information I had to buy a pair of shoes – I was doing it for the environment!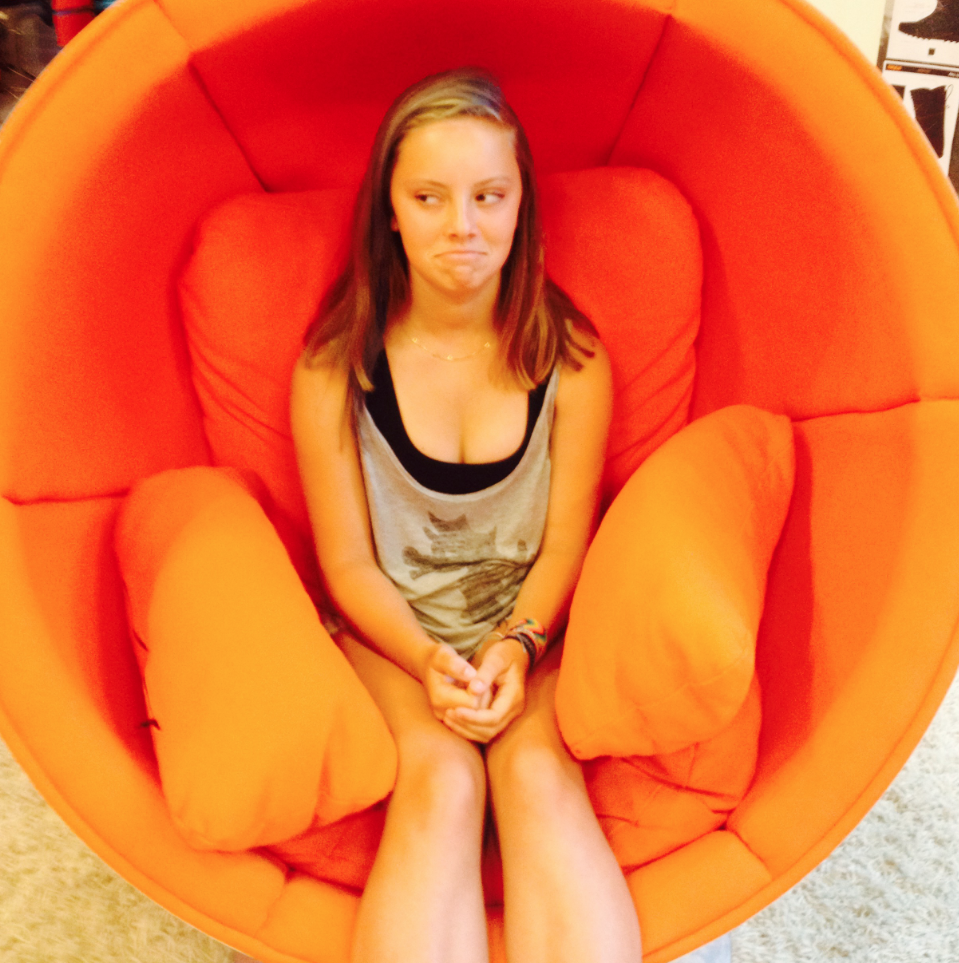 Before I could get to the company store – I had to pass through the other showrooms.  One has carpet on the walls, one is mostly black, and one has pod orange chairs where they ask you questions – beware.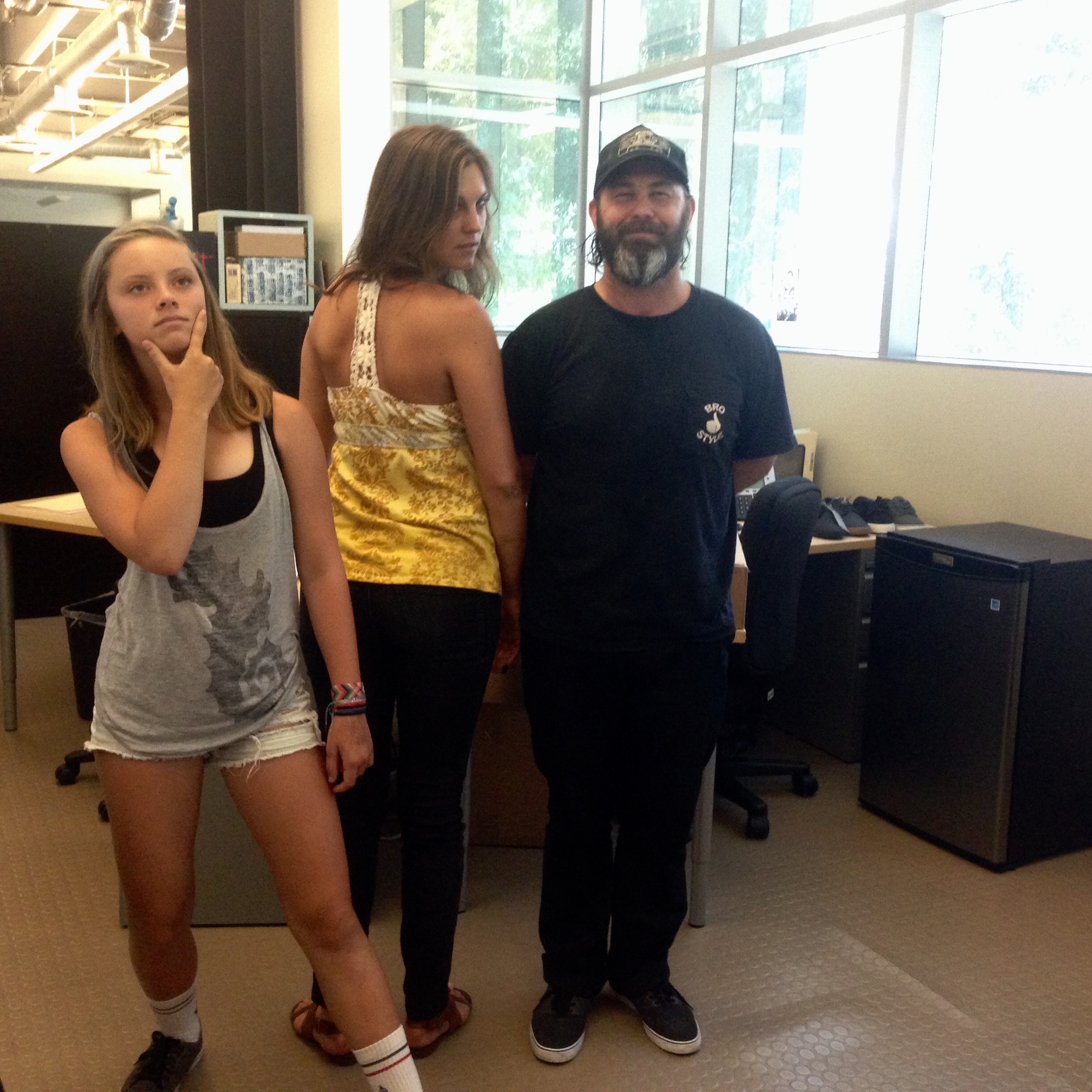 Here I am in the offices focused on shoes and trees – helping the environment.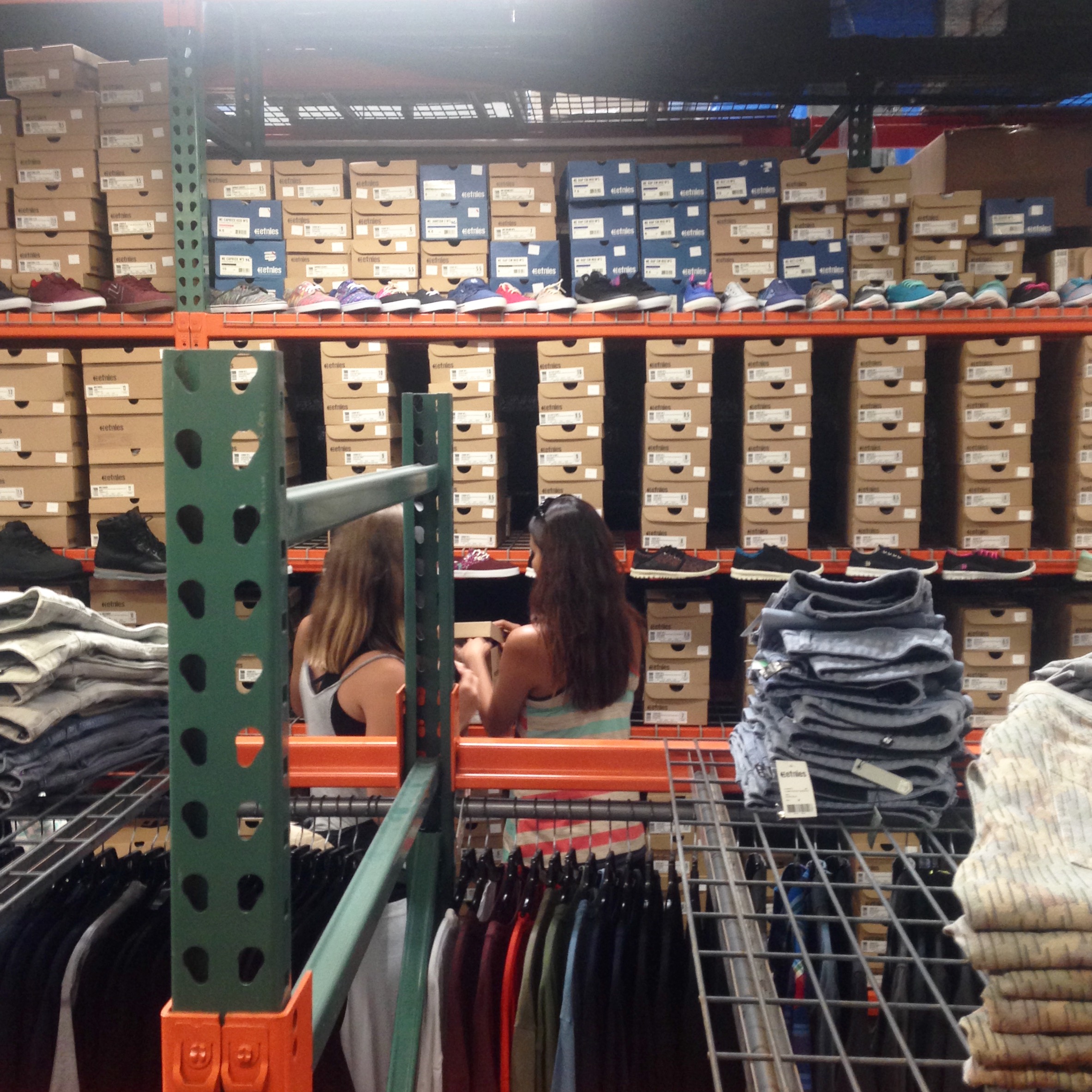 Finally the Sole Tech Company Store – shoes, shoes, and more shoes.   A few hours later I made my selection – I was going with a shoe made for girls. And yes TBH I made my decision because it was hot in there and I was hungry – so rather than get hangry I picked my new shoes – the Corby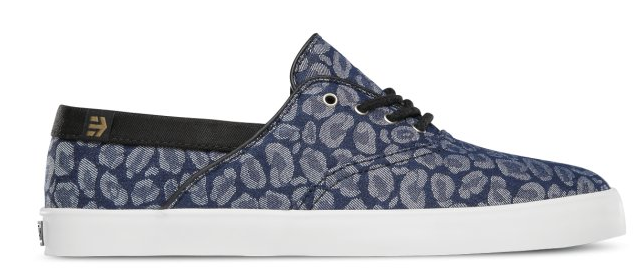 My new shoe on foot – of course I left wearing them. My good deed for the day done – someone else would be planting the tree – I was ready for lunch and the skate park.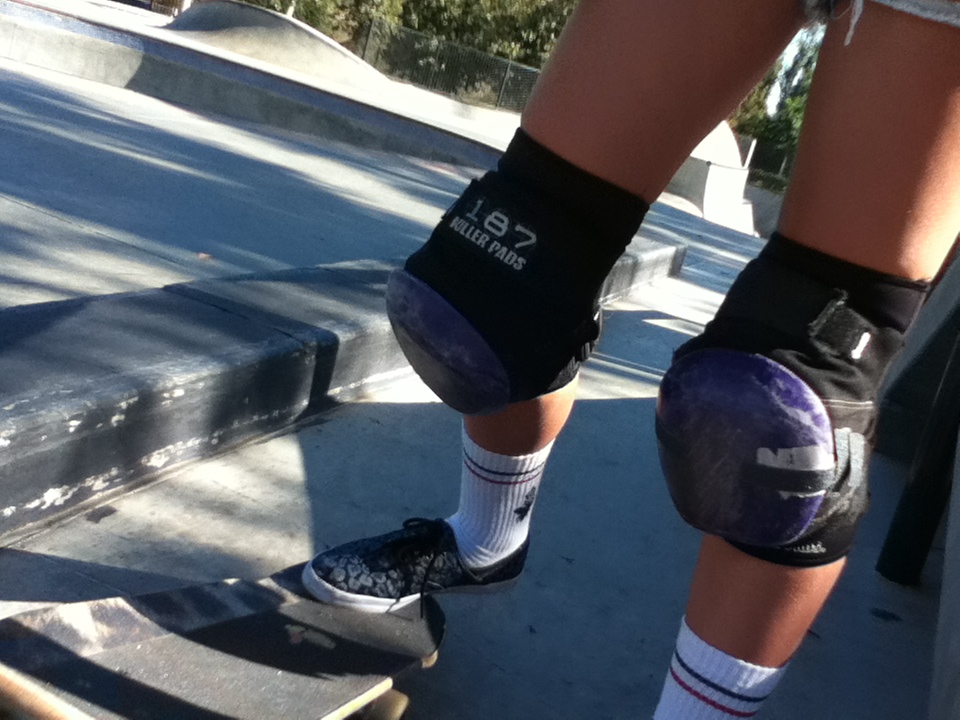 Pictured above are my new shoe at the etnies skate park. Fashion, form, and function have been achieved. I love my new shoes.
As for the Sole Tech tour – I highly recommend it. It really is hotter in Lake Forest, the shoes are magical, and the Sole Tech Company Store is open to the public. Can't make it to Lake Forest – the shoes are available everywhere including online. Do something nice for your feet and the environment, plus support a company that is still skateboard owned and operated.
Always keep skateboarding fun and support your fellow skateboarders on & off the board!
XOXO skatingfashionista