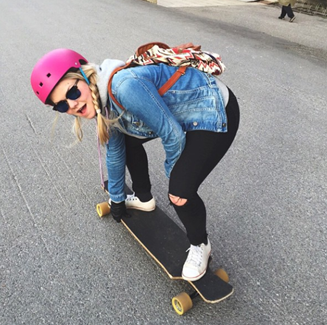 I just love how Heidi topped off her skate outfit with a cute helmet. Ok helmets aren't cute like the rest of her outfit but in comparison to most helmets this one with the pop of pink is stylish.
Till next time keep it fun & stylish on & off the board. Remember it's your choice to wear or not wear a helmet. If someone is telling you it's not cool or bullying you about wearing a helmet – well that's just not stylish. 
And if the sign says fine for not wearing a helmet – believe it – I know people who've gotten tickets – still your choice just know the risk.