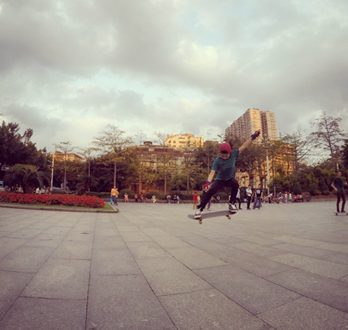 Siu Wingyee lives in Guangzhou City, China.   She usually skates in Hero Square with her friends.  She reports that there are more and more girls starting to skateboard in China!
"So glad to know someone is concerned about girls skating" – Siu Wingyee
Siu Wingyee – I'm super excited that more and more girls are skateboarding.  My coach Neal Mims is headed to China to do some skateboarding.  I think closer to the coast at an indoor facility – my fashion sense is much stronger than my geography skills.  Hope Neal brings a report back for the blog.
Fabulous ollie Siu Wingyee – I'm really glad you're skateboarding with style and proving #girlscanskate!